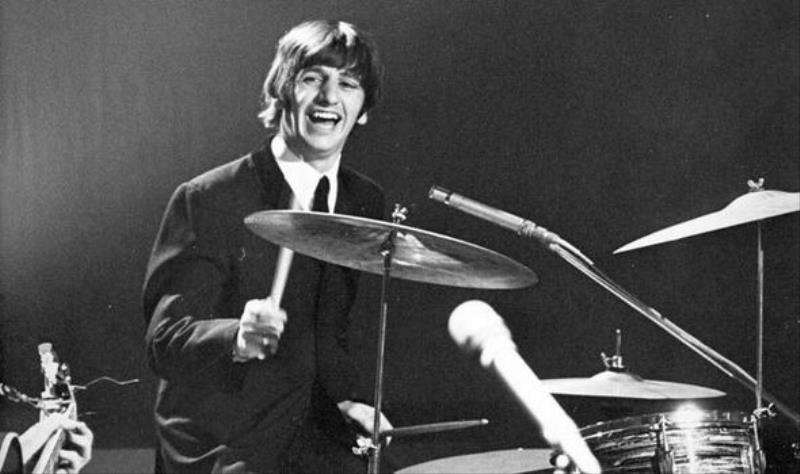 Welcome back to Top "Ten" Tuesday where we have another list to look at today. Today we have a special birthday.  Richard Starkey, better known as Ringo Starr celebrated his 80th birthday today.  Ringo Starr is an English musician, singer, songwriter, and actor best known for being the drummer for The Beatles.
He began his music career in 1957 where he was a co-founder of Eddie Clayton Skiffle Group, after showing interest in the UK skiffle craze going on around that time.  The group broke up in early 1958 when the public interest shifted to American Rock and Roll.  He met Rory Storm while drumming with "Darktown Skiffle" and joined his band in 1959. Rory Storm & The Hurricanes were considered one of the most popular groups in the Liverpool rock scene at the start of the 1960s even appearing on the same bill as Gene Vincent in a 1960 concert at Liverpool Stadium, which was the biggest rock show that had ever taken place in the city at that time. Rory Storm & The Hurricanes have crossed paths with The Beatles when both bands were playing in Hamburg and on October 15, 1960, there was a press recording made in Hamburg featuring Starr and Lu Walters of The Hurricanes along with John Lennon, George Harrison, and Paul McCartney.  Beatles Drummer Pete Best did not participate. They recorded three songs during this session, "Summertime," "Fever," and "September Song."
Ringo left The Hurricanes briefly in early 1962 to play in Tony Sheridan's band in Hamburg but rejoined the Hurricanes that summer when they were playing at Butlin's Holiday Camp in Skegness.  Ringo left The Hurricanes for the final time in August when he was asked by The Beatles to replace Pete Best. Ringo continued to record with The Beatles until the band broke up in 1970.
Since then, he has released several successful singles including "It Don't Come Easy", "Photograph," "You're Sixteen," and "Back Off Boogaloo."  He also enjoyed an acting career throughout his life which include Caveman as well as the tv series Thomas & Friends, narrating the first two seasons as well as Shining Time Station as Mr. Conductor and the Narrator for the show's first season.
Since 1989, Ringo has toured with different variations of his band, Ringo Starr & His All-Starr Band, a live supergroup that over the years featured Joe Walsh (of The Eagles and James Gang), Burton Cummings (of The Guess Who), John Entwistle (of The Who), Steven Tyler (of Aerosmith), Roger Hodgson (of Supertramp), Steve Lukather (of Toto), Gregg Rolie (of Santana and Journey), and many more.

With the introduction out of the way, let's get back to the list.  This list will take a look at the songs featuring Ringo Starr on lead vocals during his time with The Beatles.  Unlike my other lists that is a Top 10 or Top 15.  This list will include EVERY song Ringo sang with The Beatles.  This sounds like it would be a long list with the way I worded that but there are only 12, so instead of wording this as the Top 12 Ringo Starr Beatles Songs, this will simply be called Ringo Starr's Beatles Songs Ranked.
#12-Good Night-The Beatles (White Album)
The song was written by John Lennon as a lullaby for his five-year-old son Julian.  This is Ringo's second vocal spot on the album, the first time he got more than one vocal spot on one album. He probably got two songs on the White Album since it's a double album.  The original version featured George Harrison and John Lennon playing the melody on guitars with Paul singing the harmony while Ringo taking the lead vocal. This version can be heard on the 2018 50th anniversary Box Set of The Beatles White Album. A fragment of a rehearsal and take 22 of the song along with an overdub of the orchestra can be heard on the 1996 Anthology 3. The final version includes an orchestra arranged and conducted by producer George Martin. Ringo is the only Beatle present on the final version of the song. The orchestra is great in this song and a great way to close off the album.  My only issue is, outside of it being my least favorite Ringo song, is it plays right after the train wreck of a song "Revolution 9" which is enough to give someone nightmares, and then we hear Ringo sing us a lullaby?  No thanks! I don't want to go to sleep after hearing screaming, fires, explosions, and whatever else is heard in "Revolution 9".
#11-Honey Don't-Beatles for Sale
Early in The Beatles' discography, The Beatles did a lot of covers.  This song is a cover of a Carl Perkins song released in 1956. The Beatles recorded their version on October 26, 1964, one of the last songs released for their album Beatles for Sale.  John Lennon sang the song live, but Ringo performed it for the album.  During the song Ringo tells George it's time for the guitar solo, "Rock on George, one time for me!" and then at the end of the song, Ringo requests George to come back again, "Rock on, George, for Ringo one time!"
#10-If You've Got Trouble-Anthology 2
This is a song that was originally meant to be Ringo's vocal spot on Help! album and film.  They weren't happy with the recording and went with "Act Naturally" (See #6) instead.  The song remained unreleased until the Anthology 2 released 1996. The song, unfortunately, got a lot of negative feedback.  Ian MacDonald said the song was "the only unmitigated disaster in the Lennon-McCartney catalogue" and also criticized the music and melody.  George Harrison said, "it's the most weird song…it's got stupid words and is the naffest song.  No wonder it didn't make it onto anything."  It's definitely not Ringo's best but being at the #10 spot out of 12, it's not the worst and it's certainly not the worst Beatles song.  It has a catchy guitar riff and it's a fun song.  AllMusic critic Ritchie Unterberger said it best, "For all its lack of seriousness, 'If You've Got Trouble' is hummable, likable, and performed with good-natured spirit."
#9-Matchbox-Single
This was another Carl Perkins song, released in 1957.  The Beatles were fans of Perkins and performed Matchbox during their shows in 1961 and 1962.  The song at that time served as the vocal spot for Pete Best until August 1962, and then John Lennon took over as the lead singer. In July 1963, The Beatles performed "Matchbox" with Ringo on lead vocals for their BBC radio show Pop Go The Beatles.  This version was included on the 1994 compilation Live at the BBC. Ringo also sang lead vocals when they recorded the song for their Long Tall Sally EP in 1964.  The song was released as a single in the US on August 24, 1964, backed with "Slow Down". The single peaked at #17 on the Billboard Hot 100 and Cash Box in the US as well as the RPM Top 40 chart in Canada.
#8-Boys-Please Please Me
This is Ringo's vocal spot on their very first album.  It was written by Luther Dixon and Wes Farrell and originally performed by The Shirelles as the B-side of their song "Will You Love Me Tomorrow" released in 1960. The Beatles version seems to have similarities to Ray Charles's song "What'd I Say" during the chorus verses. The Beatles didn't concern themselves with a possible homosexual undertone that could go with singing about boys, but they did alter the gender pronouns from the Shirelle's version where Ringo would sing "My girl says when I kiss her lips" for one example. "Boys" was originally Pete Best's vocal spot and was their main 'drummer' song until 1964.  It also just so happens that Ringo sang this song as his vocal spot when he was with Rory Storm & The Hurricanes. Funny how that works out. Paul McCartney reflected on the song in October 2005 in an interview with Rolling Stone. He said, "Any one of us could hold the audience. Ringo would do 'Boys', which was a fan favorite with the crowd. And it was great-though if you think about it, here's us doing a song and it was really a girls' song. 'I talk about boys now!' Or was it a gay song. But we never listened to it. It's just a great song. I think that's one of the things about youth-you don't give a s**t. I love the innocence of those days."
#7-I Wanna Be Your Man-With The Beatles
This was a unique case where while it was written by Lennon and McCartney, it was released by The Rolling Stones first.  It was primarily Paul who wrote it, and Lennon helped finish it in the corner of a room while Mick Jagger and Keith Richards of The Rolling Stones were talking. The Stones' version was released on November 1, 1963. The Beatles recorded and released it for their second album on November 22.  The song was driven by a heavily tremoloed open E-chord on a guitar played through a Vox AC30 amplifier. It's a great fast licked song that clocks in at just under 2 minutes.
#6-Act Naturally-Help!
This is another song The Beatles covered. The original song was written by Johnny Russel and Voni Morrison.  Morrison thought it would be a great song for country star Buck Owens to record.  Russel had an agreement with Morrison since no one had recorded it yet, that she would get a co-writing credit, though her only role was submitting the song for Owens to sing. Owens released his version on March 11, 1963. Two years pass and it was released as the B-side to Yesterday as well as appearing on their 1965 album Help! In 1989, Ringo performed the song during his solo career as a duet with Buck Owens himself. The duet peaked at #27 and spent 11 weeks on the Billboard country chart that summer.
#5-What Goes On-Rubber Soul
It feels like my last few entries have been in chronological order, that wasn't intentional I swear! The song was later released as the B-side to the US single of "Nowhere Man". This is the only song in the Beatles catalog with a songwriting credit of Lennon-McCartney-Starkey. The song reached #81 on the US Billboard Hot 100 in 1966. The original version was written by Lennon during the days when The Beatles were known as The Quarrymen. It was considered to be a follow-up to "Please Please Me" in early 1963 but the song wasn't used until. 1965 as Ringo's vocal spot for Rubber Soul. While the original version was considered a follow-up to "Please Please Me", I feel this has more of a country or western-style and felt it was more of a follow-up to the previously mentioned "Act Naturally".
#4-Don't Pass Me By-The Beatles (White Album)
This was the first of two Ringo vocal spots on The White Album.  It's another Beatles song with a country flavor to it.  This is the first Beatles song written by Ringo.  The song was released as a single in Scandinavia, miscredited to Lennon-McCartney, hitting #1 in Denmark in April 1969.  Starr first played the song for the other Beatles after he joined them in August 1962.  Starr said in an interview, "I wrote 'Don't Pass Me By' when I was sitting round at home. I was fiddling with the piano-I just bang away-and then a melody comes and some words, I just have to keep going. It was great to get my first song down, one that I had written. It was a very exciting time for me and everyone was really helpful, and recording that crazy violinist was a thrilling moment." The violinist was Jack Fallon, a British jazz bassist born in Canada. It's a catchy song with catchy lyrics, "Don't pass me by/Don't make me cry/Don't make me blue/Because darling I love only you."
#3-Yellow Submarine-Revolver
This was the second Beatles song I ever heard.  In my Top 10 Paul McCartney Songs a few weeks ago, I mention that I wrote in a journal in 1st grade something about "I like…" was the prompt. I finish the journal entry with "…Maxwell's Silver Hammer Yellow Submarine and Rock and Roll". I probably didn't use proper grammar like commas and I'm not even sure I capitalized things.  I mean, it was first grade. The song still means a lot to me. It's fun and catchy.  It was written by Lennon-McCartney and was a double A-side with "Eleanor Rigby". It went to #1 on every major British chart and remained at #1 for four weeks and charted for 13 weeks.  It won an Ivor Novello Award "for the highest certified sales of any single issued in the UK in 1966".  It also peaked at #2 on the Billboard Hot 100 only behind "You Can't Hurry Love" by The Supremes and became the most successful Beatles song to feature Starr as lead vocalist. McCartney and Lennon recalled the song's melody in a joint interview in 1967 that they combined two different songs they were working on.  Lennon said McCartney brought in the chorus which Lennon suggested combining with a melody for the verses that he'd already written. McCartney also noted, "It's a happy place, that's all. You know, it was just…We were trying to write a children's song. That was the basic idea. And there's nothing more to read into it than there is in the lyrics of any children's song."  Lennon claimed that Donovan, Scottish singer-songwriter, and guitarist, added the line "Sky of blue and sea of green".
#2-Octopus's Garden-Abbey Road
This is Ringo's only other song written by him during his time with The Beatles, the other one is "Don't Pass Me By" (See #4).  It was originally intended for Let It Be but wasn't recorded properly until the Abbey Road sessions.  Ringo said, "I wrote 'Octopus's Garden' in Sardinia. Peter Sellers had lent us his yacht and we went out for the day…I stayed out on deck with [the captain] and we talked about octopuses. He told me that they hang out in their caves and they go around the seabed finding shiny stones and tin cans and bottles to put in front of their cave like a garden. I thought that was fabulous, because at the time I just wanted to be under the sea too. A couple of tokes later with the guitar-and we had Octopus's Garden!" George reflected on the song and noted there were some lyrics that have some hidden meanings that Ringo didn't see, "But all the things like 'resting our head on the sea bed' and 'We'll be warm beneath the storm' which is really great, you know. Because it's like this level is a storm, and if you get sort of deep in your consciousness, it's very peaceful. So Ringo's writing his cosmic songs without noticing." I'd say my #3, #2, and #1 are close to a three-way tie but I can't do that on a list but I still hold both "Yellow Submarine" and "Octopus's Garden" on the same level as my #1 pick.
#1-With a Little Help From My Friends-Sgt. Pepper's Lonely Hearts Club Band
This song along with "Yellow Submarine" is probably Ringo's best-known song. This is Ringo's vocal spot on 1967's Sgt. Pepper's Lonely Hearts Club Band. The Paul McCartney sang title track transitions into Ringo's song as they introduce Ringo's alter ego Billy Shears. While the song is credited to Lennon-McCartney, Ringo did request a line change.  The original line, "What would you think if I sang out of tune? Would you throw ripe tomatoes at me?" Ringo recalled in the early Beatle days that George said he liked Jelly Babies, causing them to get showered with them at all their live performances.  Ringo feared if he ever did sing the song live that people would throw tomatoes at him.  The line was ultimately changed to "Would you stand up and walk out on me?" The song has great interaction between John and Paul asking Ringo a question like, "Would you believe in love at first sight?" Then Ringo would respond to the question. In this example, he answers, "Yes, I'm certain that it happens all the time." Despite some of the lyric being, "I get high with a little help from my friends," John Lennon claims the song is not about drugs. He said, "I get by with a little help from my friends, I get high with a little help from my friends,' is a catchy tune but until it was pointed out to me, I never realized that the 'friends' were assorted drugs!" The song has a lot of great interaction between the three with a very catchy tune, and paired with the title track was reissued as a single in August 1978 and peaked at #71 in the US and peaked at #63 in September in the UK.
Ordinarily, I'd say, "there were so many more songs to choose from and it hurts that I couldn't include more of them" but in this case, this is literally every song Ringo sang lead vocals except "Jazz Piano Song" where Ringo and McCartney have shared lead vocals, but is a song that is only featured in the Let It Be film and not even released on any album. 
What did you think of this list?  Do you agree with it? Would you rearrange it?  What songs would you include on your list?  Share your thoughts in the comments below.  If you enjoyed this list, then check out my Top 10 George Harrison Beatles Songs I wrote earlier this year for his birthday as well as my list of Top 10 Paul McCartney Beatles songs I wrote a couple of weeks ago for his birthday, both links are posted at the end of this article. Before you go, don't forget to follow Awesome Albums on Instagram and Twitter, like on Facebook, and Subscribe on both YouTube and BitChute for music-related content.  Also, don't forget to come back next Tuesday, for another list for Top "Ten" Tuesday!
Top 10 George Harrison Beatles Songs
Top 10 Paul McCartney Beatles Songs