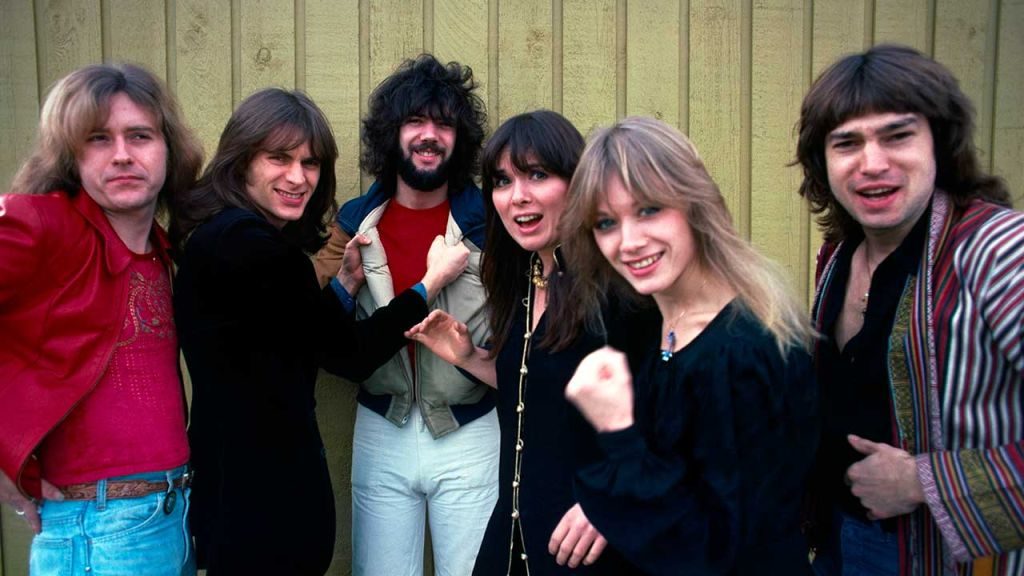 Welcome back to Top "Ten" Tuesday. Heart's singer Ann Wilson's 70th birthday was celebrated a couple of weeks ago and I thought this would be a great time to look at Heart's catalog and come up with my Top 10 songs.
The origins of Heart started in 1967 with bassist Steven Fossen forming a band called The Army with Roger Fisher on guitar, Don Wilhelm on guitar, keyboards, and lead vocals, and Ray Schaefer on drums.  From 1967-1969, the band went through several personnel changes with Gary Ziegelman on lead vocals, Roger on guitar, Steve on bass, James Cirrello on guitar, Ron Rudge on drums, and Ken Hansen on percussion.  This lineup had a name change to White Heart.  The name came from a discussion Roger Fisher's brother Mike had with Michael Munro, who had come up with the name White Hart (the lack of an "e" was a reference to Arthur C. Clarke's "Tales from the White Hart" for a band with Toby Cyr on lead guitar.  Fisher got permission to use the name for The Army, added the "e" and The Army became White Heart.
Briefly in 1970, the "White" from the band name was dropped. The band continued to go through personnel changes and in 1971, Heart consisted of Steve Fossen, Roger Fisher, David Belzer, and Jeff Johnson.  Ann Wilson joined (some sources say 1970, some say 1972) and the band was renamed Hocus Pocus.  Roger's brother, Mike was set to be drafted into the military.  Supposedly his home was raided, but he slipped out a rear window, escaped to Canada, and became a Vietnam War "draft dodger".  One day in 1971 or 1972, Mike crossed the border to visit his family and met Ann at a Hocus Pocus (or White Heart) concert and the two hit it off.  Ann followed Mike back to Canada.  Steve Fossen finished his college education and then moved to Canada in late 1972.  Roger followed after him.  Heart officially formed in 1973 with Ann Wilson, Brian Johnstone, John Hannah, Roger Fisher, and Steve Fossen.  Ann Wilson's sister, Nancy joined Heart in 1974 and became romantically involved with Roger (while Ann was still romantically involved with Roger). Heart released their first album, Dreamboat Annie, in September of 1975 (1976 in the US).  Personnel lineups changed slightly with Howard Leese replacing John Hannah and Michael Derosier replacing Brian Johnstone. The band's first album was a commercial breakthrough with three successful singles, two of which became staples on FM radio. Their success continued with the release of Magazine and Little Queen, both released in 1977. Magazine was initially released by Mushroom Records in an unfinished form, without the band's permission.  A second version (this time authorized by the band) was released in 1978). Later that year, their double platinum album Dog & Butterfly was released.
The band was at the top of their game throughout the rest of the 1970s but when the Wilsons' and the Fishers' relationships ended, Roger Fisher was voted out of the band. Mike stopped associating with the band within a month.  The early 1980s albums were weaker than the albums they released in the previous decade. Bebe Le Strange became their third top-10 album, with the top-40 hit "Even It Up", their following album Private Audition was less successful. Derosier and Fossen were fired and replaced by Denny Carmassi and Mark Andes for 1983's Passionworks. The band experienced a comeback in 1985 when they moved to Capitol Records and released the album simply titled Heart.  The move to Capitol also happened at the same time as the glam metal takeover that included minimizing acoustic and folk sounds that were well established on their earlier work.  The album reached #1, sold five million copies, and launched four top-10 hits.  Bad Animals (in 1987) and Brigade (in 1990) followed suit in sound and success. The band's last album for over a decade was Desire Walks On (in 1993). Ann and Nancy did release a Christmas album called Heart Presents a Lovemongers' Christmas in 1998, and rereleased it as a Heart album in 2001.  In 1995, Nancy decided to take a break from music to concentrate on raising her family.  The first official Heart album since Desire Walks On was Jupiters Darling, released in 2004, followed by Red Velvet Car (2010), Fanatic (2012), and most recently Beautiful Broken (2016).
The sisters were at odds shortly after the release of Beautiful Broken.  Ann's husband Dean Wetter was arrested and subsequently pleaded guilty of assaulting Nancy's 16-year-old twin sons after the boys had left the door to his RV open.  While the sisters finished the tour together, they only spoke to one another through third parties for the remainder of the tour and even at the end of the tour, only communicated through an occasional text message.  In April 2017, Ann described Heart as being on hiatus but had not disbanded.  In February 2019, Heart announced their hiatus has ended and they would embark on the Love Alive tour in the summer.  While Ann and Nancy have reunited, the former members of Heart who had joined Nancy on her solo effort were not invited back and the new lineup consisted of Ann's touring band.
#10-The Oldest Story in the World-Jupiters Darling
The song starts with some reverb that seems reminiscent of The Beatles' song "I Feel Fine" before jumping into a hard rocker.  This the second track on their 2004 album.  There are a lot of elements that feel Led Zeppelin inspired.  That doesn't surprise me since Zep was a major influence on them and Heart is known for doing Zeppelin covers in their shows.  When I saw Heart in 2016, their encore was "Immigrant Song/Stairway to Heaven".  That was a great show!
#9-Even It Up-Bebe Le Strange
Their 1980 album had some great hits on there, including this one and the title track.  "Even It Up" was the album's first single.  The song is about a woman who demanding that her lover "even it up" by reciprocating the effort that she has put into the relationship.  This song is the first Heart song to utilize the Tower of Power horn section. The horn section was so far only used in two more Heart songs, "Tell It Like It Is" and Tall Dark Handsome Stranger" (which almost made "Honorable Mention") from their 1990 album, Brigade. "Even It Up" had modest success on the Billboard Hot 100, peaking at #33.
#8-Heartless-Magazine
This is a great song.  The intro includes a subtle slow synthesizer-based interlude before jumping into a great hard-rockin' tune. There is also a subtle synthesizer solo about two/thirds of the way through during the "ooh" part of the song that leads into a great guitar solo. It's an aggressive song talking about a lover who is apparently not able to get away from the grasp of her heartless partner.  Due to record label issues between Mushroom Records and Portrait Records, the single of this song wasn't released until two years later, after the re-issue of their first single "Crazy On You".  The single was backed with "Just the Wine" and peaked at #24 on the US Billboard Hot 100 and #18 on the Canadian RPM Top Singles chart.
#7-These Dreams-Heart
The 1985 album has a lot of great songs.  This is one of Heart's best-known songs.  It was the third single released from the album and became the band's first song to top the Billboard Hot 100.  The song was written by Martin Page, an English singer-songwriter who co-wrote several pop hits including "We Built This City", the hit song by Starship, and Bernie Taupin, Elton John's songwriting partner.  The song is a rare occasion that features Nancy Wilson singing instead of Ann. Nancy's vocals are great in this song!  According to the liner notes, the song was dedicated to Nancy's friend, Sharon Hess who lost her battle with leukemia shortly before the song was released.  The lyrics describe the fantasy world a person enters when faced with a difficult situation in real life.
#6-Straight On-Dog & Butterfly
This was one of the first three Heart songs I ever heard.  It's incredibly catchy with a funky, almost disco-like song thanks to that bass line.  Ann called the song Heart's first "dance song". It was their first single from the album and their third single to break the top-20, peaking at #15.  Along with Ann and Nancy, the song was also co-written by Sue Ennis who co-wrote a lot of the band's songs including "Even It Up" (see #9), "Dog & Butterfly" title track, and was a member of The Lovemongers, Ann and Nancy's side project.
#5-Magic Man-Dreamboat Annie
This is the opening track to the band's debut album.  It was the second single released from the album, backed with "How Deep It Goes". The song is sung from the viewpoint of a young girl who is being seduced by an older man, who is described as a Magic Man.  Ann revealed that the "Magic Man" in the song was her then-boyfriend and band manager, Michael Fisher, and that part of the song was autobiographical about the beginnings of their relationship.  The single cuts out the best part of the song.  Halfway through the song, an instrumental break is played featuring a guitar solo and a great Minimoog synthesizer solo.  Despite the shortened song, the single became Heart's first Top 10 hit in the US, peaking at #9 on the Billboard Hot 100.
#4-Sylvan Song/Dream of the Archer-Little Queen
Those who know me know how much I adore the mandolin.  That's why I love Led Zeppelin's "The Battle of Evermore", Rod Stewart's "Maggie May", and of course "Sylvan Song" by Heart, played by Nancy. I feel this was another Zeppelin inspired song, again referring to "The Battle of Evermore". "Sylvan Song" is entirely instrumental and leads into "Dream of the Archer".  The song features a lot of medieval fantasy imagery, "Wayfaring warrior soul, still wild/The archer stands/Arrow measured to the goal/Sing of Strong and living man/In his mind there is a vision wand'ring/Through the forest town/Telling of riches only given if through/The woods the way is found". It's a beautiful and immersive song that needs more attention from listeners.  This is definitely one of Heart's best songs!
#3-Crazy On You-Dreamboat Annie
We are coming back to Heart's first album. This is the third single from the album, however, it was their debut single in the US. The single peaked at #35 on the US Billboard Hot 100. The song starts with an acoustic cover of "Silver Wheels". The song then builds up speed on acoustic guitar before the electric guitars come blaring in! This song attracted a lot of attention for not only the unusual combination of acoustic and electric guitars in this way but also the fact the acoustic guitarist was a woman (Nancy) which was rare to see in rock music at that time.  Nancy discussed in an episode of "In the Studio with Redbeard" the rapid acoustic rhythm part was inspired by The Moody Blues' song "Question".  The guitar riff was created by Roger Fisher during recording sessions. The lyrics tell of a person's desire to forget the problems of the world during one night of passion. Ann Wilson shared in an interview in 2007, that the song was written in response to the stress caused by the Vietnam War and social unrest in the United States in the early 1970s.
#2-Barracuda-Little Queen
It wouldn't be a Heart list without "Barracuda".  The song is the opening track of the album.  It was also released as the album's lead single, peaking at #11 on the Billboard Hot 100, where it stayed for 20 weeks. The guitar solo in this song reminds me a lot of Led Zeppelin's "Achilles' Last Stand". Ann revealed in interviews that the song was about Heart's anger toward Mushroom Records who made-up a story of a romantic affair between Ann and Nancy.  After a concert, a man walked up to Ann and asked how her "lover" was. She at first thought he was talking about, Michael Fisher.  He revealed he was talking about her sister Nancy, which understandably enraged Ann, causing her to go back to her hotel room and wrote the original lyrics of the song. The anger of Mushroom Record's publicity stunt, caused Heart to discard the album they were working on, Magazine" and instead sign up with Portrait Records and work on another record, Little Queen. Like what I mentioned earlier, Mushroom Records still released an unfinished version of Magazine without the band's consent. This would've been my favorite Heart song then I heard what became my #1 pick and there is no contest. My #1 Heart song, is EASILY their best song.
#1-Mistral Wind-Dog & Butterfly
I've read some interpretations that this song is a sequel to "Soul of the Sea" from Dreamboat Annie. If we base "Mistral Wind" off the first two minutes, then I might agree but "Soul of the Sea" goes in a folk direction with a mandolin. It's a pretty song.  "Mistral Wind", on the other hand, has deeply tuned acoustic guitars. It has an almost ominous sound.  About two minutes in, drums kick the song into a hard rock tune.  Musically it is another song that could be inspired by Led Zeppelin. My dad says that anyway.  It wouldn't surprise me if there was some Zeppelin inspiration going on here.  What I do know though is this is easily Heart's best song!  If you haven't listened to it then that will be tonight's homework.  Finish reading this article, and go listen to it.  You will not be disappointed!
Don't click off the article yet.  It was hard to come up with just ten songs, so below, as usual, there is a list of honorable mentions.  A sixth honorable mention was added this week, simply because I wanted to talk about this particular song, I thought it was cool.  As always, these are in chronological order.
Honorable Mentions
Bebe Le Strange-Bebe Le Strange
This is a great rocker. It's the opening track and title track for their 1980 album. It's a great song but failed to chart on the US Billboard Hot 100, peaking at #109.  It was the final single released from the album.
City's Burning-Private Audition
This is the opening track to their 1982 album.  It was one of Heart's many songs co-written by the Wilson sisters and Sue Ennis.  The song reached #15 on the Billboard Hot 100 and Top Tracks chart.  The song begins with an acoustic guitar before electric guitar and the other instruments kick in.  Billboard noted Ann Wilson's vocals having a "Plant-like rasp" referring to Robert Plant of Led Zeppelin. Mike Diana of Daily Press commented, "'City's Burning' is the only all-out rocker on the album, and even though it pales before what other female rockers have been doing of late, the cut gets the album off with a bang."  Jim Smith of AllMusic stated, "Private Audition starts tough with 'City's Burning,' possibly the band's most underrated song, but it's dragged down by the trite songwriting that follows."
What About Love-Heart
I mentioned earlier that the 1985 album had a lot of great songs that I included two on my "Honorable Mentions" list.  There were three initially but I wanted to have some variety from different albums. The song was originally recorded by the Canadian group Toronto but is better known by Heart.  This song was Heart's "comeback" single.  It was their first track to reach the top 40 in three years and their first top 10 single in five years.  The single was also their first single on Capitol Records. This song features a couple of guest singers. Grace Slick and Mickey Thomas of Starship join Ann Wilson in singing this great song.
Shell Shock-Heart
I almost included "Never" which is another great song from the 1985 album but that means I had to choose between that and "Shell Shock". Well as you can see, "Shell Shock" won. The song wasn't released as a single but has some great drumming and great guitar work at the beginning. 
Black on Black II-Desire Walks On
This is one of Heart's hardest rock songs.  The inspiration from the title comes from Lisa Dalbello who wrote Black on Black I and is credited on Black on Black II as a co-writer. It has some great bass and drumming with Ann Wilson's vocals still as powerful as ever. The song peaked at #4 on the Billboard Mainstream Rock chart.
Beautiful Broken-Beautiful Broken
Overall the album feels lacking compared to their other albums because most of the songs are just reinterpretations of songs from earlier albums. This album only features two new songs, "Two" and "I Jump". So where does this song fall?  "Beautiful Broken" was originally released on Fanatic in 2012 but this version, the title track to the 2016 album features James Hetfield of Metallica singing vocals alongside Ann Wilson, which I thought was awesome enough I just had to mention it.
I had fun with this list. I especially enjoyed the story of Heart from how they formed and how they got to where they are today. I hope Ann and Nancy continue to strengthen their bond and are able to produce more great songs in the future. As always, there were a lot of great songs I wanted to talk about but I seem pretty happy with this list. How about you? What did you think of this list?  Do you agree with it? Would you rearrange it?  What songs would you include on your list?  Share your thoughts in the comments below.  Before you go, don't forget to follow Awesome Albums on Instagram and Twitter, like on Facebook, and Subscribe on both YouTube and BitChute for music-related content.  Also, don't forget to come back next Tuesday, for another list for Top "Ten" Tuesday!