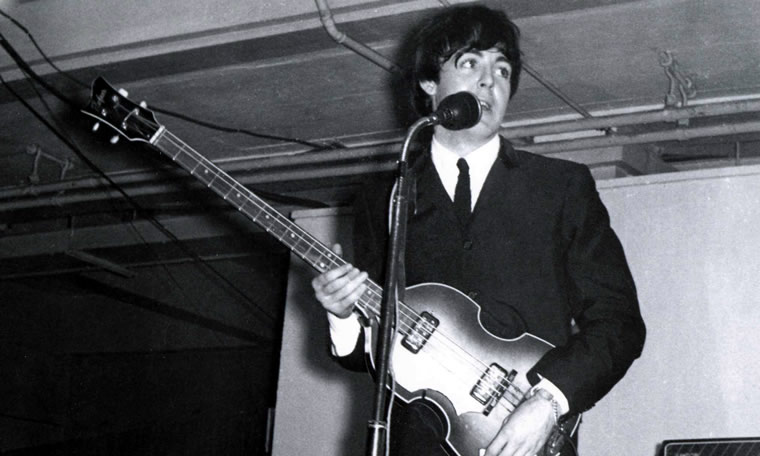 Welcome Back to Top "Ten" Tuesday.  We are celebrating Paul McCartney's birthday on this list.  Paul McCartney turned 78 this past Thursday (June 18th) and we are going to celebrate with my Top 10 Paul McCartney Beatles songs.  There are a lot of great songs I want to include but I will not put any songs where Paul McCartney and John Lennon shared lead vocals, whether that is alternating verses like in "A Day in the Life" or "I've Got a Feeling" or simply the two of them singing vocal harmonies like "She Loves You" or "Day Tripper".  There will be, however, songs that Paul McCartney sings lead vocals with John Lennon or George Harrison singing backing vocals.  This list is trying to stay as focused on Paul as much as possible.
For those who don't know, Paul McCartney is an English singer, songwriter, musician, composer, and record and film producer who is best known as co-lead vocalist and bassist for The Beatles.  The Beatles are regarded as the most influential band of all time with certified sales of over 183 million units in the US alone as well as an additional 600 million units sold worldwide.  They hold the record for most number-one albums on the UK Albums Chart, most number-one hits on the Billboard Hot 100 chart in the US, and most singles sold in the UK.  The Beatles sadly broke up in 1970, where each of the four pursued solo careers.  Paul McCartney's first solo album was released April 17, 1970, and formed Wings (also known as Paul McCartney and Wings) in 1971.  Paul McCartney continues to tour and release albums to this day with his most recent album Egypt Station released in 2018. While Paul arguably had the most successful solo career out of the four (I'm split between him and George), the songs by himself don't hold a candle to the songs he did with The Beatles, although I would like to make a list of solo songs for the individual members of The Fab Four at some point. Today's list is once again, taking a look at my Top 10 Paul McCartney Beatles songs.
#10-Come Get It-Anthology 3
This song is the most unique on the list.  It's a demo.  On August 2, 1969, Paul McCartney produced the studio version at EMI (Abbey Road) Studios for Badfinger (at the time known as The Iveys).  He told them, "Okay, it's got to be exactly like this demo."  The Badfinger version is the better-known version released on January 9, 1970, and is one of the three songs on their album Magic Christian Music to appear in the film, The Magic Christian (the album is not necessarily a soundtrack, it just features three songs from the movie on the album). The Beatles version/demo wouldn't be released until The Beatles Anthology 3.  Paul sang a double-tracked lead vocal and played all the instruments.  Ian MacDonald said in his book "Revolution in the Head" that this song is "by the far the best unreleased Beatles recording."
#9-Getting Better-Sgt. Pepper's Lonely Hearts Club Band
I remember first hearing this song on a Phillips flat-screen TV commercial in 1999.  I remember thinking, I like this song, not realizing that not only was it a real song, but a Beatles song at that!  Despite John Lennon singing some backing vocals, it is primarily a Paul song so it's allowed on my list.  One of my favorite John Lennon lines in the song is when Paul sings "I've got to admit it's getting better/A little better all the time", John chimes in with "It can't get no worse."  It's a great song that shows the contrasting personalities of the two songwriters.  The song is very upbeat in tempo with very depressing lyrics of how he used to beat his woman and kept her apart from the things that she loves.  John Lennon admitted in a 1980 interview with Playboy that he had done some things in past relationships that he wasn't proud of.  The title was inspired by Jimmy Nicol, a stand-in drummer for Ringo who suffering from tonsillitis and pharyngitis in 1964.  When Paul asked how Jimmy was adapting to Beatlemania, Jimmy replied, "It's getting better!" The phrase became in an inside joke with the band ever since.
#8-I'm Looking Through You-Rubber Soul
This song has some great acoustic guitar moments, but changes to an electric guitar riff when Paul shouts, "I'm looking through you, but you're not the same!"  The song was directed toward Paul's girlfriend at the time Jane Asher and her refusal to give up her stage career and focus on his needs.  The line "You don't look different, but you have changed" reflects his dissatisfaction with the relationship.  The US version of the song features two false starts before the song gets going, this was omitted in the UK version.  I didn't know there were false starts until this list, I only know the UK version of Rubber Soul. The false starts you wouldn't think were a mistake, it sounds like a prelude to this great song.
#7-Sgt. Pepper's Lonely Hearts Club Band-Sgt. Pepper's Lonely Hearts Club Band
This is the title track and opening track to their 1967 epic.  The song begins with about 10 seconds of an orchestra warming up and an audience waiting for the show to start.  The song was never performed live, as The Beatles had given up with live shows by this point but wanted to give an illusion of a live show.  McCartney's voice borders on hard rock in this song.  The song ends with Paul acting as the master of ceremonies introducing the audience to Ringo's alter ego, Billy Shears as the song transitions into the second track, "With a Little Help from My Friends".  The idea of this concept album didn't appear until about halfway through the album.  Producer George Martin remembered, "It was Paul's song, just an ordinary rock number…but when we had finished it, Paul said, 'Why don't we make the album as though the Pepper band really existed, as though Sergeant Pepper was making the record? We'll dub in effects and things.' I loved the idea, and from that moment on it was though Pepper had a life of its own."
#6-Get Back-Single
"Get Back" was released as a single on April 11, 1969, and then later on, Let It Be on May 8, 1970.  There are a few differences between the two versions.  This is a rare case where the single version is longer than the album version.  The dialogue at the beginning and end of the album version is cut from the single, but the end of the song for the album version is only a false ending for the single version which continues with a coda as the song closes out.  The single was backed with the John Lennon song "Don't Let Me Down". The single stayed in the charts for 17 weeks, six of those weeks at the #1 spot.  It was also the first Beatles single to enter the official UK singles chart at the top. This song was the only Beatles song to include an accompanying artist's name, crediting "Get Back/Don't Let Me Down" to "The Beatles with Billy Preston" who played electric piano in the song.  The album version features some comedic dialogue with McCartney saying "Thanks, Mo" replying to Maureen Starkey's cheering (Ringo's first wife).  John Lennon then adds, "I'd like to thank you on behalf of the group and ourselves and I hope we've passed the audition".
#5-Helter Skelter-The Beatles (White Album)
This is The Beatles' heaviest song in the entire catalog.  This came from McCartney's attempt to create a sound as loud and dirty as possible.  Paul McCartney recalled writing "Helter Skelter" after reading a review for The Who Sell Out, a critic claimed their song "I Can See for Miles" was the "heaviest" song they had ever heard.  Paul not heard the song yet, thought he could make an even "heavier" song than the one praised in the review. Two days before the release of the album, Paul gave an exclusive interview to Radio Luxembourg.  For "Helter Skelter" he said, "Umm, that came about just 'cause I'd read a review of a record which said, 'and this group really got us wild, there's echo on everything, they're screaming their heads off.' And I just remember thinking, 'Oh, it'd be great to do one. Pity they've done it. Must be great – really screaming record.' And then I heard their record and it was quite straight, and it was very sort of sophisticated. It wasn't rough and screaming and tape echo at all. So I thought, 'Oh well, we'll do one like that, then.' And I had this song called "Helter Skelter," which is just a ridiculous song. So we did it like that, 'cos I like noise."  The song has a prolonged ending during which the performance stops, picks up again, fades out, fades back in, and then fades out one final time ending with a cacophony of sounds, ending with Ringo shouting, "I got blisters on my fingers!"
The song has been put in a negative light after Charles Manson told several of his followers, that several White Album songs particularly "Helter Skelter" were part of The Beatles' coded prophecy of an apocalyptic war in which racist and non-racist whites would be maneuvered into virtually exterminating each other over the treatment of blacks.  Something about this prophecy just seems a little too close to home given the current circumstances in America.  After this "war" ends, black militants would kill off the few whites that had survived.  Manson and his "Family" of followers would emerge from an underground city and as the only remaining whites, would rule over the blacks, who, as the vision went, would be incapable of running the US.  Capitol Records planned to issue "Helter Skelter" as the A-side of a single but stopped, realizing that to exploit its association to Manson would be in poor taste.  McCartney reflects in his authorized biography, "Many Years from Now" he said, "Unfortunately, it inspired people to do evil deeds" and the song had acquired "all sorts of ominous overtones because Manson picked it up as an anthem." Despite the negative stigma due to the Manson killings, the song is another great groundbreaking Beatles song as an early influence on the heavy metal genre.
#4-The Night Before-Help
This was a great song from their 1965 album, as well as one of the songs featured in the movie. The scene in the movie has the band play at Salisbury Plain in the shadow of Stonehenge.  As the song ends in the movie, a bomb explodes. John Lennon plays a Hohner Pianet electric piano throughout the song.  The verses have a call and response structure.  McCartney would sing a line and John and George Harrison would harmonize, "Ahh, the night before…". Musicologist Walter Everett said that had The Beatles recorded "The Night Before" at a slower tempo, it "could've been a Kinks or Animals song". There has been a debate of who played the guitar solo over the third verse.  Ian MacDonald said the playing is more in McCartney's style while  Kenneth Womack, author of "Solid State: The Story of Abbey Road and the End of the Beatles" and "John Lennon, 1980: The Last Days in the Life", credits only McCartney as the soloist and lists Harrison on rhythm guitar, playing his Gretsch.  Lennon later recalled that Harrison and McCartney played "the same break exactly, both playing but in different octaves".
#3-We Can Work It Out-Single
Going in order of Beatles songs I heard, this is I think the fourth song I heard by them and still means a lot to me with a lot of nostalgia.  This song features a lot of Lennon harmonizing making it almost not allowed on this list, but it's still mostly a Paul song so I'll allow it. The song was issued as a double A-side single with "Day Tripper" (a song that would've been on here but features too much John for this particular list).  McCartney wrote the words and the music to the verses and chorus with lyrics that "might have been personal" probably referring to his relationship with Jane Asher.  McCartney took the song to Lennon.  John told Playboy in 1980, "In We Can Work It Out, Paul did the first half, I did the middle eight. But you've got Paul writing, 'We can work it out / We can work it out' – real optimistic, y'know, and me, impatient: 'Life is very short, and there's no time / For fussing and fighting, my friend.'"
#2-Golden Slumbers/Carry That Weight/The End-Abbey Road
This is really 3 songs, but they all go together like one song.  This is the final 6 minutes of their 16 minute Abbey Road Medley, one of the greatest pieces of music, in my opinion, however. I cannot include the Abbey Road Medley as a whole on this list because of the songs "Sun King", "Mean Mr. Mustard", and "Polythene Pam" are John songs.  The first song, "Golden Slumbers" came from a ballad by Thomas Dekker.  Paul saw the sheet music on the piano at his father's home.  Paul later said he can't read music and couldn't remember the tune so he made a new tune but he liked the words so he kept them and fitted it with another part of a song he had.  The second drum section acts as a transition to "Carry That Weight". 
This section is actually sung by all four members so…okay doesn't belong on the list then. I'll just tack on an extra honorable mention to balance that out, how does that sound? This song has a brief reprise of "You Never Give Me Your Money" before going back to the main chorus of "Carry That Weight". In "Many Years From Now" Paul said, "It was 'heavy'. 'Heavy' was a very operative word at that time – 'Heavy, man' – but now it actually felt heavy. That's what Carry That Weight was about: not the light, rather easy-going heaviness, albeit witty and sometimes cruel, but with an edge you could exist within and which always had a place for you to be. In this heaviness there was no place to be. It was serious, paranoid heaviness and it was just very uncomfortable."
The guitar at the end of "Carry That Weight" leads into "The End". The song was meant to close out the album and was meant to have a solo from each Beatle.  The song features the only drum solo on a Beatles album (I don't think the drum section in "Birthday" counts, it's not really a solo). The song ends with the line "And in the end, the love you take is equal to the love you make."
#1-Maxwell's Silver Hammer-Abbey Road
In a journal I wrote in first grade, I remember I was prompted with "I like…" and I had to finish the sentence.  What I wrote was "I like Maxwell's Silver Hammer Yellow Submarine and Rock and Roll".  I was writing about what was at the time, my two favorite songs of all time at that time.  The "Rock and Roll" wasn't necessarily about Led Zeppelin at the time, I was just talking about rock and roll in general or classic rock in general.  Oh man, what little first grade me doesn't realize what kind of future would come for him!  "Maxwell's Silver Hammer was the VERY FIRST Beatles song I ever heard.  My dad was playing Abbey Road in the truck and I was in the backseat and this song came on and I thought it was so good and so catchy.   My dad even covered a hammer in aluminum foil and my mom took a picture of me pretending to hit him in the head with a hammer.  I enjoyed this song a lot as a kid but it wasn't until years later it hit me…Maxwell kills three people in the song! 
He first kills Joan who studied pataphysical science in the home.  Later on in school, "Maxwell plays the fool again" which annoys the teacher.  She asks for Maxwell to stay behind after class.  When she has her back turned to him.  He strikes her with the silver hammer.  Maxwell has to stand trial as he has murdered two people.  Rose and Valerie are screaming that he must go free.  The judge disagrees and as he said those words, Maxwell creeps up behind the judge and strikes him down too.  All three cases, not only does Bang! Bang! Maxwell's silver hammer comes down on her/his head but also Bang! Bang! Maxwell's silver hammer made sure they were dead.  The Beatles rented a proper blacksmith anvil for the sound effect.  Roadie Mal Evans contributed to the sound effect.  
Paul said the song was an analogy for when something goes wrong as out of the blue as it often does and wanted something symbolic of that and created a fictitious character named Maxwell.  He doesn't know why the hammer was silver but it sounds better than just "Maxwell's Hammer".  The three verses are separated by at the time new technology with two Moog synthesizer solos.  While Paul tried his best to make this a single, the rest of the band hated it.  George said it took 3 days to record because Paul wanted to make it right.  John said he drove Ringo and George to the ground and he believes they spent more money on that one song than any other on the album.  John also wasn't a fan of it.  He said the song drove him mad and wanted to let everyone know how much he hated it.  Despite The Beatles not being a fan of it, I have to give this song the credit of the song that introduced me to The Beatles in the first place, and that is why this song has to be at my #1 spot.
Don't click off the list yet! There are a few more songs I want to talk about.  Normally I do five honorable mentions but because I only did three honorable mentions on last week's Cream list, and I have one song in this list that might not count by my own rules, I added a sixth song to the honorable mentions this week. These are six more great songs sang by Paul that I want to talk about that were very close to making it to the final ten.  These songs, as always are in chronological order.
Honorable Mentions
Lovely Rita-Sgt. Pepper's Lonely Hearts Club Band
While the beginning features some John vocalizing, it is mostly a Paul song.  The song is about a meter maid which is just a female traffic warden, based on a real meter maid named Meta Davies that gave Paul a parking ticket outside Abbey Road Studios.  Instead of getting angry about it, he came in and wrote a song about it.  When asked why he named her Rita in the song, he said, "Well, she looked like a Rita to me."  After Paul sings the line "and the bag across her shoulder…" features Lennon, McCartney, and Harrison playing comb and paper to give it a kazoo sound.  Many artists came in to watch The Beatles record. Pink Floyd watched The Beatles record "Lovely Rita" and used effects inspired by "Lovely Rita" for their instrumental song "Pow R. Toch" heard on their debut album, The Piper at the Gates of Dawn.
Magical Mystery Tour-Magical Mystery Tour
This one is iffy on, is it a Paul song or a Paul AND John song?  McCartney said it was co-written by the pair but John said, "Paul's song. Maybe I did part of it, but it was his concept."  He later said, "Paul [Wrote it]. I helped with some of the lyric."  The song starts with some brass and drums as John sings "Roll up/Roll up for the mystery tour" as Paul sings the main lyrics.  The lyrics explain in a general way the premise of the Magical Mystery Tour film, of gathering up everyone as we embark on this adventure together.  The "Roll up" could also refer to rolling a joint.  McCartney said, "We were always sticking those little things in that we knew our friends would get; veiled references to drugs and to trips. 'Magical Mystery Tour is waiting to take you away,' so that's a kind of drug, 'it's dying to take you away' so that's a Tibetan Book of the Dead reference…Magical Mystery Tour was the equivalent of a drug trip and we made the film based on that."
Back in the USSR-The Beatles (White Album)
This song is the opening track to their 1968 double album.  The song is fun to listen to.  It's a parody of Chuck Berry's "Back in the U.S.A." and The Beach Boys' song "California Girls".  The lyrics subvert Berry's patriotic sentiments about the United States as the narrator is excited to come back home to the Soviet Union (Union of Soviet Socialist Republics). McCartney's vocals were based on Jerry Lee Lewis, while the bridge features a Beach Boys-style celebration of girls from various parts of the USSR.  The song opens and closes with a tape loop of an aircraft landing on a runway.  The song was recorded as a three-piece band after Ringo temporarily left the group, in protest at McCartney's criticism of his drumming on top of all the other tensions going on during the making of the White Album.
Oh! Darling-Abbey Road
Remember when I was talking about hearing Abbey Road from my dad playing it in the truck?  Since I had just finished hearing "Maxwell's Silver Hammer", my ears were alert for whatever was going to come next.  That song was of course "Oh! Darling".  For some reason, even though I knew a man was singing, I always imagined "Oh! Darling" to be sung by some fat British woman.  Come on, imagine that with me.  You have a rich, fat British woman with jewelry on all her fingers with her hand out in front of her saying, "Oh darling".  See what I mean?  The other memory from way back then was telling my dad, "I like the way he screams".  John said it was a great one of Paul's that he didn't sing too well.  Paul wanted to get his vocals right and was trying to warm up his voice carefully because outside of "Helter Skelter" it's been a while since he had to yell like that.  Rumors say Paul wrote the song about John and himself expressing feelings about John leaving the group "if you leave, I will make it alone."
You Never Give Me Your Money-Abbey Road
This is the first song in the Abbey Road Medley.  The song is made up of several numerous parts in a similar way of Lennon's "Happiness is a Warm Gun".  The song is a protest at the influence of Allen Klein whom McCartney profoundly distrusted.  George Harrison explains the first line of the song, "you never give me your money/you never give me your funny paper". He said, "'Funny paper' – that's what we get. We get bits of paper saying how much is earned and what this is and that is, but we never actually get it in pounds, shilling and pence. We've all got a big house and a car and an office, but to actually get the money we've earned seems impossible."  The "one sweet dream" was written while McCartney was in New York with Linda and referred to their fondness of getting purposely lost in the countryside.  The end of the song ends with a guitar motif that gets reprised as the bridge between "Carry That Weight" and "The End".
Ob-La-Di, Ob-La-Da (Anthology Version)-Anthology 3
This song was originally on The White Album and is a very piano-led song.  McCartney wrote "Ob-La-Di, Ob-La-Da" in a Jamaican ska style and appropriated a phrase popularized by Jimmy Scott, a London-based Nigerian musician, for the song's title and chorus. Scott tried to sue for credit but was unsuccessful.  While the White Album version is fun to listen to, there is an alternate version heard on the Anthology 3 album released in 1996.  It's seen as a "discarded" version, focusing more on acoustic guitar and saxophone.  This version features Scott playing on the congas.  In my opinion, the Anthology 3 version is the superior version.  It's a shame that being on the Anthology and released almost 30 years, didn't get the exposure the 1968 version did.  As I said, I enjoy the White Album version too, but this version is way better in my opinion.
I had so many choices for this list that it hurt to narrow down to only a Top 10 list, even a Top 16 if you include the honorable mentions, but it was a fun list to make nonetheless.  I learned so much from this list and I hope you did too. What did you think of this list?  Do you agree with it? Would you rearrange it?  What songs would you include on your list?  Share your thoughts in the comments below.  If you enjoyed this list, then check out my Top 10 George Harrison Beatles Songs I wrote earlier this year for his birthday. Before you go, don't forget to follow Awesome Albums on Instagram and Twitter, like on Facebook, and Subscribe on both YouTube and BitChute for music-related content.  Also, don't forget to come back next Tuesday, for another list for Top "Ten" Tuesday!
Top 10 George Harrison Beatles Songs