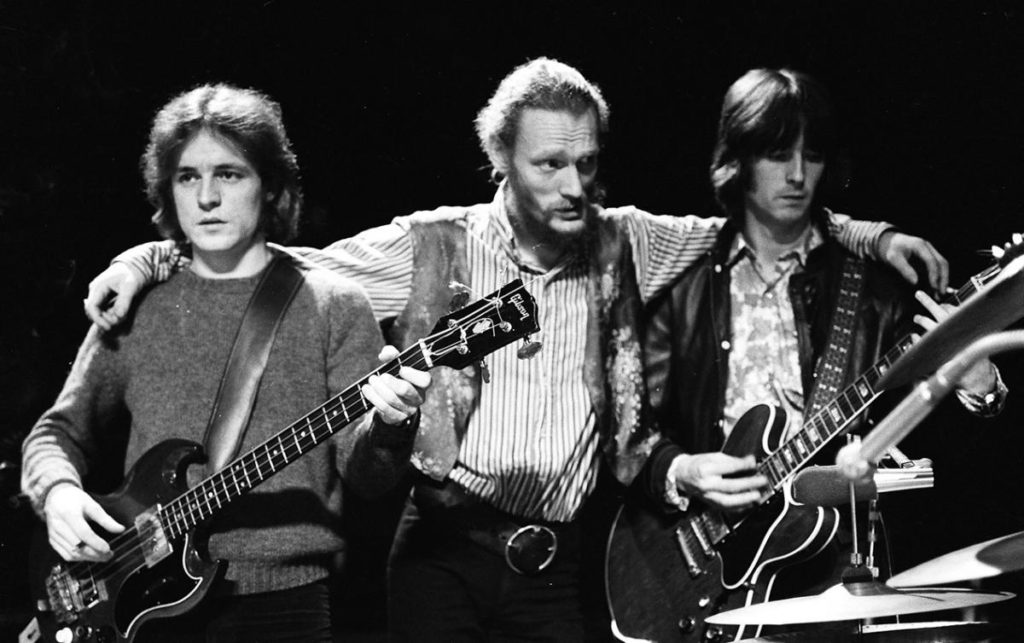 Welcome back to Top "Ten" Tuesday, where today we are going to take a look at Cream. Cream is widely considered the world's first supergroup, meaning a group that is made up of already established musicians from other bands.  Cream consisted of guitarist Eric Clapton, who had established himself as a member of The Yardbirds from 1963-1965 and John Mayall and the Bluesbreakers from 1965-1966. Bassist Jack Bruce was the band's primary songwriter and vocalist.  Bruce was a member of The Graham Bond Organization from 1963-1965.  Drummer Ginger Baker, who was also with The Graham Bond Organization joined Bruce and Clapton a year later and completed the supergroup.  
Their first album was recorded and released in 1966 consisting of half original songs and half blues covers.  Their second album, Disraeli Gears was released in May of 1967 with a change in sound straying away from their blues roots heard on their first album and indulging into more of the psychedelic sounds. Their third album Wheels of Fire was released in August of 1968 and was planned to be a double album featuring both studio and live songs.  The album was released as two single LPs with similar cover art.  One album was called Wheels of Fire (In the Studio) and the other disc was Wheels of Fire (Live at the Fillmore). Wheels of Fire was also released as a two-LP set.  Wheels of Fire became the world's first platinum-selling double album. In February of 1969, Cream released their final album, Goodbye (also called Goodbye Cream).  Just before the release of Wheels of Fire, their manager Robert Stigwood announced the group was disbanding after a farewell tour and a final concert at the Royal Albert Hall in November.  Just like Wheels of Fire, Goodbye was planned to be a double album featuring one disc of studio content and one disc of live content but due to the lack of quality material the band had, the album was released as one disc with three live recordings and three studio recordings.
Eric Clapton was originally going to bring in Winwood as a buffer between Bruce and Baker, but after the band broke up, Clapton, Baker, and Winwood (along with Ric Grech) formed the supergroup Blind Faith. After Blind Faith, Eric Clapton moved on to other acts like Delaney & Bonnie, Derek and the Dominos, and a very successful solo career. Ginger Baker formed Ginger Baker's Air Force in 1970, as well as working with Hawkwind for a while and released several solo albums. Jack Bruce collaborated with many artists including Frank Zappa, Michael Mantler, and Robin Trower to name a few as well as releasing solo albums of his own.  Jack Bruce passed away on October 25, 2014, at the age of 71 and Ginger Baker passed away on October 6, 2019.  
Cream left a huge legacy inspiring many new artists, consisted of some of the best musicians of their respective instruments, and was inducted into the Rock and Roll Hall of Fame in 1993.  With the introduction out of the way, let's take a look at my top 10 Cream Songs.
#10-Sweet Wine-Fresh Cream
This song is an interesting mix of British Invasion with the "Ba-ba" but with a great bluesy guitar solo from Clapton.  This album came out in 1966 so it is acting as a transitional album from the previously mentioned British Invasion sound leading into the psychedelic era of the 1960s.
#9-Deserted Cities of the Heart-Wheels of Fire
This is a great overlooked song from their 1968 album.  Ginger Baker's drumming is highlighted here with some great drum fill and percussion.  Jack Bruce is playing acoustic instruments throughout this song giving it a different sound including a cello acoustic guitar while Clapton delivers a great guitar solo.  
#8-I Feel Free-Fresh Cream
This song is included on the American release of Fresh Cream but wouldn't be put on an album in the UK until Best of Cream 3 years later, however, it was released as a single.  The single entered the UK Singles Chart on December 17, 1966, at #50.  In January the following year, the song peaked at #11.
#7-Crossroads-Wheels of Fire
This is probably my favorite cover of the classic Robert Johnson song, originally written in 1937.  Eric Clapton adapted the song during his time with John Mayall's Bluesbreakers and later became a part of Cream's set when he began performing with Jack Bruce and Ginger Baker in July 1966.  The guitar riff is rocking as Clapton imagined "Crossroads" to be a rock song.  Clapton simplifies Johnson's guitar line and sets it to a straight eight-note or rock rhythm.  He and Bruce continuously emphasize the riff throughout the song to give it a strong and regular metric drive combined with Baker's drumming vs Johnson's irregular measures that are standardized to typical twelve-bar sections forming more of a blues progression.
#6-Strange Brew-Disraeli Gears
Disraeli Gears dives more into psychedelia than Fresh Cream does and you can hear that as soon as you play the album's opening track.  This song is one of the rare cases where Clapton is singing rather than Bruce.  The song was released as a single backed with "Tales of Brave Ulysses" (see #4).  The single first appeared on the UK Singles Chart on June 10, 1967, at #43, and by July 15, it peaked #15.  The song was originally called "Lawdy Mama" and producer Felix Pappalardi took one of the two versions recorded and with the help of his wife Gail Collins, transformed the song into what we know today.  Clapton said they, "created a pop song without completely destroying the original groove."
#5-White Room-Wheels of Fire
This is the opening song to Wheels of Fire written by Jack Bruce and poet Pete Brown.  A single was released a month later in the US, cutting out the third verse for AM radio stations, although FM radio played the full-length version.  A single was later released in the UK the following January using the full-length album version of the track.  Clapton's guitar is the most notable part of the song, played through a wah-wah pedal to achieve a "talking-effect".
#4-Tales of Brave Ulysses-Disraeli Gears
I sometimes struggle to distinguish "White Room" and "Tales of Brave Ulysses" due to Clapton's use of the wah-wah pedal, however, this song is one of the earliest to use this pedal.  The song was the first collaboration between Clapton and Martin Sharp. Clapton composed the music, inspired by The Lovin' Spoonful's hit song "Summer in the City", which I didn't realize until just now how similar those songs sound. Sharp said, "I just started chatting to Eric.  I told him I had written a poem.  He, in turn, told me he'd written some music.  So I gave him my poem.  Two weeks later, he turned up with it on the B-side of a 45 record."
#3-Badge-Goodbye
This song has a great bass riff playing throughout.  The song was released as a single backed with "What a Bringdown".  The song is credited to be written by Eric Clapton and "L'Angelo Misterioso" because due to contractual reasons George Harrison's name wasn't allowed to be used.  "Badge" was originally an untitled track.  During the production of the album, the original music sheet was used to produce the liner notes and tracklisting.  The only discernible word on the page was "bridge" indicating the song's bridge section.  Due to Harrison's handwriting, Clapton misread it as "badge" and that became the title of the song.  There is a common misconception that the name came about because of the chord progression being B-A-D-G-E, or that the notation of the guitar's standard tuning E-A-D-G-B-E can be rearranged to spell "Badge".
#2-SWLABR-Disraeli Gears
This song is psychedelia at its finest!  The song was later released as the B side to our #1 pick. Pete Brown (who also wrote the lyrics for "White Room") wrote the words and Jack Bruce wrote the music.  The name of the song is the initials to "She Walks Like a Bearded Rainbow" although Bruce later said the W stood for "Was" rather than "Walks".  The lyrics I feel reflect the album's psychedelic album cover, "So many fantastic colors".  Other notable lyrics include, "But the picture has a mustache" and "The rainbow has a beard".  Pete Brown explained those lyrics.  he said, "The rainbow was this kind of very radiant sexuality.  It was a psychedelic time, not that I ever did big psychedelics-I did some small ones-and I was using color images a lot at that point.  But unfortunately, because we were in the blues tradition, it's a bit misogynistic, that song I'm afraid.  It's about someone whose girlfriend has given him the elbow and he's going around defacing pictures of her.  It's not very nice really."
#1-Sunshine of Your Love-Disraeli Gears
It should be no surprise that this song would be the #1 pick. This song includes a lot of elements of hard rock, psychedelia, and pop and is probably the band's best-known song.  Jack Bruce based the riff after attending a Jimi Hendrix concert.  Clapton and Pete Brown later contributed to the song.  Recording engineer Tom Down suggested the rhythm arrangement for Ginger Baker, although Baker claimed it was his idea.  The song was released as the second track from their 1967 album and was later released as a single.  Atco Records in the US didn't initially see the song as a single and released "Strange Brew" and "Tales of Brave Ulysses" in June.  In December, the label issued an edited version of the song backed with "SWLABR" which entered the Billboard magazine's Hot 100 chart on January 13, 1968, reaching #14.  The record re-entered the chart on July 6, 1968, and reached #5 on August 31, 1968.  In the UK, the single was not released until September 1968, after Cream had announced their impending breakup.  Polydor Records issued the UK single, which reached #25 on the charts.
Before clicking off the article, I have a few more songs I want to mention.  I only included three songs under Honorable Mentions instead of my usual five but the three that I picked are all really great and deserve a listen.
Honorable Mentions
Cat's Squirrel-Fresh Cream
This song was originally written by Doctor Ross in 1961 and has been covered by many notable artists including Cream (obviously) as well as Jethro Tull and both versions are great.  It's a great instrumental track featuring Jack Bruce playing the harmonica.  Jack Bruce chimes in about halfway through the song to sing, "well alright, alright alright" before the song switches back to instrumental.
Born Under a Bad Sign-Wheels of Fire
This song is a cover, originally written by William Bell and Booker T. Jones, as a great blues song for Albert King.  King recorded his song in 1967 and Cream covered it the following year.  The group's record company Stax Records, requested Cream record it.  Cream's version follows Albert King's, except for Jack Bruce singing two additional verses into "I've been down ever since I was ten" as well as an extended guitar solo by Clapton.
Spoonful-Wheels of Fire
Cream released a version of "Spoonful" on their first album, but they expanded on it as one of their live songs on Wheels of Fire.  This is a cover of a song written by Willie Dixon, recorded by Howlin' Wolf in 1960.  The Fresh Cream version features a faster tempo and a harmonica played by Jack Bruce.  The Wheels of Fire version is a much slower tempo focusing more on the riff played on bass.  Clapton delivers an amazing bluesy solo as the band jams out in this 16-minute song.
I guess all three of my honorable mentions were covers, I didn't know that when I placed them but it's fitting to have only three, and to have three that fit a theme.  As I stated earlier, Cream was groundbreaking in a lot of ways, giving a lot of "firsts" to music.  They were deserving of a Top 10 list, and I was excited to make one. What did you think of my list?  Do you agree with it? Would you rearrange it? What songs would you include on your list? Share your thoughts in the comments below. If you enjoyed this list, then check out my Top 10 Eric Clapton songs, that I posted earlier this year for the guitarist's 75th birthday. Before you go, don't forget to follow Awesome Albums on Instagram and Twitter, like on Facebook, and Subscribe on both YouTube and BitChute for music-related content.  Also, don't forget to come back next Tuesday, for another list for Top "Ten" Tuesday!