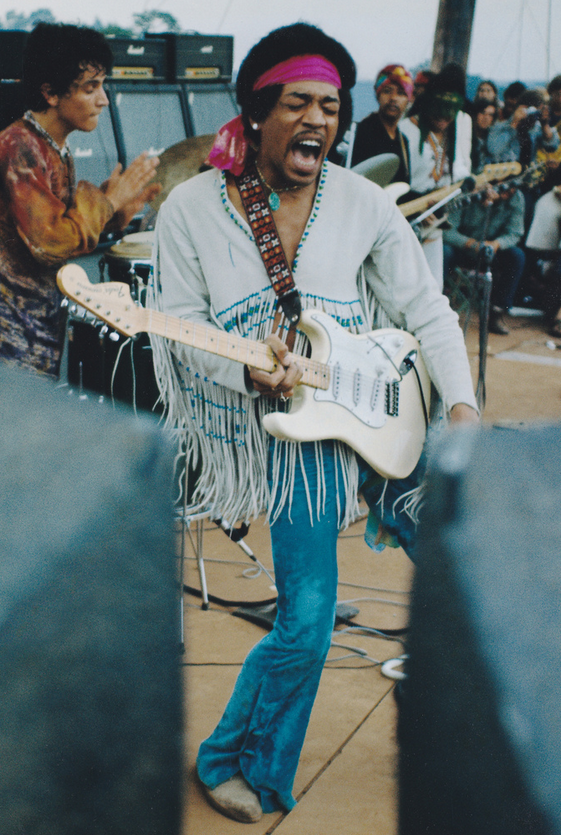 Welcome back to Top "Ten" Tuesday.  Today we are going to take a look at the music of James Marshall "Jimi" Hendrix.  Jimi Hendrix was an American guitarist, singer, and songwriter born on November 18, 1942, in Seattle, Washington.  He began playing guitar at the age of 15.  After moving to Clarksville, Tennessee he began playing gigs at the Chitlin' Circuit and got to play as a backing member for The Isley Brothers and later with Little Richard.  He worked with Little Richard until 1965 and then joined Curtis Knight and the Squires before moving to England in late 1966 with Chas Chandler of The Animals becoming his first manager.
Within months, Hendrix earned three UK top ten hits with his band The Jimi Hendrix Experience, made up of Hendrix (of course), Noel Redding playing bass, and Mitch Mitchell on drums.  He achieved fame in the US after his performance at the Monterey Pop Festival in 1967, and his third and final studio album, Electric Ladyland reached #1 in the US in 1968.  His success continues into 1969 where he headlined the Woodstock festival in August and the Isle of Wright Festival the following year.  Less than a month later, Jimi Hendrix dies from barbiturate-related asphyxia on September 18, 1970, at only 27 years old.
Despite his short life, he has inspired many artists to come and while his mainstream career only lasted four years, he is widely regarded as one of the most influential guitarists in history and one of the most celebrated musicians of the 20th century.  The Jimi Hendrix Experience was inducted into the Rock and Roll Hall of Fame in 1992.  With the introduction out of the way, let's get started! This is my Top 10 Jimi Hendrix songs.
#10-Little Wing-Axis: Bold as Love
It's a slower song, not at all in what is Hendrix's typical style of music.  It was a rhythm and blues-inspired ballad featuring Hendrix's vocal and guitar with recording studio effects accompanied by bass, drums, and glockenspiel. This song possibly dates back to the 1966 recording of "(My Girl) She's a Fox" an R&B song featuring Hendrix playing a Curtis Mayfield-influenced guitar accompaniment. Hendrix said the song came from an idea he had while playing in Greenwich Village, when he was fronting his band Jimmy James and the Blue Flames in 1966, and then further inspired during his performance at the Monterey Pop Festival.
#9-Are You Experienced?-Are You Experienced
This is the title track to the 1967 debut album.  The song has been described as one of Hendrix's most original compositions on the album by music writer and biographer Keith Shadwick.  The song is largely based on one chord and has a drone-like quality reminiscent of Indian classical music.  The guitar and drums are played backward and also features a repeating piano octave.  The song is psychedelic and it's awesome.
#8-Crosstown Traffic-Electric Ladyland
This is one of the many great songs from Hendrix's final studio album.  The song was released as a single backed with "Gypsy Eyes" and reached #52 on the US Billboard Hot 100 and #37 on the UK Singles Chart.  A notable sound in the song is a makeshift kazoo made with a comb and tissue paper playing along with his lead guitar.  Jimi Hendrix was backed with Noel Redding and Dave Mason on vocals.  The song is a great example of a mix between blues and acid rock.
#7-Dolly Dagger-Rainbow Bridge
This is the only posthumously released Jimi Hendrix on the top 10 list.  Jimi Hendrix wrote this song for his girlfriend Devon Wilson.  He completed the recording of the song on August 24, 1970, and used this as his opener for his concerts in the summer of 1970.  It was released as a single but Hendrix died before he could give consent.  The single was backed with the studio version of "The Star-Spangled Banner" The song has since been featured on many compilation albums and is even played on classic rock radio stations.  This song would be the last time that Hendrix would appear on the charts, where the song peaked at #74 on the Billboard Hot 100.
#6-All Along the Watchtower-Electric Ladyland
The song was originally written by Bob Dylan and appeared on his album John Wesley Harding in 1967.  The Jimi Hendrix Experience recorded their version on January 21, 1968, at Olympic Studios in London.  Engineer Andy Johns said Jimi had been given a tape of Dylan's recording by publicist Michael Goldstein, who worked for Dylan's manager Albert Grossman.  Engineer Eddie Kramer said Hendrix cut a large number of takes on the first day, shouting chord changes at Dave Mason who was a guest guitarist in the song playing his twelve-string guitar.  Noel Redding became dissatisfied with the proceedings and left causing Mason to play the bass.  Brian Jones of The Rolling Stones played the various percussion instruments on the track.  While I would say the Bob Dylan version is better, the song has become synonymous with Hendrix.  Even Dylan said, "It overwhelmed me, really.  He had such talent, he could find things inside a song and vigorously develop them.  He found things that other people wouldn't think of finding in there.  He probably improved upon it by the spaces he was using.  I took license with the song from his version, actually, and continue to do it to this day." Hendrix's version reached #5 on the British charts, becoming the first UK stereo-only single to do so, and also reached #20 on the Billboard chart, Hendrix's highest-ranking American single.  Since then the song has been featured on Rolling Stone's 500 Greatest Songs of All Time at #47, and Total Guitar ranked it at the top of the list of greatest cover versions of all time in 2000.  Guitar World ranked the guitar solo at #5 on their list of 100 Greatest Guitar Solos.
#5-Hey Joe-Are You Experienced
This song was written in 1962 by Billy Roberts (or rather he registered the copyright for the song in 1962).  The lyrics tell the story of a man who is on the run and planning to head to Mexico after shooting his unfaithful wife.  Hendrix recorded his version as the first single with The Jimi Hendrix Experience in October 1966 and the song became a hit in the UK peaking at #6 on the UK Singles Chart, backed with "Stone Free" a song that just barely missed the honorable mentions list.  Rolling Stone ranked the song at #201 on the 500 Greatest Songs of All Time. Total Guitar ranked it as the 13th greatest cover of all time.  VH1 ranked the song at #22 on their list of the greatest hard rock songs of all time.  The song also has significance as the last song Hendrix played at Woodstock, and since Hendrix was the final act of Woodstock, it was the final song played at Woodstock.
#4-Star Spangled Banner (Live)
Speaking of Woodstock, that's where our next song comes in.  Those who have followed Awesome Albums for a while know how highly I hold up this song.  It is probably the most majestic version of the song I've ever heard, and it's a majestic song anyway.  The middle section includes rapid drumming that sounds like machine-gun fire, crazy guitar screeching, and a sample of "Taps" played on guitar before returning to the national anthem.
#3-Foxey Lady-Are You Experienced
This is another of Hendrix's best-known songs and was performed frequently throughout his career.  It was later issued as the third single from the album, with an alternate spelling "Foxy Lady".  The song is immediately recognizable with the guitar riff played throughout the song.  The song also features a false ending where Hendrix sings, "Here I come baby, comin' to get ya" and the song reprises for about another minute.  While the song is iconic now, it made a relatively weak showing only peaking at #67 on the Billboard Hot 100 pop singles chart.
#2-Purple Haze-Are You Experienced
This is probably Hendrix's best-known song and one of his best.  It would've ranked #1 but it's hard to beat my #1 pick.  "Purple Haze" was released as the second record single by The Jimi Hendrix Experience on March 17, 1967.  As a record chart hit in several countries and the opening number on the album in the US, it was many people's first exposure to Hendrix's psychedelic rock sound. Because of the ambiguity of the song's lyrics, listeners interpret the song as a psychedelic experience, but Hendrix described it as a love song.  Is that why people interpret "'Scuse me while I kiss this guy" Instead of "'Scuse me while I kiss the sky?" That was a joke by the way.
#1-Voodoo Child (Slight Return)-Electric Ladyland
This is another song like "Foxey Lady/Foxy Lady" to have an alternative spelling.  The US spells it as "Child" whereas in the UK they spell it "Chile".  After Jimi Hendrix died, there was confusion on the release of "Slight Return" due to the 15-minute jam song "Voodoo Chile" heard earlier on the album.  In Hendrix's handwritten lyrics, he referred to the long jam song as "Voodoo Chile" spelled with an E, and the other song with a D, "Voodoo Child (Slight Return)".  When the album was released in the US Reprise Records label, those respective spellings were used.  In the UK Track Records release in 1970, both songs were spelled "Chile". Also in 1970, the "(Slight Return)" part of the title was dropped, causing more confusion between the two songs.  Later album reissues usually follow the Reprise or Track album spellings, depending on the country. "Voodoo Chile" was based on the Muddy Waters song "Rollin' Stone", the very song The Rolling Stones band as well as Rolling Stone Magazine based their name.  "Voodoo Chile" evolved from "Catfish Blues" that Hendrix performed regularly in 1967 and early 1968.  "Catfish Blues" was a homage to Muddy Waters, made up of a medley of verses based on Waters' songs, including "Rollin' Stone", "Still a Fool", and "Rollin' and Tumblin'".  The day after recording "Voodoo Chile", Hendrix along with Mitchell and Redding returned to the studio for the filming of a short documentary.  Rather than repeat what they had recorded the day before, they improvised on the song, using some imagery and guitar lines.  As Redding recalled, "We learned that song in the studio…They had the cameras rolling on us as we played it."  This version became "Voodoo Child (Slight Return)". 
Don't click off the list yet!  I have five more songs I want to talk about that almost made the list and are still great songs so if your favorite song isn't here, it could be one of the five listed below.  Like usual, the songs listed below are in chronological order.
Honorable Mentions
Manic Depression-Are You Experienced
The Jimi Hendrix Experience's first album has one great song after another and this is one of many from that album. The song also features Mitch Mitchell's jazz-influenced drumming and a parallel and bass line.  The idea of the title came from a press conference in London and his manager, Chas Chandler, told him he sounds like a manic depressive, and then Hendrix wrote this tune the next day.
Who Knows-Band of Gypsys
I spent most of my time talking about the three studio albums released by The Jimi Hendrix Experience, and while Electric Ladyland was the last studio album Jimi Hendrix saw released, there was one live album released as well.  On January 1, 1970, a live album was recorded at the Fillmore East in New York City with Billy Cox on bass and Buddy Miles on drums.  It's almost 10 minutes but it's still a great song with some great bluesy guitar.  About halfway through the song, the guitar gets quiet focusing on a great bass riff that eventually slows down to an almost halt.  The constant music and tempo changes keep the song fresh during it's 9 and a half minute runtime.
Changes-Band of Gypsys
This is another great song from the Band of Gypsys album.  Just like "Who Knows" there are some great bluesy guitar moments throughout the song.  The song is catchy with a slight funk quality to it, "Who Knows" has that too.  About halfway through the song, the audience participates with clapping along to the music which makes this song stand out as a great live track.
Freedom-The Cry of Love
A great posthumously released Hendrix song released on The Cry of Love in 1971.  It was often seen as one of the more realized pieces he wrote and recorded in the months before his death.  It incorporates several music styles and lyrics that touch on his relationship with Devon Wilson and her heroin addiction.  This was also one of the post-Band of Gypsys developed songs that Hendrix regularly performed in concert.  It was one of two posthumously released singles to appear on the Billboard Hot 100, reaching #59.
In From the Storm-The Cry of Love
I was conflicted between including this one or "Night Bird Flying" from the same album.  Both have a great guitar riff.  "Night Bird Flying" features multiple guitar parts and a variety of styles.  Lyrically, Hendrix continues to explore an idealized feminine figure, similar to "Little Wing".
"In From the Storm" features a great hard rock riff.  The song seems to be about suffering in a storm after you left someone you loved, and then realize how much you loved them that you came back.  That's my interpretation anyway.  Both of these are great songs and there are many more that just simply didn't fit in my Top 10 list.
Do you agree with my list?  Would you rearrange it? What songs would you include on your list?  Share your thoughts in the comments below.  And before you go, don't forget to follow Awesome Albums on Instagram and Twitter, like on Facebook, and Subscribe on both YouTube and BitChute for more music-related content.  Also, don't forget to come back next Tuesday, for another list for Top "Ten" Tuesday!