Category Archives:
Updates
I am excited to announce after a long hiatus that a big 2 part video is coming to Awesome Albums to celebrate the 50th Anniversary of The Beatles' Sgt. Pepper's Lonely Hearts Club Band.  Part one I plan to have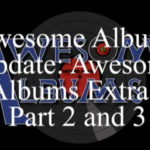 Awesome Andrew here with a small update involving September's Album video. I had to break up what was going to be Extras Part 2, into parts 2 and 3, and then I had to break down each segment into its
Hi everyone, welcome to my new website. I apologize for the mess on the website right now. I'm still trying to figure out how to build it and how to post content.