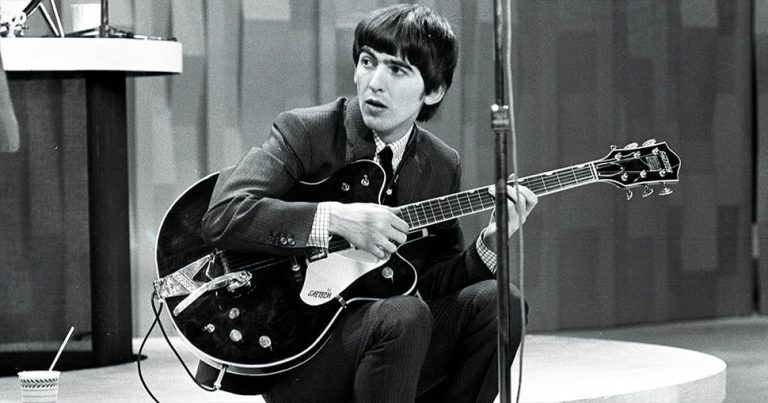 George Harrison, if you didn't know already, was an English musician, singer-songwriter, music and film producer, and lead guitarist for The Beatles.  After The Beatles broke up, he had a very successful solo career, beginning in 1970 with a triple album All Things Must Pass.  In 1988, he co-founded the platinum-selling supergroup The Traveling Wilburys which featured big names like Bob Dylan, Jeff Lynne of Electric Light Orchestra, Tom Petty of Tom Petty & the Heartbreakers, and Roy Orbison.
Today, February 25, would've been George Harrison's birthday.  And since his birthday this year just so happened to fall on a Tuesday, what better way to celebrate and remember his life than for this week's Top "Ten" Tuesday to feature my personal Top Ten Beatles songs where George Harrison had the vocal spotlight.
#10-Love You To-Revolver
Nothing gets as mid '60s as this song!  Around this time in the mid '60s many artists incorporated Eastern influences into their music.  This is George's second use of the sitar on a Beatles song, the first is in "Norwegian Wood" in 1965 for Rubber Soul.  The song also includes a tabla, a pair of Indian drums like bongos.  It's trippy, but that's what you expect for a song that came out the same time as the counterculture in the 1960s.
#9-The Inner Light-Single
Another Indian influenced George song, the third in this trilogy of George sitar songs, the first is "Love You To" and the second "Within You Without You" (see #8).  This song is pretty significant to George, not only in exploring his spirituality, but it was the first song written by George to be released as a non-album single on March 15, 1968.  Something about these Indian influenced songs that puts you in an alternate state of mind, but even musicologists praise the song for its melodic qualities and its evocation of the meditation experience.
#8-Within You Without You-Sgt. Pepper's Lonely Hearts Club Band
The second in what I'm calling George's trilogy of Indian influenced songs.  This song is probably is the best known of the three being on Sgt. Pepper's Lonely Hearts Club Band, arguably the best selling and most successful album that came out of 1967.  This song helped bring Indian classic music to a new audience.  Not only do we get exposed to many instruments most Western ears have never heard (including the dilruba, tabla, tambura, swarmandal), the music is a strange mix of peaceful, meditative music, with very thought provoking lyrics.
#7-Something-Abbey Road
This song shows just how far George has grown as a songwriter.  In fact, by this point he has grown as far to be compared to John and Paul both.  It's won the Ivor Novello Award for "Best Song Musically and Lyrically" in 1969.  It also was the first Beatles double A-side featuring a George song, along with John Lennon's "Come Together".  The song has so many other great things going for it.  George's soft vocals are always pleasant, the guitar solo often gets praise as some of George's finest playing.  The other Beatles have praised this song too.  John said it was the best song on the album, and Paul said it was the best song George ever wrote.  With all this praise, there's no doubt why it would be on a Top Ten list like this.
#6-I Need You-Help
This song is the second song George wrote, so lyrically not as refined as "Something" (see #7), and musically inferior to it as well, but I put this song at #6 simply because I like it more.  Help was an important album though as The Beatles were all starting to evolve as songwriters, singers, and musicians.  The era of "I Want to Hold Your Hand" is just about done by this point. An interesting feature with the song is the use of an imperfect cadence (resolving on A Major) in the climax of the bridge when he sings "I just can't go on anymore" which uses II (B7) and V (E7) chords.
#5-I Want to Tell You-Revolver
We are coming back to Revolver for this one. This song is the third song George wrote and sang for the album, giving George a lot of exposure of a singer and songwriter on one album.  As with "Love You To", Harrison drew inspiration from his experimentation with LSD, and it was definitely evident when you listen to the song, or I guess the album as a whole, we're hearing the transition into something different. Are these the same Beatles that were singing "I'm Happy Just to Dance With You" (another great George song) just two years earlier?
#4-While My Guitar Gently Weeps-The Beatles (White Album)
Most of the songs on the "White Album" were written during a dark time in Beatle history.  A lot of the songs are essentially solo efforts on this album, Ringo quit the band for a few weeks, a lot happened in this period.  Despite all that, some great songs came off this album including this one.  George unfortunately didn't have a lot of help on this one and turned to his friend and occasional collaborator, Eric Clapton who plays lead guitar on this track.  That makes this song really unique.  It's a Beatles song, with a very bluesy guitar solo that only one like Clapton can provide.  I like the guitar solo, the song is "While My Guitar Gently Weeps" and it really does sound like a guitar is weeping during the solo.
#3-If I Needed Someone-Rubber Soul
It's no surprise in The Beatles' early days, they pulled a lot of inspiration from the artists they grew up with and did covers of songs from the 1950s, examples Chuck Berry, Carl Perkins, Buddy Holly, the list goes on.  It's also no surprise that The Beatles influenced a lot of their peers of the time.  Listen to nearly any British Invasion group in 1964-65 and you'll see what I'm talking about.  This song though is unique that they were the ones being influenced by their peers of the day, meaning the mid '60s.  This song was inspired by The Byrds, who based their sound and image from The Beatles after seeing the movie, A Hard Day's Night.  Music journalist David Fricke said the composition resulted from, "a remarkable exchange of influences between the Beatles and one of their favorite new bands, The Byrds".
#2-It's All Too Much-Yellow Submarine
I'm conflicted on my thoughts of the Yellow Submarine album.  Side 1 is fantastic all the way through, side 2 is just orchestral tracks from the movie.  Going back to side 1, their are two songs that were on previous albums, "Yellow Submarine" was on Revolver, and "All You Need Is Love" is on the American version of Magical Mystery Tour.  That unfortunately leaves only 4 new songs, one Paul song "All Together Now", one John song, "Hey Bulldog" and two George songs, "Only a Northern Song" and this track "It's All Too Much". However all 4 songs I mentioned are great!  But this is Top 10 George songs, so I can't talk about "Hey Bulldog" or "All Together Now".  I heavily considered putting "Only a Northern Song" somewhere on my list, it's a great song, but ever since I first heard this track it immediately became one of my favorite Beatles songs.  I agree with the critics, which is unusual to say, this song is considered one of the pinnacles of British acid-rock.  Rob Sheffield of Rolling Stone rates it among, "the top five all-time psychedelic breakouts in rock history."  The song features a Hammond organ, which gives the track a drone-like quality typical of Indian music, electric guitar feedback, an overdubbed brass section.  There's so much I can say about this one, but it all boils down to I really like this one!  I at one point thought is this my #1 pick?  Maybe, but then I remembered one more big song I haven't mentioned yet and thought, though slightly cliche, I can't help but make this #1 choice, my #1 choice.
#1-Here Comes the Sun-Abbey Road
Being on Abbey Road, this song got a lot of exposure.  This song along with "Something" (see #7) are considered his best known Beatles songs, and just simply considered by many his best songs period. I know I've touched on George's soft spoken lyrics, but I definitely have to bring that up again for this song.  George has a great singing voice, and combine that with a beautiful melody with lyrics that inspire hope, it's just a great "feel good" kind of song.  The song is also unique with George's influence from Indian classical music, resulting in several time signature changes so there is always something new when you listen to the song.  My personal favorite part of the song, is when the band introduces to us what was at the time new technology, the Moog synthesizer.  While the Moog synthesizer has been around for a few years, 1965.  It wasn't for a few years that the Moog was adopted by the rock and pop mainstream acts including The Doors, The Grateful Dead, The Rolling Stones, and of course The Beatles. George introduced the instrument to the band's sound after acquiring an early model of the instrument in California.  I'm glad he included it, the song wouldn't be the same without it.  It wouldn't be as memorable, it wouldn't be as unique, and definitely would've affected its spot on this Top 10 list.
What did you think of this Top 10 list?  I'm not quite done yet though.  I have a few honorable mentions of George songs that were heavily considered to make my list for one reason or another.  While George didn't sing as many songs as John and Paul did, there were still too many songs to choose from.  I did my best though and came up with 5 honorable mentions that were close to the top 10, but didn't quite make the list.
Honorable Mentions
Roll Over Beethoven-With the Beatles
Though George didn't write this one, he did a great job covering this classic Chuck Berry tune.  The Beatles version was the first version I heard and I suppose because of that, it's probably my favorite.  Another great version I have to recommend to you, reader, is Electric Light Orchestra's version off their second album.  That version is awesome, where they actually included a segment of Ludwig Van Beethoven's 5th Symphony at the beginning before rocking out to the 50's classic.  But I still have to give credit to the original writer, which is one of Berry's best known songs, probably his second most famous after "Johnny B. Goode".  I haven't heard a bad version of this song yet, please don't test that! But this version is still probably my favorite.
I'm Happy Just to Dance with You-A Hard Day's Night
This song doesn't even hit the two minute mark, but this song is hugely notable for one major reason.  Not only was this song George's vocal contribution to the album (although this was before he was confident enough to write his own songs), it was also one of the songs used in the A Hard Day's Night movie which was the first mass media depiction of Harrison singing lead.
Everybody's Trying to Be My Baby-Beatles for Sale
This is my second song on my honorable mention that was actually a cover.  The song was originally written by  Rex Griffin in 1934, was credited to Carl Perkins who made the song hugely popular when he recorded it in 1957. It's no surprise though, that when The Beatles recorded any song, it's probably going to be the most popular version.  It IS The Beatles after all.  The most exciting thing with this song is George got to perform it alongside Carl on the Cinemax cable special Blue Suede Shoes: A Rockabilly Session in 1985.
Tax Man-Revolver
The other song George sang on Revolver.  This one hurt the most to not include on my Top 10 list.  It's a great song with a heavy political overtone. Now in another couple years, that wouldn't be a surprise but at this point in time, there weren't too many political songs (don't quote me on that though). The lyrics attack the high levels of progressive tax taken by the British Labour government of Harold Wilson (which is the Mr. Wilson in the song). Hard Wilson later became Prime Minister of the United Kingdom from 1974-1976. The Mr. Heath in the song refers to Edward Heath, the leader of the Conservative party.  These two names and parties were the two largest parties in British politics.  Now let's talk about the music for a bit,  Rolling Stone has described the completed track as "skeleton funk-Harrison's choppy fuzz-toned guitar chords moving against an R&B beat", with McCartney contributing a "screeching-raga guitar solo". A great way to describe this song musically.
You Know What to Do-Anthology 1
I wanted to bring some attention to this song because it's not likely a lot of you know it.  It was recorded on June 3, 1964 but remained unreleased until the Beatles Anthology 1 in 1995.  It's just a nice, short, acoustic piece.  Unfortunately the song has received its share of hate.  George Martin explained that Harrison "got discouraged some time ago when none of us liked something that he had written."  Ultimate Classic Rock listed the song as the worst of the Beatles' 227 officially released songs, stating that it "shows why his songs were still being passed over at this point."  I have disagree with that statement though.  This song is the WORST in The Beatles' catalog?  Over Flying? The boring instrumental track on Magical Mystery Tour?  Revolution 9? That…"collage" of sounds.  Heck, I'd rank some of George's other songs closer to the worst Beatles's song over this one.  "I Me Mine", "Long, Long, Long", or "Think For Yourself" are a few George specific songs I would rank lower than this one.  I digress too much though, and I might have insulted your personal favorite George song there, and for that I apologize, but I don't think this song deserves the hate that it got.  Why not go ahead and give it a listen, hopefully you'll agree with me to at least say, it's not as bad as everyone described it.
Do you agree with my picks?  What songs would you put on your Top 10 George Harrison Beatles songs?  Feel free to post them in the comments and get a conversation going.  And be sure to check back next Tuesday, as I plan to do another Top 10 list then.  Until then, feel free to check out my Top 10 Led Zeppelin songs and my Top 10 AC/DC songs.