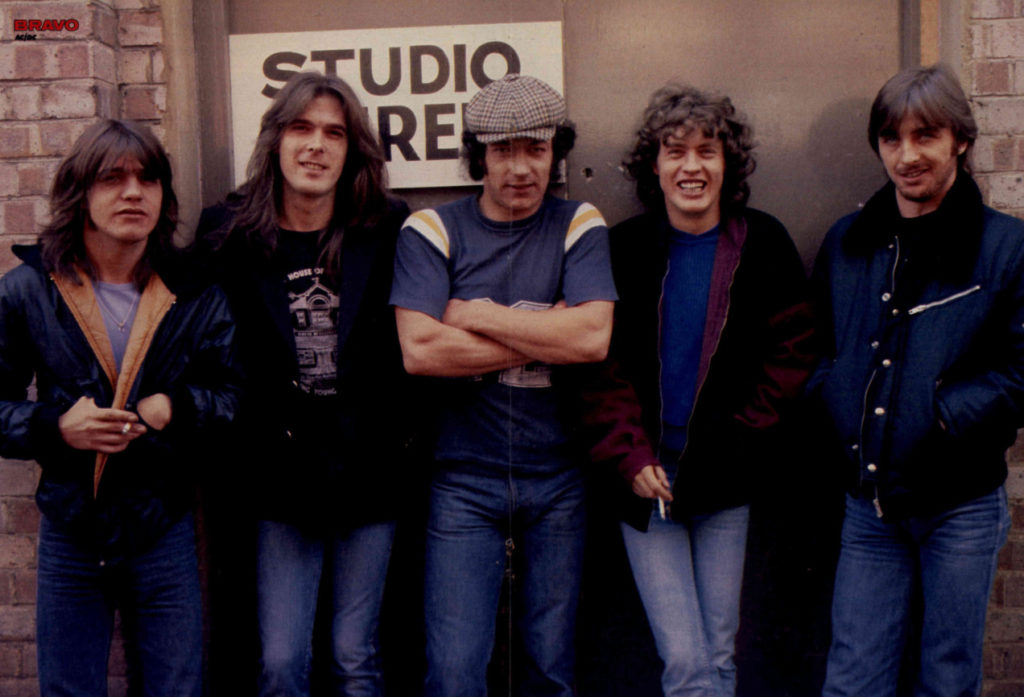 Welcome to another Top "10" Tuesday list, today we are going to go through AC/DC's discography and I'm going to pull out what I feel my Top 10 songs are.  This is going to be hard because they've made 16 studio albums, all with great songs that I enjoy listening to again and again.
AC/DC was formed in Sydney, Australia in 1973 by Scottish-born brothers Malcolm and Angus Young.  Their music has been variously described as hard rock, blues rock, and heavy metal.  The band though, considers themselves to simply be "rock and roll". And with that, let's get started with my personal Top 10 AC/DC songs.
#10-What's Next to the Moon
AC/DC's fifth album and a great rocker.  This album I feel is often overlooked when it comes to AC/DC albums.  People often think of Highway to Hell, Back in Black, and For Those About to Rock, but there are a lot of great songs on this album like 'What's Next to the Moon'.  The interesting thing with this song is the sound you hear is an accident.  Guitarist Angus Young said that they were in the studio and he had just broken a string but instead of changing his guitar, he wanted to keep the one he had because he liked the sound it made.  He changed the string, and in order to test the arrangement, he played a few notes by a chord and Malcolm Young told him, "This would be good to start a song."
#9-Rock 'N Roll Train-Black Ice
The opening track to AC/DC's 2008 Black Ice and was AC/DC's first new single in eight years. But the eight years were worth the wait getting a great album and a really strong opening track.  In fact this song was so good that it helped the album sell 784,000 copies in the first week and the song itself hit No. 1 on the US Billboard Hot Mainstream Rock Tracks and stayed there for over three weeks.  It was also the first by AC/DC to chart on Billboard Alternative Songs chart.  A lot of firsts for this song.
#8-t's a Long Way to the Top-High Voltage/T.N.T.
The opening track to AC/DC's first album released internationally which means it has even more firsts than 'Rock 'N Roll Train' (listed at #9 as seen above). It is also the opening track to their second Australian album.  Long story but the band's first international album combined many songs from the Australian T.N.T. and High Voltage to create the High Voltage album released everywhere else.  The most notable thing with this song is the use of bagpipes.  This is to my knowledge of AC/DC songs, the only song to use bagpipes.  Angus and Malcolm's brother George Young, heard that singer Bon Scott was in a pipe band, encouraged the use of bagpipes in the song.  Scott decided to go for it despite never played them before, in fact he was actually a drummer.  I for one am happy for the encouragement.  The song is great already even without the bagpipes, but that instrument makes it the most unique song in AC/DC's catalog, as well as one of their most memorable.
#7-Evil Walks-For Those About to Rock
For Those About to Rock is one of AC/DC's best known albums, and it's because the album has one great song after another, but this one I would say is my favorite from this album.  It's a hard rocker, and I can't help but put a bit of a bob to the head when the song comes on.  Angus Young described the song as just a catchy title with a catchy tune.  "We were playing it at the beginning and I said, 'those chords sound dead evil.' And that's usually how we do it-just sitting around and nattering and thinking and jamming away, and someone says something like 'evil walks' and that's it."
#6-Rock or Bust-Rock or Bust
AC/DC's most recent album to date (although I hear they are working on a new album so that could soon change).  As soon as I started up their new album, I got sucked into the song just from the opening riff.  I thought, "Wow! This is a really strong start to this album!" And it immediately became one of my favorites.  What if I told you though that this opening riff Angus had for years?  He told Rolling Stone that the song's opening riff was something, "I kicked around for years in different forms."
#5-Highway to Hell-Highway to Hell
One of AC/DC's most famous songs.  This album was the last album to feature Bon Scott who died February of the following year.  This song due to the name got attacked a lot from Christian evangelists because of the name…Highway to Hell…and that even caused the album cover to be changed when released internationally, taking out the flames.  I think the song name made me feel uncomfortable back in the day too. Gasp! The song said Hell! That's an evil word!  But for anyone out there who may be concerned with the name, just know, the song has nothing to do with…that place.  The highway that inspired the name of the song is the Canning Highway in Australia.  Now you can enjoy the song without feeling Satanic. 
#4-Hell's Bells-Back in Black
Oh no, another Hell song! This song is the first song fans back in the day probably heard after the death of Bon Scott being the opening track on Back in Black.  The album was a tribute to Bon Scott which is why the album is all black, as if you wear black to mourn someone.  The bell you hear is a real bell that rings 13 times. They first attempted to record the bell at Leicestershire, England but that was insufficient.  Then they tried to record the Denison Bell in the Carillon Tower at the Loughborough War Museum but birds were living up there so they recorded fluttering of wings. Third time's the charm, they finally got their bell, a replica of the Denison Bell created by John Tyler Bellfounders with 15 microphones with various dynamics in different locations around the foundry to record the sounds.  Producer Mutt Lange chose the right combination of bell sounds, put a mix together, and slowed it to half speed.  The end result gives me chills.  It's loud, ominous, and one of the most powerful openings to a song I've ever heard! The rest of the song is great too.  Great guitar riff, great guitar solo, just great all the way through and that's why it's so high up on my list.
#3-Let There Be Rock-Let There Be Rock
The title track to their 1977 album. I first heard this song advertised on the AC/DC Track Pack for Rock Band.  In fact it was the song used in the commercial and the song stood out to me.  I really enjoyed the second verse (which was what was used in the commercial) "Let there be sound…there was sound. Let there be light…there was light…let there be drums, there was drums. Let there be guitar…there was guitar.  Oh let there be rock!"  The story in the song itself is fun too.  Building on the line from Chuck Berry's Roll Over Beethoven to tell Tchaikovsky the news.  Well apparently he did receive the message allowing the rise of rock and roll. But I can't talk about this song without talking about the riff which in my opinion makes it one of the heaviest AC/DC songs they made.  That could be debated, but I'd definitely say the heaviest of the Bon Scott era.  Whether it's their heaviest or not, it's definitely one of their best and my favorite from the Bon Scott era.
#2-Back in Black-Back in Black
This song is the title track to their seventh album and their first with Brian Johnson on lead vocals after the death of Bon Scott earlier in the year in 1980.  The song like I mentioned with the album, is their tribute to Scott.  This is probably THE most recognizable AC/DC song and was my favorite of theirs for the longest time…obviously one has since beaten it as my #1 pick.  This song has been heard all over the place, mainstream radio, restaurants, commercials.  The song is everywhere, and it deserves to be because the song's that good!  From the first few quiet seconds, and then the loud riff that follows, it's hard to beat.  It's as rockin' a song as you can get.  In fact Meta Hammer magazine said, "there are rock songs that appeal to metal fans. And there are metal songs that appeal to rock fans.  Then there is Back in Black-a rock and metal song that appeals to everybody, from dads to dudes, to little old ladies beating noisy kids over the heads with their sticks-and it all hangs on that monumental, no-nonsense, three-chord monster of a riff." And that statement sums everything I need to say about it.
#1-Rock and Roll Ain't Noise Pollution-Back in Black
My third entry from Back in Black.  I couldn't help it, it's such a great album.  When I first heard this song, it didn't register with me.  It took a time when I was finally able to actually listen to the album that this song finally got its chance to shine.  The song starts off on the quiet side, with a loud drum beat.  I'm just waiting.  This song's going to be awesome, I can just tell.  The song did not disappoint! I love the chorus of the song "Rock 'n' roll ain't noise pollution/Rock 'n' roll ain't gonna die/Rock 'n' roll ain't noise pollution/Rock 'n' roll it will survive" which in a newer generation where there is just an over saturation of garbage music out there, it's refreshing to know that rock and roll isn't going anywhere. All we need to do is remind people, the great music of rock's past like this one.
I have a few more songs I want to talk about, so if you have a song that you're surprised isn't here, check out my honorable mentions. These are in chronological order, just in case you are wondering.
Honorable Mentions:
T.N.T.-T.N.T.
This hurt not putting in my Top 10, it's a great Bon Scott song, and one of their first big hits.  The song has a cool story.  Bon Scott was originally a roadie but took over lead vocals when their first singer, Dave Evans, didn't show up for a gig.  That moment changed rock and roll forever.
Gone Shootin'-Powerage
A very underrated track.  When you think of AC/DC, you think of loud rock and roll and a short guy in a school boy uniform flailing on the ground while doing a guitar solo.  And normally you're correct, but then you have songs like this that get overlooked.  And it's a shame because it has become one of my favorite AC/DC songs.  It has a great guitar riff backed by a powerful drum beat.  Give it a listen, it's a really great deep track.
Let's Get It Up-For Those About to Rock
Probably my second favorite from 'For Those About to Rock', and that's a tough call because of how many great tracks are on that album.  Musically it reminds me of Evil Walks (which made my list, you should know that though) which is why I like this one too. I guess it's because they're both hard rockers with strong intros.
Rising Power-Flick of the Switch
Flick of the Switch may not be AC/DC's best album. They released a string of albums in the mid '80s that aren't bad but not at all close to their best stuff but Rising Power is still a pretty awesome track and a great way to begin the album.  
Thunderstruck-Razors Edge
I feel with this album, AC/DC has finally made a comeback.  The guitar riff in the intro of Thunderstruck shows us that AC/DC's still got it! The intro is memorable with quiet but fast guitar work with Brian singing before blasting into full volume with the whole band. According to The Story of AC/DC: Let There Be Rock, Angus Young created the distinctive opening guitar part by playing with all the strings taped up, except the B.  That guitar technique created one of AC/DC's most recognizable songs in the last 30 years and again shows they still got it.
Did you agree with my list?  What are the AC/DC songs you would put in your Top 10?  Go ahead and share your thoughts.  I'm hoping to make a new list every Tuesday so if you like these lists, definitely come back next time for another Top "10" Tuesday.  And if you want more lists, check out my Top 10 Led Zeppelin songs.
Top 10 Led Zeppelin Songs