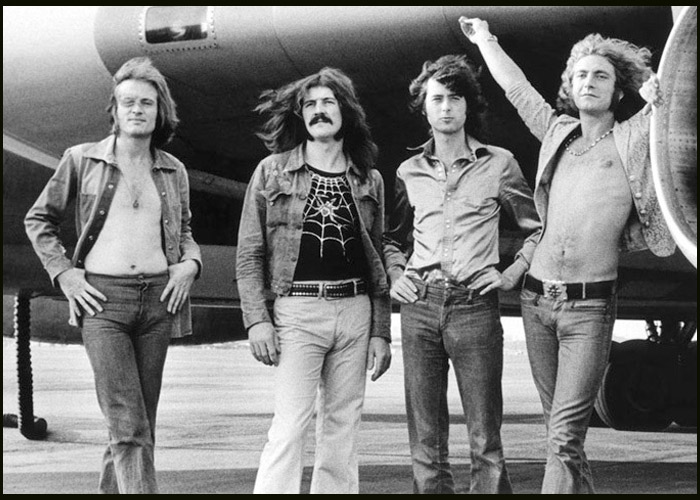 Welcome to the first official Top Ten list for Awesome Albums on Top "Ten" Tuesdays.  While not every list will be a Top Ten, could be a Top 25 or Top 100…I don't know.  Today we are going to take a look at my personal Top 10 Led Zeppelin songs.  This was hard to come up with.  Even though Led Zeppelin only has 9 studio albums, there are a lot of great songs on those 9 albums. And I'm not sure if I'm fully satisfied with this first list and it may change at some point, but as of right now here is my Top 10 list.  Please note, this is only my opinion and just because it's not on this list doesn't mean I don't like it.  So with that intro out of the way, let's get started!
#10-Out on the Tiles-Led Zeppelin III
The fifth track on Led Zeppelin's third album, released in 1970.  On an album dominated by acoustic and folk songs, this is one of the heavier tracks on there, outside of the opening track T"he Immigrant Song", which has become one of their most popular songs even in recent years and the 7 and a half minute blues number "Since I've Been Loving You". Both are great tracks too, but I might have to say that "Out on the Tiles" might be favorite song from Zep III.  Like I said, things might change.
#9-Kashmir-Physical Graffiti
One of Zep's most famous songs from their 1975 double album.  It's a song that you immediately recognize as soon as you hear it.  All band members agree this was one of their best musical achievements and Robert Plant says this was of his personal favorites so that tells you something right there!
#8-In The Evening-In Through the Out Door
A very quiet intro before rocking out in the only way Zeppelin can do, that sound in the intro was used by a new gadget known as the Gizmotron, created by ex 10cc members Lol Creme and Kevin Godley who wanted to focus on creating new instruments and sounds. The Gizmotron was a key instrument used through on the album not only being featured on this track but also "Carouselambra".
#7-No Quarter-Houses of the Holy
You'd swear listening to this song you were listening to an early '70s Pink Floyd track until the song gets going, not that that's a bad thing.  The song is a great way to showcase John Paul Jones' skills as a pianist.  A beautiful piece to listen to, but then song only gets better when the song gets louder the guitar riff kicks in, which is one of my favorite guitar riffs by any band.  Sounds like a possible idea for another list? We'll see.
#6-Whole Lotta Love-Led Zeppelin II
I couldn't not include this track on my Top 10 list when at one time it was probably my #1 pick, but it's still a great song and a great track to open an album, especially one as huge as their highly anticipated second album. This song was also way ahead of its time if you ask Jimmy Page and engineer Eddie Kramer who say that it was just a combination of the two of them "just flying around on a small console twiddling every knob known to man"
#5-Achilles Last Stand-Presence
In my opinion, this is one of Zep's heaviest tracks and one of my favorite songs that showcases Bonham's drumming.  But it's impossible to overlook the guitars in this song.  Jimmy Page overdubbed 6 guitar tracks to create a huge sound.  This song is simply one of many songs that dive into folklore that Zep is known for in their music.  Look at "The Immigrant Song", "Misty Mountain Hop", or their Tolkien influenced songs like "The Battle of Evermore" or "Ramble On".
#4-Bring It On Home-Led Zeppelin II
A surprising pick for a lot of people that "Bring it On Home" would be this high up on the list but there's so much going for it.  The song starts out in a very quiet, bluesy style with Plant's vocals quivering in the same way that Sonny Boy Williamson did just 3 years earlier.  However, when you hear that last harmonica note surge, you know you're in for something special.  The song is loud and fast in every way possible, and it's just really awesome to hear.  It's interesting to hear something reminiscent of the old blues they grew up listening to, and then before our ears turn that sound into their style.  A great heavy blues piece.
#3-Nobody's Fault But Mine-Presence
Going back to 1976 we have the opening track to side 2 of the original record.  This piece grabbed at me the first time I heard it and hasn't stopped since.  This is another piece that has so much going for it.  Between the intro that Page overdubbed 3 times, one of them an octave higher than the others.  You have a great bass track, a great reminder of how talented the under appreciated Jones is.  Then in the middle of the song, Robert Plant picks up his harmonica for a harmonica solo.  It is also in my opinion, their heaviest or at least one of their heaviest songs.
#2-When the Levee Breaks-Led Zeppelin IV
If I had to pick any song for the game of "Pick a song you would recognize immediately for the drums", this would be my pick.  The drums are uniquely slowed down and full.  It was how they were recorded in the staircase at the Headley Grange mansion where most of their fourth album was recorded. Microphones were placed 3 stories up on the stairwell to capture that sound.  This drumbeat, while I know it for this track, it was a very popular sample for many rap songs, because it's clean uninterrupted drum break at the beginning.  Look at The Beastie Boys "Rhymin' and Stealin'" as well as "Lyrical Gangbang" by Dr. Dre.
#1-How Many More Times-Led Zeppelin
The #1 spot is really hard because I had probably 20 choices that could've gone here, but this is the one I went with.  It's trippy and bluesy, everything I wanted in a late 1960's Led Zeppelin song packed with many different blues influences from Albert King, Howlin' Wolf and even Jeff Beck (although to be fair, Page wrote that one).  It has its quiet moments, it has its loud moments.  It has its fast moments, and it has its slow moments.  So much going on in this eight minute song.  We even have Jimmy Page playing a violin bow during part of it.  Like I said, it's got everything!
I know some of these surprised you and you might be wondering, "Why didn't you pick this song?" Or "Why DID you pick that one?" Most importantly, "What? Seriously? No Stairway to Heaven?" Well I have a few Runner Ups down below that almost made the list for one reason or another (chronological order here).  Maybe your favorite pick is down there.  If not, like I said, this was a hard list to narrow down the Top 10 best songs from of my favorite bands of all time.
Runner Ups
Good Times Bad Times-Led Zeppelin
A great short song that showcases the band's talent and this brand new sound that was coming out of the late 1960s gearing up to what we'd hear in the 1970s.
Since I've Been Loving You-Led Zeppelin III
I actually used to think this song was boring, I was stupid then.  This song's amazing.  I mentioned how Led Zep III was mostly dominated by folk songs, they wanted to remind us of their blues roots in this great piece.  Jimmy Page said it was the hardest track to record for the album and Robert Plant said it was one of the hardest for him to sing but it amazingly showed off his vocal range reminding us that he will always be one of rock's greatest vocalists.
The Battle of Evermore-Led Zeppelin IV
I really liked this one and feel bad I didn't include any acoustic pieces in my Top 10.  This has some beautiful mandolin playing and the only Zep song to feature a guest vocalist with Sandy Denny.  Her role was so important here that she was even given her own symbol for the album.  The album is rich with imagery of a fantasy war pulled straight out of "Lord of the Rings".  I mean come on, they mention Ringwraiths!
Stairway to Heaven-Led Zeppelin IV
I guess I had to include "Stairway" somewhere here. It's too iconic to not talk about.  This song is often considered the greatest classic rock song of all time and that's impressive! And there's so much going for it.  The first half of the song is acoustic with a flute playing and listening to it reminds me of the imagery on the front cover and gatefold with the hermit character.  Then the song picks up and has one of the greatest guitar solos (in my opinion) of all time! The song ends with Robert Plant's voice just trailing off into the abyss.  When the song was first heard, nobody clapped right away, not because they didn't like the song, they just weren't sure if the song was done.  Although if you ask Robert, he'd say he hated this song.  Well I for one am glad that they didn't leave off this song, just because HE didn't like it because it's so engrained in '70s music culture so far that a lot of Zeppelin fans can't ever listen to this song again because they heard it that much.  Fortunately I can look past that and appreciate how great this song really is.
Over The Hills and Far Away-Houses of the Holy
This song has evolved quite a bit over the years before becoming what we know it as today.  It actually evolved from "White Summer" an old Yardbirds piece written by Page.  Then when the other instruments got incorporated into it, it was just going to be an instrumental piece.  You can hear this instrumental version on the Houses of the Holy Deluxe Edition Disc 2.  Lyrics were eventually added inspired by Tolkien's book The Hobbit as well as Tolkien's 1915 poem of the same name.  Even after the music picks up, you can still hear the acoustic guitar throughout the whole song, something I didn't catch on to right away which made me only appreciate this piece that much more.  I like music subtleties in case you couldn't tell.
Do you agree with my pick?  What songs would you put in your Top 10 Led Zeppelin list? And if you like this Top 10 list idea, then maybe suggest some lists that you'd like to see in the future.  I plan to make a list every Tuesday (emphasis on plan).  And I do hope to turn some of these lists into a video that you an enjoy on the YouTube channel as well so be sure to check that out and subscribe if you haven't yet and I will catch you in another article or video.