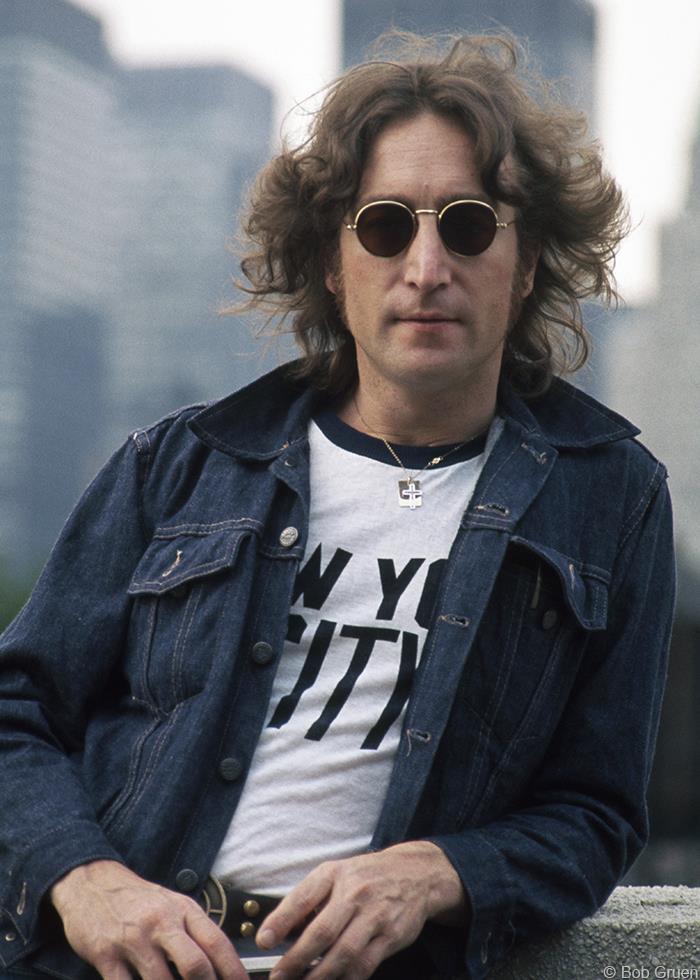 Welcome back to Top "Ten" Tuesday, a list that…well it used to be a weekly list uploaded every Tuesday. Things got busy with working on my last couple videos before the end of 2020. Back in October, we celebrated what would've been John Lennon's 80th birthday. 
John Lennon was an English singer, songwriter, and peace activist who gained worldwide fame as the founder, co-lead vocalist, and rhythm guitarist for The Beatles. In remembrance of his life with The Beatles, I created a Top John Lennon Beatles Songs list, the link is at the bottom of this article. At the end of the bio section of my list, I said, "I was planning on continuing the story, but I have reasons why I am stopping the story here. For one, we are focusing on John Lennon's time in The Beatles, and two, let's just say I'll be coming back to John Lennon in a couple of months.
Today is that day where we are returning to John Lennon. The last couple of years of The Beatles were rough and full of arguments with one band member leaving, come back, another one would leave, and then come back. John Lennon left The Beatles in September of 1969 but agreed not to inform the media while the group renegotiated their recording contract. He was outraged that Paul McCartney publicized his departure on releasing a solo album in April of 1970. John Lennon said, "I started the band. I disbanded it. It's as simple as that," as a response to Paul getting the credit for it. John said in a December 1970 interview with Rolling Stone, "I was a fool not to do what Paul did, which was use it to sell a record." There was a lot of hostility toward Paul during this time.
John Lennon  released his debut solo album, John Lennon/Plastic Ono Band, on December 11, 1970 (not counting a couple of albums with his wife, Yoko Ono, called "Unfinished Music No. 1: Two Virgins" in 1968 and "Unfinished Music No. 2: Life with the Lions" in 1969).  While the album was highly praised by music critics, its highly personal lyrics and stark sound limited its commercial success. He changed things up for his second album, Imagine in 1971 which received massive success.  Some Time in New York City was recorded as a collaboration with Ono and was released in 1972. Lennon embraced US radical left politics which was evident in the lyrics of many songs on the album.
While Lennon was recording Mind Games in 1973, he and Ono decided to separate. The 18-months apart was named his "lost weekend" where he spent time in Los Angeles and New York City with May Pang, John and Yoko's assistant, and production coordinator.
During this time, he contributed to ex-Beatle Ringo Starr's song, "I'm the Greatest" and produced Harry Nilsson's album Pussy Cats.  Lennon settled back in New York City where he recorded Walls and Bridges, which was released in 1974.
John Lennon took a five-year hiatus from music in 1975 when he spent some time with Yoko raising their son Sean, who was born on John's 35th birthday. He devoted himself to Sean, rising at 6 AM to plan and prepare his meals and spend time with him.  In October of 1980, he released his first single in five years, "(Just Like) Starting Over". The following month, he released Double Fantasy, which contained songs written during the summer of 1980, spent in Bermuda. The music on this album reflected Lennon's fulfillment in his new-found stable family life. There was enough material for a follow-up album Milk and Honey, however, John never saw the release of this album.
At approximately 5 PM on December 8, 1980, John Lennon autographed a copy of Double Fantasy for a fan before leaving The Dakota apartments with Ono for a recording session at the Record Plant. After the session, Lennon and Ono returned to their Manhattan home around 10:50 PM that night. They stepped out of the vehicle and walked through the archway of the building when the fan from earlier, Mark David Chapman, shot Lennon twice in the back, and twice in the shoulder at close range, one bullet missed and hit a window. The bullets punctured his left lung and left subclavian artery.  Lennon staggered up five steps to the security area where he reported, "I'm shot! I'm shot!" He then fell to the floor.  Chapman dropped his gun on the sidewalk and removed his coat and hat in preparation for the arrival of the police-to show he was not carrying any concealed weapons and remained at the crime scene. They reported he dropped the revolver on the ground was holding a copy of "The Catcher in the Rye". Later he claimed, "If you were able to view the actual copy of 'The Catcher in the Rye' that was taken from me on the night of Dec. 8, you would find in it the handwritten words, 'This is my statement.'" They immediately arrested Chapman in handcuffs and placed him in the backseat of the squad car. Chapman did not attempt to flee or resist arrest.
A few minutes before 11 PM, Officer James Moran arrived with Lennon in his squad car at Roosevelt Hospital. Moran was carrying Lennon on his back and onto a gurney, demanding a doctor for a multiple gunshot wound victim. When Lennon was brought in, he was not breathing and had no pulse. The doctors tried to revive him but they realized there was nothing they can do as there was too much damage to his blood vessels. Lennon was pronounced dead on arrival at 11:15 PM December 8, 1980, but the time 11:07 had also been reported. That means that today is the 40th anniversary of the day we lost Beatles legend, John Lennon. With our tragic story out of the way, it's time for us to take a look at John Lennon's songs after he left The Beatles and go over my Top 10 John Lennon Solo Songs.
#10-Whatever Gets You Thru the Night-Walls and Bridges
This a song released during John's "Lost Weekend" period. It was released on Walls and Bridges but it was also released as a single on September 23 in the US and October 4 in the UK, backed with "Beef Jerky". It peaked at #1 on both the Billboard Hot 100 and Cashbox Top 100 as well as #36 on the British singles chart. It was his only #1 single in the US during his lifetime and Lennon was the last Beatle to achieve that success. John collaborated with Elton John on harmony vocals and piano. While in the studio, Elton bet Lennon that the song would top the charts. Lennon was skeptical that the song would reach that level and promised that if it does, he would appear on stage at one of Elton's performances should the record hit #1. When the record achieved that, Lennon appeared at Elton's Thanksgiving performance at Madison Square Garden on November 28, 1974. It was Lennon's last major concert appearance. May Pang told Radio Times in 2005, "At night he loved to channel-surf, and would pick up phrases from all the shows. One time, he was watching Reverend Ike, a famous black evangelist, who was saying, 'Let me tell you guys, it doesn't matter, it's whatever gets you through the night.' John loved it and said, 'I've to to write it down or I'll forget it.' He always kept a pad and pen by the bed. That was the beginning of 'Whatever Gets You Thru the Night'."
#9-(Just Like) Start Over-Double Fantasy
This song was the first single released from Double Fantasy and the first new recording he released since he left the music industry in 1975. It was chosen by Lennon not because he felt it the best track on the album, but because it was the most appropriate following his five-year absence. He referred to it during production as the "Elvis/Orbison" track, as he "tongue in cheek" impersonated their vocal style. The single was released on October 23 in the US and the next day in the UK. It reached both #1 in both the US and the UK after Lennon's death in December. It was the final album released during his lifetime.
#8-Bring on the Lucie (Freda People)-Mind Games
This is a protest song that John released on his 1973 album. John started working on this song in late 1971 starting as little more than a chorus after Lennon acquired a National guitar. After working on the lyrics, the song went from a simple political slogan to a statement that hints at his earlier work like "Imagine" and "Power to the People".
#7-Surprise, Surprise (Sweet Bird of Paradox)-Walls and Bridges
This song has a catchy riff throughout. There's not a lot of information about this song. The only thing I found was that May Pang claimed that John wrote this song about her during his "Lost Weekend". In a later interview, John dismissed this song as "garbage". John said that about a lot of his songs, but even if he thought it was garbage, I think it's a fun song.
#6-What You Got-Walls and Bridges
Walls and Bridges is my favorite John Lennon solo album, as evident by three songs appearing in my Top 10 and one in my Honorable Mentions. There's no information about it, but it's another catchy song. The lyrics ring true, "You don't know what you got, until you lose it," which we've all experienced that on multiple occasions.
#5-Give Peace a Chance-Single
This is John's first single released in July 1969, as a Plastic Ono Band single backed with Ono's "Remember Love" B-Side. It was initially credited as a Lennon-McCartney song since he released it while he was still a member of The Beatles. McCartney's credit was eventually dropped. It became an anthem of the American anti-war movement during the 1970s. It peaked at #14 on the Billboard Hot 100 and #2 on the British singles chart. It was written during Lennon and Ono's "Bed-In" honeymoon in Montreal, Quebec, Canada. When asked by a reporter what he was trying to achieve by staying in bed, Lennon answered, "Just give peace a chance." John and Yoko had a lot of visitors during their "Bed-In" including reporters, staff, and celebrities that banged on everything from doors to tabletops for rhythm. John thought the first take sounded weak so in the next take, he added a group of Hare Krishna drummers. The drumming was remixed in the studio because John came into soon on the third verse.
#4-Gimme Some Truth-Imagine
This is another one of John's many protest songs. It was first released on his breakthrough album, Imagine but was also issued as the B-side of "Love" on a posthumous single in 1982. "Love" almost made it to "Honorable Mentions". John started working on the song as early as January 1969 during The Beatles' Get Back sessions, which would evolve into their final album Let It Be. The lyrics convey Lennon's frustration with deceptive politicians and chauvinism. The song features many Klaus Voormann who worked with The Beatles and many other artists and Alan White who became the drummer for Yes in 1972. Nicky Hopkins, best known for collaborating with The Rolling Stones, The Kinks, and The Who plays piano and George Harrison joins his ex-bandmate to play electric and slide guitar.
#3-Nobody Told Me-Milk and Honey
This my favorite song from John's posthumously released album. The song has a catchy piano riff and chorus.  The song was released as a single backed with "O' Sanity", a Yoko song, and later with "I'm Stepping Out", a song that almost made Honorable Mention. The lyrics reference the yellow idol in J. Milton Hayes' poem The Green Eye of the Yellow God. The first stanza of poem says, "There's a one-eyed yellow idol to the north of Katmandu." He also refers to Walls and Bridges saying, "There's UFOs over New York and I ain't too surprised." In the liner notes to Walls and Bridges, he wrote, "On the 23rd August 1974 at 9 o'clock I saw a U.F.O-J.L." The lines "Nobody told me there'd be days like these/Strange days indeed/Most peculiar, mama" are contrast to the adage "My mother told me there'd be days like this."  Yoko told Uncut in 1998, "I think that especially around that time he felt that again, the world had lost its course, its direction. I really think that it's to do without confusion but starting to learn that life is always going to be a mystery." She called the track "kind of a fun song." I agree. It is a fun song.
#2-I'm Losing You-John Lennon Anthology
While I do like the version that appears on the Double Fantasy album, that's not the version I'm talking about. The version I'm talking about is a version recorded on August 12, 1980, with Rick Nielsen and Bun E. Carlos of Cheap Trick backing him up. There are a couple of possible reasons why this wasn't released for many years. One theory is that Cheap Trick's management wanted too much money, another possibility is that  Lennon believed that the performances were more "heavy" than he wanted. The Cheap Trick version was eventually released on John Lennon Anthology on November 2, 1998, and Wonsaponatime (a condensed, single-disc version of the 4 disc Anthology compilation album).
#1-Instant Karma!-Single
This is a song credited to the Plastic Ono Band released on February 6, 1970. The chorus is catchy, "Well we all shine on/Like the moon, the stars, and the sun" The song reached the top five in the British and American singles charts, competing with Let It Be in the US where it became the first single by a member of the band to sell a million copies. It was conceived, written, recorded, and released in only ten days, making it one of the fastest-released songs in pop history. The single was backed with a Yoko track, "Who Has Seen the Wind?" The song features a similar chord structure to "Three Blind Mice" and "Some Other Guy" and Lennon used the same progression on the Beatles song "All You Need Is Love".
Don't click off of the list yet! I still have a few more songs to talk about. Usually, I only include five songs in the Honorable Mentions section. Today I have seven. My only reason is, I couldn't narrow it down to five. While there are two I would've taken off (not because I don't like them, but I do like them less than the other five) but because I like the stories behind the songs and wanted to talk about them, simple as that. As always these songs are listed in chronological order, not a favorite order. Let's get started!
Honorable Mentions
Cold Turkey-Single
This is an early single released by Plastic Ono Band in 1969. It is the second solo single released by Lennon on October 20 in the US and October 24 in the UK. It peaked at #30 on the Billboard Hot 100 and #14 on the UK Singles Chart. It made its first appearance on the Live Peace in Toronto 1969 where the song had been performed live on September 13 with Lennon reading the lyrics off of a clipboard.  Peter Brown, author of "The Love You Make" said the song was written in a "creative outburst" following Lennon and Yoko going "cold turkey" from their brief heroin addiction. This contradicts Fred Seaman, Lennon's assistant in the late 1970s, who said it was actually about a severe case of food poisoning that John and Yoko suffered after eating Christmas leftovers "cold turkey". Lennon thought people would laugh at him if they knew the truth of the song's origin, so he said it was inspired by his recent heroin withdrawal. This was the first song Lennon wrote for which he took sole credit, instead of the Lennon-McCartney partnership (not counting "Give Peace a Chance" which was a song released first but initially had both names on there).
Working Class Hero-Plastic Ono Band
This is a soft, acoustic song released on John Lennon's debut solo album. The song features only Lennon singing and playing an acoustic guitar as his backing.  The song is very political describing working-class individuals being processed into the middle classes, into the "machine".  Lennon said, "I think it's a revolutionary song-it's really just revolutionary. I just think the concept is revolutionary. I hope it's for workers and not for tarts and [I'll leave out this three letter offensive slang word]. I hope it's about what 'Give Peace a Chance' was about. But I don't know-on the other hand, it might just be ignored. I think it's for the people like me who are working class, who supposed to be processed into the middle classes, or into the machinery. It's my experience, and I hope it's just a warning to people, Working Class Hero."
Imagine-Imagine
I'm going to get heavily criticized for this song to not even be in the top 10. I like the song but it wouldn't even make it in my Top 20 John Solo Songs, but I wanted to give it an honorable mention as this is John Lennon's best-known solo song and his best-selling single. The lyrics encourage listeners to imagine a world at peace without the barriers of borders or the divisions of religion and nationality and to consider the possibility that the whole of humanity would live unattached to material possessions. The song hit #1 in many countries including Australia (Go-Set National Top 40 and Kent Music Report), Canada (RPM Canada Top Singles), South Africa (Springbok Radio), US Top Singles (Record World), hit #2 on the US Top Singles (Cashbox), and #3 on the US Billboard Hot 100.
Mind Games-Mind Games
This is the opening and title track for John's 1973 solo album. The single was released on October 29 in the UK and November 16 in the UK. It peaked at #18 on the Billboard Hot 100 and #10 on the US Cashbox Top 100. It peaked at #26 in the UK. John started working on this song in 1969 and was originally titled "Make Love, Not War" which was a popular anti-war slogan at the time.  In keeping with the original theme, the lyrics are about unity, love, and a positive outlook.
#9 Dream-Walls and Bridges 
This is another great song from Walls and Bridges. It was John's second single released from the album backed with "What You Got" (See #6). It peaked at #9 on the Billboard Hot 100, which is very fitting given the name, and hit #23 on the British singles chart. John in a 1980 BBC interview said the song came to him in a dream, "That's what I call craftsmanship writing, meaning, you know, I just churned that out. I'm not putting it down, it's just what it is, but I sat down and wrote it, you know, with no real inspiration, based on a dream I'd had"
May Pang said the song had two different working titles, "So Long Ago" and "Walls & Bridges". Pang also states the phrase in the chorus, "Ah! böwakawa poussé, poussé" came to him in a dream and has no specific meaning. May Pang also said, "This was one of John's favorite songs, because it literally came to him in a dream. He woke up and wrote down those words with the melody. He had no idea what it meant, but he thought it sounded beautiful." Lennon at one point claimed the song as a "throwaway". Remember what I said earlier about John hating a lot of his songs?
Beautiful Boy (Darling Boy)-Double Fantasy
I don't want this song to get confused with a Yoko vocal track on the album called "Beautiful Boys", this is a John track. The song was written for his and Yoko's son, Sean. It begins with John comforting his son from a nightmare and develops into John passionately describing his love that he has for his son. Paul McCartney stated this as one of his least favorite songs composed by Lennon, but when he appeared on Desert Island Discs in 1982 included it as his favorite in his selection. This is the B-Side to "Watching the Wheels".
Watching the Wheels-Double Fantasy
Speaking of "Watching the Wheels", that is the final song I wanted to talk about. This song is either backed with "Beautiful Boy" as mentioned above or "Yes, I'm Your Angel" a Yoko track from the album. This was the third and final single released from the album and reached #10 in the US on the Billboard Hot 100 and #7 on Cashbox Magazine's Top 100. It also reached #30 in the UK.  Lennon addresses those who were cofounded by his "househusband" years where he left the music industry for five years.
John Lennon's solo career was cut tragically short on this day 40 years ago. The thing that bothers me most about it, outside of him dying, of course, is I believe that at this point in his life he was turning his life around. John wasn't a happy guy, and not the nicest guy either, but I want to say he was turning his life around. In 1975, the most important thing to him was being there for his family. He wanted to make sure his son Sean knew he loved him before returning to music. While we don't know what John's music would've been like later in life, we still can enjoy the albums that we got.
If you enjoyed this list, check out my lists where I talked about my Top 10 John Beatles Songs. What did you think of my list? Do you agree with it? Would you rearrange it?  What songs would you include on your list?  Share your thoughts in the comments below.  Before you go, don't forget to follow Awesome Albums on Instagram and Twitter, like on Facebook, and Subscribe on both YouTube and BitChute for music-related content.  Also, don't forget to come back soon for another list for Top "Ten" Tuesday!