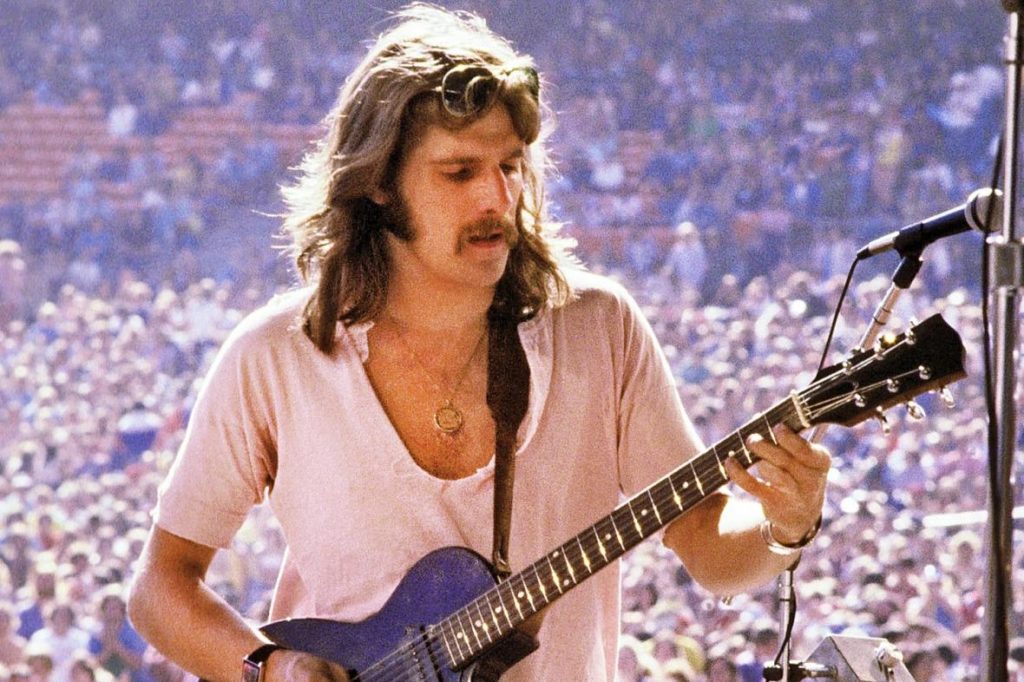 Welcome back to Top "Ten" Tuesday. This past Friday would've been Glenn Frey's birthday. Glenn Frey was an American singer, songwriter, actor, and founding member of Eagles. He was the co-lead singer and frontman along with Don Henley.
Glenn was born in Detroit, Michigan on November 6, 1948. He studied piano at the age of five, and later switched to guitar. He was a part of the mid-1960s Detroit rock scene playing in several bands including The Subterraneans, The Four of Us, and The Bob Seger System. In 1968, Glenn played acoustic guitar and performed background vocals on Seger's single "Ramblin' Gamblin' Man". Frey said that Seger strongly encouraged him and influenced him to focus on writing original songs. In Detroit, Frey met and dated Joan Silwin of The Mama Cats. When The Mama Cats moved to California, Frey went to Los Angeles hoping to reconnect with her. He was introduced to J.D. Souther by her sister. Souther and Frey formed Longbranch Pennywhistle. Around this same time, Frey met Jackson Browne. The three musicians lived together in the same apartment building for a short time, and Frey later said that he learned a lot about songwriting from hearing Browne work on songs in the apartment below.
Frey met Don Henley in 1970. They were signed to Amos Records and spent a lot of time at the Troubadour. When Linda Ronstadt needed a backup band for an upcoming tour, her manager, John Boylan, hired Frey because he needed someone who could play rhythm guitar and sing. Don Henley was approached by Frey to join Ronstadt. A couple of other musicians who were briefly on tour with Ronstadt were Randy Meisner and Bernie Leadon. The four only performed together once with Ronstadt and that was at Disneyland. Frey and Henley decided to form a band together and brought on board Meisner and Leadon to create the band Eagles, often called The Eagles.  The inspiration for the band name came from a trip the group took into the Mojave Desert. Souther suggested the idea when Frey shouted out "Eagles!" when they saw eagles flying above. Steve Martin, a friend of the band (yes the comedian), recounts in his autobiography that they should be referred to as "The Eagles" but Frey insists the group's name is simply "Eagles". The group was signed on to Asylum Records in September of 1971. They recorded their debut album in London in February of 1972. Their first album, Eagles, was released on June 1. It was a successful album yielding three Top 40 singles. Their next album, Desperado, took Old West outlaws as its theme. Desperado was released on April 17, 1973.
For their next album, Henley and Frey wanted to break away from the country-rock style and move in a hard rock direction. The band initially started with Glyn Johns as the producer, but he wanted to emphasize the lush side of their music. They completed two songs and then turned to Bill Szymczyk to produce the rest of the album. Szymczyk wanted a harder-edged guitarist and remembered Bernie Leadon's childhood friend, Don Felder, a guitarist who jammed with the band backstage in 1972 when they opened for Yes in Boston. Felder joined the band as another guitarist and the fifth member of the band. Their next album On the Border was released on March 22, 1974. Their next album was One of These Nights, released on June 19, 1975. The album was their breakthrough album, making them international superstars. One of These Nights was the band's last album to feature Leadon who didn't like the direction the band's music was taking and his loss of creative control as their sound was moving away from his preferred country to rock and roll. Leadon left in December of 1975.
Joe Walsh was a friend with the band for a while came in as Leadon's replacement. In early 1976, the band released its first compilation album, Their Greatest Hits (1971-1975) which became the highest-selling album of the 20th century in the United States. It stayed the biggest seller of all time until it was taken over by Michael Jackson's Thriller following his death in 2009.  The band's next album was Hotel California, released on December 8, 1976. The album took a year and a half to complete which along with touring drained the band. Hotel California is the last album to feature Randy Meisner who abruptly left the band after the 1977 tour. Randy Meisner's replacement, Timothy Schmit, was also his replacement in Meisner's previous band, Poco. The band went into the recording studio to work on their next album. It was intended to be a double album but they couldn't write enough songs. The Long Run was released on September 24, 1979. While considered a disappointment compared to Hotel California, it still topped the charts and sold seven million copies. The band at the end of the decade was constant arguing and fighting. They had a commitment to Elektra Records to create a live record from their tour. Eagles Live was released in November of 1980 which was the last thing the band recorded for almost 15 years.
The band reunited in 1994. Glenn Frey said, "For the record, we never broke up, we just took a 14-year vacation." The tour became known as Hell Freezes Over, named after Henley's recurring statement that the group will get back together "when hell freezes over." The tour brought together all five members who were present on The Long Run, Frey, Henley, Felder, Schmit, and Walsh. The five continued to perform until February 6, 2001, when Felder was fired from the band.
In 2007, the band released their final studio album, Long Road Out of Eden, released on October 30. In February of 2013, The Eagles released a career-spanning documentary called History of the Eagles and began a supporting tour with 11 US arena concerts in July. Henley said the tour, "could be very well be our last…we're gonna include at least one former band member in this tour and kinda go back to the roots, and how we created some of these songs. We're gonna break it down to the fundamentals and then take it up to where it is now." Bernie Leadon came on board for this tour. Former members Felder and Meisner did not appear, though Meisner was invited. Henley's words of being their last were prophetic. Glenn Frey passed away on January 18, 2016, at the age of 67 at the Columbia University Medical Center in New York City. The causes of death were rheumatoid arthritis, acute ulcerative colitis, and pneumonia while recovering from intestinal surgery.
The band went on a brief hiatus before headlining the Classic West and Classic East shows in July of 2017. Glenn Frey's son, Deacon performed in his father's place along with country musician Vince Gill. The first and only studio recording by the band since Glenn's passing was released in 2017, a cover of Dan Fogelberg's "Part of the Plan" for the album "A Tribute to Dan Fogelberg".
With our extensive introduction out of the way, let's move on to the list! As with all my lists, these will be songs featuring Glenn Frey on lead vocals. While a couple of choices may feature Henley on backing vocals, the songs will be predominantly Frey's vocals. This is my Top 10 Glenn Frey Eagles Songs.
#10-Heartache Tonight-The Long Run
This is a great song written by Henley, Frey, Bob Seger, and J.D. Souther. The song has a catchy drum beat and handclaps that you can't help but clap along to. Billboard Magazine suggested the handclaps provided "more of a young, vital sound" than previous Eagles' songs and particularly praised the guitar break and vocal harmonies featuring Henley, Schmit, and Seger. Glenn Frey said, "J.D., Don and I finished that song up. No heavy lyrics-the song is more of a romp-and that's what it was intended to be."
#9-New Kid in Town-Hotel California
This is a quiet song focused on a quiet drum beat and acoustic guitar, with a little bit of electric guitar to offset it. This was the album's first single, backed with Henley's "Victim of Love". The song features Glenn singing lead vocals, his only vocal spot on the album, backed with Henley singing the main harmony vocals. The song won the Grammy Award for Best Vocal Arrangement for Two or More Voices. It hit #1 on the US Billboard Hot 100 and #2 on the US Adult Contemporary chart.
#8-Out of Control-Desperado
This is Frey's first three songs on the band's second album. The band's second album is themed around the wild west. This song is about them riding into town and play cards at a table in the back of the saloon and get to know the waitress people know Flo. These guys are looking for trouble hence the song name in the lyrics, "We're gonna get a little out of control."
#7-James Dean-On the Border
This is a great rockin' song from their third album. It was written by Henley, Frey, Jackson Browne, and J.D. Souther. It was their second single released for the album reaching #77 on the US pop singles chart. The song, as the name implies, is about James Dean, an American actor who starred in films like Rebel Without a Cause, Giant, and East of Eden. The lyrics "too fast to live, too young to die" refer to the life and abrupt death of Dean in a car crash in 1955. This song came up during the recording of Desperado but when the album evolved into a western-themed album, the song was shelved and used on their next album.
#6-Lyin' Eyes-One of These Nights
This is a great Glenn vocal spot from their fourth album. The title and idea for the song came from Frey and Henley were in their favorite LA restaurant/bar Dan Tana's which was a great spot for many women, and they started talking to these women who were cheating on their husbands. It's a great soft country-rock song. It was their second single released from the album and it reached #2 on the Billboard Hot 100 chart and #8 on the Billboard Country chart. It remained their only top 40 country hit until "How Long" in 2007-2008.
#5-How Long-Long Road Out of Eden
Speaking of "How Long", I almost didn't include this one because I was afraid it featured too much of Henley's vocals but I think I can say that most of the lyrics are Frey's, so it's fine. This is a cover of a song by J.D. Souther which was featured on Souther's debut album in 1972. The band performed "How Long" in concert during the early and mid-1970s. The song won the Grammy Award for Best Country Performance by a Duo or Group with Vocal. It was also the band's first Grammy since 1979. Glenn said in a Q&A with Billboard magazine on October 12, 2007,  "The story with 'How Long' is my kids were watching YouTube one night about seven months ago and they said, "Dad, come here. You've got to look at yourself." [YouTube] took it down shortly after I watched it, but they were streaming this show called Pop Gala, a television special we did in 1974 in Holland. I guess we did about eight or nine songs on this show and one of them was 'How Long.' My kids were laughing at how long my hair was, and there we were playing this J.D. Souther song. And my wife said, 'You should do this song Glenn. This is classic Eagles.' And I said, 'You know, you're right.' I think we learned it but we didn't record it back in '74 because J.D. Souther wanted to use it on his first solo album, if I'm not mistaken. So it just sort of sat there, but it was rediscovered and I thought, 'I really think we should cut this, this would fit in nicely with some of the other stuff we have on the album.' So we did."
#4-Already Gone-On the Border
This is a great country-rock acting as the album's opening track. It was also the album's first single, backed with Meisner's song "Is it True". The single peaked at #32 on the Billboard Hot 100. Since then, they have included it on most (if not all) of their compilation albums and live performances. This is one of the few songs on the album to feature the newly added Don Felder, who joined the band midway through this album. Marc Elliot, writer of "To the Limit: The Untold Story of the Eagles" said the song, "was an out-and-out rocker…Musically it sounded like a fuel-injected rave-up, with melodic echoes of both 'Peaceful Easy Feeling' and 'Take It Easy'.
#3-Take It Easy-Eagles
Speaking of "Take It Easy", funny how twice on this list, I refer to a song that just so happens to be the next song I was planning on talking about. I didn't plan this! This is the opening track to their debut album written by Frey and Jackson Browne. It was the album's first single, released on May 1, 1972, backed with "Get You in the Mood" a non-album B side that wouldn't be included on an album until Legacy a collection that includes all the band's studio albums, the three live albums, and an album of B sides and singles, released in 2018. Jackson Browne later recorded the song as the lead track on his second album, For Everyman the following year. Both versions are great.
#2-Doolin-Dalton (Instrumental)/Outlaw Man-Desperado
The first part is an instrumental track, focused heavily on banjo and acoustic guitar. It was written by Henley, Frey, J.D. Souther, and Jackson Browne. The song leads into a great electric guitar-centered country-rock song. It was the album's second single released from the album after "Tequila Sunrise" (See honorable mentions). Glenn provides the lead vocals but the rest of the band sing harmony in the chorus "Woman don't try to love me don't try to understand. The life upon the road is a life of an Outlaw man." The song picks up in tempo in the last third of the song with a great bass riff, piano, and accelerated drums. Billboard said it had a "strong, Western flavored country rock sound…and polished vocal harmony."
#1-Good Day in Hell-On the Border
While Henley sings some harmony with Glenn, this is a primarily sung Glenn song. This was the first Eagles song I heard or at least the first I remember liking. The song has a catchy beat and a great guitar lick and solo thanks to new member Don Felder. This song and "Already Gone" (See #4) were the only two songs on their third album he contributed to as he came midway through production on this album. Felder helped change The Eagles' sound from a country-rock band into the rock and roll band that we know and love today.
Don't click off this page yet! A standard on my Top 10 lists, I will be including an additional 5 songs below that were close to making the above list. These songs, as always are listed in alphabetical order. Let's get started!
Honorable Mentions
Peaceful Easy Feeling-Eagles
This almost made the list, it's a great soft country-rock song. It was the third single from their debut album. It reached #22 on the charts and is one of the band's most popular songs. Glenn Frey sings the lead vocal with Bernie Leadon providing the main harmony vocal starting at the beginning of the second verse and Meisner completing the three-part harmony. The song was written by Jack Tempchin during a period in which he was performing at folk coffee shops in San Diego. Frey heard Tempchin's song and asked if he could develop it further, adding that his new band, had only just formed eight days prior. He presents Temphcin with a cassette demo on the track the next day, who later remarked, "It was so good I couldn't believe it."
Tequila Sunrise-Desperado
This was the band's first single from their second album, backed with Bernie Leadon's "Twenty-One". The single peaked at #64 on the Billboard Hot 100. It is a soft, acoustic song backed with a B-Bender electric guitar giving it a country flair. This is one of the first songs that Frey and Henley wrote together. They did not write songs together on their first album, and they decided they should collaborate after they finished recording their debut album. According to Frey, the song was finished fairly quickly. He said he was lying on the couch playing the guitar and came up with a guitar riff and said, "Maybe we should write something to this." The title refers to a cocktail named Tequila Sunrise that was popular at the time. In the liner notes of the 2003 compilation, The Very Best Of, Henley said, "I believe that was a Glenn title. I think he was ambivalent about it because he thought it was a bit too obvious or too much of a cliche because of the drink that was so popular. I said, 'No-Look at it from a different point of view. You've been drinking straight tequila and the sun is coming up!' It turned out to be a really great song."
King of Hollywood-The Long Run
This is a soft song with a catchy, mellow drum beat. I like this song but I can't include it on my main list because I can't tell who has the primary vocals. Some points sound like Glenn is singing which would make it acceptable for this list, but then other points sound like Henley is singing. They both have vocals in this song but the quiet vocals, to me, don't sound like either but it is. That's the main reason why this is an honorable mention.
Teenage Jail-The Long Run
This song has some great guitar work throughout. The guitar riff is great while Glenn Frey sings lyrics slowly while Henley backs him up singing the line a little faster. In the final third of the song we are greeted with a brief solo, I think it's keyboards but they sound deep enough to be a bass so I don't know if it's a distorted bass or distorted keyboards. The guitar lead guitar picks up speed at the end of the song to create a sound similar to a ring. The song then transitions into the Henley vocal spot "The Greeks Don't Want No Freaks".
The Girl From Yesterday-Hell Freezes Over
When Eagles reunited in 1994, they recorded their live album since 1980. The album started with four studio releases of new songs. Henley had two vocal spots "Get Over It" and "Learn to Be Still", Timothy Schmit had a vocal spot with the song "Love Will Keep Us Alive". Glenn Frey's vocal spot was "The Girl from Yesterday". It's a soft rock song with a lot of emotion, reminiscing of a past relationship.
There were a lot of Great Eagles songs that I could've included. Glenn Frey was an important part of the band being one of two consistent band members since their creation. It was hard to narrow down but I think my list turned out pretty good. What did you think of my list? Do you agree with it? Would you rearrange it?  What songs would you include on your list?  Share your thoughts in the comments below.  Before you go, don't forget to follow Awesome Albums on Instagram and Twitter, like on Facebook, and Subscribe on both YouTube and BitChute for music-related content.  Also, don't forget to come back next Tuesday, for another list for Top "Ten" Tuesday!