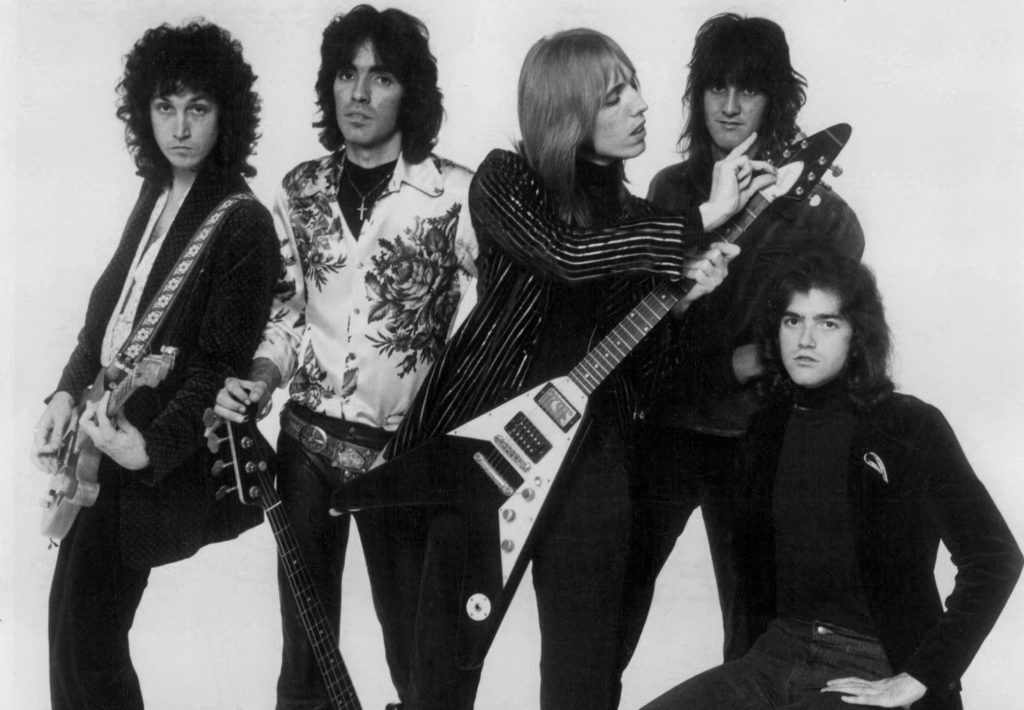 Welcome back to Top "Ten" Tuesday. Today we are going to talk about Tom Petty. Last Tuesday would've been his 70th birthday. Yes I know I should've talked about him last week, it would've been the perfect day to do it. Sadly I couldn't. There weren't enough hours in the evening to work on it last week. Let's hope I can finish it this week!
Tom Petty was an American singer-songwriter, multi-instrumentalist, record producer, and actor. Petty started a band known as The Epics which evolved into Mudcrutch in 1971. Mudcrutch consisted of Petty, Mike Campbell, Jim Lenahan, Tom Leadon, and Randall Marsh. Mudcrutch's personnel changed between 1971 and 1975. Jim Lenahan and Tom Leadon left in 1972. Leadon was replaced with Danny Roberts who played in the band from 1973-74. Benmont Tench joined in 1973. Charlie Souza joined the band in 1974.
Mudcrutch split up after their one single "Depot Street" failed to chart. Petty started a solo career but appreciated the sound of Tench's music. Petty collaborated with Tench and Mike Campbell. The three of them teamed up with Ron Blair and Stan Lynch and created the first lineup of The Heartbreakers. They released their first album on November 9, 1976. This lineup remained until Ron Blair left in 1982. Howie Epstein joined the band as Ron Blair's replacement in 1982 until Blair's return in 2002. Lynch left the band in 1994 and was replaced with Steve Ferrone who played with the band until 2017. Scott Thurston is the final personnel change in The Heartbreakers, joining the band in 1991.
Along with The Heartbreakers, Tom Petty released three solo albums, Full Moon Fever in 1989, Wildflowers in 1994, and Highway Companion in 2006. Along with The Heartbreakers and a few solo albums, he also released two albums later on with Mudcrutch, a self-titled album in 2008 and an album simply called "2" in 2016. In 1988, Tom Petty joined the supergroup The Traveling Wilburys along with George Harrison, Roy Orbison, Jeff Lynne, and Bob Dylan.
Tom Petty passed away on October 2, 2017, at the age of 66 from a heart attack from an accidental drug overdose. This of course ended the band Tom Petty and the Heartbreakers. While Tom Petty is gone, his music will continue to live on forever (hopefully). That is where I come in with today's list. There were a lot of albums to go through and it was hard to narrow to just ten songs so today's list will take a look at my Top 20 Tom Petty Songs. Unlike most lists where I would only focus on either The Heartbreakers OR his solo career. I will be focusing on both of those on this list. 
#20-I Should've Known It-Mojo
I remember when I first heard this song. The day they announced Tom Petty's passing I was listening to SiriusXM radio and the guitar riff stood out as something special for a Tom Petty song. The announcer said the guitar riff reminded them of a Jimmy Page styled Zeppelin riff. I can hear that. This is a single taken from the album. Mike Campbell told Jam! Music that the blues-based album was inspired by the sound of his recently acquired '59 Les Paul. He said, "I got a new guitar which is actually an old guitar. It's the classic Jimmy Page, Peter Green, Eric Clapton-era guitar. There were only 500 or 600 of them made that year. There's just something about the harmonic overtones in it when I picked it up and plugged it in, it immediately had that classic British blues sound. It was kind of eerie. And Tom had been listening to a lot of blues on our break. So when he heard that guitar, he said, 'Why don't we build an album around that guitar?' It kinda came from that. It was a combination of Tom wanting to explore that aspect of our influence and wanting to feature this guitar."
#19-King's Road-Hard Promises
This is from their 1981 album. King's Road or Kings Road is a major street stretching through Chelsea and Fulham in London. It's associated with the 1960s style and with fashion figures such as Mary Quant and Vivienne Westwood. It's a great rockin' song that is often overlooked. The song has a slight country-rock vibe to it.
#18-Listen to Her Heart-You're Gonna Get It!
This song has a Byrds vibe to it in the way Petty plays guitar. The guitar twangs in an old school style while the drums give a more contemporary sound. According to a radio interview with Redbeard, Petty wrote this song as a response to Ike Turner making advances to Petty's wife. This was the 1978 album's second single backed with "I Don't Know What to Say to You".
#17-Don't Come Around Here No More-Southern Accents
This is an interesting song. The highlight of this song is the electric sitar played by David Stewart, who co-wrote the song with Petty. This is the lead single from the band's 1985 album. The single was backed with "Trailer" and reached #2 on the Billboard Rock Tracks chart. The title of the song came from Stevie Nicks of Fleetwood Mac. On the Howard Stern Show, Stewart explained that Nicks had broken up with Eagles guitarist Joe Walsh the night before, and invited Stewart to her place for a party after an early Eurythmics show in Los Angeles (Stewart's band). Later the next morning, Walsh came by to find Nicks and Stewart heard Nicks throw Walsh out, telling him, "Don't come around here no more."
#16-Anything That's Rock 'N Roll-Tom Petty and the Heartbreakers
This is a catchy song from the band's first album. It became the second UK single for the band peaking at #36 the week ending July 2, 1977. The chorus is fun, singing "anything that's rock 'n roll is fine" which is echoed a couple of times. I can't put my finger on it but I get an early '70s Rolling Stones vibe from it. It reminds me somewhat of how they did "Tumbling Dice".
#15-Louisiana Rain-Damn the Torpedoes
We're going to see a few songs from Tom Petty's 1979 album. It's a really good album. Let's start with this one. The song starts with a quiet synthesizer solo before jumping into the music.  It acts as the album's final track. The song has raw emotion especially when Petty sings the name of the song "Louisiana Rain". This song acts as the B-side to "Here Comes My Girl" (See #13).
#14-Runnin' Down a Dream-Full Moon Fever
This is a great song written by Petty, Mike Campbell, and fellow Wilbury member Jeff Lynne. Lynne helped write a lot of the songs that we'll see in the second half of this list. It's got a rapid drum beat and a great blend of electric and acoustic guitar. It was the second single released from Petty's debut solo album in 1989. It was backed with "Alright for Now" or "Down the Line" and reached #23 on both the Canada RPM chart and the US Billboard Hot 100 chart. It also topped the Billboard Album Rock Tracks chart. It is a pretty common song heard on classic rock radio and the song inspired the name for a 2007 documentary of the band. The song has a fun ending where Tom Petty wants us to all take a minute for those listening to records or cassettes to get up or sit down and flip over their records or cassettes. Then says, "Thank you, here's side two".
#13-Here Comes My Girl-Damn the Torpedoes
This is one of Petty's more mellow rock songs. This acts as the third single from their breakthrough album. It peaked at #59 on the US Billboard Hot 100 on May 24, 1980. The song switches from Petty talking, where he keeps coming back to her despite constantly getting hurt. Then in the chorus, he sings his excitement of seeing her again. Mike Campbell said, "'Here Comes My Girl' was interesting because we had the chorus and Tom wasn't sure how to do the verse, he kept trying to sing it different ways and he finally came across sort of half-talking int, and that's when the song came to life."
#12-A Thing About You-Hard Promises
This is another great song from Tom Petty's 1981 album. The song was covered by Emmylou Harris in 1985 which hit #14 on the Billboard Hot Country Singles and Canadian RPM Country Tracks. Petty's version has a lot of energy with a catchy tune in the chorus.
#11-Jammin' Me-Let Me Up (I've Had Enough)
This song is the opening track from the band's 1987 album. It was written by Petty, Campbell, and friend and future Wilbury member Bob Dylan. This song is great and is often included on compilation albums including Playback in 1995 and Anthology: Through the Years in 2000. The song has a great guitar riff with a hint of synthesizers playing in the background. Mike Campbell said in a Songfacts interview in 2003, "'Jammin' Me' was interesting because I wrote the track and gave it to Tom, and he held it for a while and didn't do anything with it. Then I guess he was working with Bob one day, and they came up with some words-I guess they were picking words out of the newspaper or off the television, and Tom said 'Oh, I've got this track of Mike's' and they inserted those words over the track. I wasn't there when Bob wrote the words to it, but I was pretty thrilled to hear that he contributed to it. We just went in and recreated the demo to it." The song became the album's first single, backed with "Make the Connection" and hit #1 on the Billboard Album Rock Tracks chart as well as #18 on the Billboard Hot 100.
#10-Learning to Fly-Into the Great Wide Open
This is the opening track to The Heartbreakers' 1991 album. It's a great acoustic song that Petty wrote. Jeff Lynne. Lynne plays guitars, bass, piano, and synthesizer as well as contributing to vocals on this track. The song was the first single released from the album. It became Petty's most successful single on the Billboard Album Rock Tracks chart, hitting the top of the chart for six weeks. The song was built around four simple chords, but despite the simplicity of the song, it is still a great one.
#9-Rockin' Around (With You)-Tom Petty and the Heartbreakers
This is the opening track on their debut album. The intro is full of energy with a marching drum beat with a great bass riff. Petty's vocals border on psychedelic as his voice drones on the songs's verses while switching to rapid vocals during the song's chorus.
#8-Love Is a Long Road-Full Moon Fever
This is the third track from Petty's first solo album in 1989. It was written by Petty and Mike Campbell. The song has a hard-rockin' beat throughout the song and a great guitar solo too. It's often overlooked because of how many other good songs are on this album but it's still a great song that needs more attention.
#7-Don't Do Me Like That-Damn the Torpedoes
We're coming back to the band's 1979 a third time. This is the first Tom Petty song I heard and it's still a great one to still make it in my Top 10. Petty wrote this song during the Mudcrutch days when the band moved to Los Angeles in 1974. The song finds him asking a girl not to break up with him, as he has a friend who recently had his heart broken. Despite Creem magazine called it a "throwaway romp", many fans enjoyed this song making it one of Petty's most popular songs. This is the first single from the album, backed with "Casa Dega" in the US and "Century City" in the UK. The single hit #10 on the US Billboard Hot 100 and #7 on the US Cash Box Top 100 as well as #3 on the Canadian RPM Top Singles chart.
#6-American Girl-Tom Petty and the Heartbreakers
This is the closing track to their debut album and probably the best song from the album. It was released as a single backed with "The Wild One, Forever" peaking at #40 in the UK on the week ending August 27, 1977. Despite the limited chart success, the song became one of Petty's most popular songs, becoming a staple of classic rock. It has been consistently rated as his best song and one of the best rock songs of all time. It has been called "more than a classic rock standard-it's practically part of the American literary canon." Those are some high praises. It's a great song though. It has a catchy guitar riff, a great guitar solo at the end, the lyrics are catchy. It has the ingredients for a great song. On a more somber note, this is the last song performed in concert by Tom Petty and the Heartbreakers. They played it to close out the encore of their performance on September 25, 2017, at the Hollywood Bowl in Los Angeles, California, the final concert of their 40th Anniversary Tour. Petty died on October 2, just over a week later.
#5-I Need to Know-You're Gonna Get It!
This is a strong rocker. It is the first single from the band's second album. It was backed with "No Second Thoughts" and peaked at #41 on the Billboard Hot 100. Two thirds through the song, Tom screams and plays us a brief solo. It's a short, fast song with great energy that leaves you wanting more.
#4-Free Fallin'-Full Moon Fever
This is the opening track to Petty's first debut album. This is another song that was written by Petty and fellow Wilbury Jeff Lynne. Jeff Lynne plays bass on this song as well as contributing backing vocals. This is one of Petty's most famous songs as well as his highest-and longest-charting. It peaked at #7 on the Billboard Hot 100 singles chart in January 1990. The song has a great acoustic guitar riff and emotional vocals making it easily one of his best songs.
#3-Refugee-Damn the Torpedoes
This is my favorite Tom Petty song from the '70s. This is the opening track to the breakthrough 1979 album. It peaked at #15 on the Billboard Hot 100 singles chart in 1980, backed with "It's Rainin' Again".  Mike Campbell described the recording sessions for "Refugee" saying, "That was a hard record to make. It was a 4-track that I made at my house. He (Tom) wrote over the music over the music as it was, no changes, but it took us forever to actually cut the track. We just had a hard time getting the feel right. We must have recorded that 100 times. I remember being so frustrated with it one day that-I think this is the only time I did this-I just left the studio and went out of town for two days. I just couldn't take the pressure anymore, but then I came back and when we regrouped we were actually able to get it down on tape." Billboard Magazine rated this song as being "Petty at his best" specifically praising the "gutsy rock vocal and searing guitar lines." It's a great song as evident at being at #3 on my list.
#2-I Won't Back Down-Full Moon Fever
There was a tossup if this would be #2 or #1 on my list, it was very close to hitting the #1 spot. It's a great song, once again co-written with Jeff Lynne. George Harrison plays acoustic guitar on this song giving us three of the Wilburys on this song despite it not being a Traveling Wilburys song or album. Petty told Mojo magazine, "At the session George Harrison sang and played the guitar. I had a terrible cold that day, and George went to the store and bought a ginger root, boiled it, and had me stick my head in the pot to get the ginger steam to open up my sinuses, and then I ran in and did the take." The song has a motivational feel to it, "you can stand me up at the gates of Hell/But I won't back down/I'm gonna stand my ground/Won't be turned around/And I'll keep this world from dragging me down/Gonna stand my ground/And I won't back down." The song is very catchy with a mid-tempo beat. The song was released as the lead single from the album backed with "The Apartment Song" which almost made my list or "Don't Treat Me Like a Stranger." It reached #12 on the Billboard Hot 100 and topped the Album Rock Tracks chart for five weeks, starting the album's road to multi-platinum status.
#1-The Waiting-Hard Promises
It was hard to decide what my favorite Tom Petty song was but I think it's safe to say this is my favorite. This is the opening track and lead single for the band's 1981 album backed with "Nightwatchman". It peaked at #19 on the Billboard Hot 100 singles chart and #1 on the magazine's new Rock Tracks chart, where it remained for six consecutive weeks during the summer of 1981. The guitar in the song is great and Petty's vocals are full of emotion. I feel it when he sings the chorus, "The waiting is the hardest part/Every day you see one more card/You take it on faith, you take it to the heart/The waiting is the hardest part."
Tom Petty was a talented musician and singer who accomplished so much in 66 years. The Heartbreakers released 13 studio albums, and he released 3 solo albums. Then there were his two Mudcrutch albums and the Traveling Wilburys albums, making at least 20 albums that he played and sang on. That's a lot of songs to go through, even if I didn't touch the Mudcrutch and Wilburys albums, that's still 16 albums he did. That's a lot of albums to go through and pick out my favorites. There were a lot of great ones that I couldn't talk about due to being just a Top 20 list but I'm satisfied with how this list turned out. What did you think of my list? Do you agree with it? Would you rearrange it?  What songs would you include on your list?  Share your thoughts in the comments below.  Before you go, don't forget to follow Awesome Albums on Instagram and Twitter, like on Facebook, and Subscribe on both YouTube and BitChute for music-related content.  Also, don't forget to come back next Tuesday, for another list for Top "Ten" Tuesday!