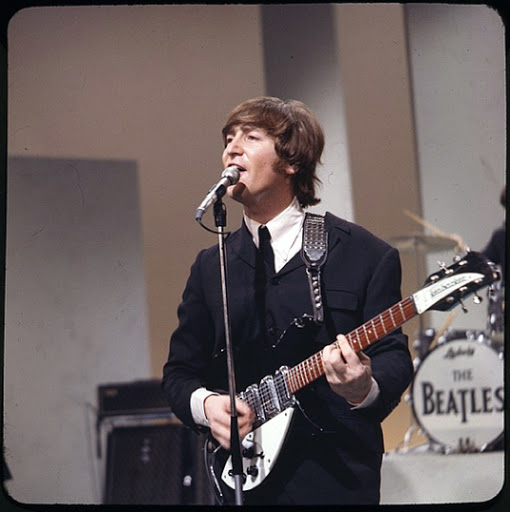 Welcome back to Top "Ten" Tuesday. Last week we remembered John Lennon who would've celebrated his 80th birthday.  John Lennon was an English singer, songwriter, and peace activist who gained worldwide fame as a founding member of The Beatles, acting as co-lead vocalist, rhythm guitar, and one of the primary songwriters (credited along with McCartney).
John Lennon was born in Liverpool in 1940 and became involved in the Skiffle craze as a teenager. In 1956, he formed his first band, The Quarrymen (briefly known as The Blackjacks). Their name was taken from a line in the school song, The Quarry Bank High School. The Quarrymen played at parties, school dances, cinemas, and amateur skiffle contests. Paul McCartney joined the band in October of 1957 followed by George Harrison in early 1958 at McCartney's recommendation. The group made an amateur recording of Buddy Holly's "That'll Be the Day" and "In Spite of All the Danger", written by McCartney and Harrison. The group moved towards rock and roll, causing several of the original members to leave. John Lennon, Paul McCartney, and George Harrison were all the remained of the band. They performed under several names including Johnny and the Moondogs and Japage 3 before returning to the Quarrymen in 1959. In 1960, they changed their name to The Beatles. Stuart Sutcliffe joined the band as bass player and singer until 1961, passing away the following year. Pete Best joined as the band's drummer in 1960 as well, played with the band until 1962 where he was replaced by Ringo Starr (Richard Starkey).
The Beatles performed at the Cavern Club when they were discovered by Brian Epstein, a local record-store owner and music columnist. Epstein talked with the band for the next few months and was appointed as their manager in January of 1962. They continued to tour and released their first album, Please Please Me on March 22, 1963, which topped the charts in the UK. Along with their first album's success and the success of their numerous singles, including "From Me to You" and "She Loves You", they became the center of attention throughout the world. They had increased media exposure due to this success and their comical attitude had defied expectations of pop musicians of that time inspiring even more interest. Due to the enthusiasm from screaming fans, the media dubbed the phenomenon "Beatlemania". After making it to America, interest started to spark for other British artists. Successful album releases and touring for the next three years became known as The British Invasion. Their success opened the door to a couple of feature-length films, A Hard Day's Night and Help! They continued to grow in popularity throughout the releases of With the Beatles in 1963, A Hard Day's Night and Beatles for Sale in 1964, and Help! and Rubber Soul in 1965. The Beatles faced controversy after the Capitol Records album cover of Yesterday and Today, an album cover featuring them with mutilated plastic baby dolls, and John Lennon's infamous "Beatles will be more popular than Jesus" comment. This hit hard to America, especially in the southern part of the US where the "Bible Belt" is located. John Lennon apologized at a press conference as his statement was taken out of context. Their next album Revolver was released on August 5, 1966. On August 29, their final concert was played at Candlestick Park.
Freed from the burden of touring, The Beatles continued to experiment in their music. Work on their next album began in November of 1966 and wasn't released until June 1, 1967. This album was Sgt. Pepper's Lonely Hearts Club Band, which surpassed all their previously released albums. 2.5 million albums were sold within three months. Two more film projects were in the works, Magical Mystery Tour, a one-hour television special, and Yellow Submarine, an animated feature-length film. The former was released on December 26, 1967, and the latter was released on July 17, 1968. The Beatles traveled to Maharishi Mahesh Yogi's ashram in India, to take part in a three-month meditation "Guide Course". Many of the songs from this time were used on their double LP known as "The White Album". They worked on Let It Be starting in January of 1969. Strains have been developing on the band for the last few years leading to a miserable recording session. They began working on Abbey Road on July 2, 1969. Two days later, the first solo single by a Beatle was released. John Lennon released "Give Peace a Chance" on July 4, 1969, backed with "Remember Love" a song written by John's wife, Yoko Ono. On May 8, 1970, Let It Be was released. McCartney filed suit for the dissolution of The Beatles' contract on December 31, 1970. Legal disputes continued long after the breakup and the breakup was not legally official until December 29, 1974, when John Lennon signed the paperwork terminating the partnership while on vacation at Walt Disney World Resort in Florida.
I was planning on continuing the story, but I have reasons why I am stopping the story here. For one, we are focusing on John Lennon's time in The Beatles, and two, let's just say I'll be coming back to John Lennon in a couple of months. Until then, let's move on to our list. This will include songs where John Lennon acts as the main singer, whether he wrote the song or not. The other Beatles are allowed to sing backup, but any song that features Paul or George in equal capacity to John will not be included. For example, "A Day in the Life" will not be featured on this list. As great as that song is, the fact that Paul sings the entire middle section makes it ineligible for the list. This is my Top 10 John Lennon Beatles Songs.
#10-Nowhere Man-Rubber Soul
The song begins with strong vocal harmony. Heavy equalization was applied to the electric guitar parts through a series of faders giving them a rich treble sound. All of these elements contribute to a sound similar to what The Byrds would do. The Byrds were a contemporary influence for The Beatles. While The Beatles influenced many other artists, The Byrds were one of the artists from their era that influenced them. I feel I'm breaking the only rule I put on myself here, the fact that there is harmony goes against a John Lennon list. However, if you listen to the song, while the Other Beatles are present in the vocals, John's vocals are the most distinct and stand out the most so I guess it's fine. The song reflects the existential concerns raised by his experiences with LSD as well as his self-loathing.
#9-Twist and Shout-Please Please Me
This is the final track on their debut album. The song was written by Phil Medley and Bert Russel and was inspired by the version performed by The Isley Brothers. The song was the last to be recorded during a marathon 13-hour album session. Engineer George Martin knew that Lennon's voice would suffer from the performance, so he left it until last, with only 15 minutes of scheduled recorded time remaining. Lennon had a cold and was drinking milk and sucking on cough drops to soothe his throat. He initially hated his performance. He said, "because I can sing better than that, but now it doesn't bother me. You can hear that I'm just a frantic guy doing his best." A second take was attempted, but Lennon had nothing left, and it was abandoned. The song was released as a single in the US in 1964 backed with "There's a Place". While you can hear John's raspy voice, it's still a very fun, upbeat song. The brief guitar solo is solid, Paul's scream is amazing (that was Paul, right?), and is a great, still early, example of rock and roll.
#8-Baby You're a Rich Man-Magical Mystery Tour
The song not only features a catchy chorus, but also a great rhythm section from Ringo playing drums, tambourine, maracas, and handclaps. John contributes a clavioline, an electronic keyboard. John wrote his portion of the song after attending the 14 Hour Technicolor Dream festival held at London's Alexandra Palace that served as a key event in the emergence of the counterculture in the UK. The song acted as the B-side to "All You Need Is Love", a song that I almost included on this list. The song peaked at #34 on America's Billboard Hot 100 chart. Billboard admired it as an "Eastern flavored rocker with an infectious beat and an intricate lyric."
#7-I Am the Walrus-Magical Mystery Tour
When I think of this song, I can't help but think of the music video from The Magical Mystery Tour movie. At one point the band is dressed as animals, at another point, the sky turns purple. The song is fun to listen to, and the lyrics don't make any sense. The lyrics came from three song ideas that Lennon had been working on. The first was inspired by hearing a police siren at his home in Weybridge. He wrote the line "Mis-ter cit-y police-man" to the rhythm and melody of the siren. The second was a short rhyme about sitting in his garden, and the third was a nonsense lyric about sitting on a cornflake.  He combined these three songs into one. The walrus refers to Lewis Carroll's poem "The Walrus and the Carpenter" from the book "From the Looking Glass". The song was banned by the BBC because of the lyric "Boy, you've been a naughty girl, you let your knickers down." Lastly, this song acted as the B-Side to "Hello, Goodbye" and reached #56 on the US Billboard Hot 100.
#6-Rain-Single
This song came out at the start of the psychedelic rock era. It was recorded during the sessions of Revolver though wasn't released on the album. It contains a slowed-down rhythm track, droning bass line, and backward vocals. Musically, the song has a lot going for it. Ringo considers this song to have his best-recorded drum performance. Three promotional films were created for the song that are considered among the early precursors of music videos.
#5-Come Together-Abbey Road
This is the opening track to Abbey Road. The song was meant to be a political rallying cry for Timothy Leary, a writer, psychologist, and pro-drug activist who campaigned against Ronald Reagan as governor of California. The song has blues elements in the guitar giving the song a unique sound. The lyrics broken down into four verses could refer to each Beatle. "He one holy roller" could be a reference to the spiritual George Harrison. "He got monkey finger, he shoot coca-cola" may a reference to Ringo. "Got to be good looking because he's so hard to see" is possibly a reference to Paul. I will admit that these two are a stretch, but I can believe that "He got Ono sideboard" is a reference to John.
#4-Real Love-Anthology 2
Unless you buy the Anthology albums, you wouldn't know this song. It was written by John long after The Beatles broke up in October of 1979. He recorded six demos of the song in 1979 and 1980. The sixth take was posthumously released for the documentary soundtrack Imagine: John Lennon. In 1995, the demo was completed by Paul, George, and Ringo as part of the Anthology project. It was released as a Beatles single in 1996. Jeff Lynne of Electric Light Orchestra contributed to backing vocals and guitar on this track. The song has a trippy sounding melody between John's distorted vocals and the inclusion of many different relatives to the piano played by Paul.
#3-She Said She Said-Revolver
This is one of my favorite songs from Revolver. It's credited to Lennon-McCartney but written mostly by John with some assistance from George Harrison. Lennon described it as an "acidy song" with lyrics inspired by actor Peter Fonda's comment during an LSD trip in August of 1965 with members of The Beatles and The Byrds. Due to an argument over the song's musical arrangement, Paul McCartney walked out of the studio and did not contribute to the recording.
#2-Ticket to Ride-Help!
The song is written in the key of A major. The structure of the composition is an expanded variation of the AABA pop song format, with eight bars of verse and eight bars of chorus forming the A section, and a nine-bar primary bridge forming the B section. The sustained A chord over the verses creates an implied drone common in Indian music. The song marked a progression in The Beatles' work through the incorporation of the drone sound and harder-sounding instrumentation relative to their previous releases.
#1-Help!-Help!
This is the title track and opening track to their first 1965 album. This is one of the first Beatles songs I heard, after "Maxwell's Sliver Hammer" and "Yellow Submarine". It has a catchy beat, with a great rhythm section. Paul's bass is a highlight. Writer Ian MacDonald describes the song as the first crack in the protective shell Lennon had built around his emotions during the band's rise to fame, and an important milestone in his songwriting style.  John Lennon told Playboy in his 1980 interview, "The whole Beatles thing was just beyond comprehension. I was subconsciously crying out for help".
Don't click off the list yet! I still have plenty of John Beatles songs to talk about. Normally I talk about five honorable mentions, but a sixth one was added simply because I was typing up this list and I forgot about "Real Love" and so one of my 10 songs, I won't say which one, was sadly demoted from #10 down to an honorable mention. Listed below are six more songs I want to talk about that aren't in any favorite order, just chronological. Let's get started!
Honorable Mentions
Norwegian Wood (This Bird Has Flown)-Rubber Soul
This is another acoustic-driven song from Rubber Soul. John Lennon's lyrics are influenced by the introspective lyrics of Bob Dylan, the song is considered a milestone in the Beatles' development as songwriters.  Lennon wrote the song as a veiled account of an affair he had in London.  The song includes a unique instrument, the sitar, played by George.  This song marks the first appearance of the Indian instrument on a Western rock recording. The song was a #1 hit in Australia when released as a single there in 1966, backed with "Nowhere Man" (see #10). George became interested in this instrument while on the set of Help! After this song was released, many other artists like The Byrds, The Rolling Stones, and Donovan all began incorporating elements of the Indian classical music genre into their music.
In My Life-Rubber Soul
All John Lennon songs are credited as Lennon-McCartney, even if John would've written most or all of a song. McCartney songs are the same way. This was one of the songs that the two disagreed on the extent of their respective contributions to the song. Lennon was credited to the harmony and bridge to McCartney, while McCartney claimed the entire musical structure. In the middle of that, George Martin contributes a piano sol bridge, sped up to sound like a harpsichord. The piano solo is the main reason why I like the song so much. It's a soft, soothing song with deep lyrics about John's personal experiences in life.
Lucy in the Sky With Diamonds-Sgt. Pepper's Lonely Hearts Club Band
While this song is trippy in music and lyrics, John Lennon said the song was not inspired by LSD. Fans claimed that Lucy, Sky, Diamonds was a subtle drug reference. The title came from John's son Julian when he came home from nursery school. He showed his dad (John) a painting he drew earlier that day. Julian said the painting is about her classmate Lucy. John thought the painting and phrase were great and he immediately wrote a song about it.
Hey Bulldog-Yellow Submarine
This is a weird song. The Beatles had a lot of weird songs during this era but it's a good song too.  I always imagine a scene from the Yellow Submarine animated movie where they are being chased by a four-headed dog chasing them, spinning in a circle. While credited to Lennon-McCartney, it was primarily written by Lennon. It was recorded during the filming of the "Lady Madonna" promotional film, and like "Lady Madonna" is one of the few Beatles songs based on a piano riff. It had a working title of "She Can Talk to Me". A few days before the recording session on February 11, 1968, Paul McCartney played drums on a Paul Jones song called "The Dog Presides" which had barking sound effects. During The Beatles recording, McCartney started to bark without warning. The next lines, initially written as "Hey Bullfrog" by Lennon, were changed mid-song to "Hey Bulldog", which became the song's title.
Revolution 1/Revolution-The Beatles (White Album)/Single
These are two different songs but I put them together because they're essentially the same song. "Revolution 1" was recorded for their double album. It's a slow, bluesy arrangement. While  the electric guitar is present, there is a slight focus on acoustic guitar and the lyrics of "shoo-bee-do-wop" is a reference to doo-wop music. When recording the song, some takes ended up being over 10 minutes long. Take 18 was 10:17. They decided to split the 10-minute song into two parts. The first part became "Revolution 1" which was a more conventional Beatles song, and the other segment became "Revolution 9" an avant-garde sound collage.
John wanted "Revolution 1" to be the next Beatles single but McCartney was reluctant to invite controversy and argued along with Harrison that the track was too slow for a single. Lennon persisted, and they rehearsed for a louder and faster remake that began on July 9th. The song starts with a loud distorted fuzz guitar riff. The sound was achieved by direct injection of the guitar signal into the mixing console. The "shoo-bee-do-wop" backing vocals were removed, and the song was shortened from 4:17 down to 3:21. While Lennon fought to be a single, McCartney's "Hey Jude" became the A-side and John's "Revolution" was "demoted" to B-Side.
Across the Universe-Let It Be
This is a great song. It's been recorded at least five times. The first time it was recorded was for a charity album called No One's Gonna Change Our World which was released on December 12, 1969, in the UK for the benefit of the World Wildlife Fund. This version is featured on the Past Masters album. It was then recorded again for their final album. In 2003, the song was "stripped down" to the way Paul McCartney felt the album should be, omitting most of producer Phil Spector's contributions of choir and strings. A fourth version was released on Anthology 2 album released in 1996 which gives the song a more Indian flare. The final version was released in 2018 on the "White Album" Anniversary Edition version featuring only John Lennon and Ringo.
John Lennon wrote and sang so many amazing songs with The Beatles. I simply didn't have room for all of them. If you enjoyed this list, check out my lists where I talked about my Top 10 George Harrison Beatles Songs, Paul McCartney Beatles Songs, and Ringo Starr Beatles Songs. What did you think of my list? Do you agree with it? Would you rearrange it?  What songs would you include on your list?  Share your thoughts in the comments below.  Before you go, don't forget to follow Awesome Albums on Instagram and Twitter, like on Facebook, and Subscribe on both YouTube and BitChute for music-related content.  Also, don't forget to come back next Tuesday, for another list for Top "Ten" Tuesday!