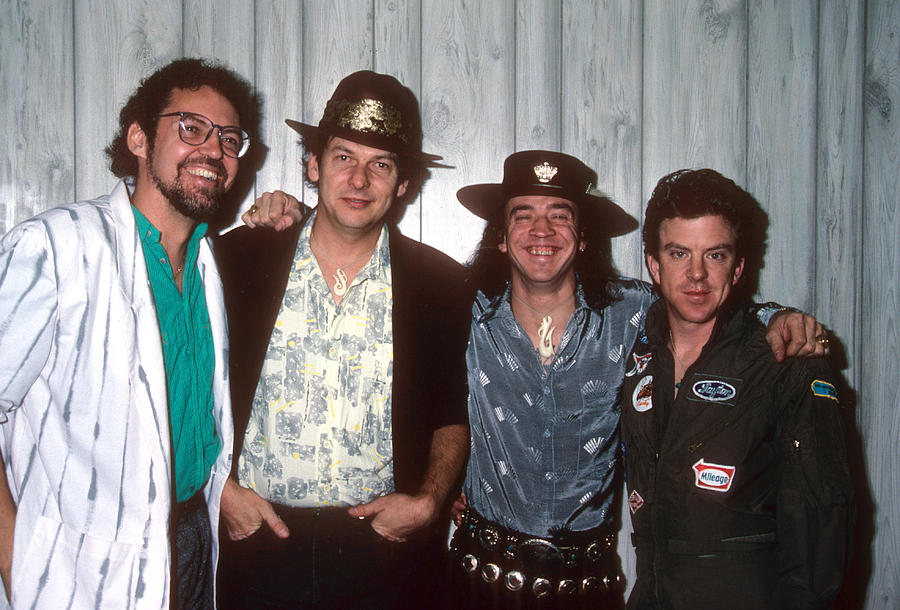 Welcome back to Top "Ten" Tuesday. This past weekend we remembered blues legend Stevie Ray Vaughan would've celebrated his birthday. I figured this would be a great time to go through his music and come up with a list.
Stevie Ray Vaughan began playing guitar at the age of seven, inspired by his older brother Jimmie Vaughan.  In 1972, he dropped out of school and moved to Austin where he began to gain a following playing at a local club circuit. He formed his band Double Trouble in 1978, named after an Otis Redding song. He recruited Jackie Newhouse to play bass and Freddie Pharaoh was on drums. Pharaoh was a part of Vaughan's previous band, Triple Threat Revue. Shortly after the new band was formed, Pharaoh quit. He was briefly replaced with Jack Moore, who had moved to Texas from Boston. Vaughan then began looking for a new drummer. He met Chris Layton. In October of 1980, bassist Tommy Shannon attended a Double Trouble performance at Rockefeller's in Houston. Shannon participated in a jam session with Vaughan and Layton halfway through their set. Shannon later commented, "I went down there that night, and I'll never forget this: It was like, when I walked in that door and I heard them playing, it was like a revelation. 'That's where I want to be; that's where I belong, right there.' Shannon joined the band as the new bassist.
In 1982, he performed at the Montreux Jazz Festival where he was spotted by David Bowie. Impressed by his talent, Bowie invited him to play guitar on his next album Let's Dance which was released in 1983. Months later, Vaughan achieved success with his debut album Texas Flood released June 13, 1983. With a series of successful network television appearances and concert tours, he became the leading figure in the blues revival of the 1980s. Vaughan released Couldn't Stand the Weather on May 15, 1984, and Soul to Soul on September 30, 1985. The latter had mixed reviews, with acclaim for Vaughan's style and playing, but criticism for lack of inspiration and Vaughan's "hit or miss songwriting". Vaughan suffered from drug and alcohol addiction since he was six years old. He stole drinks from his father and drawn in by the effects started making drinks resulting in alcohol dependence. He eventually went into rehab to battle his addiction. Double Trouble's fourth album In Step, released June 6, 1989, is often seen as Vaughan's new-found sobriety. Vaughan had always wanted to play on an album with his brother. They recorded one album together, Family Style was released September 25, 1990. Sadly Stevie Ray Vaughan didn't see the album's release. On August 27, Vaughan and members of Eric Clapton's touring group played an all-star encore jam session at Alpine Valley Music Theatre in Wisconsin. They left for Midway International Airport in Chicago in a helicopter, the most common ways for acts to enter and exit the venue. The helicopter crashed into a nearby ski hill shortly after taking off. Vaughan and four others on board, pilot Jeff Brown, agent Bobby Brooks, bodyguard Nigel Browne, and tour manager Colin Smythe were all killed on impact. A year after his death, Jimmie Vaughan compiled ten previously unreleased tracks from throughout Double Trouble's career. It was released November 5, 1991, and became Vaughan's highest-charting album at #10.
With our intro out of the way, let's move on to our list. This is my Top 10 Stevie Ray Vaughan & Double Trouble Songs.
#10-Tightrope-In Step
This is a great song from Vaughan's "comeback" album. This is his first album after battling rehab and the lyrics reflect this. The first half of the lyrics seem to reflect his struggle with the problems he was facing. The lyrics in the last verse reflect him coming to terms with himself and his battle. The name of the album may reference the 12 step program he used to clean himself up. 
#9-You'll Be Mine-Soul to Soul
This is a great cover written by Willie Dixon and first recorded by Howlin' Wolf in 1961. The song has a lot of energy from the rhythm section with a great guitar riff from Vaughan before going into an awesome blues-rock guitar solo.
#8-Life By the Drop-The Sky Is Crying
This song stood out to me because of how different it is compared to Vaughan's other songs. It was written by Vaughan's friend Doyle Bramhall and is an acoustic song, played on a twelve-string acoustic guitar.
#7-Scuttle Buttin'-Couldn't Stand the Weather
This is another great blues-rock number. It shows the influence Lonnie Mack had on Stevie Ray Vaughan. Stevie picks up Mack's style of playing, the fast chicken pickin' style after listening to the first record that he owned by Mack, "Wham!" Vaughan did a cover a "Wham!" (See Honorable Mentions) and was put on the posthumous The Sky Is Crying album.
#6-Couldn't Stand the Weather-Couldn't Stand the Weather
The song starts with a quiet blues sound. The song picks up with a catchy riff with several dramatic pauses before the blues guitar comes back leading into the vocals.
#5-The Sky Is Crying-The Sky Is Crying
This is a great blues song originally written by Elmore James and released in 1960. Vaughan recorded the song during the Couldn't Stand the Weather sessions, and again during the 1985 Soul to Soul sessions but neither version was released until after his death. One version was released on Blues at Sunrise in 2000, and this version from The Sky Is Crying. It's a slow blues song with some droning guitar sounds. It's a song that emphasizes the weight of the blues. I feel a lot of extra weight on my shoulders when I hear this song, but you know a song is good when it can portray a feeling like that!
#4-Cold Shot-Couldn't Stand the Weather
The song was originally written by Michael Kindred and W.C. Clark, though later it was incorrectly credited to only Kindred. The song seems to be about a failing relationship, "once was a sweet thang baby, held out love in our hands/Now I reach to kiss your lips the touch don't mean a thing." The lyrics are backed by a great guitar solo and a bouncy rhythm track thanks to Layton and Shannon.
#3-Love Struck Baby-Texas Flood
This is the opening track to their debut album and a great way to launch Double Trouble's album career. The song captures the style of a Chuck Berry song with some great guitar licks. The song became a single backed with "Rude Mood". While the song received heavy airplay, it failed to do that well on the charts. The music video, however, got heavy rotation on MTV.
#2-Pride and Joy-Texas Flood
Vaughan wrote this for his new girlfriend when he was inspired by their relationship. Funny enough, a fight between him and her helped inspire another song on the same album, "I'm Cryin'". It is another single from their debut album. It quickly became one of his best-known songs and helped revive interest in blues music.
#1-Crossfire-In Step
This song was written by Bill Carter, Ruth Ellsworth, Chris Layton, Tommy Shannon, and Reese Wynans. While the guitar from Vaughan is great, I think the rhythm track from Shannon and Layton are where the song shines. The song is so catchy. One more thing about this song before moving out is the use of brass in this song. It's present but it isn't overbearing. The brass is called Texacali Horns, with Joe Sublett on saxophone and Darrell Leonard on trumpet, are present on this song, and "Love Me Darlin'". 
Don't click off of the list yet. My lists aren't complete without an honorable mentions category. I decided to give an extra song this week to make up for the lack of a list last week, but I also wanted to at least mention one song from the collaboration that Stevie did with Jimmie. So let's get started!
Honorable Mentions
Say What!-Soul to Soul
This is the opening track to Double Trouble's third album. The intro is the song's strongest part with wailing guitar. We are also greeted with a fourth band member with Reese Wynans playing keyboards which gives a whole new dynamic to the Double Trouble sound.
The House Is Rockin'-In Step
This is the opening track to Double Trouble's 1989 album. Drums and guitar start this song before a great keyboard rhythm joins in. The title a play on a popular bumper sticker in the 1970s which said, "If this van's a-rockin' don't bother knockin'." Although the lyrics are different where they say, "Well the house is a rockin' don't bother knockin/Yeah the house is a rockin' don't bother come on in" as if possibly inviting you to join them. Whether or not the lyrics are referring to the original bumper sticker message is unclear but it's still one of SRV's catchiest songs in his discography.
Let Me Love You Baby-In Step
The first 10 seconds are the best part of this song, a great opening riff that kicks the song into high gear while SRV sings about an attractive woman.
Boot Hill-The Sky Is Crying
The original writer of this song is unknown but has a very Elmore James styled guitar riff that begins the song. This is the opening track to the posthumously released album and is a great song that captures Vaughan's upbeat electric blues style.
Wham-The Sky Is Crying
This is a great instrumental on the posthumously released album. If this isn't Vaughan's fastest song, it's at least one of them. Vaughan has released a lot of great rapid instrumental pieces throughout his 7-year career. I almost included "Rude Mood" from his debut album in this Honorable Mention list. That's another great fast guitar instrumental track.
Long Way From Home-Family Style
I wanted to include one song from the collaboration album. I was split between this one and "Telephone Song". Both feature great guitar work from the Vaughan brothers working together. This is another great song written by Stevie and Doyle Bramhall. "Long Way From Home" features a hard-hitting drum track while Stevie's guitar gets faster. If we listen to "Telephone Song", along with Stevie's bluesy guitar, we can hear Jimmie playing an almost funk style guitar. The two guitar styles blend very well to create this piece.
Stevie Ray Vaughan was such a talented musician, learning how to play guitar at the young age of seven and revived interest in blues music in the 1980s. His life was tragically cut short when he was making his comeback. Sadly we won't know what music he would've given us, but we can still enjoy the albums he did give us in those 7 short years. As always I have to ask, what did you think of my list? Do you agree with it? Would you rearrange it?  What songs would you include on your list?  Share your thoughts in the comments below.  Before you go, don't forget to follow Awesome Albums on Instagram and Twitter, like on Facebook, and Subscribe on both YouTube and BitChute for music-related content.  Also, don't forget to come back next Tuesday, for another list for Top "Ten" Tuesday!