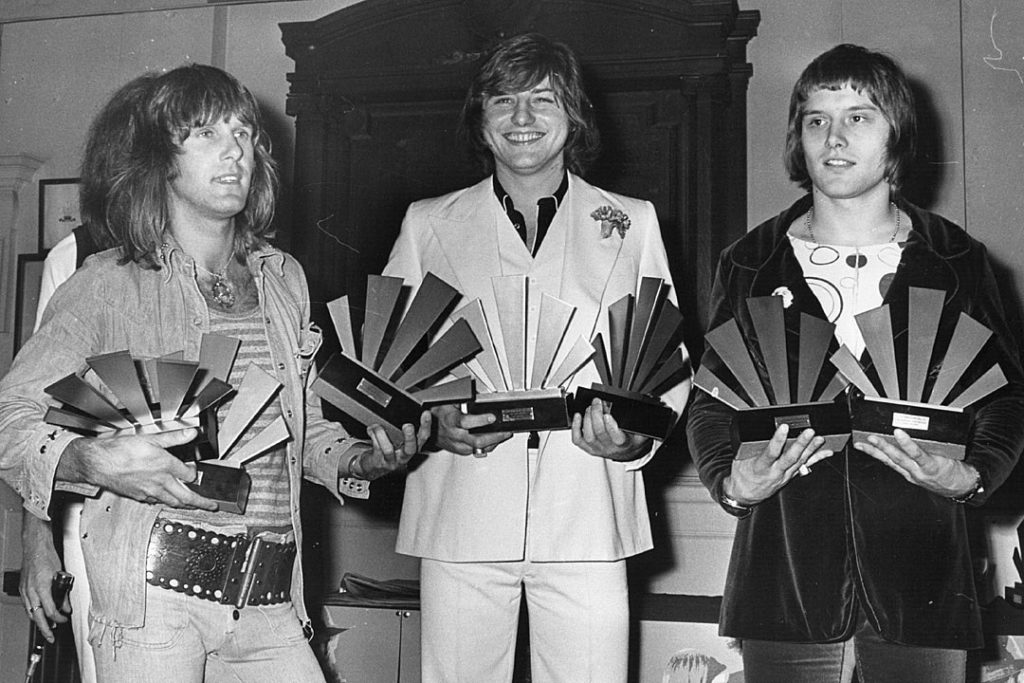 Welcome back to Top "Ten" Tuesday, a list that I hope to have up every Tuesday. Today we are going to take a look at Emerson, Lake & Palmer. Emerson, Lake & Palmer, or ELP for short, was a supergroup that formed after The Nice and King Crimson were put together for a series of concerts at the Fillmore West in San Francisco in December of 1969. Keith Emerson of The Nice was looking to form a new band, and Greg Lake wanted to leave King Crimson. The two of them hit it off the first time they played together. Emerson said, "Greg was moving a bass line and I played the piano in back and Zap! It was there."  The two then set out to look for a drummer and approached Mitch Mitchell, ex-drummer for The Jimi Hendrix Experience. Mitchell suggested a jam session that would involve him and Hendrix along with Lake and Emerson. This jam session never happened. The two started an audition to find their drummer, which resulted in several unsuccessful turnouts until Emerson asked his manager Tony Stratton-Smith for names of good drummers, who suggested Carl Palmer who was previously in The Crazy World of Arthur Brown and was in Atomic Rooster at the time.
Palmer accepted the invite and the three had great chemistry but Palmer was hesitant to leave Atomic Rooster since the band was still in their infancy but were getting success in Europe. After getting a phone call from Lake's management asking to reconsider, Palmer eventually decided to join the band. The band bounced around several names including "Triton", "Triumvirate", and "Seahorse", but they settled on "Emerson, Lake & Palmer" to remove the focus on Emerson as the most famous of the three, and to ensure the band wasn't called "The New Nice".
The band started working on a live set featuring "The Barbaian" an arrangement of the piano suite Allegro Barbaro by Béla Bartók, "Rondo" an arrangement of the jazz standard "Blue Rondo à la Turk" by Dave Brubeck that Emerson recorded with The Nice, an arrangement of "Nut Rocker" as an encore, and rock adaptation of "Pictures at an Exhibition" by Modest Mussorgsky that Emerson wished to do after seeing it performed with an orchestra at the Royal Festival Hall in London when he was still with The Nice.  The band recorded their debut album during the summer of 1970 and released in on November 20 in the UK and January 1, 1971, in America. They went on tour from September of 1970 to March of 1971 throughout the UK, Germany, Austria, and Switzerland. During a break in January of 1971, they returned to Advision Studios to record their second album, Tarkus, which led to some friction in the band almost causing them to disband as Lake disliked the recording. Tarkus was released on June 14, 1971. Their third album was also their first live album, Pictures at an Exhibition, that Emerson wanted to record, was released in November of 1971.
Their next album, Trilogy was recorded at Advision between October of 1971 and January of 1972 and was released in July. In early 1973, they bought an abandoned cinema to act as their rehearsal hall in Fulham, London. In June, they began recording their next album in London at Advision and Olympic Studios which lasted until September. Their most famous album, Brain Salad Surgery, was released on November 19, 1973, in the UK and January 4, 1974, in the US. The band headlined at the California Jam Festival on April 6, 1974, at the Ontario Motor Speedway in Ontario, California to an audience of 250,000 people. Their performance was broadcast across the US. Performances from the band's tour were documented in the live album, Welcome Back, My Friends, to the Show That Never Ends~Ladies and Gentlemen, released in August of 1974 as a triple LP.
The group took an extended break in 1974 and regrouped in 1976 to record Works Volume 1 at Mountain Studios in Montreux, Switzerland, and EMI Studios in Paris, France. Works Volume 1 was released on March 25, 1977, followed by Works Volume 2 released on November 10.
After their 1977-78 tour, the band discussed their next move. Emerson said that for the group to continue, "we would have to do a lot of cutting down" and considered the possibility of producing music with just a piano, bass guitar, and drums. They relocated to Emerson's home near Nassau in the Bahamas and recorded Love Beach at Compass Point Studios in 1978 and was poorly received by both the band and the critics. In early 1979, Palmer attempted to organize a farewell summer tour and have the group disband at its conclusion.
In 1985, Emerson and Lake reunited but Palmer declined as he was busy with commitments to Asia. Rumors that Bill Bruford (previously of Yes) would join the lineup but he was committed to King Crimson and Earthworks. Former Rainbow drummer Cozy Powell joined them. The trio released one album, Emerson, Lake & Powell which was released in June of 1986. In 1988, Emerson and Palmer joined Robert Berry to form the band 3, which released their album To the Power of Three that same year.
In 1991, Emerson, Lake & Palmer reformed and issued a comeback album, Black Moon on Victory Records. The album was released on June 27, 1992. The following tour was successful but Palmer suffered from carpal tunnel syndrome in one hand and Emerson had been treated for a repetitive stress disorder. They released their final studio album, In the Hot Seat on September 27, 1994. Outside of a reunion 40th-anniversary concert in 2011, their final show was in August of 1998. Conflicts over a new album led to another breakup.  Keith Emerson died on March 11, 2016, of a gunshot wound to the head ruled as suicide. Greg Lake lost his battle to cancer on December 7 of that same year.
With this intro out of the way, let's get started with the list. This is my Top 10 Emerson, Lake & Palmer Songs.
#10-Canario (From the Fantasia Para U)-Love Beach
Despite this album not being very well received, there are a couple of songs on here I like. It was a tossup between this instrumental track or "Taste of My Love". The instrumental piece has some great synthesizer moments that make the whole piece shine. It's the last movement of "Fantasía para un gentilhombre" ("Fantasia for a Gentleman) by Joaquín Rodrigo.
#9-Are You Ready, Eddy-Tarkus
This is the closing track to their second album. It's a fun, rockin' song where they are asking Eddie if he is ready to turn out rock-and-roll, pull those faders down, turn your sixteen tracks on, and vibe me all night long. At the end of the song we hear, "I've only got 'am or cheese". This is a reference to a woman who would make sandwiches for the band and she asked this whenever they want something to eat.
#8-Black Moon-Black Moon
This is the title track to their 1992 comeback album. While the album didn't live up to the same level of Tarkus or Brain Salad Surgery, I still enjoyed this album. It has some hard-hitting drums backed along with a great synthesizer tune.
#7-Hoedown-Trilogy
This is a great instrumental track, written by Aaron Copland. It was part of a bigger ballet Copland wrote called Rodeo. The ballet consists of five sections, "Buckaroo Holiday", "Corral Nocturne", "Ranch House Party", "Saturday Night Waltz" and "Hoe-Down" finishes off the ballet. 
François Couture of AllMusic said that ELP yielded a crowd pleaser with their version of "Hoedown". ELP makes a lot of great instrumental tracks but this one is easily my favorite.
#6-Take a Pebble-Emerson, Lake & Palmer
This is one of ELP's longest songs, clocking in at 12 minutes. It's a soft ballad with Emerson switching between a grand piano and a plectrum while Greg Lake plays an electric bass guitar. Carl Palmer's percussion is subtle. The song gets quiet with the piano playing very quiet while Greg Lake switches to a folk-style guitar section about 4 minutes into the song. Keith Emerson said, "'Take a Pebble' was quite amazing. There's a lot of piano work in there and improvisation. I rememberer Carl had his brushes out. He wasn't painting at the time, but he did a lot of brush work on the snare drum, while I played an ostinato figure. I played one theme with the right hand and we took it from there. At the beginning of the piece I scrape the piano strings. I'd hold down various notes on the grand piano while strumming the strings. It's a technique Keith Jarrett first used and makes a great effect."
#5-Still…You Turn Me On-Brain Salad Surgery
This is a great acoustic ballad like "Lucky Man" (See #3) or "C'est La Vie (See Honorable Mention). It was planned to be a single but the band nixed the release because Carl didn't play on the track and the band felt the song didn't fairly represent the album or the band's general direction. The song is mostly an acoustic guitar played with parts of the song that speed up and go in an almost funk direction? I was playing this song on a playlist back when I was in college and a friend heard it and he laughed. He said, "It sounds like someone is getting laid." I told him, "Well, the song is called 'Still…You Turn Me On' so it's possible." I don't know if that's what the song is about or not. Greg Lake said the song is open for interpretation of who the "you" is about. It could be a literal person, but it could be the demands of touring, how draining it is touring is but how exciting the shows are. A random fun fact, the lyrics of "Someone get me a ladder" were considered in the naming of this album. The album was almost named "Get Me a Ladder".
#4-The Endless Enigma-Trilogy
This is a suite in three parts that opens the album. "The Endless Enigma (Part 1)" begins this suite. It starts with some "alien" sound effects before the song gets moving. Keyboards and drums are in the next section before the song surges with a great synthesizer tune that plays in sync with Greg Lake's voice. The lyrics are often seen to point toward music journalists. ELP wasn't well-received by the music press and was often given bad reviews despite enjoying great success. This was Greg Lake's response to them. In between "The Endless Enigma (Part 1)" and "Part 2" is a short instrumental piece known as "Fugue". It's a quiet piano piece. It's a beautiful instrumental track. "The Endless Enigma (Part 2)" starts with more energy than "Part 1" jumping in with a fast piano riff off the bat. A regal sounding synthesizer solo builds up to Greg's lyrics reprising the tune that we heard in "Part 1". Both parts of "The Endless Enigma" are great.
#3-Lucky Man-Emerson, Lake & Palmer
This was the first song by ELP I heard. It's a great acoustic song that acts as the closing track to their debut album. It was written by Greg Lake at just 12 years old. It was released as a single in 1970 and reached #48 on the US Billboard Hot 100. It hit #25 on the Canadian Singles Chart and #14 on the Dutch Top 40 chart. The song slowly builds up throughout the song. Lake added multiple vocal overdubs, triple-tracked acoustic guitars, electric guitar, and harmony vocals until it sounded good. The song ends with an extended Moog solo played by Emerson. This song is one of the first rock songs to feature a Moog solo. The solo begins as an ominous drone on a low D before leaping up two octaves and using the glide control throughout. 
#2-Karn Evil 9: 1st Impression-Brain Salad Surgery
This is one of the greatest songs I've ever heard! "The Karn Evil 9" piece is broken into three impressions with the first impression broken into two parts. The reason it was broken into two parts is simply because of record limitations but on CD releases have been restored as one 13 minute piece. Greg Lake wrote the lyrics with ex-King Crimson bandmate, Peter Sinfield while Keith Emerson wrote the music. "Karn Evil 9" tells an epic Sci-Fi story. It was supposed to take place on a planet called Ganton 9 where evil flourished. When listening to the music, they thought the music sounded like a carnival, so that's where the name came from, a play on words. The lyrics are about inhumanities and exploitation. Violence is so common that it not only becomes commonplace but becomes funny in a sick way. The theme continues into the second part of the first impression, "Karn Evil 9: 1st Impression (Part 2)". While the second part was not released as a single, the song helped the album reach #2 in the UK and #11 in the US. Throughout the song, we hear guitar parts reminiscent of Georges Bizet's "Carmen". The song builds up to a dramatic ending in almost a march as the song ends.
The story continues into "Karn Evil 9: 2nd Impression". I didn't include the "2nd Impression" on my list, not because I don't like it but because it's still a great piano and keyboard-driven instrumental piece but it's not as good in my opinion compared to the "1st Impression" or "3rd Impression". This part of the story symbolizes the blissful ignorance of humanity towards the impending danger of the conquest of computers.
#1-Karn Evil 9: 3rd Impression-Brain Salad Surgery
The best part of the "Karn Evil 9" piece as well as ELP's greatest song, is "Karn Evil 9: 3rd Impression. I would say that my #2 and #1 picks are nearly tied but the "3rd Impression" is so good and doesn't get the recognition of the "1st Impression" gets. This is a direct sequel to mankind's ignorance of computers in the "2nd Impression". The computers have declared war on humanity. Greg Lake said, "People talk about computers because it's present. We use computers. You can say there's no emotion in a computer. But it's what we are saying about a computer, and in that statement lies emotion. The whole concept of computers dominating people's life. There is one line in it: 'load your program, I am yourself'. They are rather prophetic words. I really do question sometimes how much good is all doing this bloody technology?" There is probably a typo in that quote. I pulled that quote directly from my notes that I took when I was making my episode on Brain Salad Surgery and that was 5 years ago.
After an extended instrumental section, the lyrics come back, "Rejoice! Glory is ours!/Our young men have not died in vain,/Their graves need no flowers/The tapes have recorded their names." The final verse tells us that maybe the war isn't over. Greg Lake and Keith Emerson (in a synthesized voice) go back and forth. "I am all there is" The computer speaks up, "Negative! Primitive! Limited! I let you live!" Greg portraying humanity declares, "But I gave you life," The computer asks a question, "What else could you do?" Humanity responds, "To do what was right". The final lyric of the song, the computer asks, "I'm perfect! Are you?" The song ends with a Moog synthesizer going out of control, speeding up bouncing between the left and right channel. Keith Emerson programmed each note one at a time, twenty-four notes in the pattern. Each note plays off of the last one speeding up and then sputters out. It's a great way to close an album and a great way to close out our list…well, sorta. We still have our honorable mentions.
Don't click off the list yet! We still have honorable mentions to go through. This was a hard list to narrow down. I somehow managed to narrow down to 5 ELP (Palmer) songs that are all in chronological order, followed by a bonus 6th Honorable Mention, a song I picked from ELP (Powell)'s 1986 album. Let's get started!
Honorable Mentions
From the Beginning-Trilogy
The first few notes of this song sound very similar to the first few notes of "Roundabout" by Yes, without the backmasking. This is a quiet acoustic ballad written by Greg Lake. It was a single that hit #39 on the US Billboard Hot 100 backed with "Living Sin". The song was originally written for King Crimson's debut album, In the Court of the Crimson King, but Robert Fripp didn't think it would fit into the album's context. The song closes out with a quiet synthesizer solo, overdubbed with synthesizer sounds. Carl Palmer plays with congas, tympani mallets, and without cymbals in this song to not overpower the acoustic song. Greg Lake claimed the inspiration for the song left his memory saying, "Very often lyrics simply come about simply because of the way one feels at a moment in time. There is no earth moving movement of divine inspiration or grand plan and I'm sure that was the case with this song. Although very young at the time I sometimes had moments of reflection and maybe also perhaps a feeling that I could be a better person, I think this was just one of those."
The Sheriff-Trilogy
This is a fun song. The song opens with a drum solo. Carl Palmer accidentally hit the rim of his tom-tom with a drumstick. He can be heard responding, "S#!T!" if you listen carefully. It's a fun song about Big Kid Josie causing a lot of trouble, enough trouble that he will be hung if he is caught. The Sheriff follows Josie's trail and catches him. There is a twist ending where The Sheriff doesn't know that Josie has a hidden gun at the end. He draws his gun and takes The Sherif down. Now Josie runs the town as the new sheriff. The song ends with a gunshot ricochet and a fun honky-tonk piano solo that finishes the song.
C'est La Vie-Works Volume 1
This is a great acoustic song that reminds me a lot of "Still…You Turn Me On" (See #5). This was another song he wrote with Pete Sinfield. Greg Lake said, "I used to live in Paris in Paris for a while. A very beautiful city, I sometimes would go out walking the streets there, and you'd often hear this instrument playing. I don't know what they call it, really, but it's one of these barrel organ things you wind up. It's the sort of sound, it's a bit like a Las Vegas casino. It kind of lives with you. Anyway, I'd heard this barrel organ playing. And I walked on back home towards my apartment. I went past this cafe and I heard the voice of Edith Piaf, the famous French lady singer. And when I got back to the apartment I thought, I really would like to write a sort of French song with some French feeling. I don't really speak French, but I knew this phrase, 'c'est la vie', that's life. And so I thought, That would make a good idea for a song. So I wrote this song, 'C'est La Vie' and we recorded it and put it onto Works Volume 1. However, a couple of years later it was covered by a French singer called Johnny Hallyday. And he's sort of French Elvis Presley. Anyway, he had a #1 hit with in France, which as an Englishman, of course, gave me a great deal of pleasure."
Give Me a Reason to Stay-In the Hot Seat
I like this song. It's a quiet '90s ballad. It seems that the love has faded in this couple but if she's willing to work things out then so will he. "Just say the words I can surely stand on little compromise/Just reach out to me with your live I'll meet you half way". Even though Greg Lake's voice has changed significantly by the time Black Moon and In the Hot Seat were released, there were still some great songs on those final two albums.
Street War-In the Hot Seat
This is the closing track to their final album. The lyrics are very powerful, describing a war on the streets. The lyrics are describing that you are watching this on TV or in a magazine watching some angry individuals getting gasoline and burning down the ghetto. Then the militia joins in and storms the barricades. While I will try to leave politics out of my lists, I can't help but notice how similar these lyrics are to what we witnessed in 2020 America. This song was very prophetic.
Learning to Fly-Emerson, Lake & Powell
I decided to give a sixth honorable mention because I'm not sure if this song counts but I still like it and wanted to mention this song and the album as a whole. It's a great rockin' song with a great synthesizer solo halfway through. Though the most notable song on the album would be "The Score" which acted as the album's single peaking at #60 on the charts on July 19, 1986.
ELP is such a talented group of musicians who helped define progressive rock throughout the 1970s with some great albums! It was hard to narrow down to just 10 or even 15 songs but I hope you enjoyed the list. As always I have to ask, what did you think of my list? Do you agree with it? Would you rearrange it?  What songs would you include on your list?  Share your thoughts in the comments below.  Before you go, don't forget to follow Awesome Albums on Instagram and Twitter, like on Facebook, and Subscribe on both YouTube and BitChute for music-related content.  Also, don't forget to come back next Tuesday, for another list for Top "Ten" Tuesday!