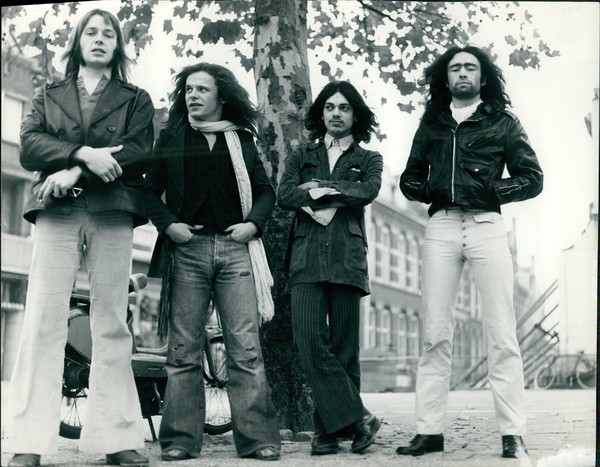 Welcome back to Top "Ten" Tuesday, a weekly list posted every Tuesday (mostly). Today we are going to take a look at Free. Free consisted of four very young, yet very talented musicians. Singer Paul Rodgers and drummer Simon Kirke were 18 years old, and they were the oldest of the group. Guitarist Paul Kossoff (who would've celebrated his birthday yesterday) was only 17. Bassist Andy Fraser was only 15. Paul Kossoff and Simon Kirke became friends in the R&B band Black Cat Bones but wanted to move on. Kossoff saw Paul Rodgers singing in Brown Sugar and was impressed by him and asked if he could jam with Rodgers onstage. Alexis Korner,  a British blues musician and radio broadcaster who referred to as "a founding father of British blues" recommended Andy Fraser to the band, who already had experience playing with John Mayall & the Bluesbreakers. 
They played their first gig on April 19, 1968, at the Nag's Head pub. By November of that year, they had officially been given the name Free by Alexis Korner,. They recorded their first album, Tons of Sobs for Island Records, and was released on March 14, 1969. This first album documented their first six months together and contains studio renditions of a lot of their early live set and is their only album to be defined as "blues-rock". By October of that year, they released their second album, Free which marked a significant difference in Paul Rodgers' voice as well as the musicianship in the rest of the band. The band finally received breakthrough success with their third album, Fire and Water, released on June 26, 1970. They headlined the 1970 Isle of Wright Festival and "appeared to be destined for superstardom". Before the end of the year in 1970, their fourth album Highway was released in December. The band disbanded initially in 1971 due to creative differences between Fraser and Rodgers, who felt he was not being listened to. In early 1972, they set aside their differences and reformed to save Paul Kossoff from his growing drug addiction. Their next album Free at Last was released in May of that year (some sources say June).
Fraser left the band for a final time shortly after the release of Free at Last, frustrated by Kossoff's behavior. Kossoff became unreliable to perform at shows or even show up. The band recruited Tetsu Yamauchi to play bass and keyboardist John "Rabbit" Bundrick, who had worked with Kossoff and Kirke during Free's initial split, joined the band for Free's final album, Heartbreaker. Kossoff was replaced by Wendell Richardson, of Osibisa for a US tour in 1973, but shortly after that, Free disbanded for good this time. Rodgers and Kirke went on to form Bad Company along with Boz Burrell, formerly of King Crimson, and Mick Ralphs, formerly of Mott the Hoople. Paul Rodgers has also teamed up with Jimmy Page of Led Zeppelin to create the supergroup The Firm, and later joined The Faces' and The Who's drummer Kenney Jones to make another shortly lived supergroup, The Law. Paul Rodgers also toured with Queen's Brian May and Roger Taylor in the late 2000s. Kossoff's health improved for a while and was on tour with Back Street Crawler, supporting their second album but Kossoff's drug addiction led to a major decline in his health. On a flight from Los Angeles to New York City on March 19, 1976, Paul Kossoff passed away at the age of 25. Andy Fraser became a cofounder for Sharks in 1972 but left shortly after. He has since passed away on March 16, 2015, at the age of 62.
Now that we have the intro out of the way, let's get started! This is my Top 10 Free Songs. Just a warning, there is not a lot of information to these songs so this might be a short article.
#10-Sweet Tooth-Tons of Sobs
This is a great electric guitar-led song. During the chorus, the bass and drums give us almost a march. It's a great song that is often overlooked.
#9-Heartbreaker-Heartbreaker
This is the title track to the band's final album in 1973. Since Fraser left the band before this album, Free lost their main songwriter partnership of Rodgers and Fraser, leaving Rodgers solely to write this one. The song seems to be about a guy who keeps breaking his own heart trying to love someone who is a "faker". The song features a lot of organ thanks to their new member, John Bundrick.
#8-Mr. Big-Fire and Water
This song has a memorable intro with a slow drum beat with Fraser's bass over top of it. Paul Rodgers described this song as "a very tough lyric" which he was amazed he got away with. He told Uncut magazine, "I used to listen to BB King, and I think I was inspired by his approach to womanhood, if you like-his manly stance! And that song is a lesson in simplicity. Because the simpler the song, the bigger it sounds. The notes have room to echo."
#7-Walk in My Shadow-Tons of Sobs
Like the rest of the songs on the album, this song takes a minimalist approach. The band signed to Chris Blackwell's Island Records with Guy Stevens producing the album. Stevens went with the minimalist approach due to the low budget of £800 or $1,031.99 or about $7,300 today. The song surges with guitar before giving us a great bass riff. This minimalist approach marks a huge contrast to their later albums with several of the songs translated well live and were even still performed live when they recorded this album.
#6-Songs of Yesterday-Free
The song starts with another great bass riff. I'm noticing a lot of Free songs have a great bass riff. The tempo picks up about a minute in, and about halfway through we are greeted with a slow bluesy guitar solo while the drums continue slowly picking up speed. About two minutes, the guitar solo picks up speed to keep up with the increasing drum and bass rhythm. The constant change in tempos is this song's highlight.
#5-Worry-Tons of Sobs
Before talking about "Worry", I need to talk about "Over the Green Hills (Part 1), a short slow bluesy track that opens their first album. 50 seconds into the song, Paul Rodgers' vocalizations transition into the second track that starts with a rapid guitar riff fading in. The song is warning you if you are feeling this, then you better worry, and describes how the worry will creep in on you "And the sleeping streets/Have closed their tired eyes/The fear that creeps/Will move & slowly rise". This is the best song from their first album.
#4-Trouble on Double Time-Free
This is a great song written by all four that has a great guitar/bass duo. When Paul sings the title of the song the music comes to an abrupt stop, and he holds on "time" for a few seconds which gives the music time to pick back up. As far as all the songs that they released in the 1960s, this one is my favorite, although I guess since they only released two albums in the 1960s, that's not saying much. Now if you include 1970 as part of the 1960s rather than the 1970s, then my favorite song will be different. What can I say? Fire and Water is a great album with so many great songs on it!
#3-Fire and Water-Fire and Water
Speaking of Fire and Water, their title track is great! The intro guitar chords indicate the song is going to be good! This is also the album's opening track, so you can get an idea that the album is going to be good too. This song was so good that Wilson Pickett recorded a cover. Paul Rodgers told Uncut magazine that he wanted to, "write something that one of those soul guys could sing. I didn't think they actually would! In those days I held them as if they lived in paradise and I would never get to be in touch with them."
#2-Wishing Well-Heartbreaker
This is a newly discovered favorite for me, but the song is so good! The UK agrees with me, this song hit #7 on the UK Singles chart in January 1973. The single was backed with "Let Me Show You". Many have interpreted the lyrics to be about Paul Kossoff and his drug habit, "throw down your gun you might shoot yourself, or is that what you're trying to do." Paul Rodgers denied that saying, "It's just a song that I wrote about an imaginary person." However, in the same article, he said, "I wrote 'Wishing Well' as a fun tune to play live, but unconsciously it may have been about people I knew."
#1-All Right Now-Fire and Water
This is Free's best-known song and my personal favorite of theirs. Simon Kirke explained, "'All Right Now' was created after a bad gig in Durham, England. Our repertoire at that time was mostly slow and medium paced blues songs which was alright if you were a student sitting quietly and nodding your head to the beat. However, we finished our show in Durham and walked off the stage to the sound of our own footsteps. The applause had died before I had even left the drum riser. When we got into the dressing room, it was obvious that we needed an uptempo number, a rocker to close our shows. All of a sudden, the Inspiration struck Fraser, and he started bopping around singing ALL RIGHT NOW…He sat down and wrote it right there in the dressing room. It couldn't have taken more than 10 minutes." The song has a great beat, as Simon described. The album version has an extended guitar solo with a bass riff underneath it slowly increasing in tempo before the song comes back into the final verse. It's a great song that sadly was too good. Simon Kirke said, "it became a bit of an albatross around our necks, I have to say. Even though it elevated Free into the big leagues, it became a bit of an albatross because we couldn't follow it. It became a huge hit around the world, only because we wanted to have something that people could dance to, but then, of course, we had to follow it up, and Island Records were desperate for us to follow it up. Really it was just a one-off for us, and when the follow-up to 'All Right Now' died a death-it was called 'The Stealer'-and the album that followed Fire and Water, from which 'All Right Now' was taken, when that didn't do very well, we took it to heart and the band broke up. So in an indirect way, 'All Right Now' was not very good for the band, I have to say. But, by the same token, it's been such a durable song. I play it in my solo shows, I played it with Ringo Starr and I think is one of the highlights of my career."
Don't click off the list yet! I have a few more songs to talk about. Since this article is so short and no information is available on most of the songs, I threw an extra honorable mention. As always these are listed in chronological order. Let's get started!
Honorable Mentions
I'll Be Creepin'-Free
This is a great song with a great beat. It was released as a single but sadly failed to chart. The song did get enough interest to be covered by Three Dog Night which may have renewed some interest in the song.
Woman-Free
Along with "I'll Be Creepin'" this was another song that was covered by Three Dog Night. While I do enjoy Three Dog Night's version of the song, I have to say the original (this version) is better.
Remember-Fire and Water
This is another great song from Fire and Water, sadly it doesn't get the same exposure as the other three I mentioned, but it's still a great song about reminiscing about "all these days are gone" and now he's all alone. I read an interpretation that the whole album is a concept album and that the title track is about a breakup, then "Oh I Wept", the album's second track is about Paul weeping about the breakup, and then, "Remember" is him thinking about the good and bad times he spent with her. Since I'm talking about this concept, I'll go ahead and mention the rest of this interpreted concept. After "Remember" is "Heavy Load" which is about Paul carrying the heavy burden of the breakup. "Mr. Big" is about some guy hitting on the girl Paul broke up with. "Don't Say You Love Me" is about the girl apologizing to Paul for what she had done to cause the breakup. This "concept" ends with "All Right Now" about Paul meeting someone new. Again, this is just one individual's interpretation but I enjoy concept albums and rock operas so if someone reads a little too heavy into an album and makes a concept or story out of it, I'm easily fascinated with it.
The Highway Song-Highway
This is a great song written by Fraser and Kossoff. The song has a catchy piano beat backed with guitar and drums. Paul Rodgers is singing about working for someone who is very strict who doesn't believe what he doesn't see, "The foreman he went crazy/And ran around the field/Said we must be lazy/Had to be seen to be believed" Later on "The old man went crazy/And ran to get his gun/We had a bad time explaining/We were just having drunken fun".
Catch a Train-Free at Last
This is a great catchy song that opens their 1972 album. This is their first album since they reunited. The song seems to be about telling his girlfriend to catch a train to come to him to get away from her rough home life. Her mother shouts all the time and her father is always drinking. It's a great rocking song that is the beginning of the end of these four members together as a band.
Travellin' Man-Free at Last
This song is a bit slower than "Catch a Train" but it's still a good one. He doesn't stay in one place very long but he does encourage this girl to join him on his journey. Sadly there is nothing else to say about this one, but it's a good song.
If you enjoyed this list, then check out my Top 10 Bad Company Songs list I made earlier this year, I only focused on the Paul Rodgers era. Even though Bad Company's second singer Brian Howe and third singer Rick Wills are good singers, it's not Bad Company without Paul in my opinion. That list will be at the bottom of this article, so definitely check that out! What did you think of my list? Do you agree with it? Would you rearrange it?  What songs would you include on your list?  Share your thoughts in the comments below.  Before you go, don't forget to follow Awesome Albums on Instagram and Twitter, like on Facebook, and Subscribe on both YouTube and BitChute for music-related content.  Also, don't forget to come back next Tuesday, for another list for Top "Ten" Tuesday!
Top 10 Bad Company Songs