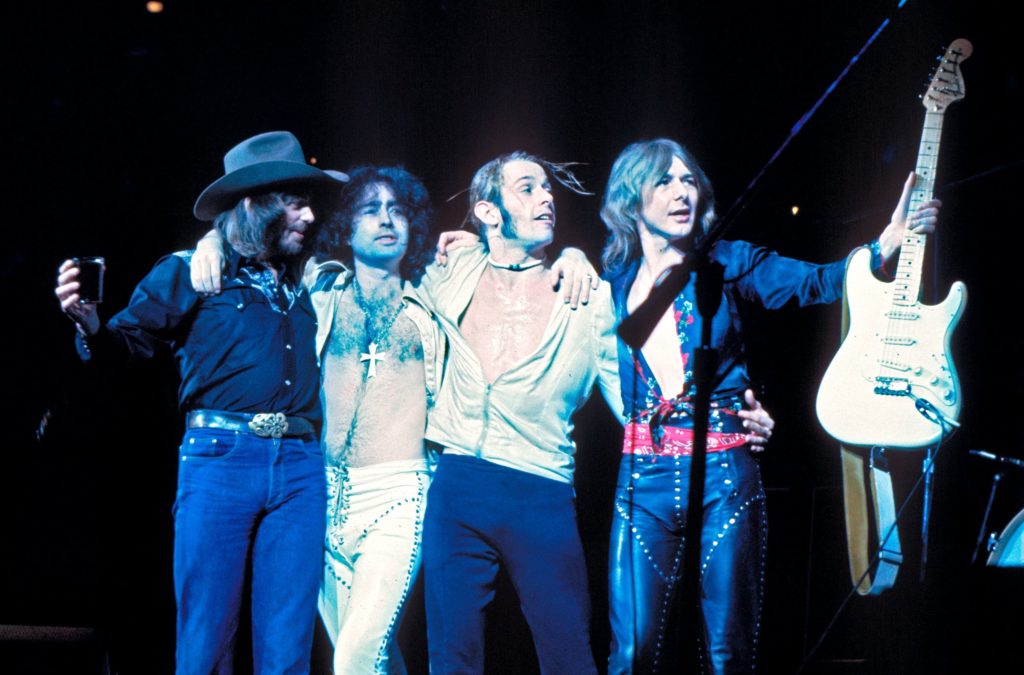 Welcome back to Top "Ten" Tuesday, a weekly list that as the name suggests, a top 10 list every Tuesday.  Today's list will be taking a look at Bad Company's discography.
Bad Company is a supergroup that started in Westminster, London in 1973 formed by Paul Rodgers and Simon Kirke from the band Free along with guitarist Mick Ralphs from Mott the Hoople and Boz Burrell from King Crimson.
These four members made up the band until 1982. Rough Diamonds, released that year, didn't sell that well. The sessions were rough and fights broke out.  The band broke up and after a four year break, the band came back with a new vocalist, Brian Howe. Boz Burrell had briefly rejoined the band at a couple different points but was not featured on any new albums from the band.  In fact three albums in a row, there was no bass player that was an official band member.  Rick Willis joined as the bass player from 1994-1998 playing on Company of Strangers in 1995 and Stories Told & Untold in 1996.  Around that same time Brian Howe had left the band and Robert Hart came in on the previously mentioned studio albums. Since 2002, Paul Rodgers has reclaimed his spot as lead vocalist and still tours with Simon Kirke on and off to this day.  Mick Ralphs doesn't tour too much anymore after a stroke he suffered in 2016.  Boz Burrell sadly passed away in 2005 from a heart attack at age 60. 
While in my opinion the post Paul Rodgers aren't bad, none of the albums live up to what the band created in the 1970s. Paul Rodgers is cited as a significant influence on a number of rock singers, even being called the best rock singer ever.  With that being said, I will not be including anything post Paul Rodgers on this list.  Perhaps someday in the future, I can make a "Top 10 Post Paul Rodgers Bad Company Songs" list, but today I will only be looking at their first 6 albums which, to most fans, are the only albums Bad Company made anyway.  With that introduction out of the way, this is my Top 10 Bad Company Songs (of the Paul Rodgers era).
#10-Too Bad-Burnin' Sky
This is a great song, but one often overlooked on many Top 10 lists.  It starts off with a powerful drumbeat and has a great guitar riff that carries throughout the whole song.
#9-Feel Like Makin' Love-Straight Shooter
The song starts off soft featuring Paul Rodgers' smooth vocals and rhythm guitar, but when you get to the chorus, the song packs a punch that needs to be listened to be appreciated.  Paul Rodgers started to come up with the lyrics at a camp in California while touring the US with Free at just 19 years old.  After several years, Rodgers played it to Mick Ralphs who threw in that big chord in the chorus that the song is known for.  The song hit #10 on the US Billboard Hot 100, #20 on the UK Singles Chart and hit #2 on the New Zealand Singles Chart.
#8-Run With the Pack-Run With the Pack
I'm going to be honest, the piano at the beginning for the first couple seconds, I thought I was hearing The Rolling Stones song "Let's Spend the Night Together" but after the first few piano chords, the song jumps in a different direction. It's another often underrated song in Bad Company's discography.  The song is unique with what sounds like strings playing throughout, most likely keyboards, played by Mick Ralphs.
#7-Wild Fire Woman-Straight Shooter
We're coming back to Bad Company's second album for this one.  It's a great rockin' song with a great chorus.  The lyrics of "I start to shiver and shake" from the chorus transition the song to the final verse where Rodgers sings "I start to shiver and shake, I just can't wait".  Musically, the song changes during this section too as the song fades out.  Another great overlooked song from Bad Company that deserves more recognition.
#6-Silver, Blue and Gold-Run with the Pack
The song starts off with some beautiful piano from Paul Rodgers as his soft spoken vocals carry the song. The song as beautiful as it is, is also very somber hinting at possibly a failed relationship.
#5-Burnin' Sky-Burnin' Sky
This song has a powerful intro, jumping straight into the sound of thunder, which I guess lightning probably does the sky so it fits.  Then it jumps into a great bass riff. The lyrics appear to be about a man who escaped from prison and is on the run "The prisoners were lined up outside/Jumped a wall, hitched a ride".  Everyone is hot on his trail with guns and dogs.  The judge decides that this escaped criminal is a "danger to humanity, we're gonna lock him up and throw away the key".  The song quiets down in the final third focusing on the bass riff and drums joined in with keyboards while the thunder returns.  The song quiets with cymbals joining in on the bass riff for a great fadeout.
#4-Rock n Roll Fantasy-Desolation Angels
This has one of Bad Company's strongest intros, jumping into the song with a guitar synthesizer riff.  This song and album came out a short two year break.  The band got burned out on their 1977 tour.  They came back with a strong album with a powerful opening track that sucks you in as soon as it comes on.  The song is about reflecting on rock and roll as a form of escapism, where he just wants to be on stage performing to an audience.  It's all a part of his rock 'n roll fantasy, a part of his rock 'n roll dream.
#3-Live for the Music-Run With the Pack
The music swells up and comes with a great hard rock guitar riff.  You can't help but bob your head to the rhythm of this one.  The final third of the song has the band jamming out as the song quiets, bringing a powerful track to an end.  This song almost made my #2 spot but my actual #2 is too important a song to be anything less than #2.
#2-Bad Company-Bad Company
To continue my above statement, putting this song at #2 is probably a crime somewhere.  How can the theme song not be #1? Well it's still awesome enough to be #2. A lot of sources say the band's "theme song" came from a critically acclaimed Western movie of the same starring Jeff Bridges, released in 1972.  According to Simon Kirke, Rodgers saw a poster advertising the movie and suggested it as the band's name.  Although Rodgers told a different story saying, "It came from my childhood days.  I saw a book on Victorian morals.  They showed this picture of this Victorian punk.  He was dressed like a tough, with a top hat and the spats and vests and the watch in the pocket and the tails and all that.  But everything was raggy.  The shoes were popped out of the soles, and the top of the hat was popped out.  And the guy is leaning on the lamppost with a bottle in his hand and a pipe in his mouth, obviously a dodgy person.  And you've got this little choirboy kind of guy-a little kid, actually-looking up to him.  And underneath it said, 'Beware of bad company.'"  He later said, "I think because it had never really been done, as far as I knew.  I thought it was interesting to come out as a brand-new band with its own theme song." Whichever story is correct, the song definitely has a Western feel to it which was intentional.  Rodgers told Spinner, "I wrote this song with that Western feel-with an almost biblical, promise-land kind of lawless feel to it.  The name backed it up in a lot of respects."  It's a great song that often makes it to the top of Bad Company songs lists, but on my list, I have one more that I'd put above it.
#1-Shooting Star-Straight Shooter
The lyrics are pretty straightforward of Johnny who grows up to be a rock star, and while he does make it big, he succumbs to the rock and roll lifestyle and dies in his bed.  Paul Rodgers wrote this song as a warning. Simon Kirke said in a Songfacts interview, "It was a sort of homage to the pitfalls of being in the rock world.  You can let the success go to your head and you can get strung out and you can die.  It's very, very simple.  And, unfortunately, it's happening with alarming frequency to this day.  Addiction will always be with us.  But 'Shooting Star' was based on a composite of musicians."  Despite the somber lyrics, the acoustic rhythm guitar in this rockin' song is a great combination.  The guitar solo is great.  The song ends with great vocal harmony "na na na" as the song closes out. Definitely a song that you need to take a breath after it's done before moving to the next one.  For me I always need a second of silence to just soak it in when the song ends.
The list is not quite done yet.  As always, I have a few songs that I wanted to include but ran out of spots on my list, so below are five more songs I want to talk about and if your favorite song isn't in the top 10, they might be down here in my Honorable Mentions, so let's get started.  These songs aren't ranked any way except chronological order.
Honorable Mentions
Rock Steady-Bad Company
This song starts off with a great guitar riff that gets the song going.  I also wanted to include "Can't Get Enough" also from their first album but I couldn't oversaturate their first album in the honorable mentions section but I still want to draw some attention to their first album that only had one song that made my top 10 list.  The album has one great song after another.  "Rock Steady" is an important Bad Company classic rock radio staple
Seagull-Bad Company
This song is pretty much entirely Paul Rodgers.  There are no drums, no bass, and the acoustic guitar is played Paul on top of the vocals and tambourine.  This is one of my "go to" Bad Company songs when I want to show off Paul Rodgers' voice ("Bad Company" is another one).  His guitar playing is great, especially for not being the main guitarist of the band, and his vocals in this song bring this song to a new level. Paul Rodgers told Classic Rock Revisited in 2001, "Every song that we have done has it's own story. 'Seagull' was written sitting on the beach. Music is about atmosphere. The best way to create the atmosphere is to actually be there. You don't have to imagine it. It is right there. With Seagull, you could see the horizon. You can include that in the songs. That is what writing songs is all about; creating mood and atmosphere."
Simple Man-Run With the Pack
Another great song from Run With the Pack, although I'd say that whole album is almost a flawless album. The lyrics are about a man who likes living a simple life, freedom is the only thing that matters to him.
Electricland-Rough Diamonds
I feel bad I didn't mention anything from Rough Diamonds, so this song and the next song are from that album. While the album didn't sell that well, there are still some good songs on the album, like this one. This was the only single released from the album, backed with "Untie the Knot". It peaked at modest success peaking at #74 on the Billboard Hot 100 but was a hit on American rock radio, peaking at #2 on the then new Rock Albums & Top Tracks chart, only behind Billy Squier's "Everybody Wants You."  Since then, Classic Rock Magazine ranked the song at #10 on their list of Bad Company's 10 best songs.
Racetrack-Rough Diamonds
The closing track to Rough Diamonds so the last new song we'd hear from Paul Rodgers during his time in Bad Company, has a great guitar riff.  Unfortunately, there isn't any information of this song, so I can't say WHY it's good.  I just really like, one of my favorites from the album.  I'd say listen to the whole album, but keep in mind that this is still the weakest of the Paul Rodgers era Bad Company albums.  If you are new to Bad Company albums, I'd recommend their first 3 albums first.
Like always it's hard to narrow down a band like Bad Company to just 10 songs (even 15 if you count the honorable mentions) because there are so many great ones.  And this list only includes about half of their overall discography.  There are 6 more albums released after Paul Rodgers left.  While there are still some good songs on those albums, they don't compare to the first 6 albums released by the band.  What did you think of this list?  Do you agree with it?  Would you rearrange the order? What songs would you include on your Bad Company list?  Put them in the comments below, and don't forget to come back next Tuesday for another list for Top "Ten" Tuesday.