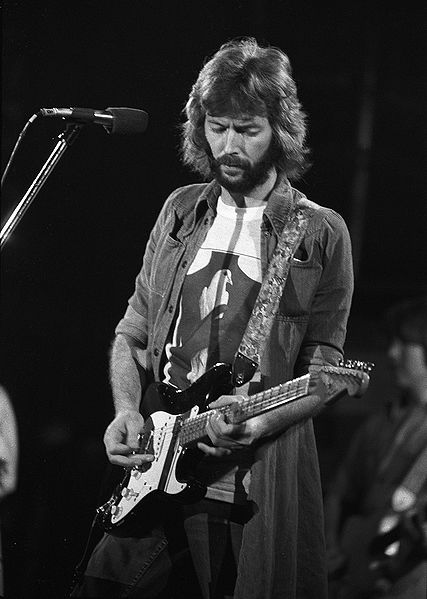 Welcome back to another list for Top "Ten" Tuesday.  Today's list will be about Eric Clapton, who yesterday celebrated his 75th birthday, so what better time to talk about him than today?  Eric Clapton in case you don't know, is an English rock and blues guitarist, singer, and songwriter.
His career started in the early 1960s playing with the Yardbirds, an blues-influenced rock and roll band, and stayed with them until 1965.  He then joined John Mayall and the Bluesbreakers for a few months.  In July of 1966, he was invited by drummer Ginger Baker to play in the band Cream, forming one of the earliest supergroups.  Here, Clapton developed as a singer, songwriter, and guitarist finally gaining recognition as the guitarist that he is known for today.  Cream broke up in 1968,  Clapton later formed Blind Faith, along with Ginger Baker and Steve Winwood of Traffic and created one album together.  Clapton continued playing music for different groups including the Plastic Ono Band, as well touring with Delaney and Bonnie (an act that opened for Blind Faith).  By 1970, Clapton had created a whole new group pulling Bobby Whitlock, Carl Radle, and Jim Gordon of Delaney and Bonnie, teamed up with Duane Allman of the Allman Brothers Band. The name of the band was going to be called Eric Clapton and Friends, to capitalize on Clapton's success as a musician.  The eventual name was a fluke when the band's provisional name of "Del and the Dynamos", Del being a nickname for Clapton, was misread as "Del and the Dominos".  Del and Eric were combined into the final name "Derek and the Dominos".  This supergroup released one album Layla and Other Assorted Love Songs.
Since then Clapton has had a very successful solo career releasing over 20 albums since 1970.  Clapton has been regarded as one of the most important and influential guitarists of all time.  He was ranked #2 in Rolling Stone's list of the "100 Greatest Guitarists of All Time" and fourth in Gibson's "Top 50 Guitarists of All Time".  In 1992, he was inducted into the Rock and Roll Hall of Fame with the Yardbirds.  The following year, he was inducted again along with Cream.  Then in 2000, he was inducted a THIRD time for his solo career.  While there are a number of artists who have been inducted twice, Clapton is currently the only artist who has been inducted into the Rock and Roll Hall of Fame three times.
While Clapton has been in numerous bands, today's list will be looking at my personal Top 10 Eric Clapton Solo Songs.
#10-After Midnight-Eric Clapton
This song was actually written by J.J. Cale at a slower tempo than Clapton's fast-paced rendition.  This is one of the rare cases where I was used to hearing Clapton's version and THEN hearing Cale's version and favoring the latter heard version over the former.  With that being said though, Clapton's version is still a great song full of energy making you eager for more.
#9-Can't Let You Do it-I Still Do
While our #10 was spot was on Clapton's first solo album, this song is on one of his more recent albums.  I Still Do came out in 2016.  This song shows Clapton still has plenty of energy despite being 71 years old.  This is another song written by J.J. Cale (I guess I should make a Top 10 J.J. Cale list sometime) and quite possibly could be a song leftover from Clapton's 2014 The Breeze: An Appreciate to JJ Cale album, an album that consists of a collection of covers by the late J.J. Cale.  
#8-I Shot the Sheriff-461 Ocean Boulevard
One of Clapton's biggest songs in the early and mid '70s was written by Bob Marley.  The lyrics are pretty straightforward, the narrator claims his actions were self defense.  Marley explained his intention, "I want to say 'I shot the police' but the government would have made a fuss so I said 'I shot the sheriff' instead…but it's the same idea: justice".  Clapton recorded a cover of the song a year later for 1974's 461 Ocean Boulevard.  Clapton's version maintains the reggae sound but puts a soft rock spin on the song.  Clapton's version ended up becoming the most successful version of the song, peaking at #1 on the Billboard Hot 100.  In 2003, Clapton's version was inducted into the Grammy Hall of Fame.
#7-Let it Rain-Eric Clapton
It took a few spots on our list but we finally have a song written by Clapton, co-written with Delaney Bramlett.  The single version was released with "Easy Now" in 1972 and also appeared on various compilation albums.  Matthew Greenwald of AllMusic said the song is "led by a striking electric guitar riff" with "the melody [being] woven elegantly around the simple, almost folk-like chord changes". He finished his analysis by stating the "song has some striking instrumental sections, including a lovely brief section by Stephen Stills" who played a melody similar to "Questions", a song written by Stills and recorded by both Buffalo Springfield, and then Crosby, Stills, Nash & Young.
#6-Riding With the King-Riding With the King
I don't know if those against the rules I set for myself of Clapton solo songs, but I want to include it anyway because it's a really great song.  The song was written by Scott Matthews, Ron Nagle, and Nick Lowe, inspired by a dream Scott Matthews had, although he was never credited as a co-writer.  It was covered on the 2000 album of the same name, a collaborative album of Clapton working with blues icon B.B. King.  Since this is a collaborative effort and may go against my own rules, this is the only one I'm including but it's a great song mixing the blues styles of Clapton and King together.  The song is fitting to be on this collaborative album as B.B. King is known as "The King of the Blues" giving the song a double meaning of King's last name and his title with a fitting album cover of Clapton driving in a car with King.  Everything in this song just lines up to perfect to not include on this list.
#5-I've Got a Rock 'N Roll Heart-Money and Cigarettes
A song written by Troy Seals, Eddie Setser, and Steve Diamond became one of Clapton's biggest songs, released in January 1983.  It was also released on Money and Cigarettes a month later.  The song peaked at #18 on the Billboard Hot 100 as well as #6 on the US Adult Contemporary chart the same year. In 2010, it was used as part of an advertisement campaign for a Fender edition of the T-Mobile HTC Magic myTouch 3G phone.  Clapton also appeared in the commercial, bringing back interest to the song and as of February 2010, the song had been digitally dowloaded 112,798 times in the US.
#4-She's Waiting-Behind the Sun
The opening track to Clapton's 1985 album was written by Clapton and Peter Robinson.  The song features a couple well known artists including Phil Collins playing drums, as well Ray Cooper (Elton John's drummer) playing percussion. Fans of Clapton would recognize Marcy Levy singing backing vocals.  She was a part of Clapton's backing band in the 1970s and famously co-wrote Clapton's big hit "Lay Down Sally" (check Honorable Mentions). The song has debates on the meaning.  Many believe the lyrics are about his struggling marriage with Pattie Boyd, that she is waiting for another love to come along. The song became one of my favorites as soon as I heard it with great electric drumming and synthesizer, giving it the distinct 1980s sound, but once the song gets close to the end, the drums change to almost a military snare march with a piccolo sound at the end, reminds me of something from the American Revolution.  Although based on what I read of personnel, there was no woodwind instrument played on the album so my guess is either they aren't credited or it was a sound achieved on one of the various synthesizers or keyboards used on the album.  Whatever instrument was used, it gave the song a unique sound giving it a high spot on this top 10 list.
#3-The Core-Slowhand
An underrated song in Clapton's catalog co-written with Marcy Levy, known as Marcella Detroit, who also supplied backing vocals.  The song is unique in the use of saxophone played by Mel Collins who contributed to recordings for King Crimson and The Rolling Stones. The song's title was changed several times before settling on the final name.  It was originally "The Riff" followed by "Burning Hot Core", and then finally "The Core". While being the longest song on my list, it has a great collaboration throughout the song and a great jam at the end of this almost 9 minute song.
#2-Pretending-Journeyman
1989's Journeyman was seen as a return to form for Clapton who had struggled with alcoholism and had recently found sobriety. The album featured many great blues covers like this one written by Jerry Lynn Williams.  The song starts off with a piano intro played by Greg Phillinganes before jumping into Clapton's wah-wah pedal.  While the song has received criticism for being overdone, most notably on the brassy synthesizers, the song did reach #1 on the Hot Mainstream Rock Tracks chart, as well as reaching high on the Netherlands Dutch Top 40. The song has a great hook and great guitar work and vocals making this one of my favorite Clapton songs, but there is one more to go through.
#1-Cocaine-Slowhand
No surprise that this would be my #1 Clapton pick, as it would be for many others too.  This song was the first Clapton solo song I ever heard (the first featuring Clapton would've probably been "Sunshine of Your Love" or "Layla").  The song was another written by the late J.J. Cale and is one of Clapton's biggest songs.  The interesting thing with the song is it's actually an ANTI-cocaine song.  He rarely played the song live as he didn't want to promote drugs in the song, when he did play it live he would include lyrics like "that dirty cocaine" to get the point across he is against the use of the drug.  He said, "it's no good to write a deliberate anti-drug song and hope that it will catch.  Because the general thing is that people will be upset by that.  It would disturb them to have someone else shoving something down their throat. So the bet thing to do is offer something ambiguous-that on study or or reflection actually can be seen to be 'anti'-which the song 'Cocaine' is actually an anti-cocaine song. If you study it or look at it with a little bit of thought…from a distance…or as it goes by…it just sounds like a song about cocaine. But actually, it is quite cleverly anti-cocaine". The song reached #30 on the US Billboard Hot 100, #3 on the Canada Top Singles RPM chart, and #14 in the Netherlands.
Before closing out my list, I have a few honorable mentions that I wanted to talk about, a couple major songs and a few songs that I feel are underrated that need more attention. 
Honorable Mentions
Lay Down Sally-Slowhand
One of Clapton's best known songs written by Clapton along with Marcy Levy and George Terry. The style of the song is a country blues song performed in the style of J.J. Cale. Clapton claims his other band members also influenced the sound. He said, "it's as close as I can get, being English, but the band being a Tulsa sound, they play like that naturally.  You couldn't get them to do an English rock sound, no way.  Their idea of driving beat isn't being loud or anything. It's subtle". I do agree, the style of the song definitely has country blues sound which can only accurately be created by American musicians. The single (backed with "Cocaine") was even a crossover country music hit reaching #26 in April 1978.  It also reached #25 on the US Billboard Adult Contemporary chart, and #3 on the Billboard Hot 100.  It also reached #1 on the Canadian Adult Contemporary charts as well.  Basically the song did very well all over the world, the US, UK, France, Canada, Sweden, New Zealand, Australia, Hungary, Italy, and even Japan.
Promises-Backless
The song was written by Richard Feldman and Roger Linn released on 1978's Backless. German music journalist Steffen Greifswald said, "Backless is a good recording for music lovers and of course Eric Clapton fanatics. One recording definitely sticks out-the song 'Promises' has integrity, soul and passion. The track therefore perfectly sums up Eric Clapton and his work".  Not much more needs to be said, but the song was released as a single backed with "Watch Out for Lucy" and reached #6 on the US Adult Contemporary chart, #9 on the US Billboard Hot 100 chart, #37 on the UK Singles chart, and #1 on the Norwegian Country Singles chart.  It was a huge song for Clapton and anyone who has heard can understand why.
Blues Before Sunrise-Blues from the Cradle
This song stood out to me just from the intro.  While the song was written by Leroy Carr, the cover was inspired by Elmore James.  While Clapton had long been associated with the blues, this album was Clapton's first attempt at an all-blues album, and one of many albums where he either collaborates with or tributes to beloved blues artists.  This album has covers of Otis Rush, Freddy King, Willie Dixon, Muddy Waters, and many others.
Circus-Pilgrim
While "Tears of Heaven" is the more famous song about Clapton's son Conor, "Circus Left Town" or "Circus" for short is just as good.  The song is about the last night he spent with Conor before losing him. The song dates back to the 1992 live Unplugged album, he reworked and rerecorded it for the 1998 album. Clapton said in a 1998 BBC interview, "The last night I spent with Conor, we went to the circus.  We went to see one of those huge things they do in America where they have three rings going on at the same time. You've got clowns and tigers and everything. They don't do anything in half measures. They just pile it all in. Plus, they're trying to sell you things at the same time. I mean it was an amazing thing. After the show, we were driving back to New York City and all he could remember, all he could talk about was this clown. He'd seen a clown with a knife, which I didn't see at all. Some clown was running around brandishing a knife, which was something quite frightening but he liked it-I mean it excited him. And so that's in the lyrics. But, and I suppose what I was doing, I was remembering, I mean paying tribute to this night with him and also seeing him as being the circus of my life.  You know-that particular part of my life has now left town".
Gotta Get Over-Old Sock
An underrated song later in Clapton's discography being released on Old Sock in 2013 featuring Chaka Khan on backing vocals.  Music journalist Derek Moore from the American 96.9 Eagle radio station in Sacramento, California said the composition seems to be "funky, bouncy and fun, scooted along by a nice keyboard riff [and] decent fills by Mr. Slowhand himself". 
There were so many other great Clapton songs I would've liked to include but I'm pretty happy with this list and was excited to throw in some newer songs that most casual listeners wouldn't think of.  Did you agree with my list? Would you rearrange it?  What songs would you put on your Top 10 list?  Post your thoughts in the comments below and don't forget to come back next Tuesday for another list for Top "Ten" Tuesday.