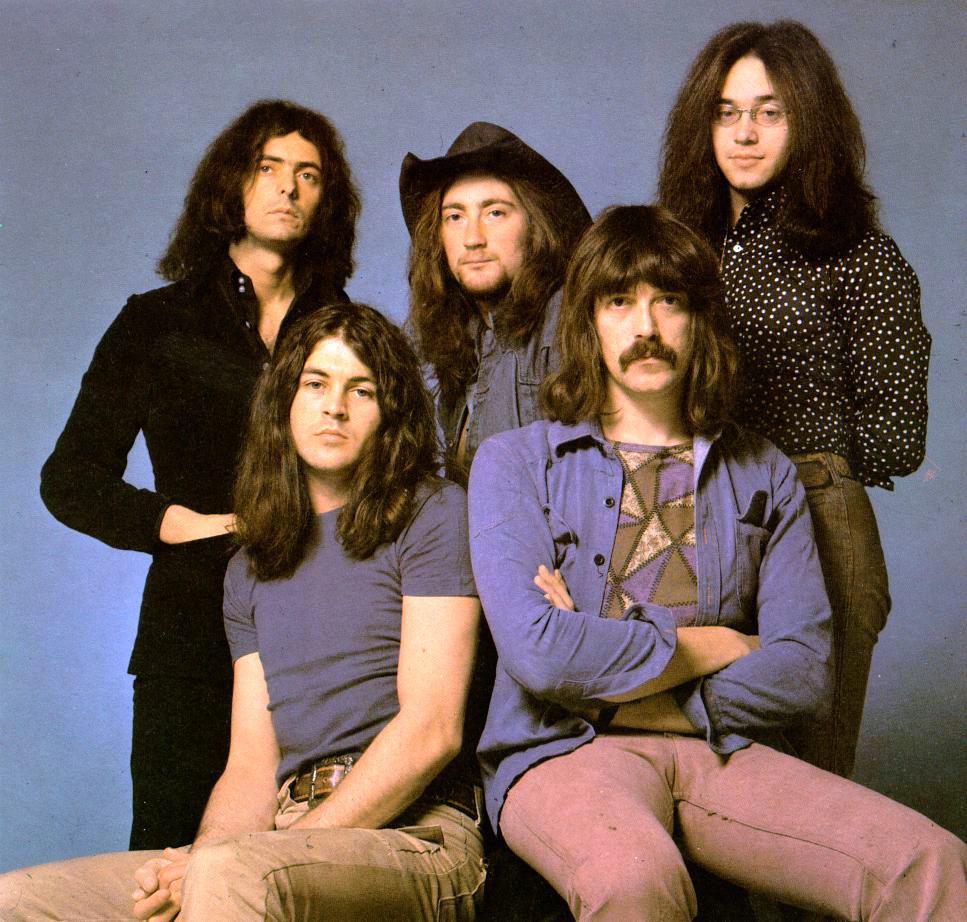 To follow up on an Instagram post, today is guitarist Ritchie Blackmore's 75th birthday! Ritchie Blackmore is an English guitarist and songwriter acting as one of the founding members of Deep Purple in 1968. Blackmore is known for playing jam-style hard rock which mixed guitar riffs and organ sounds. He is prolific in creating guitar riffs and is often noted for his classically influenced solos. Blackmore has come and gone from Deep Purple several times, starting up other bands including Rainbow, which fused baroque music influences and elements of hard rock along with singer Ronnie James Dio. He later formed Blackmore's Night with his wife Candace Night in 1997 which focuses on traditional folk-rock sounds.
Going back to Deep Purple, the band has seen a lot of personnel changes over the years more than just Ritchie Blackmore. In fact, drummer Ian Paice is the only founding member still with the band as well as the only one on every album. The band has had several singers over the last 50 years starting with Rod Evans until being replaced by Ian Gillan in 1970. At this same time, Nick Simper was replaced with Roger Glover forming the Mark II lineup of the band. In September of 1973, Gillan and Glover were replaced by David Coverdale and Glenn Hughes, respectively (Mark III). In July of 1975, Blackmore leaves the band and legendary guitarist Tommy Bolin joins in for the album Come Taste the Band (Mark IV)
After an almost 8 year hiatus, the band reunites with the Mark II lineup for Perfect Strangers released in 1984. Disputes in the band caused Gillan to leave the band and Joe Lynn Turner who was with Blackmore in Rainbow from 1980-1984 (Mark V). Gillan comes back in 1992 giving us one last album with the Mark II lineup for The Battle Rages On…Blackmore then leaves in November of 1993, being replaced by Joe Satriani for a few months (Mark VI) before being replaced with current guitarist Steve Morse (Mark VII). This lineup lasted until March of 2002 when keyboardist Jon Lord retires from the band (passes away in 2012). Don Airey, legendary keyboardist who worked with Cozy Powell, Gary Moore, Rainbow, and Ozzy Osbourne, joins the band forming the current Mark VIII lineup since March of 2002.
The band has continued touring and creating many great albums in a row. For this list for Top "Ten" Tuesday, we will take a look at some of the many great songs Deep Purple has put out in the last 52 years. This list will be different though. There is a reason why the ten is in quotation marks because today we will looking at my personal Top 25 Deep Purple songs. For songs 25-11, my descriptions will be briefer but will do my best to provide some good information for 10-1. With the introduction out of the way, let's get started!
#25-Sail Away-Burn
The first album of the Mark III lineup with David Coverdale and Glenn Hughes. We start to explore a slightly more boogie direction from the band than what we've heard on previous albums.
#24-Any Fule Kno That-Abandon
The opening track to 1998's Abandon, starts with a powerful drum beat.  Unlike most Purple songs, Gillan takes a spoken word approach to the verses to the song, similar to a rap.  The unusual spelling of the title comes from the Nigel Molesworth books.
#23-Vavoom: Ted the Mechanic-Purpendicular
Purpendicular is the first album with current guitarist Steve Morse.  The song is notable for its use of pitch harmonics and remained the first song in the band's live sets after the album's release so that Morse could start the show by playing the first notes of the new album.  Ian Gillan claims the lyrics are based off the true-life story of a man he once met in a pub during the recording sessions for the 1987 album The House of Blue Light.  The two were talking and Gillan wrote down the man's story on some napkins which he put away and forgot about.  He then discovered them years later and they became the basis for the lyrics to this song.
#22-Stormbringer-Stormbringer
The title track and opening track of the second and final album of the Mark III lineup. Fun fact, the slurred gibberish that is spoken by Coverdale at the beginning is the same backward dialogue that Linda Blair's character utters in the film The Exorcist when she is questioned by the priest.
#21-King of Dreams-King of Dreams
The opening and title track to the only album part of the Mark V lineup released in October of 1990. The title track was released as a single reaching #70 on the UK Singles Chart but had more success in the US reaching #6 on the Billboard Mainstream Rock Tracks Chart.
#20-One More Rainy Day-Shades of Deep Purple
We're going to Deep Purple's very first album for this one, the B side to "Hush" (see #6). The song starts with storm sounds before keyboards play an uplifting tune. In my opinion, it's one of Deep Purple's most uplifting songs and it's a great under-appreciated song.
#19-A Simple Song-Now What?!
The opening track to No What?! Released in April of 2013. The first half of the song is very soft with just deep chords over vocals and then 2 minutes into the song, the song bursts into a hard rock number.
#18-Exposition/We Can Work It Out-The Book of Taliesyn
Going back to Mark I, on Deep Purple's second album released in October of 1968 in the US or June of 1969, starts as an instrumental track focusing on drums and keyboard before guitars coming in with a great Blackmore solo backed up with Lord on organ. The song transitions into the second half of the song with a great cover of The Beatles' song written by Paul McCartney and John Lennon. There were a lot of great covers on their first two albums. Their first album included a cover of The Beatles' song "Help!" And a cover of "Hey Joe" written by Billy Roberts (made famous by Jimi Hendrix).
#17-Fools-Fireball
Fireball is often overlooked compared to other Purple albums. In fact Blackmore said, "That was a bit of a disaster, because it was thrown together in the studio." Although Gillan says it was one of his favorites. The title track was good but I would say Fools is my personal favorite from the album. The song starts quiet before coming up with a great guitar riff. About halfway through the song gets quiet and features a solo that sounds like it's being played on the cello before jumping back into that great guitar riff.
#16-Hungry Daze-Perfect Strangers
Get ready for a drum march before hearing a great guitar riff from Blackmore in this reunion album. It's, unfortunately, a very overlooked song but that may be because there are a couple of great songs that stand out more than this one that we will see later down in this list.
#15-The Battle Rages On-The Battle Rages On
Released in July of 1993, this is the last album to this date that we will see Blackmore with Deep Purple, which is a shame because this title track is pretty solid with a great Blackmore guitar riff, but I'm glad Gillan came back, who wasn't present on the previous album Slaves and Masters.
#14-Time for Bedlam-InFinite
This was a great opener to their current newest album (although they are working on something that will be released later this year). The song starts with haunting robotic vocals before jumping into great organ. This song was released on YouTube and Spotify in December of 2016 to help advertise the album coming out the following April. I remember hearing this on Sirius XM and just thought it was a great song. It also hyped me up to see them in concert later that year.
#13-Bad Attitude-The House of Blue Light
A haunting organ starts off this one. Apparently, if a Deep Purple song starts quiet and then jumps into it after a few seconds, it almost guarantees it making this list. Now the band would say this was a weird time, as relationships were strained on it. Blackmore said he played poorly on it and Lord said they made a massive mistake of trying to make the music current. Despite the band members not enjoying the end product, I thought it had some great songs, like this one.
#12-Speed King-Deep Purple in Rock
The opening track to the first album of the Mark II lineup. The song is seen as one of the major precursors to the heavy metal genre. The intro starts with a whammy bar by Blackmore and then joined in by Glover, Lord, and Paice. The song quiets down with just an organ solo before the song jumps in hard rock style consisting of lyrics pulled from Elvis Presley, Little Richard, and Chuck Berry. The lyrics were pulled by Gillan and because of that, was never played live when he wasn't with the band, but was a live staple when he was with them. The song is so drastically different than anything we heard before that point on a Deep Purple album and is just the beginning of more to come.
#11-Burn-Burn
The intro and title track to the first album of the Mark III lineup. It has a powerful beginning riff and remains the band's concert opener for the next two years however the song has not been played since the 1984 reunion as Gillan refused to perform any of the Coverdale-era songs. However, the song has been played with Whitesnake occasionally when Lord and Paice guested in the band and played many Coverdale-era songs. Glenn Hughes also features the song regularly in his live solo performances as well as his supergroup Black Country Communion.
#10-Woman from Tokyo-Who Do We Think We Are
The opening track from the last Mark II album we'd hear for a while, released on Who Do We Think We Are in 1973. It was one of the first Deep Purple songs that wasn't "Smoke on the Water" or "Hush" so it means a lot to me. It also became one of the band's most popular songs and received a lot of airplay. Despite this, the band didn't like the song much and only began playing live when they performed in 1984. The song was released as a single, but the single is missing the "progressive rock dreamy break" in the middle of the song. The single hit #6 on the Dutch MegaCharts, #16 in Germany, and #23 in Belgium. The single saw moderate success in the US reaching #60.
#9-Above and Beyond-Now What?!
I first heard this song live in 2017. They played a handful of songs from this album at that show and I can still see the screen behind them with interesting morphing squares or a plaid pattern or something behind them. It was really cool. The song is too. I got hooked on it the first time I heard it live, and was excited to hear the studio version. THAT was the song I heard! An interesting lyric in the song "Souls having touched are forever entwined" is dedicated to Jon Lord who passed away less than a year before the release of the album. Those same lyrics can also be heard in "Uncommon Man."
#8-Lazy-Machine Head
Getting to this point in the list, many Purple fans are probably thinking, where are the songs from Machine Head? Well, 4 of the 7 songs from Machine Head are in the Top 10 because the songs are THAT important for Deep Purple and classic rock as a whole. My first song from Machine Head is "Lazy," the longest song on the album. The song starts instrumental, Lord playing an overdriven Hammond organ intro, followed by the main riff. Lord and Blackmore swap solos before Gillan comes in with the lyrics. When Blackmore left Deep Purple, he often took the main riff from "Lazy" and used in the Rainbow song "Man on the Silver Mountain" with Ronnie James Dio.
#7-Highway Star-Machine Head
The opening track on Machine Head. The chord progression in the song was confirmed by Blackmore to be inspired by Johann Sebastian Bach. Lord also claimed this. The song has an amazing solo duel between Blackmore and Lord too which makes this already great song even better. The song is fun to hear live as Gillan is known to improvise the lyrics as seen in the official music video for the song.
#6-Hush-Shades of Deep Purple
We're going to return to the Mark I lineup one last time. The song was written by Joe South, released in September of 1967. Deep Purple covered it about a year later for their first album. The single became the group's first hit single peaking at #4 on the US Hot 100 and also #2 in Canada. It, unfortunately, was largely unnoticed in the UK. This song was so important to the band that it was only one of four songs from the Mark I era (along with "Kentucky Woman," "Mandrake Root," and "Bird Has Flown") to be performed by Gillan after Rod Evans' departure.
#5-Perfect Strangers-Perfect Strangers
The title track to the Mark II reunion album. Interestingly, there is no guitar solo. Despite that, Blackmore has called it his favorite Deep Purple song, and for good reason. It's a very catchy song with a couple of sections focusing on just bass and drums which are my favorite parts of the song. Between those sections and the intro, the song is awesome to hit #5 on my list of Deep Purple songs.
#4-Smoke on the Water-Machine Head
What? Smoke on the Water, Deep Purple's best-known song to be ranked so low on this list? How can this song not be #1? Well, #4 is still pretty good, and the song is too. The song starts with probably the most famous guitar riff in rock and roll history. This intro is probably the first song that ANYONE learns on guitar because its simple four-note blues scale. Blackmore actually got criticized for the riff's simplicity. He reminded his critics of Beethoven's 5th Symphony which is a similar four-note arrangement and is probably the most famous classical piece of all time "duh duh duh duh," you know it. The song makes it highly on nearly every "Greatest Guitar Riffs Ever" and "Greatest Hard Rock Songs" lists ever written. The lyrics are also some of the most autobiographical songs that I know of. The lyrics paint a picture of their time in Montreux to record their next album. They got to their destination a day early and Frank Zappa was performing a concert. And as the lyrics describe, "Some stupid with a flare gun burned the place to the ground," actually happened. Someone fired a flare gun toward the ceiling of the indoor venue and caught the whole building on fire. Fortunately, no one was hurt but it makes it hard to record an album when you don't have a place to record it.
#3-Space Truckin'-Machine Head
The final track on the original album (I say that because later releases include a bonus track "When a Blind Man Cries"). The song features powerful Hammond organ and drumming while Gillan explores the limits of his vocal range. He proves he has a powerful voice. While not an AM hit, it got enough exposure on FM that it may as well have been an AM hit. Live versions of this song include a lot of improvisation and pull riffs and tunes from previous Purple songs. A great example of this is their live Made in Japan album where this 4 and a half minute song is stretched to almost 20 minutes and includes the "cello" section from "Fools" (see #17).
#2-Knocking at Your Back Door-Perfect Strangers
This song was amazing the first time I heard it. It's the opening track for Perfect Strangers. I actually wasn't sure who I was listening to when the song first came on (it was on an old iPod shuffle okay!). I just knew, whoa, whatever this became one of my favorite songs I'd ever heard. The almost orchestral intro at the beginning gives me chills when I hear it. Then the drums come in. Then I lose it when the guitar comes in. I don't like to use the term "eargasm" but this song is an "eargasm" to me. This song is audibly pleasing from beginning to end, from the synthesizer orchestral intro, guitar riff, and guitar solo. And the whole time I'm hearing lyrics about uh…anal sex…but it's not super explicit that's what it is. Radio DJ Redbeard, called up Ian Gillan and asked, "Is this what I think it's about?" Gillan says Yeah. Redbeard responds, "It's amazing, every radio station in America is playing a song written about anal sex and they don't even realize what's going on." That's because the lyrics aren't explicitly in your face about…that, it's just a joke and not to be taken offensive according to Gillan. I guess looking back on that, knowing Led Zeppelin's lyrics of "back door man" (which technically isn't about that, but is often interpreted as that) make this song make more sense. This song was my #1 favorite for a long time, and I guess you could say it's still TIED for first place, but I have one more song I want to talk about before closing out this list.
#1-Uncommon Man-Now What?!
Coming back to 2013, this song I first heard live and it was good but I didn't notice it the first time I saw them. By the time I saw them the following year, I had already grown familiar with this one. It starts with Don Airey on Keyboards giving slow, deep keyboards while Steve Morse gives fast, but bluesy guitar work on top of it giving your ears one of the greatest listening experiences they can get. About two minutes the song starts to pick up with echoing drums while the keyboards in the background slowly build-up, getting faster, and higher in tempo before the song bursts in fanfare based on the classical composition "Fanfare for the Common Man" before Gillan's lyrics come in. At this point, we're about halfway through the song. So much happens before the song starts but to me, that intro is one of the greatest intros I've ever heard, which I think would be a fun list to make, a top "however many" best song intros. It might need to be a high number because I know Deep Purple would take up quite a few if it were just a Top 10.  Bottom line, this song is absolutely amazing and needs more recognition. My #2 and #1 spots are amazing and need to be heard by everyone. So you've made it to the bottom of my list, your homework now is to listen to them! Don't just go on YouTube, (well fine I guess you can) but immediately after that, BUY those albums! Buy ALL the Purple albums! Start off with Machine Head, that's too important to not buy after that buy Perfect Strangers and Now What?!
Since I had a longer list this week, I will not be including an Honorable Mentions this time but I hope you still enjoyed this list. There were too many good picks and couldn't in good conscious make just a Top 10. I hope you enjoyed my first Top 25 list. I plan on making more of these in the future if I feel that a Top 10 isn't good enough, but if you want more great lists check out some of my other lists, and don't forget to come back next week for another list for Top "Ten" Tuesday.
Do you agree with my list? Would you rearrange them? What songs would you include on your list? Comment your list down below and I hope to also see you next week.