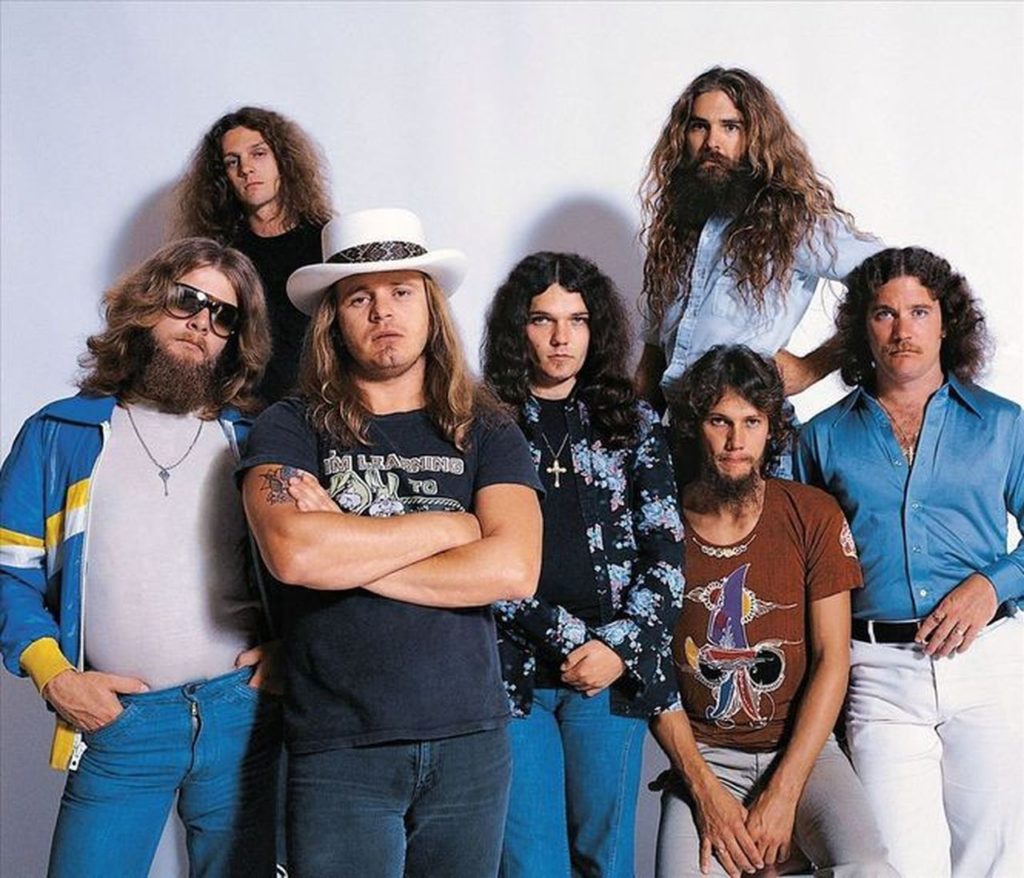 Welcome back to Top "Ten" Tuesday.  Today we are going to take a look at Lynyrd Skynyrd.  Lynyrd Skynyrd started in Jacksonville, Florida in 1964 under the name My Backyard with Ronnie Van Zant on vocals, Gary Rossington and Allen Collins on guitar, Larry Junstrom on bass, and Bob Burns on drums.  In 1969, the band changed their name to Lynyrd Skynyrd and released their first album in 1973.  Between 1969 and 1973, Leon Wilkeson replaced Larry Junstrom and the band added a third guitarist with Ed King as well as adding Billy Powell on keyboards.
This was their lineup on their first two albums and in 1974, Bob Burns was replaced with Artimus Pyle.  Shortly after the release of their third album, Nuthin' Fancy in 1975, Ed King left the band.  The next album, Gimme Back My Bullets remains the only album from the pre-crash era yet to reach platinum or higher in the United States.  Later that year in 1976, the band added a new guitarist to the mix, giving the band a third guitarist again. Female backing vocalist Cassie Gaines recommended giving her brother, Steve a try.  Steve Gaines quickly proved to be a great addition to the band.  That summer, they recorded their first live album, One More from the Road captured three shows at the Fox Theatre in Atlanta, Georgia.
On October 17, 1977, the band released their final pre-crash album, Street Survivors.  Only three days later, on October 10th, Lynyrd Skynyrd was traveling to Baton Rouge, Louisiana from Greenville, South Carolina.  There were issues with their plane and before they left.  They said flames shot out of one of the engines on their way to Greenville. They called a mechanic from Dallas, Texas to meet them in Baton Rouge to take a look at their plane.  Unfortunately, the band didn't make it to their destination.  Fuel burned up at excessive rate and the plane went down in McComb, Mississippi.  Ronnie Van Zant, Steve Gaines, and Cassie Gaines were all killed in the plane crash, along with their assistant road manager Dean Kilpatrick, and both pilots Walter McCreary and William Gray.  The rest of the band members suffered severe injuries including puncture wounds, broken bones, burns, and near amputations.  Artimus Pyle along with road crew members Kenneth Peden Jr. and Marc Frank climbed out from the plane and went to get help.
After the plane crash, the band dissolved for a decade, coming back for a reunion tour 1987.  Leon Wilkeson, Gary Rossington, Billy Powell, Artimus Pyle were joined by Ed King and Ronnie's younger brother Johnny Van Zant as the new singer.  Allen Collins was their musical director, as he was unable to play anymore after a car accident left him paralyzed.  The tour was successful and have been touring and releasing albums ever since.
Unfortunately, my knowledge of Lynyrd Skynyrd stops here and it would be unfair to include anything from the Johnny Van Zant era of Skynyrd since I don't know any of that music at all.  It's possible someday I can revisit and make a followup Top 10 list from that era but today we are focusing on my personal Top 10 songs from the Ronnie Van Zant era of Lynyrd Skynyrd.
#10-Tuesday's Gone-Pronounced Leh-Nerd Skin-Nerd
One of the more unique songs in Skynyrd's discography where the main focus of the song is the Mellotron played by Al Kooper who played for many artists including Bob Dylan, The Rolling Stones, and The Who.  This is one of the few songs from this era that didn't feature Bob Burns on drums with Robert Nix of Atlanta Rhythm Section playing, although Burns is present in the demo version.  Along with Mellotron, there is some great guitar work being played.  The overall package is an immersive experience that needs to be heard by everyone.
#9-On the Hunt-Nuthin' Fancy
This is a great often overlooked Skynyrd song with a great guitar riff.  Halfway through has a great guitar solo with Van Zant briefly whistling in sync with it.  Unfortunately, since it's overlooked, not a lot of information exists about it.  All I can say is that this song and album came out during a transitional period for the band with Bob Burns and Ed King leaving (before and after the release of the album respectively) as well as the introduction of the female backing singers, the Honkettes between this album and Gimme Back My Bullets.
#8-You Got That Right-Street Survivors
This song was released on their final album before the crash.  The song is often overlooked compared to other Skynyrd songs, but it was released as a single peaking at #69 on the Billboard Hot 100 during the week of April 29, 1978.  There is one lyric that retrospectively stands out, "you won't find me in an old folks home" unfortunately was confirmed true just three days after the song was released.  The most notable part of this song was the duet vocals, the first time we get to hear Steve Gaines' voice on a Skynyrd record, singing along with Van Zant.
#7-I Ain't the One-Pronounced Leh-Nerd Skin-Nerd
The intro to this song is what makes this one stand out for me.  The drumbeat almost has a backmasking quality to it before the guitar comes in.  This is the opening song on Skynyrd's first album.  The story behind this song seems to be about a girl who walked up to Ronnie claiming she was having his baby.  Her father was also pushing for the two of them to get married.  Ronnie is simply saying that he's not the one and it's time for him to get moving.
#6-Call Me the Breeze-Second Helping
The closing track to Skynyrd's second album was written by JJ Cale.  Skynyrd's version is the best-known version of the song with several artists playing this song as a tribute to Skynyrd rather than Cale.  An example would be Les Claypool covered the song on his album Under the Influence, A Jam Band Tribute to Lynyrd Skynyrd.
#5-Free Bird-Pronounced Leh-Nerd Skin-Nerd
No Skynyrd Top 10 list is complete without Free Bird, although it's probably a crime to rank it anything less than #1 to a lot of people.  The song is the closing track on their debut album and is considered their signature song often used as the finale during their live performances. It is their most requested song, and probably the most requested song by artists who aren't even Lynyrd Skynyrd.  Pretty much at every rock concert since then, there is always SOMEBODY who shouts out for the band to play "Free Bird".  What makes things funny is when the guitarist of whatever band that is, plays the first few chords from it as a joke.  I've seen that personally (don't remember what band though). It is also their longest song at a little over 9 minutes which is often extended to over 14 minutes (as seen on the One More From the Road album for example). The song was released as a single in November of 1974, reaching #87 and became their second Top 40 hit in early 1975 climbing to #19 on January 25th of that year.  The opening chords were written by Allen Collins.  Ronnie Van Zant initially claimed that he can't write a melody around the chords until Collins played it at rehearsal.  When Van Zant heard it, he wanted Collins to repeat it and then the lyrics and melody were written in about three or four minutes. Allen Collins' girlfriend, later wife, Kathy asked him, "If I leave here tomorrow, would you still remember me?"  Those lyrics became the opening lyrics to the song.  The guitar solos at the end of the song were originally intended to give Van Zant a chance to rest as the band was playing several sets per night at clubs at the time.  Around that same time, they learned one of their roadies, Billy Powell, had actually written a piano intro to the song, and when they heard it, he immediately became the newest member of the band.  Back to the guitar solos, the guitar solo(s) reached #3 on Guitar World's 100 Greatest Guitar Solos.
#4-Sweet Home Alabama-Second Helping
Skynyrd's second most known song reached #8 on the US chart in 1974.  The song was written in reply to "Southern Man" and "Alabama" by Neil Young, who is in turn mentioned in the song's lyrics, "Well heard Mister Young sing about her/Well I heard ol' Neil put her down/Well I hope Neil Young will remember/A southern man don't need him around anyhow."  Other lyrics in the song sparked controversy including a reference to Governor of Alabama, George Wallace who was a noted supporter of segregation, "In Birmingham, they love the governor (boo boo boo)" as well as a reference to the Watergate scandal, "Now Watergate does not bother me".
There's an expression I like to say, "there are two types of songs: the songs that are timeless (meaning they are just as relevant or beloved today as they were when they were written) and those that capture a moment in time."  Sweet Home Alabama definitely falls under the second category.  The lyrics paint a picture of what life was like and what events were going on in the 1970s.  Despite the controversial lyrics, "Sweet Home Alabama" remains a fan favorite and one of their best-known songs appearing on numerous compilation albums, live albums, and collection sets. 
Gary Rossington explained how the song was written. He said, "I had this little riff. It's the little picking part and I kept playing it over and over when we were waiting for everyone to arrive at rehearsal.  Ronnie and I were sitting there, and he kept saying, 'play that again'. Then Ronnie wrote the lyrics and Ed and I wrote the music."  Despite the name being "Sweet Home Alabama", none of them were actually from Alabama.
#3-Gimme Back My Bullets-Gimme Back My Bullets
The title track from their 1976 studio album.  This is the only album, at least in the pre-crash era, to feature only two guitarists as Ed King had left just before making this album.  The song was never released as a single, but fans still enjoyed the song enough to throw bullets on stage.  This led to the band removing the song from their setlist because they were afraid someone was going to get hurt.  The bullets they are singing about in the song though, aren't about gun bullets but rather the bullets on the Billboard chart.  A bullet on the Billboard chart is used for a song that is moving quickly up the charts and they predict it will continue to move up the following week.  For example, a song that is #12 with a bullet, it is currently at #12 but will probably climb up even higher the next week.  Skynyrd hadn't had a hit in a while and this was a message of how they wanted to get back on the chart.  Unfortunately, this album was their weakest selling album in the pre-crash lineup.  Their next album, however, will become a double platinum and peak at #5 on the charts.
#2-I Know a Little-Street Survivors
Speaking of "their next album", this song was my favorite Skynyrd song for a while.  This one of two songs on the album written solely by Steve Gaines, the other song being "Ain't No Good Life" (see honorable mentions).  The guitar work in this song gives a small glimpse of just how amazing Steve Gaines is and had he survived the plane crash, he probably could've gone off to be the next big guitarist.  Gary Rossington told Guitar School Magazine in 1993 that he had never seen anybody, including the current guitarists in the band, play the picking on the song quite right, the way Steve Gaines did.  The song was released as a single peaking at #69 on the Billboard Hot 100 during the week of April 29, 1978.  I first discovered this song in an episode of King of the Hill.  In the episode, one of the neighbors Bill  needed help installing a flag pole for a large American flag.  The song plays as the 4 neighbors are carrying the flagpole to his yard and setting it up, and by the 4 neighbors, I really meant Bill, Hank, and Boomhauer.  Dale was just hanging on to it and comedically falling off.  I thought the guitar at the beginning was so great and was excited to learn it was a real song. 
#1-Saturday Night Special-Nuthin' Fancy
"I Know a Little" was my favorite for the longest time and then I learned about "Saturday Night Special", the opening track for their third album Nuthin' Fancy.  The name of the song refers to a cheap handgun.  The lyrics address the issue of gun control.  Leon Wilkeson actually took to wearing a holster and a real gun (loaded with blanks).  A story from this time was when they opened for Black Sabbath at Nassau Coliseum on Long Island.  Black Sabbath fans apparently found the band too mellow for their taste and rushed the stage with taunts.  One fan got too close, Wilkeson drew his pistol and fired a blank over the heads over the crowd.  Everybody immediately backed off and the band was able to finish their show without any more issues.
Don't click off the page jut yet, I have some honorable mentions to go over.  Normally I narrow down to five honorable mentions but I have six this week, but I'll explain why when we get to that point.  So let's get started! The honorable mentions, as usual, are in chronological order beginning with their first album.
Honorable Mentions
Simple Man-Pronounced Leh-Nerd Skin-Nerd
This is a great Skynyrd song that almost made my list.  It's their third best-selling digital song, only behind "Sweet Home Alabama" and "Free Bird" selling 1,333,000 in the U.S. as of November 2013.  The lyrics are about a mother talking to her child about life, inspired by the passing of Ronnie Van Zant's grandmother.  The song almost didn't get released though.  Producer and musician Al Cooper (see "Tuesday's Gone") didn't like the way the song sounded, so the band recorded the song without him and had him add his organ part later.  He didn't think the song should be released but he realized he was wrong when it went over so well with the fans.
Workin' for MCA-Second Helping
Out of all my honorable mentions, this one hurt the most to not include, but I ran out of spots.  This is a great song about their record company MCA.  The song is based on how they were signed.  The "Yankee Slicker" in the song is Al Kooper.  Even the "Oh, nine thousand dollars just to sow to the wind" is correct.  They actually were signed on for $9,000.  The song has a great bass beat with some great guitars on top of it, and knowing the story of the song makes me appreciate this great song even more.
Trust-Gimme Back My Bullets
A great song with a catchy drumbeat.  The lyrics are so true as I'm sure we've all fallen victim to the character in the song.  "You can't always trust your woman/You can't always trust your best friend/Beware of the ones that you need y'all/'Cause those might be the ones that do you in." 
What's Your Name-Street Survivors
This song peaked #13 on the Billboard Hot 100 in the U.S. and #6 in Canada.  The opening lyrics were originally, "It's 8 o'clock and boys it's time to go" but were changed to give a shoutout to his brother Donnie Van Zant of .38 Special who was in Boise at that time and the lyrics got changed to "It's 8 o'clock in Boise, Idaho".  It's a great song and one of the first Skynyrd songs I listened to after getting into them in the first place (after "Sweet Home Alabama" and "I Know a Little").
Ain't No Good Life-Street Survivors
Still on Street Survivors, this song is the first song recorded that doesn't feature Ronnie on vocals.  This blues song was written and sang by Steve Gaines.  The only other song to feature Gaines' voice is a duet with Ronnie on "You Got That Right" (see #8).
Wino-Skynyrd's First…And Last
Here's my 6th honorable mention, I wanted to at least mention this album.  There are some great songs here.  This one is my favorite off this one, but "Was I Right or Wrong" is good too.  It was a posthumous compilation released a year after the tragic plane crash.  This album was originally intended to be their first album but it was shelved, making Pronounced Leh-Nerd Skin-Nerd their actual debut album.  Since the album was recorded in 1971 and '72, there is a different lineup of musicians as opposed to Street Survivors.   The album has since been out of print but in 1998 was repackaged, renamed, and re-released as Skynyrd's First: The Complete Muscle Shoals Album.
Do you agree with this list? Would you rearrange it? What songs would you put on your Top 10 Skynyrd list?  If you want more information on Lynyrd Skynyrd, check out my Awesome Albums episode I made talking about Street Survivors in more detail, as well as Street Suvivors Extras where I talk about the events leading up to the infamous plane crash.  And don't forget to come back next week for another list for Top "Ten" Tuesday.
Street Survivors-Awesome Albums
Street Survivors Extras