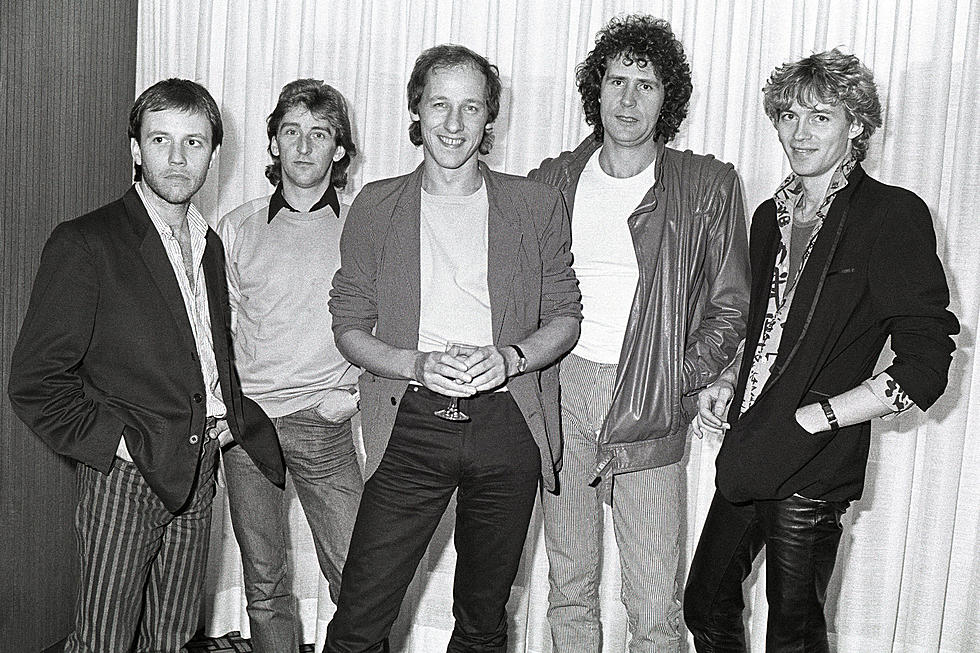 Welcome back to Top "Ten" Tuesday, a weekly top ten list uploaded every Tuesday. Last Wednesday was Mark Knopfler's birthday so I figured this would be a great time to talk about him and Dire Straits.
Dire Straits started in 1977 when Mark and David Knopfler founded it along with John Illsley and Pick Withers. The band was initially known as the Café Racers and changed the name after it was suggested by Withers' musician flatmate, allegedly thought up when they were rehearsing in the kitchen of a friend. They recorded a five-song demo tape which they took to MCA in Soho but was rejected. They then went to DJ Charlie Gillett, presenter of Honky Tonk on BBC Radio London. The band simply just wanted advice but Gillett liked their music so much he played "Sultans of Swing" on his show.  Two months later, they signed a contract with the Vertigo division of Phongram Inc.
Their first album, Dire Straits, was recorded at Basing Street Studios in Notting Hill in February of 1978 a t£12,500. The album would later be released in October. They toured as an opening band for The Talking Heads after the re-released "Sultans of Swing" started climbing the UK charts. This led to a contract with Warner Bros. Records before the end of the year and had their first album released worldwide. Their first album topped the charts in Germany, Australia, France, reached #2 in the US, and #5 in the UK.  They went back to the studio to record their second album in December at Compass Point Studios in Nassau, Bahamas. The album, Communiqué was released on June 15, 1979. Creative tensions arose when the band was working on their third album, Making Movies, between Mark and David, causing David to leave to pursue a solo career. Making Movies received mostly positive reviews and featured longer songs with more complex arrangements, which would continue for the rest of the band's career.
Their fourth album, Love over Gold was released on September 20, 1982. The songs on the album were filled with lengthy experimental passages that featured Alan Clarke's piano and keyboard work, and went gold in American and spent four weeks at #1 on the UK charts. While Love over Gold was still in the album charts, the band released an EP ExtendedancEPlay which reached the Top 20 in the UK and Canada.
They returned to the studio at the end of 1984 to begin working on their next album at Air Studios in Montserrat. The band saw some personnel changes during this time with the departure of Hal Lindes who joined the band for Love over Gold. Jack Sonni became their new rhythm guitarist. Terry Williams (who replaced Withers in 1982) briefly left the band but came back. Guy Fletcher joined the band as a second keyboardist. The album, Brothers in Arms, was released in May of 1985 and topped the UK charts, becoming the best-selling album of 1985 in the UK. It also topped the charts in the US for nine weeks, eventually selling 9,000,000 copies. This was the album recorded entirely digitally due to Knopfler pushing for improved sound quality. It was listed in the Guinness Book of World Records as the first compact disc to sell a million copies and has been credited with popularizing the CD format. The band embarked on an extensive tour from January 1985 to April of 1986 before breaking up. After the tour, Mark Knopfler took a break from Dire Straits to focus on solo projects, though they did regroup briefly on June 11, 1988, to celebrate Nelson Mandela's 70th birthday at Wembley Stadium. Jack Sonni did not join the band for this reunion. Shortly after that show, Terry Williams left the band and Knopfler announced the band is breaking up. Knopfler and Fletcher joined Brendan Croker, Steve Phillips, and Paul Franklin to create a new band The Notting Hillbillies and released their only album on March 6, 1990.
In early 1991, Dire Straits reunited with Knopfler, Clark, Illsley, and Fletcher and released the band's final album, On Every Street in September. It was met with more moderate success and mixed reviews, as well as a significantly reduced audience. It was widely considered "underwhelming" but still sold 8 million copies reaching #1 in the UK and #12 in the US. After the subsequent tour, Knopfler decided to give up touring on a big scale and took some time out of the music business. Mark Knopfler has since focused on his solo career, with his debut solo album, Golden Heart, released on March 26, 1996. On December 13, 2017, Dire Straits was announced as one of the inductees into the Rock and Roll Hall of Fame in 2018. John Illsley was excited about a possible reunion, which he passed the word on to Mark who did not appear at the ceremony. Illsley said, "I'll assure you it's a personal thing. Let's just leave it at that." A few of the Dire Straits band members Alan Clarke, touring guitarist Phil Palmer, and a few others have continued touring under the name Dire Straits Legacy and have released an album called 3 Chord Trick.
Now that we have our introduction out of the way, let's get started with this list, my Top 10 Dire Straits Songs.
#10-The Bug-On Every Street
This is a catchy song with elements of rockabilly. It is the fourth and final UK single from the band's final album backed with "Twisting by the Pool". The song is about the ups and downs in life, "sometimes you're the windshield/sometimes you're the bug" Sometimes life just hits you and you splatter on the windshield. "You gotta know happy-you gotta know glad/Because you're gonna know lonely/And you're gonna know bad." Your life is going to be filled with good moments but sometimes you're going to experience some not so good moments in life.
#9-Single Handed Sailor-Communiqué
I like the music style of this one. It has a bluesy guitar but a funky, disco-esque beat. Mark Knopfler wrote this song as a tribute to Sir Francis Chichester, who sailed single-handedly around the world from West to East and was the first person to do so. He set off from Plymouth on August 27, 1966, and returned to the same port on May 28, 1967. After his death, his boat, Gipsy Moth IV, was docked at Greenwich next to the Cutty Sark, the famous clipper ship. The band used to rehearse at a studio in Greenwich which possibly could've been an inspiration to the song in the first place.
#8-One World-Brothers in Arms
This is a great song from their 1985 album. It has a great bass riff with very bluesy lyrics, "Somehow I can't find the cure/Can't get no antidote for blues".
#7-Heavy Fuel-On Every Street
This was another single released from the band's final studio album. It was backed with "Planet of New Orleans" or "Kingdom Come" and reached #1 on the Billboard Mainstream Rock Tracks chart in the US, making its the band's second song to do so, their first was "Money for Nothing" (See #6). Mark Knopfler ironically talks about the virtues of vices like cigarettes, hamburgers, Scotch, lust, money, and violence. The phrase "You got to run on heavy fuel" comes from the novel "Money" by Martin Amis, which Knopfler based his lyrics around.
#6-Money for Nothing-Brothers in Arms
The song has a quiet start, with some very ambient keyboards and drums backing a falsetto voice singing, "I want my MTV", sung by Sting of The Police. The song builds up with a great guitar riff from Mark Knopfler. The previously mentioned line was the basis for the cable network's promotional campaign, playing clips of musicians saying, and often times, screaming the line between videos. Sting sang the line in the tune of The Police song "Don't Stand So Close to Me". Sting didn't want a songwriting credit but his record company did because then they would earn royalties from it, claiming the similarities to the already mentioned song. The lyrics are written from the point of view of two-working class men watching music videos and commenting on what they see. The song was of course released as a single but cut down to 4:38 rather than the full 8:22 album version. The single was backed with a live version of "Love over Gold". The music video was groundbreaking for its use of early computer animation illustrating the lyrics, some of the first uses of computer-animated human characters. It was also the first video to be aired on MTV Europe when it launched on August 1, 1987. It was their most commercially successful single, peaking at #1 for 3 weeks in the US, #1 on the US Top Rock Tracks chart also for 3 weeks, and #4 in the UK and won the Grammy Award for Best Rock Performance by a Duo with Vocal in 1986 at the 28th Annual Grammy Awards and the video won Video of the Year at the 3rd MTV Video Music Awards.
#5-Setting Me Up-Dire Straits
This is a great song from the band's debut album, though not released as a single by them. This is one of the five songs that Knopfler's publisher made country demos of without his approval, leading to several country covers of this song. It seems to be about a relationship going bad, where she's setting him up, "You're setting me up to put me down/You're making me out to be your clown".
#4-Lady Writer-Communiqué
This is probably my favorite song from the band's second album. It was also the album's only single, backed with "Where Do You Think You're Going?" Billboard described this song as a "hypnotic rocker" with "sizzling instrumentation" and "distinctive vocals".  When asked what the song is about, Mark Knopfler said he was watching TV one day, and there was a lady writer on the TV, and that's basically where the idea for the song came from. Some speculated from the line, "talking about the Virgin Mary", that the writer is Marina Warner, who has written many non-fiction books relating to feminism and myth. Warner herself agrees with the claims it's about her.
#3-So Far Away-Brothers in Arms
This was the first Dire Straits song I heard, and thought it was a great song! It was the band's fourth Top-20 hit, peaking at #19. It was the lead single from the album in the UK and Europe on April 6, 1985, backed with "Walk of Life" in Europe. After climbing up to #29 on the Billboard Hot Mainstream Rock Tracks charts in 1985, it was released as the album's third single in North America, backed with "If I Had You" and charted at #19, giving the band a third consecutive Top-20 hit from the album on the Hot 100. The lyrics are about Mark lamenting about a lifestyle that keeps him away from a loved one. Although he was on the road a lot, he said the song isn't autobiographical. He told the BBC, "'So Far Away' is something I would want to apply to anybody. Quite apart from anything else, we are now a world of travelers and air travelers. Families are split up in different parts, all over the place, and it has relevance." He also said, "It was about conducting a relationship over a telephone, which is a joke. It can't really be done over a long period of time, because you both get exhausted with it. That was the basic idea."
#2-Sultans of Swing-Dire Straits
This is a great song, and one of the first songs the band recorded for a demo. The demo was put in rotation on BBC Radio London. Knopfler rerecorded it after thinking it was "dull". He brought his first Stratocaster in 1977. He said, "It just came alive as soon as I played it on that '61 Start…the new chord changes just presented themselves and fell into place." The lyrics were inspired by a performance of a jazz band playing in the corner of an almost empty pub in Deptford, South London. At the end of their performance, the lead singer announced their name, the Sultans of Swing. Knopfler found the contrast between the group's appearance and surroundings and their name amusing. The guitar solo at the end is the song's highlight. it's rapid fingerpicking solo that is just amazing to listen to.
#1-Walk of Life-Brothers in Arms
This became my favorite Dire Straits song when I first heard it. It peaked at #7 on the US charts and was their biggest commercial hit in the UK along with "Private Investigations" peaking at #2. The song was backed with "One World" (See #9) or a live version of "Two Young Lovers". The song has two music videos. The UK version features a street musician wearing the same shirt as Mark Knopfler intercut with the band performing on a stage. The US version features comical sports blooper footage in place of the street musician. The US version proved to be the more popular version as the other version was largely dropped (even though the UK version is closer to what the song is about). The lyrics refer to the street buskers or musicians of London, "Be-Bop-a-Lula" and "What'd I Say" are two standards that might be part of a singer's repertoire in the mid-80s. What helped with the song's success was the catchy keyboard riff played by Alan Clark as well as the album's second single "Money For Nothing" (See #6) which established the band on MTV and Top-40 radio in America.
Don't click off the list yet! I still have a few more songs I want to talk about that almost made the list. Listed below are five honorable mentions. Five more great songs that I want to talk about which as always, are in chronological order.
Honorable Mentions:
Skateaway-Making Movies
This song has a slow build-up with just drums before the keyboards and guitar come in. It's a quieter song but it's still a good one. The song talks about a female roller skater breezing through busy city streets while listening to a portable radio through her headphones. It was released as a single, backed with "Solid Rock" (also an honorable mention). It peaked at #58 on the Billboard Hot 100. The song was accompanied by an MTV video, featuring Jayzik Azikiwe as the roller girl, though she was credited as Jay Carly in the video directed by Lester Bookbinder. "She's making movies on location" was the lyric that inspired the name of the album.
Solid Rock-Making Movies
As mentioned above, this was the B-side to "Skateaway" from the band's third album. The intro has a great guitar and piano riff before Knopfler comes in with the vocals. This is one of the songs that David Knopfler played before leaving Dire Straits in August. His guitar tracks were almost complete for the album but were re-recorded by his brother.
Industrial Disease-Love over Gold
This is a great song from their 1982 album. It was released a single in the US backed with "Solid Rock" but also a rare B-side to "Private Investigations" on cassette tapes in the UK. The song is about the decline of the British manufacturing industry in the early 1980s, describing strikes, depression, and dysfunction. The song is an extended metaphor, with the idea of the nine-to-five, with the dehumanizing routine and repetition, as the real culprit of society's "disease". Halfway through the song, the narrator goes to the doctor, only to be told his illness is diagnosed as "Industrial Disease".
If I Had You-ExtendedancEPlay
This is a great song, that was later released as the B-side to the American release of "So Far Away" (See #3). The music is interesting. It has a country-rock sound but I also hear a hint of tropical? I don't know how to describe the sound. It's just a fun song that often gets overlooked.
When It Comes to You-On Every Street
Speaking of songs with a country sound, this is a great song from the band's final studio album that captures a bit of that country vibe. It was later covered by John Anderson (American country artist, not to be confused with Jon Anderson of Yes) which features Knopfler on guitar. The cover peaked at #3 on the US Hot Country Songs. The song is about a marriage that's starting to fall apart, told from the point of view of the husband who feels that his wife gives him a hard time about everything he does and is wishing for the relationship to end, rather than continue his feelings of despair.
There were a lot of great songs I would've liked to talk about, like "Romeo and Juliet" from Making Movies, or the title track from Brothers in Arms but at the same time, I'm satisfied with how this list turned out. What do you think? Do you agree with my list? Would you rearrange it? What songs would you include on your list? Share your thoughts in the comments below.  Before you go, don't forget to follow Awesome Albums on Instagram and Twitter, like on Facebook, and Subscribe on both YouTube and BitChute for music-related content.  Also, don't forget to come back next Tuesday, for another list for Top "Ten" Tuesday!