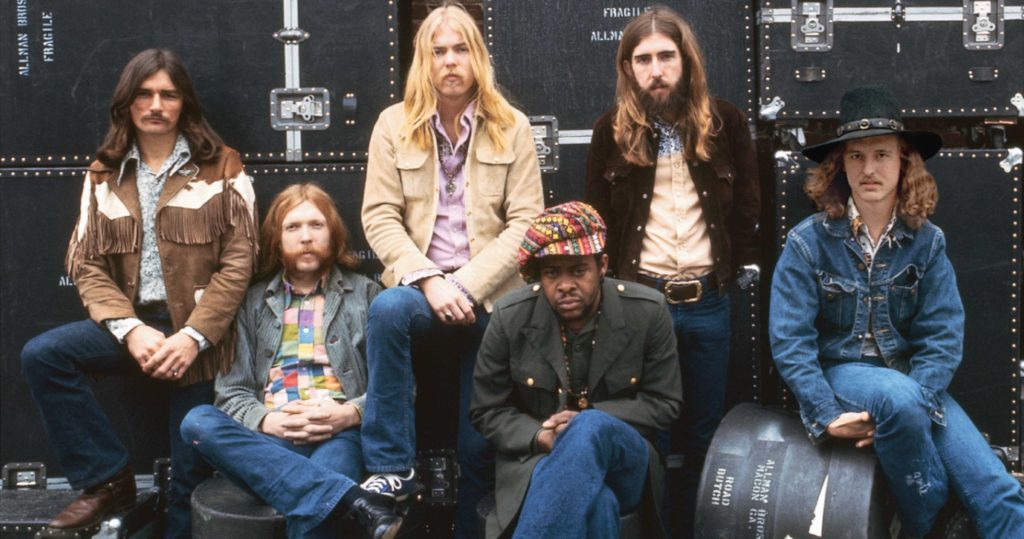 Welcome back to Top "Ten" Tuesday, a weekly list uploaded every Tuesday. Today we will take a look at The Allman Brothers Band. The Allman Brothers Band was formed by brothers Duane and Gregg Allman. Gregg picked up the guitar first, but Duane surpassed him, dropping out of school to practice constantly.  They formed their first band, The Escorts, which evolved into the Allman Joys in the mid-1960s.
By 1967, the group spent some time in St. Louis when a Los Angeles-based recording executive discovered them. They moved out west and named themselves Hour Glass. They released two unsuccessful albums for Liberty Records. Duane moved back to pursue a career as a session musician in Muscle Shoals, Alabama, while Gregg stayed behind due to contractual obligations with Liberty and believed he could hold a solo career.
The two brothers met back up a year later in Miami and produced an album-length demo with a band called The 31st of February (which included future band member Butch Trucks). Duane remained a session guitarist recording with artists like Aretha Franklin, King Curtis, and Wilson Pickett. FAME Studios had a five-year contract with Duane to put together a band. Duane recruited Johnny Sandlin and Paul Hornsby. He then recruited Jai Johanny Johanson after hearing his drumming on a songwriting demo of Jackie Avery, and the two moved into his home on the Tennessee River. Duane then invited bassist Berry Oakley to jam with the new group. The group had immediate chemistry and Duane's vision of a band with two lead guitarists and two drummers had finally started.
Duane and Jaimoe (Jai Johanny Johanson) moved to Jacksonville, Florida in early March 1969, because Duane had some disagreements with FAME. He invited anyone who wanted to join to their jam sessions. They met Dickey Betts, leader of Berry Oakley's previous band, The Second Coming, to become the group's second lead guitarist. Butch Trucks joined the band too. They began performing free shows in Willow Branch Park in Jacksonville, with a revolving door of musicians. Duane felt that his brother should sing in their new band so Gregg left LA and entered rehearsal on March 26, 1969, when the group was rehearsing Muddy Waters' "Trouble No More". Gregg was initially intimidated by the musicians, but Duane encouraged him into "singing [his] guts out". Four days later, the group made their debut at the Jacksonville Armory. They kicked around many names, including, Beezlebub, but they decided on the Allman Brothers Band. They were originally set to record their first album in Miami with Cream and John Coltrane producer, Tom Dowd, but since he was unavailable, they went to New York City in August to work with Atlantic engineer Adrian Barber. Their debut album, The Allman Brothers Band, was recorded and mixed in two weeks, and released on November 4, 1969.
Manager Phil Walden was suggested by executives for the band to move to New York or LA to "acclimate" them to the industry. The band remained optimistic despite their first album having only mediocre success. They rented a farmhouse on a lake outside of Macon. The busy comings and goings reminded them of New York City's Idlewild Airport. A lot of the songs during this period presented itself on the band's second album, Idlewild South released in September of 1970.  Though the album only sold slightly better than their debut album, the band was finally gaining traction with many songs that would remain staples in the band's live repertoire. Producer Tom Dowd put Duane in a contract with Eric Clapton, to contribute to his new project Derek and the Dominos, releasing the album Layla and Other Assorted Love Songs, released November of 1970.
The group was starting to get successful, which unfortunately led to a few of them struggling with heroin addiction. Duane, Berry Oakley, and two roadies Robert Payne and Red Dog Campbell, checked into the Linwood-Bryant Hospital for rehabilitation in October of 1971. One day after Duane returns to Macon, on October 29, he was killed in a motorcycle accident when he collided with a flatbed truck carrying a lumber crane. The truck stopped suddenly at the intersection of Hillcrest Avenue and Bartlett Street. Allman had to swerve to the left to avoid a collision. As he did this, he hit either the back of the truck or the ball of the lumber crane and was thrown off the motorcycle. The motorcycle bounced in the air before landing on Duane crushing internal organs. He died at the hospital a few hours later.
After Duane's death, the band held a meeting about what will become of the band. After a short period, the band returned to the road. Their next album, Eat a Peach was released in February of 1972. This album peaked at #4 on the Billboard Top 200 Pop Albums chart. Oakley never got over the death of Duane and wished to "get high, be high, and stay high". On November 11, 1972, Oakley crashed his motorcycle into the side of a bus, just three blocks away from where Duane had been killed a year earlier. He declined hospital treatment, but gradually grew delirious and died of cerebral swelling caused by a fractured skull.
The band decided to carry on and held auditions for a new bassist. Lamar Williams, an old friend of Jaimoe became the new bassist. Chuck Leavell, who initially was just asked to play piano for Gregg's solo album, Laid Back, found himself as an official member of The Allman Brothers Band. The band released their next album Brothers and Sisters in August of 1973, the first album to feature Williams and Leavell in the lineup as well as the last album to feature Oakley who was present on the album before he died. Next was Win, Lose, or Draw which was the respective members' final album with the band. From August 1975-May 1976, the band was playing to some of the biggest crowds of their career. Gradually, the members were growing apart and the band broke up in May of 1976. They reunited in August of 1978 with Dan Toler as their new lead guitarist and David Goldflies as their new bass player. These two along with Gregg, Dickey, Butch, and Jaimoe, released two more albums, Enlightened Rogues, in 1979 and Reach for the Sky in 1980.
The latter mentioned album was the band's first album with Arista. They only released one more album with Arista, Brothers of the Road, released in 1981. They collaborated with a John Ryan, who worked with Styx and Doobie Brothers to change the band's sound. The band broke up shortly after the album's release and remained dispersed from January of 1982 until June of 1989.
Gregg, Dickey, Butch, reunited with Jaimoe (who left the band before the release of Brothers of the Road) and are joined by new musicians Warren Haynes, Allen Woody, and Johnny Neel. They released Seven Turns on July 3, 1990. In January of 1991, Marc Quiñones joins the lineup as a third drummer (around this same time we see the departure of Johnny Neel). The band released two more studio albums with this lineup, Shades of Two Worlds in 1991 and Where It All Begins in 1994, as well as several live albums. Personnel changes continue with Jack Pearson joining from 1997-1999 (replacing Warren Haynes), who then returns to the band in June of 2001. Pearson was replaced by Derek Trucks (nephew of Butch Trucks) Oteil Burbridge also joins the band in 1997, replacing Allen Woody who passed away in 2000. Dickey Betts also left the band in 2000.
The band's final studio album, Hittin' the Note, was released on March 18, 2003. The band's final lineup (from June 2001-October 2014) was Gregg Allman, Warren Haynes, Derek Trucks, Butch Trucks, Oteil Burbridge, Jaimoe, and Marc Quiñones. In early 2014, Warren Haynes and Derek Trucks announced they would be leaving the band by the end of the year and the group decided it was time to retire. Gregg Allman said, "This is it-this is the end of it. Forty-five years is enough and I want to do something else anyway." They performed their final show on October 28, 2014, at the Beacon Theatre. Gregg Allman passed away on May 27, 2017. The band did reunite for one more show on March 10, 2020, simply called The Brothers. Warren Haynes, Derek Trucks, Oteil Burbridge, Jaimoe, and Marc Quiñones were joined by Reese Wynans, Duane Trucks (Derek's brother), and Chuck Leavell. What remains for the living members of The Allman Brothers are certainly up in the air, but it is doubtful we will see any more albums from The Allman Brothers Band since both of the Allmann Brothers are gone, but we can still enjoy the many albums the band has made in the last 45 years and that is what this list is about. With our introduction out of the way, let's move on to the list. This is my Top 25 Allman Brothers Band Songs.
#25-Hell and High Water-Reach for the Sky
The song starts slow with piano and humming. 15 seconds in, the song picks up with electric guitar, harmonica, and drums. The song has a lot of energy and a great tune once you get past the intro. I think the song is about despite the hardships they're going through, they're going to get back and keep doing what they're doing. It's holding onto the positivity despite the hardships, "As long as we've got a quarter between us all/We're gonna have money to spend". I think this is the only song from their 1980 album I included on this list, not that it's a bad album but there are certainly better songs and better albums. 
#24-Blue Sky-Eat a Peach
This is one of the first Allman Brothers songs I heard. The song has a mellow slide guitar melody and features Dickey Betts on lead vocals rather than Gregg Allman. The song is about Betts' girlfriend (later wife), Sandy "Bluesky" Wabegijig. This is also one of Duane's final songs he worked on before his death. He and Betts alternate playing lead guitar. At 1:07 Duane delivers the song's first guitar solo. At 2:28, Betts begins playing in melody to Duane. At 2:37, the song switches to Betts playing the solo.
#23-Firing Line-Hittin' the Note
The song begins with a hard pounding drum beat with some great guitar. Sadly there is no additional information about this song. It's the opening track to their final studio, released in 2003.
#22-Good Clean Fun-Seven Turns
This is the opening track to their 1990 album as well as the lead single backed with "Seven Turns" (See #2). This song is notable for the first song that gives Betts and Gregg co-writing credits. Johnny Neel is the third co-writer of the song. This song returns to the harmonic guitars and slide hooks that the band was known for in the early 1970s. It is also the first song The Allman Brothers made into a music video, but neither the song nor the band were big on MTV.
#21-Don't Want You No More-The Allman Brothers Band
This is the opening track on the band's debut album. This instrumental piece is a cover originally written by Spencer Davis and Eddie Hardin and is featured on The Spencer Davis Group's 4th album released in April of 1968. The Allman Brothers Band's version of the song transitions into the album's second track, "It's Not My Cross to Bear" which is a great blues song written about a former lover that Gregg knew. It was also one of the first songs Gregg introduced to the group. 
#20-Crazy Love-Enlightened Rogues
This is the opening track to their 1979 album. This is, I think, another "one of the first" Allman Brothers songs I heard, and I think it was my first record of theirs I got (outside of a compilation album), so the first couple of songs on this album mean a lot to me. The song is the lead song from the album backed with "Just Ain't Easy" and reached #29 on the US Billboard Hot 100 which is theirs second-biggest hit on the Billboard Hot 100. It's an uptempo song build around slide-guitar solos and features Bonnie Bramlett on backing vocals.
#19-Southbound-Brothers and Sisters
This is one of the first songs to feature Chuck Leavell and Lamar Williams who were new to the band while recording this 1973 album. The lyrics are pretty simple. It seems that he's been working a lot and is singing about finally coming home.
#18-Trouble No More-The Allman Brothers Band
This is an upbeat blues song originally recorded by Muddy Waters in 1955. The Allman Brothers recorded their arrangement for their debut album. It has a catchy guitar riff and a great guitar solo. This was a live staple for the Allman Brothers. Their 1971 live from Fillmore East was included on Eat a Peach. The live version is great too and features the song in a slightly faster tempo.
#17-Straight From the Heart-Brothers of the Road
This is the lead single from their 1981 album. It was written by Dickey Betts and Johnny Cobb. This song is the most "un-Allman Brothers" song on this list and probably for the band as a whole. When they signed to Arista Records in 1980, founder Clive Davis, pushed them to modernize their sound. The song was later regarded as an "embarrassing" experiment by members of the band. Despite the hate from the band, the song became the group's first Top 40 hit since their heyday and was subsequently their last. The single peaked at #39 on the Billboard Hot 100 and also hit #11 on Billboard's Rock Top Tracks chart. The single was backed with "Leavin'".
#16-In Memory of Elizabeth Reed-Idlewild South
This is a jazz-influenced instrumental from their second album, written by Betts. He wrote it based on the Miles Davis song "All Blues". It was one of his first songwriting credits for the group. Betts named the song after a headstone he saw in Rose Hill Cemetery in their hometown of Macon, Georgia. This is the same cemetery that Duane Allman and Berry Oakley would be buried at just a couple of years later. It was inspired by a woman Betts was involved with, and was the girlfriend of Box Scaggs, with Betts later saying she "was Hispanic and somewhat dark and mysterious-and she really used it to her advantage and played it to the hilt." They changed the name to protect her identity to the above-mentioned woman at Rose Hill Cemetery. The Fillmore East recording is considered the definitive version. It is one of the band's live favorites and usually evolves into a lengthy jam.
#15-Shine It On-Seven Turns
This is a great hard-rockin' song. It has a great drum beat and guitar riff. Gregg sings about a woman who made him feel good but once she got what she wanted she moved on to the next person.  He empathizes saying, Yes I know about the pain/Tears are gonna fall/Just like rain" but he also tells you to keep going, "Don't let some rainy day, steal your heart away/You got to go on."
#14-Can't Take It With You-Enlightened Rogues
This is another great song from their 1979 album. It has a great guitar riff backed with an organ. I don't know what the song is about but I can guess with lyrics like "Break the bank in Monte Carlo/You can play it just the way it falls/Cut it like you want to/But it just might come back and haunt you" along with the lyrics "Hot-wire a fast car, just to take a ride/You can run, but you sure cannot hide" point to that you can do what you want but your choices have consequences. You're going to be caught in the end and you can't take it with you, whether they mean in this life when you get arrested or when you die that you can take that money or that car with you to…whatever you want to call after we die. I might just be reading too much into it though. It's still a good song, regardless if I'm interpreting the song correctly or not.
#13-All Night Train-Where It All Begins
This is the opening track to their 1994 album. The song is rockin' number that Gregg Allman wrote as a way to confront his substance abuse problems in the past. He took drugs most of his adult life and was forced to testify against his supplier in 1975. The song was also co-written by Warren Haynes and Chuck Leavell.
#12-Every Hungry Woman-The Allman Brothers Band
This song was recorded on August 11. This is one of two songs written about Allman's experience with a girl named Stacy in Los Angeles. This song was released as a single with "Black Hearted Woman" released in March of 1970. It's a great song with dual lead guitar backed with an organ.
#11-Sailin' 'Cross the Devil's Sea
This has a great riff. For some reason, I think of an '80s/'90s Clapton style song when I hear this song. This is another breakup song.  He thought she was great "But the spell of that pretty young girl is far too strong/Between her fine perfume and angel face/My whole world became another place." But then realized how manipulative she was, "Sailing, sailin' 'cross the devil's sea, ohh, hooo/Too blind in love, too blind to see/Cause she was eviler than evil, slippery like a fox."
#10-Black-Hearted Woman-The Allman Brothers Band
This is the other song along with "Every Hungry Woman" that Gregg Allman wrote about a girl named Stacy he met in Los Angeles. The song was released as a single, along with "Every Hungry Woman" (See #12) but failed to reach Top 40 radio. It was cut on August 5, 1969, and despite its tone, Allman must not have had the best luck in marriages. He divorced at least 5 more times in 2 decades. His longest marriage was 7 years (2001-2008) and that was on wife #6! It's still a great song with a great guitar and organ led riff.
#9-One Way Out-Eat a Peach
This is a blues song written by Marshall Sehorn and Elmore James. It was made popular by The Allman Brothers in since the song's release in 1972. They have been playing this song since February of 1971 and likely recorded at the Fillmore East, but unlike the March live material that used on the rest of Eat a Peach and At Fillmore East, this song was recorded at the venue's final show on June 27, 1971, as producer Tom Dowd thought this was the best version of the song. Dickey Betts plays the boogie style guitar riff while Duane Allman comes in with the slide guitar part. Gregg Allman narrates the drama of the song and asks the audience to "ahh, put your hands together" while Duane and Betts trade guitar licks. The song gets quiet for Gregg to do a vocal a cappella. The band comes back for the "Big Ending". It's a great song that later became a staple for the band and a staple on classic rock radio stations, due to the length being under 5 minutes, made it a lot more convenient song to play than some of the band's jam songs.
#8-Ramblin' Man-Brothers and Sisters
This song was written and sung by Dickey Betts, inspired by a 1951 song of the same name by Hank Williams. It is one of the band's more country songs than some of their other compositions. It was the album's lead single backed with "Pony Boy" and reached #12 on the US Billboard Easy Listening chart, #2 on the US Billboard Hot 100, and #1 on the US Cashbox Top 100. Betts plays guitar harmony with Les Dudek, who was contributing to the album, was sitting in the control room when the song was being recorded, and was eventually asked to come record the song with him. The guitar harmony is great and so is the guitar solo at the end. This is probably the second Allman Brothers song I heard and I still think it's one of their best!
#7-Revival-Idlewild South
This is the opening track for the band's second album. It was written and sang by Betts, his first songwriting contribution to the band.  It was initially written as an instrumental. It is an acoustic guitar-led, played by Duane Allman, with electric guitar played on top. The second half of the song features vocals. With the lyrics repeating "Love is everywhere" the song became a favorite among hippies in the US. Betts began singing along and lyrics came as an afterthought, which was not typical. Betts tended to naturally write instrumental songs first. He later said, "You have to have an altogether different approach; an instrumental has to be really catchy and when you succeed it's very satisfying because you have transcended words and communicated with emotion." It was the album's lead single backed with "Leave My Blues at Home" and peaked at #92 on the Billboard Hot 100 during the week of January 9, 1971.
#6-Jessica-Brothers and Sisters
Speaking of instrumental tracks written by Betts, here is another great one! The song was written as a tribute to Gypsy jazz guitarist Django Reinhardt and was designed to be played using only two fingers on the left hand. He named the song after his daughter, who was only an infant when the song was released. She bounced along to the song's rhythm, and Betts attempted to capture her attitude with its melody. This was another song, along with "Ramblin' Man" (See #8) to feature Les Dudek collaborating. Dudek performed the song's bridge. The song was issued as a single, released in December of 1973 backed with "Come and Go Blues". and peaked at #65 on the US Billboard Hot 100 chart and #39 on the US Easy Listening chart.
#5-No One to Run With-Where It All Begins
This song became one of my favorites when I first heard it. It's another Dickey Betts written song, but one of the few cases in the band's discography where Betts didn't sing the song he wrote, with Gregg singing instead. Betts wrote the song about leaving the past behind and starting a new life. The guitar riff is awesome and catchy. The beat is known as the "Bo Diddley Beat". It's a similar beat to "The Last Time" by The Rolling Stones and "Desire" by U2.
#4-Wasted Words-Brothers and Sisters
We are returning to their 1973 album for one final time. This is a great song with a catchy riff. Executives at Capricorn were split on which song to act as the album's lead single between this song and "Ramblin Man" (See #8). This song features  a rare occasion of Dickey Betts playing slide guitar. He usually avoided the instrument because Duane was legendary on slide guitar. This was also one of the last songs Berry Oakley played on before his death. Gregg wrote this song, and it's about a relationship that can't be saved. It's very catchy and became one of my favorites since the first time I heard it.
#3-Whipping Post-The Allman Brothers Band
This is the final track from the band's debut album. This is one of the first songs written for the band. When Duanne asked Gregg to join the newly formed Allman Brothers Band, Gregg showed the band 22 songs he had written but only "Dreams" and It's Not My Cross to Bear" were used. Since Gregg was the band's only songwriter at the time, he was then commissioned to create additional songs that would fit in the context of the new band. In the next five days, he wrote several songs including "Whipping Post". The lyrics are metaphorical, about an evil woman and futile existential sorrow. The song was recorded on August 7, 1969, at Atlantic Studios. The song was placed last on the album's running order, as a classic idea of leaving the listener wanting more.
#2-Seven Turns-Seven Turns
This is a great acoustic guitar-led song written and sung by Dickey Betts. This was the title track to their 1990 comeback. This is the first album they had released in 9 years since 1981's Brothers of the Road. Producer Tom Dowd asked Betts to write a song similar to "Blue Sky" (See #24). The song features Warren Haynes playing slide guitar. With Haynes's addition to the band, this allowed the band to play with two guitars like they did before Duane Allman's death in 1971. The title refers to a Navajo belief that there are seven times in life that you must make a decision that determines your life's path. Taking the wrong path means you must either backtrack or stay one the road to ruin. The chorus is the song's highlight "Somebody's calling your name/Somebody's waiting for you/Love is all that remains the same/That's what it's all comin' to" especially when Gregg Allman starts backing him on vocals. There is one more song I want to talk about which in my opinion is a tough one to beat!
#1-Midnight Rider-Idlewild South
This song was written during the group's time at Idlewild South in Macon, Georgia. Allman felt free to smoke marijuana with no police around, which he said contributed to his writing at the cabin. It was very quickly written. The song came to him out of nowhere, and he completed a rough draft in just over an hour of writing. He found himself stuck on the third verse, which he regarded as an especially important component to the song, "It's kind of the epilogue to the whole thing" he said. In the middle of the night, he went to Roadie Kim Payne's house, who was keeping watch over the band's warehouse, where they kept the equipment. Payne helped him write the first two lines of the third verse, "We were getting high, and honestly, he was starting to irritate me-because he was singing this song over and over and I got sick of hearing the band play the same s**t over and over again until they got it right. So I just threw out the line, 'Ive gone past the point of caring/some old bed I'll soon be sharing.'"
Gregg Allman credited Payne as a co-writer of the song and a percentage of royalties should be a success. While Payne wasn't originally listed as a co-writer, he later had Allman contact Phil Walden to produce a contract that allowed him five percent of its future royalties. Gregg and Payne broke into Capricorn Sound Studios to complete a demo of the song. While the original version failed to chart, the covers of the song were very successful, including a Gregg Allman solo version released in 1973, which reached #19 on the US Billboard Hot 100 and #17 on the Canda RPM Top Singles chart. Gregg Allman called it, "the song I'm most proud of in my career". I agree with him. It topped my list. It's a great, catchy song that runs just under 3 minutes.
Since I did a Top 25, I won't be including any honorable mentions this time but there are some great songs that I would've liked to have mentioned like "Ain't Wastin' Time No More" which almost made it onto the list. What did you think? Do you agree with my list? Would you rearrange it? What songs would you include on your list? Share your thoughts in the comments below.  Before you go, don't forget to follow Awesome Albums on Instagram and Twitter, like on Facebook, and Subscribe on both YouTube and BitChute for music-related content.  Also, don't forget to come back next Tuesday, for another list for Top "Ten" Tuesday!