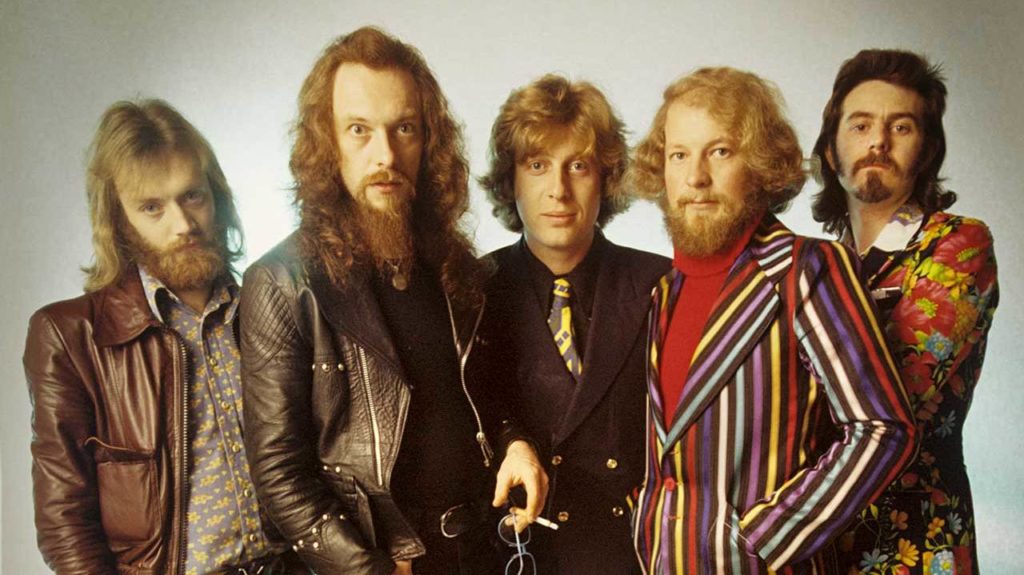 Welcome back to Top "Ten" Tuesday, where I try to have a list up for you every Tuesday. Yesterday was Ian Anderson's 73rd birthday. Ian Anderson is a Scottish-born British musician best known as the flautist, acoustic guitarist, and lead vocalist of Jethro Tull and is the only constant member. I figured this would be a great time to look at the history of Jethro Tull and pick out the songs for my list.
Jethro Tull's history began in 1960 when Ian Anderson, Jeffrey Hammond, and John Evan (born John Evans) attended grammar school together in Blackpool. Evans had been a fan of The Beatles ever since he saw them play "Love Me Do" on Granada Television's Scene at 6:30.  He was originally a pianist but decided to take on drums because that was an instrument in The Beatles' line-up. Anderson got a Spanish guitar and taught himself how to play it, and decided that he and Evans should join a band. They recruited Hammond on bass, who brought along his collection of blues records to listen to.  They played at local clubs and venues before Evans became influenced by Georgie Fame and The Animals and switched to organ, recruiting Barrie Barlow as the new drummer.  Guitarist Mike Stephens from The Atlantics was their next band member followed by Chris Riley. By 1964, they had a six-piece band called The John Evan Band, later the John Evan Smash. Hammond suggested to Evans to shorten his name to Evan because he thought it sounded better and was more unusual. Johnny Taylor was recruited as the band's booking agent and played gigs around northwest England playing a mix of blues and Motown covers. Hammond briefly left the band to go to art school and was replaced by Glenn Cornick. Riley quit the band as well and was replaced by Neil Smith. They recorded their first three songs at Regent Sound Studios in Denmark Street, London in April of 1967.
The group moved to Luton in November and signed a management deal with Terry Ellis and Chris Wright and replaced Smith with Mick Abrahams but quickly realized that supporting a 6-piece band was financially impractical so the band split up. Anderson, Abrahams, and Cornick decided to stay together and recruited Clive Bunker as their new drummer and became a British blues band. Cornick recalled that even though Evan left, the band said he would welcome him at a later date.
This new band had trouble getting repeat bookings and they took to changing their name frequently to continue playing the London club circuit with names including "Navy Blue", "Ian Henderson's  Bag o' Nails", and "Candy Coloured Rain". Anderson recalled looking at a poster at a club saying the band name he didn't recognize as his. The band names were suggested by their booking agents' staff, one of whom, was a history enthusiast, came up with Jethro Tull, named after the 18th-century agriculturalist. The name stuck because they happened to be using it the first time a club manager liked their show enough to invite them back.
Anderson had a large overcoat that his father gave him, telling him, "You'd better take this. It's going to be a cold winter". Around this same time, he purchased a flute after being frustrated he wasn't able to play the guitar as well as Abrahams. The band's managers suggested he should stick to rhythm guitarist and let Abrahams become the lead.
Their first album, This Was, was released in October of 1968, reaching #10 on the charts. Shortly after the release of the album, Abrahams left to form his own band, Blodwyn Pig. The group tried several replacements including David O'List of The Nice, Mick Taylor who turned the group down to join John Mayall's Bluesbreakers, and Tony Iommi. Iommi was with them briefly but felt more at home with his old band Earth, which became Black Sabbath. They finally found Martin Barre, a musician who tried out at the same audition as Iommi. Barre arranged a second audition with Anderson, who showed him some new songs that were in a different style to the blues they had been playing. Anderson was impressed by Barre's techniques and offered him the job as the new guitarist. Anderson moved into a bedsit with John Evan, who rejoined the band in April of 1970. A bedsit is a one-room apartment typically consisting of a combined bedroom and sitting room with cooking facilities. Then Anderson rekindled his friendship with Jeffrey Hammond in December, who rejoined the band just in time for arguably the band's biggest album, Aqualung. While the band had various members coming and going over the years, they continued to release one great album per year from 1968-1980 including This Was (1968), Stand Up (1969), Benefit (1970), Aqualung (1971), Thick as a Brick (1972), A Passion Play (1973), War Child (1974), Minstrel in the Gallery (1975), Too Old to Rock 'n' Roll: Too Young to Die! (1976), Songs from the Wood (1977), Heavy Horses (1978), Stormwatch (1979), and A (1980). Throughout the 1980s, the albums were spaced out a little bit more with their next album being The Broadsword and the Beast (1982), Under Wraps (1984), Crest of a Knave (1987), and Rock Island (1989). Their albums in the 1990s are Catfish Rising (1991), Roots to Branches (1995), and J-Tull Dot Com (1999). Their final Tull album to date is The Jethro Tull Christmas Album (2003). 
The band continued to tour until 2012 with Anderson and Barre going their separate ways to focus on solo albums. In 2017, Anderson announced plans to commemorate the fiftieth anniversary of This Was and announcements of a new album. On January 2, 2018, Anderson posted on jethrotull.com a picture of himself with the caption "IA in the studio working on a new album for release March 2019. Shhhh; keep it a secret…" On June 1, 2018, Parlophone Records released a new compilation album celebrating the band's 50th anniversary, named "50 for 50" (50 songs for their 50th anniversary). In November of 2019, Anderson announced The Prog Years Tour with 11 dates across the UK in September and October of 2020, which unfortunately have been postponed due to the pandemic. Hopefully, when the band can tour again, we will get to see this long-awaited album Anderson announced but until then we still have plenty of albums already to enjoy listening to. With this introduction out of the way, let's move on to the list. I don't know if 10 will be enough, so this list will be my Top 25 Jethro Tull Songs.
#25-For a Thousand Mothers-Stand Up
This is the closing track to Jethro Tull's second album. The song has some great rockin' moments with a few brief flute solos that make this song stand out from the rest on the album. The lyrics seem to point to him proving to his parents that he is successful despite them saying otherwise "Did you hear mother?/Saying I'm wrong but I know I'm right/Did you hear father?/Calling my name into the night/Saying I'll be what I am now."
#24-Bends Like a Willow-J-Tull Dot Com
The song starts with some soft flue playing and guitar playing, with a heavier bass riff interrupting. The lyrics seem to be about a man who is strong and rigid and comparing himself to her, who is adaptable, "able to bend like a willow." She more-or-less completes him. It's a great song that doesn't get enough recognition.
#23-Roots to Branches-Roots to Branches
This is the opening track and title track to their 1995 album. The song starts quiet and builds up a great guitar and flute riff. The whole album is a return to their roots (pun half-intended). Ian Anderson, describing the album as a whole, said, "I see Roots To Branches as the 90s version of Stand Up, because it has a lot of the things that I feel represented the key elements of Jethro Tull: there's lots of flute, lots of riffy guitars and quite a broad palette of influences, from the blues and classical to the Easter motifs that were apparent on Stand Up." He also mentioned a con to this album saying, "The only thing about it that lets me down is that I made it sound a little too Seventies. I deliberately made the album sound like it was in the context of a live performance, rather than have it sound too 'studio.' But looking back on it, I think it should have been a bit more varied."
#22-Spiral-J-Tull Dot Com
The opening track has a strong riff that kicks off the song. Unfortunately, it's a great song that is often overlooked. There is no information on this song to share with you. All I can say is, it's a great song.
#21-Kissing Willie-Rock Island
The opening song was the first single released for the album peaking at #6. A "Willie" is British slang for the male phallus and the song has many sexual references throughout the album.
#20-Something's On the Move-Stormwatch
This song has a great riff that kicks off the song. It has a great melody during the chorus "Oh, sunshine take me now away from here/I'm a needle on a spiral in a groove/And the turntable spins/As the last waltz begins/And the weather-man says/Something's on the move."
#19-This Is Not Love-Catfish Rising
This song opens their 1991 album. Compared to a lot of Tull's quieter and folk songs, this song is straight-up rock and roll. That was the theme of this whole album, moving away from synthesizers and electronic instruments that were prominent in their '80s albums to focus on a hard rock and blues sound. The lyrics point to a couple that is at a resort that is closed down in the winter. They are trying to rekindle their love for each other that they experienced that summer but it's deserted at this time of year in the winter.
#18-Minstrel in the Gallery-Minstrel in the Gallery
This is the opening track and title track to their 1975 album. This album goes into a different direction than their previous album, War Child focusing on a string quartet blended mixed with electric and acoustic pieces rather than the orchestration that was prominent on War Child. The lyrics seem to be Anderson making an observation. The minstrel is looking down on people, the people in the audience, making fun of them. At the end of the song, he throws out his looking-glass and starts to see himself in the audience, seeing himself as one of them.
#17-Said She Was a Dancer-Crest of a Knave
If this didn't have Jethro Tull's name on it, I'd swear I was listening to Dire Straits. Martin Barre's guitar work and Ian Anderson's voice sound identical to Mark Knopfler (who celebrates his birthday tomorrow. I think I know what next week's list would be about!). Anderson recently had throat surgery and didn't have the vocal range he did on previous albums.
#16-Too Old to Rock 'n' Roll: Too Young to Die-Too Old to Rock 'n' Roll: Too Young to Die
This is the title track to their 1976 album and the only single released from it. While it didn't succeed initially on the charts, it has since become a fan favorite and seen positive reception from critics. The single was backed with "Rainbow Blues." Ian Anderson said, "It wasn't an instant, out-of-the-box favorite of our audience, but it seems to have caught on over the years." The song was written about an aging biker named Ray Lomas (that explains my t-shirt I have). Due to the time of the song's release in 1976, with the rise of punk rock, many people thought the song was autobiographical.  Anderson denies that and says that a lot of inspirations were American black blues artists. By the time he started listening to them a lot of them are already in their 50s, 60s, and 70s. He enjoyed the music but never gave it a second thought of how old they were. I can relate to that in the present where all the artists I like are anywhere between 60 and 80, and it's heartbreaking to think that they will only be here only a little while longer. 
The title was inspired by Anderson on a turbulent plane ride. He said, "The title came to my mind on a very, very bad, turbulent flight in the USA. I hate flying anyway, but this was a really bad flight, and I was convinced we were all gonna drop out of the sky, and just the words came into my head, 'I'm too old to rock and roll, but I'm too young to die.' And I wrote that down on a piece of paper and decided to make something of it."
#15-War Child-War Child
The song begins with a siren followed by gunshots, explosions, and people screaming before we are greeted with a saxophone and piano. The lyrics might be straightforward enough to point to a child growing up during a war or growing up in a society where wars are frequent. The War Child album was originally planned to be a double album film soundtrack but was reworked into a single album after failed attempts to find a major movie studio to finance the film. The movie was written as a metaphysical black comedy concerning a teenage girl in the afterlife, meeting characters based on God, St. Peter, and Lucifer portrayed as shrewd businessmen.
#14-Doctor to My Disease-Catfish Rising
Another good hard-rockin' song from their 1991 album. This was the fourth single released from the album. I can't identify what "disease" he's singing about in the song. I guess his disease is love?  "You can dig a little, and you can mess me around/But there's one thing I should tell you/To which you must agree: There's no use playing doctor to my disease."
#13-Heavy Horses-Heavy Horses
This is the title track to the band's 1978 album. The song was written as a tribute to horses and features folk-rock elements that rebelled against the musical trends of the period. This is 1978 here. Punk rock, alternative rock, and disco (ew!) were the norm. Ian Anderson said, "I suppose it's almost an equestrian 'Aqualung' in a way. Once powerful and majestic creatures find themselves on the scrap heap, forgotten by society and replaced by machines. I'm not particularly obsessed by the animals, and it's not intended as a heartfelt campaign to bring them back into service, but I do have a soft spot for horses." The song has a beautiful orchestral mid-section co-written with Martin Barre. This section also features a solo by Barre and a violin solo by Darryl Way of Curved Air.
#12-Bungle in the Jungle-War Child
This is a fun song from their 1974 album. It is a remnant from the band's abandoned "Chateau D'Isaster Tapes" featuring lyrics based on analogies between animals and humans. The song was released as a single released in October of 1974. It became a Top-20 hit in the US (#12 on the chart) and a Top-5 hit in Canada (#4 on the chart). Despite the song's success, Anderson saw the song as too commercial and a minor song in the band's catalog outside of North America. The song starts with a tiger roaring and has some beautiful orchestration throughout.
#11-The Whaler's Dues-Rock Island
There are two songs from Rock Island that are a tossup for this spot, "The Whaler's Dues" and "Strange Avenues". The two have a very similar intro. They are both quieter songs with a very ambient beginning with light flute playing and light strumming on an acoustic guitar. On "Strange Avenues" the song slowly builds up before giving us a David Gilmour-esque guitar riff. This same guitar riff is featured in both songs. I guess I chose "The Whaler's Dues" over "Strange Avenues" because it's the first of the two on the album. "The Whaler's Dues" doesn't include the buildup to the guitar riff, jumping into it right away but gives us some great ambient flute playing afterward and seems to be more consistent at using the riff.
#10-Teacher-Benefit (US Version)
This is a song not featured on the UK version but is present on the US release of the album. Don't worry if you have the UK version of the album because this is a big Tull song present on several compilation albums including their first compilation, Living in the Past (but only on the UK version). The title track "Living in the Past" almost made it on this list so here it is as an honorable mention I guess. "Teacher" tells the story of a socially awkward guy who buys a plane ticket for the teacher so they can go on vacation together. On the trip, the freeloader ends up having all the fun while the narrator remains as awkward as ever. It has a great guitar riff that bridges the verses together with Anderson's flutes overtop. It's a fun song that hooked me the first time I heard it!
#9-Skating Away on the Thin Ice of the New Day-War Child
This is one of the first Tull songs I heard. It's a great acoustic guitar song. It was originally going to be part of "Chateau D'iaster" but got reworked for their 1974 album. It was released as a single reaching #75 in the US. Despite the limited chart success, the song was given positive critical reception from music writers and has appeared on several compilation albums as well as being a live favorite. Ian Anderson dubbed it as his "first climate change song" due to the lyrics about the then-current concert over global cooling rather than the global warming that people worry about today.
#8-Thick As a Brick-Thick As a Brick
This is a strange song to add to my list because the album is broken up into Part 1 and Part 2, both over 20 minutes but they are both great songs. Part 1, is the one that most people would recognize as a snippet of this song was included on later compilation albums like The Best of Jethro Tull, released in 1993. I think I like Part 2 slightly more. The song starts with a wind sound and bells ringing. At about 7:30 the song builds up to my favorite part. The orchestration at that moment is the best part of the whole album, which is already a great album. The 40th-anniversary edition splits the 2 songs into 8 songs which I'm curious about what that version sounds like. This album was a response for Ian Anderson when critics called the band's previous album a concept when he claims it isn't. He then decided to make an over the top concept album in response. The album was intended to be a satire of the progressive rock genre that was popular at the time, spoofing albums made by Yes and Emerson, Lake & Palmer.  It was ironically seen by critics as Jethro Tull's first progressive rock album.
#7-Hymn 43-Aqualung
It took us a while but we finally have our first entry from Aqualung.  I could've easily pulled 5 or 6 songs from this album because there are so many good songs (check out my video of Aqualung to hear about all the songs). It is the album's first single, released on August 14, 1971. It reached #91 on the Billboard Hot 100, backed with "Mother Goose". The song mocks the "religious" people. The first verse is people asking God for things like relationships, or "money games". The second verse is all about Manifest Destiny, where it is our God-given right to have the whole US to ourselves. The third verse points out the "gory glory seekers who use His name in death" like what the Crusades did. The final verse is about Jesus who is too weak to save himself "His cross was rather bloody/He could hardly roll His stone."
#6-Steel Monkey-Crest of a Knave
This is the opening song to their 1987 album and was the album's first single. Anderson said, "'Steel Monkey' was based around a sequencer riff, and it didn't have any flute in it. So it was yet another atypical Jethro Tull song that was a radio hit." One interpretation I read is about buildings and skyscrapers, the workers that are building the steel buildings, climbing around like monkeys "In the sulphur city, where men are men/We bolt those beams then climb again/Steel monkey."
#5-Quizz Kid-Too Old to Rock 'n' Roll: Too Old to Die
This is the opening song to their 1976 album. The song starts with acoustic guitar and Ian's vocalist. I was familiar with the "Too Old to Rock 'n' Roll" title track. I was very confused I first heard this opening track because the guitar, and melody were the same as the chorus from the title track. Then 55 seconds into the song, the song jumps into a hard rock number with an awesome guitar riff, with Anderson's flute playing on top of it. In the album's story, Ray Lomas wins money in a 'Quizz' show. It instantly became one of my favorite Tull songs the first time I heard it!
#4-Beastie-The Broadsword and the Beast
The song begins with a synthesizer alarm with Anderson singing quietly before the song gets going. The guitar riff in this song is great! It immediately became one of my favorites since the first time I heard it. This was originally the title track to the album. The name of the album was then changed as they couldn't decide between naming the album Beastie or Broadsword. They decided to use the naming convention they did on Aqualung where each side of the record was named after that respective side's opening track. They decided to name the album in the end The Broadsword and the Beast to feature both songs in the title. The artwork seems to put more emphasis on the broadsword, which has led to fans to refer to the album as the Broadsword album.
#3-Locomotive Breath-Aqualung
This song starts with a quiet bluesy piano introduction. About 45 seconds, the piano starts to build up with the guitars in the background. The song surges with energy about 1:15 and turns into a good rockin' number. This was the album's second single, backed with "Wind Up" in 1971, and "Fat Man" in 1976. The lyrics use imagery of an impending and unavoidable train wreck as an allegory of a man's life falling apart. Old Charlie in the song is a representation of God. Anderson said that when he stole the handle, he left the train running out of control. The song took a few times to record because Anderson had to impress on the band that musically, it was supposed to feel like a train on the track, not one that goes off and explodes. This is easily one of Tull's best songs!
#2-The Third Hoorah-War Child
This is an unusual pick for a second favorite but this song is so good! It has a very Celtic sound with the synthesizers, the orchestration, and whatever sounds like bagpipes. It's a very upbeat song with a catchy riff. One interpretation of the song points to life being stressful but you have to go out and live your life to the fullest because life is too short. My favorite part is the buildup in the middle section to the "bagpipes". I feel I can easily tie it with my #1 choice but I'll leave it as my #2.
#1-Aqualung-Aqualung
This is the first Jethro Tull song I heard (if it wasn't this song then it might've been "Skating Away"). The song begins with a hard rock guitar riff of the titular character viewed as disgusting, while in reality we just judge someone without getting to know them or helping them. He's just an old, sick, homeless man. He is named after the self-contained underwater breathing apparatus or "SCUBA" for short. It is considered Tull's most popular song but it was not released as a single. Halfway through the song, we are greeted with one of Tull's greatest guitar solos. Martin Barre's solo was ranked at #20 on Guitarist Magazine's "20 Greatest Guitar Solos of All Time". A fun story while recording this song was when Barre was playing his solo, Jimmy Page of Led Zeppelin walked into the control room and started waving. Barre was conflicted about how he should respond if he should wave back or not so he just grinned back.
Since I had a Top 25 list today, I will not be including an "Honorable Mentions" category, except for one song that I want to mention but felt it would be a little out of place in the Top 25, so down below is a Jethro Tull Christmas song. I guess it would've been fine in the Top 25 but it was hard enough to narrow down to just 25. I think my initial list before narrowing things down was at 48 songs.
Honorable Mention
Another Christmas Song-Rock Island/The Jethro Tull Christmas Album
I don't have much to say about this one but it's a great original Christmas song, written by Anderson. It was originally released on Rock Island in 1989 but was rerecorded for their 2003 Christmas album. It features a great flute riff played by Anderson.
It was hard to narrow down Jethro Tull's discography into just 25 songs, there are so many good ones to choose, and so many that ultimately got rejected. There were even a few albums that didn't get represented at all. My Top 10 could've easily just been songs from Aqualung and War Child but I wanted to make sure their other albums got some exposure too because they had some great songs that often get overlooked. What did you think? Do you agree with my list? Would you rearrange it? What songs would you include on your list? Share your thoughts in the comments below.  Before you go, don't forget to follow Awesome Albums on Instagram and Twitter, like on Facebook, and Subscribe on both YouTube and BitChute for music-related content.  Also, don't forget to come back next Tuesday, for another list for Top "Ten" Tuesday!