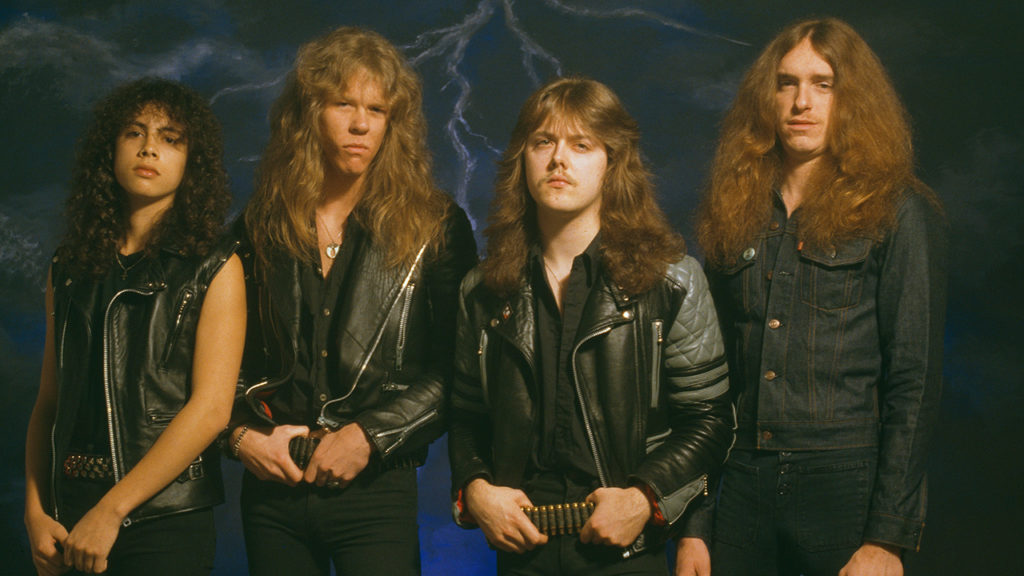 Welcome back to Top "Ten" Tuesday, our weekly list uploaded every Tuesday. Yesterday was James Hetfield's birthday. James Hetfield is an American rhythm guitarist and lead singer of Metallica, one of the "big four" bands of thrash metal along with Megadeth, Anthrax, and Slayer. Before going into this week's list, it's time for the backstory.
Metallica formed in Los Angeles in late 1981 when Lars Ulrich placed an ad in the newspaper that said, "Drummer looking for other metal musicians to jam with Tygers of Pan Tang, Diamond Head, and Iron Maiden". James Hatfield and Hugh Tanner of Leather Charm answered the ad. Ulrich asked Metal Blade Records founder Brian Slagel if he could record a song for the label's upcoming compilation album, Metal Massacre. Slagel accepted and Ulrich recruited Hetfield to sing and play rhythm guitar. The band officially formed on October 28, 1981.
The name came from Ulrich's friend Ron Quintana, who was brainstorming names for a fanzine and was considering MetalMania or Metallica. After hearing the two names, Ulrich wanted Metallica for his band name, so he suggested Quintana use MetalMania instead. Dave Mustaine replied to an advertisement for a lead guitarist and Lars, James, Dave, and their newly recruited bassist Ron McGovney played "Hit the Lights" for Metal Massacre I, which was released on June 14, 1982, incorrectly listed as "Mettallica".
In 1982, Lars and James attended a show at the West Hollywood nightclub Whisky a Go-Go, which featured the band Trauma. The two were blown away by the band's bassist, Cliff Burton, and his use of the wah-wah pedal and asked him to join their band. Hetfield and Ulrich wanted McGovney to leave because they thought he didn't contribute anything to the band. Initially, Burton denied the offer but accepted the offer if the band move to El Cerrito in the San Francisco Bay Area. In 1983, Metallica traveled to Rochester, New York to record their debut album Metal Up Your Ass. Around this time, the band decided to kick Dave Mustaine out of their group because of his drug and alcohol abuse. Exodus guitarist Kirk Hammett replaced Mustaine the same afternoon. Mustaine went on to form a rival band to compete with Metallica, one of the other "Big Four" bands, Megadeth. Hetfield, Ulrich, Burton, and Hammett recorded their first album, but due to the record label and distributor's refusal to release an album titled Metal Up Your Ass, the album was renamed to Kill 'Em All. This lineup continued touring and released two more albums, Ride the Lightning in 1984 and Master of Puppets in 1986.
On September 27, 1986, when the band was touring for their Damage, Inc. Tour, members drew cards to determine which bunks on the tour bus they would sleep in. Burton won and chose to sleep in Hammett's bunk. Around sunrise near Dörarp, Sweden, the bus driver lost control and skidded. The bus flipped several times. Ulrich, Hammett, and Hetfield were all fine, but Burton was pinned under the bus and sadly was killed in the wreck. The three remaining members were uncertain what the future of Metallica would be. They decided that Burton would want them to continue and with Burton's family's blessings they sought out a replacement. Jason Newsted became Metallica's new bassist. This lineup continued touring and released their first new album …And Justice for All in 1988 followed by their best-selling album, Metallica, nicknamed the Black Album. Later in the 1990s, they released Load and the sequel album, Reload.
Metallica started working on a documentary in 2001. Filmmakers Joe Berlinger and Bruce Sinofsky started following the band around to document the process of the band's next album. The footage was compiled into the film Metallica: Some Kind of Monster, which premiered in 2004. A year earlier in 2003, their next album St. Anger debuted at #1 on the Billboard 200. That was their only album without an official bass player because Newsted left before production formally began. After the album was completed, the band started holding auditions for a new bass player. Robert Trujillo, of Suicidal Tendencies, joined the band as their new bassist. Since then, the band released Death Magnetic in 2008, followed by Hardwired…to Self Destruct in 2016. Metallica continues to tour and even hinted at plans for a new album. What that process of recording would look like remains to be seen but I am excited to hear what they come up with next!
With this introduction out of the way, let's get started. I realized pretty quickly that 10 songs wouldn't be enough for this list, so today we will take a look at my Top 20 Metallica Songs.
#20-The Unforgiven-Metallica (Black Album)
This one of the album's slower tracks but its chord progression is considered one of their heaviest ballads featured on the album. The song deals with the theme of the struggle of the individual against the efforts of those who would subjugate him.  Ulrich wanted to try something different with a ballad. The song was released as a single on October 28, 1991, backed with "Killing Time" or "So What?" and reached #15 on the UK Singles chart and #2 on the US Mainstream Rock chart. 
It is a popular song for the band, and the song was given two sequels.
"The Unforgiven II" was released on Reload in 1997, and 11 years later, a third song was released on Death Magnetic, "The Unforgiven III". "The Unforgiven I" and "The Unforgiven III" are structured similarly with a heavy verse and a soft chorus, whereas "The Unforgiven II" had the opposite of a soft verse and a heavy chorus.
#19-Metal Militia-Kill Em All
This is a great way to finish the band's debut album. It's one of the fastest songs on the album and is about heavy metal's way of life and nonconformity. This is one of four songs on the album along with "The Four Horsemen" (see #6), "Jump in the Fire", and "Phantom Lord" that Dave Mustaine has a co-writing credit. He composed the opening riff. My favorite part of the song has to be in the ending which ends with an army marching and bullets ricocheting.
#18-Atlas, Rise!-Hardwired…to Self-Destruct
There were a few other choices of songs I wanted to include from their 2016 Hardwired album, including the title track, "ManUNkind", and "Murder One" were a few I considered, but this might be my favorite from their newest album.  It was released on October 31, 2016, and received a Halloween-themed promotion with a free Hardwired Halloween mask at participating record stores that contained a special download code to be able to access the track 30 minutes earlier than the full public release.
#17-Enter Sandman-Metallica (Black Album)
This is the opening track to their fifth album. The song features three rhythm guitar tracks of the same riff to create a wall of sound.  Hetfield wrote the lyrics which deal with the concept of a child's nightmare. It was their second music video from the band, first from the album. The video shows a child having nightmares and images of an old man with shots of the band playing the song. The child dreams of drowning, falling from the top of a building, covered in snakes, and being chased by a truck where he ends up falling off a mountain.  About halfway through or two thirds through, the child recites a prayer, while being watched by the Sandman. The music video won Best Hard Rock Video at the 1992 MTV Video Music Awards and was nominated Best Cinematography and Best Editing.
#16-Seek and Destroy-Kill 'Em All
I'm probably going to get a lot of hate, putting this song so low on the list. Guys, it's still a great song! The opening riff is instantly recognizable. A friend had me listen to this song, (probably in Guitar Hero Metallica?)  and it was years later before I heard it again, this time in context to the whole album. As soon as it came on, wait this is "Seek and Destroy" isn't it?  Yes, it is! That's how recognizable this riff is. It was the band's first song they recorded in a studio and is their third-most performed song in history, only behind "Creeping Death" (See #5) and "Master of Puppets" (See #4). The song is about feeling the urge to kill, but not literally doing it. During the Kill 'Em All tour, Hetfield joked and said the song was about hunting.  It's said to be heavily influenced by the Diamond Head song "Dead Reckoning". Since the song's debut, Hammett apologized for the unusual pitch of the string bend at 3:47 in the song during the solo. He said it is in fact, a mistake or "bum note".
#15-Damage Inc.-Master of Puppets
This is the first of many songs I'm including from Master of Puppets. This is the album's closing track. The song starts quiet and mellow but about 1:10 the song starts surging before lashing a heavy riff. The full band comes in about 1:30 and gives us one final headbanging song before ending. The album as a whole deals with manipulation in different forms. This song's form of manipulation deals with a corporate level manipulation, how the band had become essentially a corporation and was now on both sides of the equation, being part of the machine but also railing against it. James' lyrics tell us we need to take a stand. As I mentioned earlier, the album's subsequent tour was named after this song with the tragic end of Cliff Burton.
#14-Fade to Black-Ride the Lightning
The song is one of Metallica's quieter songs, but the intro is so melodic. The song begins with an acoustic guitar introducing the song with a beautiful lead guitar segment before the lyrics. About 2 minutes in, the song builds up into full metal. The song's lyrics deal with death and suicidal feelings. James commented on the song in 1991 in an interview with Guitar World saying, "That song was a big step for us. It was pretty much our first ballad, so we knew it would freak people out…Recording that song, I learned how frustrating acoustic guitar can be. You could hear every squeak, so I had to be careful, I wrote the song at a friend's house in New Jersey. I was pretty depressed at the time because our gear had just been stolen, and we had been thrown out of our manager's hose for breaking [stuff] and drinking his liquor cabinet dry. It's a suicide song, and we got a lot of flak for it, as if kids were killing themselves because of the song. But we also got hundreds of letters from kids telling us how they related to the song and that it made them feel better."
#13-Fuel-Reload
This song is the 1997 album's opening track. It was the album's third single released June 22, 1998. It reached #2 on the Australia chart, #3 in Hungary, and #6 on the Mainstream Rock tracks chart. The song was nominated for a Grammy Award for Best Hard Rock Performance in 1999 but lost to Jimmy Page and Robert Plant's song "Most High".
#12-Blackened-…And Justice For All
The intro to this song slowly builds its volume eventually reaching full volume and a kicking guitar riff. The intro was recorded by reversing the guitars and using several overdubs. This is a great way to start their fourth album. This was the first song that their new bass player Jason Newsted helped write. Newsted was starstruck that he was composing a song with James Hetfield, just blown away and amazed that James was not only approving his riff but saying this will be on the next album. The lyrics point to the end of the world. It's debated if the end of the world is because of nuclear war or through pollution. It's likely a mixture of both but with lyrics like "Death of mother earth" and "Color our world blackened" point to more about pollution.
#11-Welcome Home (Sanitarium)-Master of Puppets
This is another Metallica ballad. The intro is haunting and played with down-tuned guitars almost Black Sabbath-influenced. It creates a slow and moody ambiance. The song was based on Ken Kesey's novel "One Flew Over the Cuckoo's Nest" and paints a picture of a patient that is locked up in a mental institution. The lyrics point to the patient "locking" himself in. "No locked doors, no windows barred/No things to make my brain seem scarred" and "Build my fear of what's out there" both point to the idea that the patient is allowed to leave whenever but is too afraid to leave, however, the lyrics "Sleep my friend and you will see/That dream is my reality/They keep me locked up in this cage/Can't they see it's why my brain says "rage" point to the doctors are keeping him from leaving. Either way, it's a great song that starts off haunting and goes into a full rocker as the song progresses.
#10-Sad But True-Metallica (Black Album)
This is my final entry from the Black Album. I first heard this song from a Guitar Hero or Rock Band game (maybe Guitar Hero Metallica?) and Lars' drumming caught my attention. It was the album's fifth single released on February 8, 1993. A music video was released in October of 1992. The song is about blind faith in religion and the lengths people will go to practice their faiths. The line, "I'm inside, open your eyes" points to the idea that God or a god only exists in people's heads. It's been interpreted to be about addiction. I think James hinted at that idea too. There was a time when Metallica was nicknamed "Alohollica".
#9-Am I Evil?-Garage inc.
This song is from a compilation album of cover songs Metallica released on November 24, 1998. There are a lot of great covers like "Turn the Page" by Bob Seger, "Astronomy" by Blue Öyster Cult, and "Tuesday's Gone" by Lynyrd Skynyrd to name a few. This is a Diamond Head cover. It was was originally the B-side of "Creeping Death" released on November 23, 1984, and later released on the Garage Inc. compilation album. The song has been featured in Metallica's live set throughout their career, often a faster and heavier version. The members of Diamond Head have said they are flattered by the cover and the royalties from it have enabled the band to continue.
#8-My Apocalypse-Death Magnetic
This is the closing track to Metallica's 2008 album. It was made available for streaming on the band's official website as well as download on the Death Magnetic website Mission: Metallica on August 26, 2008, and later released as a digital single in the iTunes store. The lyric from the song, "Death magnetic, puling closer still" is what inspired the name of the album. Trujillo said, "It was fast; it had the thrash element of the past." Lars Ulrich said, "We've been enjoying playing 'My Apocalypse' out here on the road but felt like it could use something extra. We decided that it needed a cool intro to set the mood so James wrote one." The intro in Lars' words was cool and I'm glad they added it. It's a great thrasher from beginning to end, my favorite song from the album.
#7-Fight Fire With Fire-Ride the Lightning
This is the opening song on their second album. The album starts with an acoustic guitar before surging into arguably Metallica's fastest song. This was achieved by nimbly tremolo-picked riffs in the verses and chorus and Lars' double bass drumming giving a rhythmic machine gun sound (though not quite as fast as a machine gun). The song seems to talk about nuclear annihilation, describing the world right before and during a nuclear apocalypse. Initially, this was my favorite song on their second album, which isn't easy to say because their entire second album is great but I think I can still safely rank it as my third favorite from the album.
#6-The Four Horsemen-Kill 'Em All\
This is a great song from their first album. It has a fast guitar riff that kicks off right out of the gate! The song was written while Dave Mustaine was still with the band. Originally the song was called "The Mechanix" and was included on their 1982 demo cassette No Life 'Til Leather. The original lyrics were about having relations at a gas station. When Dave Mustaine formed Megadeth, he would often introduce the song as a song he wrote with Metallica. His version, "Mechanix" is the last track of their first album, Killing Is My Business… and Business is Good! "The Four Horsemen" could be a biblical reference. In the book of Revelation, there is a mention of "The Four Horsemen of The Apocalypse" that go in different directions to spread the word of the end of the world. It could refer to a sportswriter in 1924 who referred to The Notre Dame football team's backfield as "The Four Horsemen", or it could simply be a reference to the four members of Metallica. Whatever the inspiration is, it ended created one of Metallica's best songs. One more fun fact, the "Sweet Home Alabama" segment came about after Dave Mustaine had been listening to some Lynyrd Skynyrd. When the band was working on the song, Mustaine played some of "Alabama" because as he says, he was "being a jerk." 
#5-Creeping Death-Ride the Lightning
Honestly, the spots 7-3 can be in any order because they are all great. "Creeping Death" is another great song from their second album. It was their lead single from the album, backed with either "Am I Evil?" (See #9) or "Blitzkrieg". Kirk Hammett wrote the guitar riff for the bridge section when he was just 16 years old. Metallica was inspired for the song by the second half of the film TheTen Commandments which is based on the Bible story of the plagues of Egypt. While watching the scene of the final plague killing every Egyptian first-born child, Cliff Burton remarked "Whoah-it's like creeping death!" as the plague represented by a fog rolling into Pharaoh's palace. The band liked the sound of "creeping death" and decided to write a song about the plagues, with Cliff's remark as the song title." The song's middle section, with its ominous chants of "Die!" set to a Phrygian mode chord progression, was originally written by Hammett while he was in Exodus. I feel I need to point out that Hammett wrote this when he was still with a band called Exodus while James sings about events that happen in the Bible's book of Exodus. It's just fitting!
#4-Master of Puppets-Master of Puppets
This is the album's title track to their third album and their only single from the album. The single was backed with "Welcome Home (Sanitarium)" (See #11). The song starts with a couple of strong chords before going into the song. James explains the song, "deals pretty much with drugs. How things get switched around, instead of you controlling what you're taking and doing, it's drugs controlling you." It was Cliff's favorite song on the album and for good reason. The song is rockin' for the first 3 and a half minutes. The song slows down "Master…master…master…." The song transitions into an almost symphonic metal instrumental piece. The whole song is great but this the song's highlight to me. About 4:45 the heavy guitar chords come in followed by the drums that drown the symphonic segment and kicks back to the main riff. Just saying the song is an understatement! One more fun fact I want to share before moving on. Recently James sings "pancakes" in place of "Fix me" because Cliff Burton once misheard the lyric as "pancakes" according to Charlie Benante, the drummer for Anthrax.
#3-For Whom the Bell Tolls-Ride the Lightning
We are coming back to their second album one more time. The song starts with an ominous bell tolling, like "Hells Bells". The guitar that is played at the beginning, the main riff, is often mistaken as electric guitar, but it is actually Cliff's bass playing with heavy distortion and a wah pedal. Burton wrote the intro before joining Metallica and first played it during a 12-minute jam at  the battle of the bands with his band Agents of Misfortune in 1979. The song changes into an almost march about 1:50 and a little more than 2 minutes in, we get vocals. In 1985, Elektra Records released it as a promotional single, with both an edited and full-length versions. The song is regarded as one of their most popular and by March of 2018, it ranked #5 on Metallica's live performance count. The lyrics are based on the 1940 Ernest Hemingway novel of the same name. The lyrics a story about the process of death in modern warfare and the bloody Spanish Civil War. A lot of the lyrics are pulled from Chapter 27 of the book, in which five soldiers are obliterated during an airstrike after taking a defensive position on a hill.
#2-Battery-Master of Puppets
We come back to their third album for a final time. Yes, I'm aware I was bouncing back and forth between Ride the Lightning and Master of Puppets, but they are both such great albums!  I see a lot of parallels to "Fight Fire With Fire" from Ride the Lightning (See #7). I like both songs for the same reasons. It starts with a quiet acoustic guitar segment until 40 seconds in electric guitar replaces the acoustic guitar. Everyone in the band plays the song in fast motion as a great headbanger. "Battery" refers to angry violence, as in "assault and battery" but there are other interpretations. Some critics would argue that the song is about an artillery battery and interpreted the song as Hetfield singing about a war tactic as the aggressor. A third idea of what the title at least can be about could be a reference to Battery Street in San Francisco which had a lot of the clubs that Metallica played when they were first starting out, "Battery is found in me" could be a reference to how important Battery Street was to them, like "you can take Metallica out of Battery Street but you can't take Battery Street out of Metallica?"
#1-One-…And Justice For All
The final song I want to talk about on this list. This was the very first Metallica song I heard. I first heard it as one of the final songs in Guitar Hero III. It was the final song before the "Battle for Your Soul" boss battle, right before "The Devil Went Down to Georgia" which is the perfect "battle for your soul" song. The song starts with gunfire and a helicopter engine before going into the guitars. The song is an anti-war song that portrays a World War I soldier who is severely wounded. "Landmine has taken my sight/Taken my speech/Taken my hearing/Taken my arms/Taken my legs/Taken my soul/Left me with life in hell" sums up the entire song. The soldier tries holding his breath and clicks his teeth in morse code "kill me". The song slowly builds upon itself getting louder and faster. About halfway through the song, the song goes into full thrash mode with the "landmine has taken my sight" lyrics. The last minute, minute and a half we are treated with one of Hammett's best guitar solos. it's an amazing experience from beginning to end that only gets better when you listen to the S+M version where this song is backed with an orchestra. That version escalates this already amazing song to a new level. I need to listen to more of that, I've only heard "One" and "Master of Puppets" during the S+M concert. I will tell you though, between the orchestra arrangements and the audience participating throughout, is one version you don't want to miss!
Since I went through a Top 20 this week, I will not be including any honorable mentions but there were still a few songs that I wanted to include like "ManUNkind", "Murder One", and "Hardwired" from their most recent album. I almost included the …And Justice For All title track, an almost 10-minute epic. There are a lot of great choices for a Top 20 Metallica list but I hope you still enjoyed the list all the same. What did you think? Do you agree with my list? Would you rearrange it? What songs would you include on your list? Share your thoughts in the comments below.  Before you go, don't forget to follow Awesome Albums on Instagram and Twitter, like on Facebook, and Subscribe on both YouTube and BitChute for music-related content.  Also, don't forget to come back next Tuesday, for another list for Top "Ten" Tuesday!