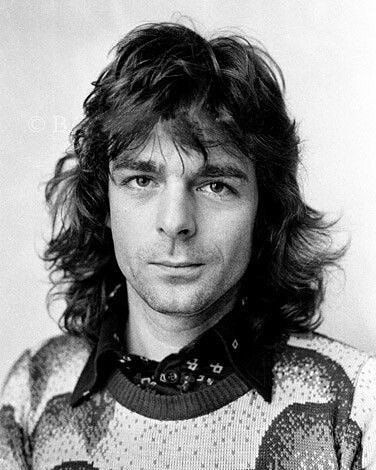 Hello and welcome back to Top "Ten" Tuesday. I'm going to be upfront about this list, it's not going to be as good as my normal lists. I'll explain after the intro before going into the list.  Today would've been Richard Wright's 77th birthday if he was still with us.  Richard Wright was an English musician, composer, singer, and songwriter best known as a founding member and keyboardist of Pink Floyd.
Richard William Wright was born in Middlesex, England on July 28, 1943. He taught himself to play guitar, trumpet, and piano at age 12 while recuperating with a broken leg.  His mother helped and encouraged him to play the piano. He took private lessons in musical theory and composition at the Eric Gilder School of Music and became influenced by the trad jazz revival, learning trombone and saxophone as well as piano.  Uncertain about his future, he enrolled in 1962 at Regent Street Polytechnic (now part of the University of Westminster) where he met Roger Waters and Nick Mason. The three got together and formed a band with a classmate named Clive Metcalf called Sigma 6.
Wright didn't have a definitive instrument at this time, playing the piano if a pub had one otherwise he'd settle on trombone or rhythm guitar. He moved in with Waters and Mason in Stanhope Gardens and began serious rehearsals to become a professional group. Wright moved out after about a year and traveled to Greece for a sabbatical. Their landlord, Mike Leonard, purchased a Farisa organ and briefly replaced Wright in the band. However, the organ became Wright's main instrument. Through a friend, he arranged the group's first recording session in a West Hampstead studio, just before Christmas 1964. Guitarists Bob Close and Syd Barrett joined the band and the group became Pink Floyd.
By 1965, Pink Floyd had become regulars on the underground live circuit in London with the lineup Barrett, Waters, Mason, and Wright (Klose left the band around July of that year). While Barrett became the primary songwriter and lead singer, Wright played a supportive role, but sang occasional lead and did write a few songs of his own. Before getting a road crew, Wright was responsible for unloading the gear at the end of each gig.
Pink Floyd released their first album The Piper at the Gates of Dawn on August 4, 1967. Wright was close friends with Barrett and when Barrett left in 1968 because of mental health issues, Wright considered leaving Floyd to form a new group with him but realized it wouldn't have been practical. Wright stayed with Pink Floyd and was present on every album the band released throughout the 1970s, occasionally singing and even acting as a co-writer. The tail end of the '70s was hard for Wright. Waters began writing a majority of the music and Wright didn't receive any songwriting credits on Animals (1977). By the time they started working on The Wall (1979) Waters was frustrated with Wright for not contributing enough yet still claiming an equal share of production royalties. Wright refused to catch up on the recording backlog as he was dealing with a divorce which took a toll on him. Waters was going to sue wright but decided it would be easier for Wright to leave the band at the end of the project which Wright agreed to.
Pink Floyd toured The Wall in 1980 and 1981 with Wright considered a touring or session musician. When the Pink Floyd-The Wall film was released in 1982, directed by Alan Parker, Wright refused to watch the premiere of the film. In 1983, Pink Floyd released The Final Cut, the only album released by the band that did not feature Richard Wright.
Wright returned to Pink Floyd as a session musician for the album A Momentary Lapse of Reason. He was not able to become a full member of Pink Floyd again until 1994's The Division Bell. On this album, he co-wrote five of the songs and even sang lead on "Wearing the Inside Out".
On July 2, 2005, Richard Wright, David Gilmour (who joined Pink Floyd in 1968), and Nick Mason, reunited with Roger Waters (who had left the band in 1985) to perform a short set at the Live 8 concert in London. This was the first time all four were together on one stage since The Wall tour.
Richard Wright passed away from lung cancer at his home in London on September 15, 2008, at the age of 65.  At the time of his death, he had been working on a new solo album, which was thought to comprise a series of instrumental pieces.
In 2014, David Gilmour and Nick Mason got together to make one more Pink Floyd album, The Endless River. The album contained mostly instrumental pieces recorded during The Division Bell sessions. Nick Mason described this album as a tribute to Wright. He said, "I think this record is a good way of recognizing a lot of what he does and how his playing was at the heart of the Pink Floyd sound. Listening back to the sessions, it really brought home to me what a special player he was." Mason also said that unreleased sessions Wright recorded for Gilmour's solo projects could appear on Gilmour's future solo albums.
With the intro out of the way, it is time for my list. The reason why I said this list isn't as good as my other list is, going through Pink Floyd's discography, I learned how few songs Wright actually sang by himself. There were a handful of songs that he co-sang with either Barrett or Gilmour, but very few by himself. Ordinarily, I would avoid songs that the respective artist co-sang, instead focusing on the songs that were sang entirely by or mostly by the article's primary subject. However, if I did that for this list, I would have maybe five songs entirely sang by Wright. So this list is one of the few cases where co-sang songs will be included. My honorable mentions will include songs that were likely sung by another member but features important keyboard tracks by Wright that helped bring that song to life. This list is my Top 10 Richard Wright Pink Floyd Songs.
#10-See-Saw-A Saucerful of Secrets
This is Wright's second vocal spot on their 1968 album and the third song in their discography written by him. The song tells a story of a strangely troubled brother-sister relationship. The song features interesting instruments including the Farisa organ, xylophone, and Mellotron. I must be honest, this is not my favorite song and wouldn't have been considered if I had more options to go with.  The song had a working title as "The Most Boring Song I've Heard Bar Two". The song was written as an attempt to write a song in the fashion that Syd would write, from a child-like point of view.
#9-Wearing the Inside Out-The Division Bell
This the last song that Wright wrote for Pink Floyd, not counting the credits posthumously on The Endless River. Lyrics were written by Anthony Moore but the music was composed by Wright. The song had a working title "Evrika". The song is often interpreted to be about depression. It's a quiet, somber piece but the lyrics are brilliant and related. Gilmour's solo, though not his best, is still memorable. In my opinion, it is still one of the weaker songs on the album musically, but there are so many positive things to say about it that it is a significantly stronger piece than what was my #10 pick.
#8-Paint Box-Single
This is a great song written and sung by Wright. It is one of the band's first singles released on November 18, 1967, backed with "Apples and Oranges", a fun Barrett song. The song has a great bass line, and immediately recognizable drum fills. The piano solo is panned around the stereo spectrum. he also doubles a piano track in addition to the ordinary acoustic piano. This song is a good example of the early psychedelic Floyd before moving in a more prog-rock direction.
#7-Matilda Mother-The Piper at the Gates of Dawn
This is the first song on my list that features co-lead vocals. Richard Wright sings the first two verses and choruses and Syd Barrett sings choruses with Wright and sings the final verse. This was the first song recorded for the album. The lyrics quote fragments of fairy tales as read from a book. Barrett originally wrote the song around Hilaire Belloc's "Cautionary Tales", a series of stories about naughty children receiving their punishment, which was often a gruesome one. One of the children in the stories was named Matilda. The song had to rewritten and re-recorded when Belloc's estate denied permission to use the original lyrics. There was a 40th-anniversary reissue of the album that features part of the lyrics from Belloc's stories, however, the chorus is the same as the standard version. The song begins with an unusual bass and organ interlude, with very little guitar throughout.
#6-Stay-Obscured by Clouds
Not a lot of information exists for this song. It was written by Wright and Waters, sang by Wright for their 1972 album. The album acts as the soundtrack to the film La Vallee. The song deals with a one night stand or possibly a groupie. It's a mostly quiet song but it has a "bouncy" guitar solo thanks to Gilmour played on top of Wright's piano.
#5-It Would Be So Nice-Single
This is another early single released by the band, released in 1968. It was written and sang by Wright backed with "Julia Dream" (See Honorable Mentions). This song was sadly left off the 1971 Relics and was only available on The Best of the Pink Floyd and a bootleg Dark Side of the Moo (no that's not a typo). Despite being pictured on the sleeve in Sweden, Barrett does not perform on either side of the single. The song didn't get a lot of recognition because the band hated the song, they thought it was too poppy. I rather enjoy the song though. When I first heard it, I thought the chorus was interesting because I thought I had heard "sad" and "nice" at the same time. Continued listening I realized that was just me reading something into the song that wasn't there. I still enjoy the song though. It is a very catchy upbeat tune.
#4-Burning Bridges-Obscured by Clouds
This song is another duet. Wright and Gilmour sing this song together. The music was written by Wright and the lyrics were written by Waters. It's not like "Matilda Mother" where Wright sings one verse and Gilmour sings another verse. These two seem to be singing together but I hear Wright's voice more in the song so that's why I'm including it here. The piano is very similar to "Mudmen", an instrumental track on the same album written by Wright and Gilmour.
#3-Summer of '68-Atom Heart Mother
I am not a fan of Atom Heart Mother, but the album does have a fanbase who think it's Floyd's best album. Outside of listening to the first couple minutes of the album's title track, this song is the only song I would say I like on the album. It was written and sung by Wright for their 1970 album, recorded at Abbey Road Studios in July of 1970. It's lyrics describe Wright's meeting with a groupie. The song starts with a peaceful piano. The music builds up during the chorus when he asks the groupie how do they feel about what they're doing, "have you time before I leave to greet another man?" The Abbey Road Sessions Pop Orchestra plays the brass sections of the song in between the chorus and the song's next verse.
#2-Astronomy Domine-The Piper at the Gates of Dawn
This is the opening track for their debut album. The original working title was "Astronomy Domine (An Astral Chant)". The word "Domine" is a vocative of "Lord" in Latin and is often a word frequently used in Gregorian chants. This song was written by Barrett and features Wright and Barrett singing together. This was seen as Pink Floyd's dabble into space rock along with the instrumental track "Interstellar Overdrive". The song features Peter Jenner reading the names of the planets, stars, and galaxies through a megaphone. They mention Jupiter, Saturn, and Neptune as well as Uranus' moons Oberon, Miranda, and Titania as well as Saturn's moon Titan. It's a catchy, trippy song that shows Pink Floyd during their space rock and psychedelic rock days of their first album.
#1-Remember a Day-A Saucerful of Secrets
This song is probably my favorite song sang by Richard Wright. It is the second track on their second album. Their second album is notable as a transition album for the band. Their first album which was predominantly Barrett led and psychedelic. Their second album is where Barrett was being phased out of the band. Gilmour came in to fill the gaps that Barrett wasn't able to do, and Barrett left before the album was finished. This was the only song that Syd Barrett plays guitar on, aside from "Jugband Blues", the only song on the album he wrote and sang. The song is a mix of psychedelia mixed with a hint of their prog sound they will be known for in just a few years. The song is a dreamy, poetic one about nostalgia for the lost paradise of early childhood. It's a great song that didn't get a lot of love from Floyd. They only performed the song live once, as an encore in May 1968, and again by David Gilmour in September 2008 in memory of Wright.
Before clicking off of this article, I have a few honorable mentions I want to go through. I have seven this time around instead of the usual five. I did this because there are a lot of great Floyd contributions that Wright made, but didn't feel right to include in the above list. As usual, these songs are going to be in chronological order.
Honorable Mentions:
Julia Dream-Single
This is a song written by Roger Waters and features Gilmour on lead vocals. In fact, this is Gilmour's first Floyd song he sang lead vocals. The single was released in 1968, as the B-side to "It Would Be So Nice" (See #5). Before listening to this song today, I didn't remember who sang it. I just remember Richard Wright's backing vocals, "Julie Dream, dreamboat queen/Queen of all my dreams." It's a slow song with an ambient Mellotron played by Wright. The song was later included on several compilation albums including The Early Years 1965-1972 box, The Best of the Pink Floyd, Relics, and the Early Singles disc included on the Shine On box set.
Echoes-Meddle
The only reason this song is only an honorable mention is that the song was written by all four members and shared vocals by Wright and Gilmour, but has more instrumental passages and ambient sound effects rather than vocals. I still wanted to include this because of Wright's musical contributions to the song. The "ping" which was created as a result of an early experiment early in the Meddle sessions was produced by amplifying a grand piano and sending it through a Leslie speaker and a Binson Echorec unit.  There are so many other notable contributions by Wright in this 23-minute epic to mention, but since this song is predominantly a group effort, it's a lot harder to pick out one member's contributions without going pages deep analyzing a song this long.
Time-The Dark Side of the Moon
This song is an honorable mention only because Gilmour sings most of the lyrics. Gilmour sings all the verses as well as the "Breathe (Reprise)" segment of the song. Wright sings the bridges. It was one of the first Floyd songs I heard and still think it is one of their best but because it is mostly a Gilmour song with some Wright in there, that is why it is an "honorable mention".
The Great Gig in the Sky-The Dark Side of the Moon
I am not a big fan of Clare Torry's vocals in this song. They are full of emotion and it's still a beautiful song, but it's not for me. I included this piece though for Richard Wright's piano in the intro. The song began as a chord progression known as "The Mortality Sequence" or "The Religion Song". Richard Wright said, "'Great Gig in the Sky?' It was just me playing in the studio, playing some chords, and probably Dave or Roger saying 'Hmm…that sounds nice. Maybe we could use that for this part of the album.' And then, me going away and trying to develop it. So then I wrote the music for that, and then there was a middle bit, with Clare Torry singing, that fantastic voice. We wanted something for that bit, and she came in and sang on it."
Us and Them-The Dark Side of the Moon
The last song I want to mention from The Dark Side of the Moon. The song was sung by Gilmour but was written by Wright (music) and Waters (lyrics). This is the longest song on the album at 7:50 in length. It is a quiet song with a prominent jazz influence. Wright introduces the song with harmonies and Hammond organ and put a piano chordal backing and a short piano solo afterward on the arrangement. It had a working title of "The Violent Sequence" and was intended to be used in Michelangelo Antonioni's film Zabriskie Point in 1969. The original piece was rejected because it was too sad and was hoping for something similar to "Careful with That Axe, Eugene". Roger Waters recalled what Antonioni said in an impersonation, "It's beautiful, but it is too sad, you know? It makes me think of church." The song was shelved for a few years and was brought back when the started working on this album.
Shine On You Crazy Diamond, Parts 6-9-Wish You Were Here
If I were making a Top 10 Pink Floyd songs list, this would be close to #1 but as far as Richard Wright focused list, it has to be an honorable mention because it features Waters on lead vocals, Wright is co-writer. Before talking about "Parts 6-9" or "Part 2" as some call it. I want to start with "Parts 1-5" first or "Part 1". Shine On You Crazy Diamond bookends their 1975 album. Part 1 of "Part 1" features a quiet intro from Richard Wright. The section begins with a fade-in of chords created with synthesizers and wine glasses. The wine glasses fade into a four-note theme, known as "Syd's theme" by fans. I can go on for a while talking about "Parts 1-5" but the intro is predominantly Wright. 
Moving into "Parts 6-9" the 9th part was written entirely by Wright. It's a lengthy synthesizer solo. The solo plays throughout the part until the song fades out at the end. Pay close attention to the last few seconds of the song. Richard Wright plays a small sample of "See Emily Play" on keyboard, one of Barrett's signature Floyd songs, as a tribute/shoutout to their ex-band member and friend. I mentioned earlier that Wright and Barrett became close and the subtle touches like this at the end of the song escalate the song to a whole new level.
Cluster One-The Division Bell
This is an entirely instrumental track from The Division Bell. It is the first Pink Floyd song credited to Wright/Gilmour since "Mudmen" (See #4 about "Burning Bridges"). It was never performed live but portions were included in the sound collage played before their 1994 concerts. There is a noise heard at the beginning which confused a lot of fans of what it was. Some fans thought their copy of the album was faulty. According to an interview with recording engineer Andy Jackson, the noise is electromagnetic noise from solar wind interference with Earth's magnetosphere, and lightning strikes radio emissions interfering with the ionosphere; this has been mistaken for Earth's crust shifting and cracking. That sound goes on for the first minute getting slightly louder before the ambient sounds come in. The rest of the piece is a quiet piano and electric guitar sound. It's a very mellow, peaceful instrumental track that plays for almost 6 minutes.
I admit the "honorable mentions" are a little different than what I would normally include on my list, but I wanted to put them on the main list but for reasons I simply couldn't. I hope you were still able to enjoy the list. What did you think?  Do you agree with it? Would you rearrange it?  What songs would you include on your list?  Share your thoughts in the comments below.  Before you go, don't forget to follow Awesome Albums on Instagram and Twitter, like on Facebook, and Subscribe on both YouTube and BitChute for music-related content.  Also, don't forget to come back next Tuesday, for another list for Top "Ten" Tuesday!