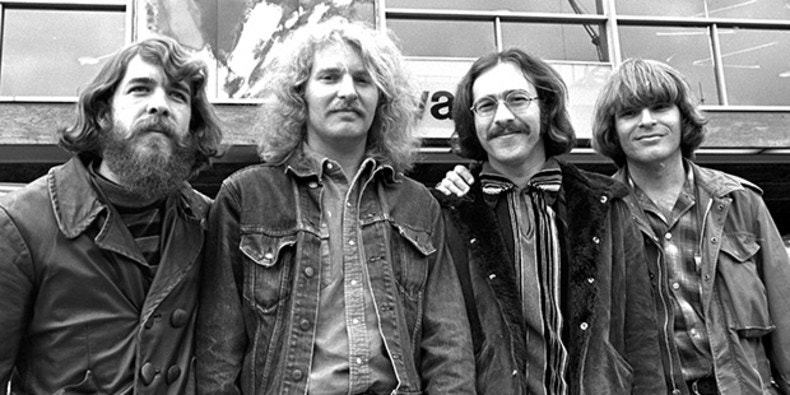 Creedence Clearwater Revival, or Creedence for short was one of the biggest acts of the late '60s and early '70s.  Between 1968-1970, they released 6 studio albums and then their final album in 1972 before disbanding.  You might wonder how it's possible in just 3 years to make 6 albums.  I wonder that myself, that averages to two albums a year.  And that's pretty crazy but in that time it wasn't unheard of.  The Beatles made two albums in 1964, 1965, and 1967.  Creedence does the impossible.  Their debut album was in 1968.  They released two albums in 1970, Cosmo's Factory and Pendulum.  Now going back to 1969, they released not one, not two, but THREE studio albums!  You might then ask, are they any good?  Releasing three albums in one year, surely they'd run out of steam part way through making their second album in a year, but all three albums were huge successes for them. In fact, it was when they took a year off is when their music really suffered.  Most Creedence fans don't have a lot of nice things to say about their 1972, Mardi Gras.  There was a lot of turmoil going on in the band during that time even to the point where guitarist and lead singer John Fogerty's brother, Tom, had left the band.  Unfortunately that was the end of this iconic American band, however before that they still left us with 6 amazing albums one after another.  Today I am going to take a look at their studio albums and pull out my personal top 10 Creedence Clearwater Revival songs.
#10-Pagan Baby-Pendulum
There's not a lot of info on this song but I'll try my best to talk about it.  When I first heard the first few seconds, I thought I was listening to "Down on the Corner" (See #9) as the soft "ch ch" of the hi-hat but then you get some distorted electric guitar instead of that iconic bass line and you know you have something different.  It's a great energetic song with a great guitar solo.  We often overlook John Fogerty as a guitarist but he's actually really good and this song will definitely help you realize that.
#9-Down on the Corner-Willy and the Poor Boys
Like I said on Pagan Baby (See #10), the first two seconds of both songs sound nearly identical, but then the song goes into an iconic bass line I know you've heard in commercial after commercial, was it Walgreens?  The song does a great job of painting a picture of…well the picture on the front cover of the album.  The front cover of the album features Creedence portrayed as the fictional jug band of Willy and the Poor Boys performing on a street corner outside of Duck Kee Market.  What's a jug band? It's a band playing a bunch of conventional and homemade instruments, like blowing into a jug for example or using a washboard as an instrument.  By the way that's drummer Doug Clifford playing the washboard in the picture.  The song not only has a fun story, an iconic bass line, but also has some great vocal harmony which is unusual for a Creedence song, but Fogerty did all the singing.  He overdubbed a bunch of vocal tracks to create the effect that he was harmonizing with himself.  A very effective technique that brought a lot to this already great song.
#8-Hey Tonight-Pendulum
Some great guitar work kicks off this song.  The song was released as a single in January of '71 along with 'Have You Ever Seen the Rain?' and peaked at #8 on the Billboard Hot 100 in the US.  What else do I need to say about this one?  It's just a classic Creedence song that simply deserves to be on a Creedence Top 10 list, it's just a good rockin' song.
#7-Green River-Green River
I don't know how many songs on this list I'll repeat a similar phrase to, "another great Creedence song" or "here's another song I know you'll recognize immediately" but Creedence is just good at coming up with recognizable and popular songs.  Green River is definitely both those I quote.  It's another great Creedence song that I know you'll recognize immediately.  The lyrics are actually based off a camp that John Fogerty went to as a kid. He went there every year with his family until he was ten years old and even learned to swim there.  He combined that with name of a soda pop-syrup label that he was able to get at the soda fountain, and his was called Green River, a lime flavored drink.  Not only is this song full of fond memories of John Fogerty's childhood, he has even said that this album is his favorite Creedence album because it sounds like a '50s album that was made by Elvis Presley or Johnny Cash coming out of Sun Records in Memphis.  I can definitely hear that style in the music but I also see why it's his favorite Creedence album, it has one great song after another.
#6-Up Around the Bend-Cosmo's Factory
The songs starts off with a great high pitched guitar riff and jumps into another great Creedence rocker.  The song was released as a single in April 1970 along with "Run Through the Jungle" which is another great Creedence song, interesting sound effects in that one. That single was a great success for the band selling over a million copies.  The song might've been more successful if there wasn't a misunderstanding to British audiences, where "going around the bend" means you're going crazy.  The band had to explain to British press that it had nothing to do with dementia or mental health problems.  Although, even if the song was about mental health, that doesn't make the song any less great in my opinion and still would've been on my Top 10 list.
#5-Born on the Bayou-Bayou Country
When people describe Creedence, the term Swamp Rock is often used, well it's because of songs like this.  This song in my opinion, is what swamp rock is all about.  Swamp rock is a distinct genre that drew on 1960s rock than on the 1950s rhythm and blues sound that helped defined swamp pop.  Swamp pop's sound relies on highly emotional, lovelorn lyrics, honky-tonk pianos, and undulating bass lines, bellowing horn sections, and a strong rhythm and blues backbeat. That's a brief definition anyway.  While this song doesn't have a horn section or any of that, it's just a dirty, guitar distorted song about a bayou, or swamp. What can be more swamp rock than a rock song about a swamp?  It's the literal definition of the song.  The funny thing though, Fogerty had never been to a bayou when he wrote the song.  He certainly had me fooled, but some good research will make you sound knowledgable to almost anything.  Sometimes I wonder if my readers and viewers forget that I never actually lived through any part of the 1960s…or '70s…or '80s, yet I try my best to paint a picture of what life was like through the music of the era.  One more fun fact with this song before moving on, while Fogerty considers Green River his favorite CCR album, this is his favorite CCR song.  And I completely understand why, it's a great piece and definitely deserving to be on a Top 10 list.
#4-Fortunate Son-Willy and the Poor Boys
As for Creedence songs, you can't get any more iconic than Fortunate Son.  In fact, it's hard to find a more iconic song of the 1960s.  The late 1960s is full of division in America.  Soldiers are fighting in Vietnam, the counterculture rises up, speaking out against the war and many, many songs were written about it.  Fortunate Son was one of many Vietnam War protest songs written.  Interestingly, the song is often misinterpreted as a patriotic anthem in the same way Bruce Springsteen's 'Born in the U.S.A.' is.  Although, unlike many folks in the counterculture, at least, CCR was supportive of the soldiers fighting there. The song is sung from the perspective of one of the brave men who went overseas to fight for our country because he's not a "Sentator's son".
#3-I Heard It Through the Grapevine-Cosmo's Factory
The longest song in CCR's catalogue at over 11 minutes.  The song is often seen as an opposite to the Cosmo's Factory opening track's sense of adventurousness, turning Motown's sophisticated dance song into a droning, claustrophobic blues song.  Another interpretation takes the song as a murder ballad, the longer the song goes on, the more the feeling of dread increases.  I suppose I can see it from that standpoint, but it's just a great immersive piece that Creedence did.  The second half of the song has a great jam vibe.  Bassist Stu Cook explains "Each album had a longish track on it, but they were never jams, per se.  'Heard It Through the Grapevine' had a little jammy character to it, but they were pretty structured.  There was no space to noodle.  Live, there was a little bit of noodling, but in the studio we always tried to nail the arrangement." So basically, it may sound like a jam song, but there actually is structure.  And maybe that's why I like this song as much as I do, it has that perfect balance of "noodling" and structure.  It's just a delight to listen to, and highly recommend anyone who hasn't heard this song, to give it a listen.
#2-Bad Moon Rising-Green River
This song was huge for the band.  It was the lead single from Green River backed with "Lodi" another great song and reached #2 on the Hot 100 on June 28, 1969 as well as reaching #` in the UK Singles Chart for three weeks in September.  Fogerty reportedly wrote the song after watching 'The Devil and Daniel Webster'. He was inspired by a scene in the film involving a hurricane and Fogerty claims the song is about "the apocalypse that was going to be visited upon us."  I can definitely hear that in the lyrics, "I hear hurricanes a blowing, I know the end is coming soon." And speaking of the lyrics, the lyrics of "There's a bad moon on the rise" is often misinterpreted to "There's a bathroom on the right."  I adore misunderstood lyrics, especially when they are strange and funny and though this song would've still been ranked highly on my list, that factor still helped seal this song at #2 on this list.  In fact, I almost ranked it #1, as cliche as that might be but there was one more I like slightly more (and I do mean slightly).
#1-Ramble Tamble-Cosmo's Factory
This song has so much going for it.  The song starts off a jaunty country riff that sounds almost like James Brown once the band kicks in and then switches to double time rockabilly song.  The song explores a little bit of psychedelia with a nearly four minute wall of sound.  The song has some great subtle piano during the instrumental break that you have to really listen for.  Another thing during the instrumental break, more obvious than the piano, is the constantly changing tempo.  The tempo is slowly increasing as the song continues while a lead guitar slowly fades in over the wall of sound.  The lyrics are great too pointing to frustrations around the house, then the second verse is outside the house, in the neighborhood, then the final verse is about the frustration over the US as a whole.  Such a great song with so much going for it, and was the only song on the album not previously released as a single.
This was a difficult list to come up because trying to narrow down because they recorded about 60 songs and so many of them were good.  It hurt not including all the songs I wanted to into my top 10, so I included a few more honorable mentions listed below in chronological order.
Honorable Mentions
Suzie Q-Creedence Clearwater Revival
It's hard to talk about Creedence songs and not bring up Suzie Q.  The song was the band's only Top 40 hit not written by Fogerty.  This was their first of their big hits.  Interestingly the single was split into parts one and two for its respective A and B sides, with the jam session during the coda omitted in part one.  Instead, it fades out with the guitar solo right before the coda, which fades into with part two on the B-side. The reason why the song is so long was according to John Fogerty,  he tried to get the song played on KMPX, a funky progressive rock radio station in San Francisco, which is why it was extended to eight minutes.
Proud Mary-Bayou Country
Another huge Creedence song that almost made my top 10 list.  The song was a major hit for the band peaking at #2 on the Billboard Hot 100 in March, the first of five non-consecutive singles to peak at #2 for the group. This was the A side with 'Born on the Bayou' which is powerful combination to have both of those songs together, but in my opinion every song on Bayou Country is great but I suppose this duo makes the most sense.  The song was later covered by Ike and Tina Turner in 1971, and did nearly as well reaching #5 on the Billboard Hot 100 and even won a Grammy.
Poorboy Shuffle/Feelin' Blue-Willy and the Poor Boys
I put these two together because "Poorboy Shuffle" leads into "Feelin' Blue".  Poorboy Shuffle has a great harmonica bluesy riff.  The sound is fitting for the concept of Willy and the Poor Boys.  I can just imagine this jug band playing this, especially since John Fogerty does have a harmonica on the front cover.  The thing I want to point out is in the last few seconds of instrumental track, listen to Clifford's drumming.  He maintains a beat throughout the whole piece, but then out of nowhere a whole new drumbeat fades in bringing us into Feelin' Blue.  It has a slow beat and the lyrics sing of depression and then the chorus comes in with "Feelin' blue, blue, blue, blue, blue".  Honestly the lyrics are kinda depressing, but I still enjoy the song and I have a weakness for song transitions so this gets me every time I hear it.
Have You Ever Seen the Rain?-Pendulum
The B Side to Hey Tonight and almost made my list, probably at #11, I'm not sure.  The song reached #1 in Canada, and #8 in the US.  The Pendulum album as a whole was the first notable appearance of piano.  We have heard it occasionally on Cosmo's Factory but here piano and organ became just as prominent an instrument for Creedence as guitar, so this song does a great job showing how Creedence has evolved as musicians in just three short years.  Not saying they got better or worse in those three years, they made too many great songs to say that but it was interesting to hear the style of music evolve in that time.  Another great example of an organ centered Creedence song, give 'Born to Move' a listen.  It's another great organ centered Creedence song, and it's from the same album so that's two reasons to get Pendulum. Although like I said earlier, they made one solid album after another so it probably doesn't matter what album of theirs you buy first, you're probably going to enjoy it (unless it's Mardi Gras).
It's Just a Thought-Pendulum
Another great song from Pendulum with a lot of organ and piano.  Along with the organ, Stu Cook's bass is very prominent and even has a brief bass solo in there too.  The song ends with some great cymbal work from Doug Clifford as it fades out while Cook jams out in tune with him.  Like I said when talking about 'Have You Ever Seen the Rain?' the album has a lot of great experimentation on it and it's so good!
Sweet Hitch-Hker-Mardi Gras
Alright, I hated on Mardi Gras enough.  Is the album awful? Yeah, it's not that good.  AllMusic gives it 1.5/5 stars.  Well that's a critic's perspective.  The album was just a victim of the band's power struggles in 1971-72.  Like I said at the beginning of the article, Tom Fogerty (John's brother) left the band before releasing this album.  That might've been part of the reason why the album didn't do too well but the bigger reason was the reason WHY he left.  He had a desire to play a bigger part in the band, since John was their only singer, songwriter, and business manager.  So since Tom left for that reason, he more or less forced Cook and Clifford to write and sing songs for the album. So Each of the three contributed to three songs, and Fogerty sang a cover of a fourth song, 'Hello Mary Lou' which is actually a pretty good cover.  Sweet Hitch-Hiker is probably the best song on the album and it is the closest to a classic Creedence song on the album.  Although I could be wrong there, I don't listen to Mardi Gras as much as the other Creedence albums for the reasons I mentioned.  But at the same time, since I threw a lot of shade at it, I wanted to balance that out and say this song from that album is actually pretty good.
What did you think of this Top 10 list?  Do you agree with my picks? Would you rearrange the order?  What Creedence songs would you put on your top 10 list?  Put them down in the comment section below!  Also feel free to take a look at some of my previous Top "Ten" Tuesday lists, like my "Top 10 Artists Who Should Be Inducted into the Rock and Roll Hall of Fame".  And don't forget to come back next week for another list on Top "Ten" Tuesday!
Top 10 Artists Who Should Be Inducted into the Rock and Roll Hall of Fame