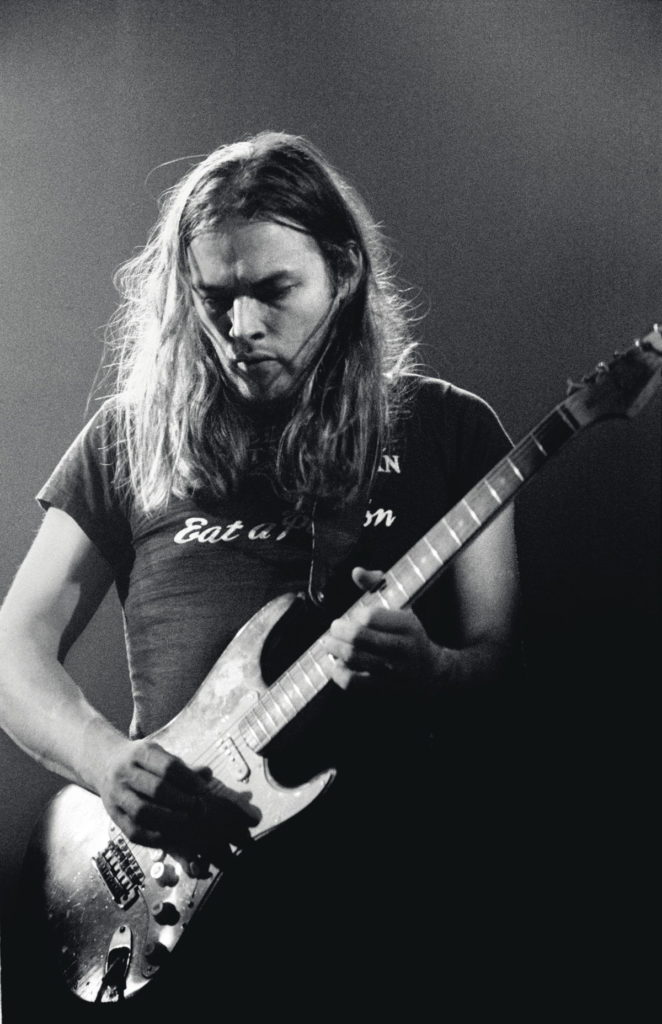 Hello and welcome back to Top "Ten" Tuesday. It used to be a weekly list uploaded on Tuesday, then became every other week, but I acknowledge I haven't posted a list in a month. I apologize, life gets busy sometimes. Today's list is to celebrate David Gilmour's 75th birthday the other day (March 6).  David Gilmour is an English musician who was the guitarist and co-lead vocalist of Pink Floyd.
Gilmour was born on March 6, 1946, in Cambridge, England.  His parents encouraged him to pursue his interest in music, and in 1954 he bought his first single, Bill Haley's "Rock Around the Clock". After hearing "Heartbreak Hotel" by Elvis Presley and "Bye Bye Love" by the Everly Brothers, he gained an interest in playing guitar. He borrowed a guitar from his neighbor, but never gave it back. Gilmour started teaching himself to play using a book and a record by Pete Seeger. At age 11, Gilmour began attending Perse School on Hills Road, Cambridge, which he didn't enjoy. Despite the lack of enthusiasm, he met Syd Barrett and Roger Waters, who attended Cambridgeshire High School for Boys, all situated on Hills Road.
In 1962, Gilmour began studying A-Level modern language at the Cambridgeshire College of Arts and Technology. While he didn't finish the course, he learned to speak fluent French. Barrett also attended the college and spent his lunchtimes practicing with Gilmour. Later that year, Gilmour joined Jokers Wild. They recorded a one-sided album and a single at Regent Sounds Studio, in West London, but only 50 copies of each were made.
In August 1965, Gilmour performed around Spain and France with Barrett and other friends performing Beatles songs. Gilmour toured with Rick Wills and Willie Wilson, formerly of Jokers Wild under the name Flowers, then Bullitt but was not commercially successful. While in France, Gilmour contributed lead vocals to two songs on the soundtrack of the film Two Weeks in September, starring Brigitte Bardot. In May, Gilmour briefly returned to London to search for new equipment. During his stay, he watched Pink Floyd record "See Emily Play" and was shocked to find that Barrett, who was beginning to suffer mental health problems, did not seem to recognize him.  When Bullitt returned to England later that year, they were so impoverished that their tour bus was empty and had to push it off the ferry onto the landing.
In December 1967, Nick Mason invited Gilmour to join Pink Floyd to cover for Barrett if he has one of his episodes. Gilmour accepted. They planned to keep Barrett in the band as a non-performing songwriter, but by March of 1968, Barrett had become too difficult to work with and he agreed to leave the band. Pink Floyd's lineup became founding members Roger Waters, Nick Mason, Richard Wright, and the new guitarist Gilmour. Gilmour joined the band in time to record on the band's second album, Saucerful of Secrets, though he wasn't present on every song. His first full album with the band was More, a soundtrack album for a movie of the same name released in 1969. Next was a half live/half experimental album Ummagumma, also in 1969 followed by Atom Heart Mother, in 1970. By this point, they had no material to work with and no clear idea of the album's direction, the band devised a series of novel experiments which eventually inspired the song "Echoes", a 23-minute song released on their 1971 album, Meddle. This album was considered a transitional album between the Barrett-influenced era and the era that became prominent on the group's biggest albums. Next was Obscured by Clouds in 1972. It was based on their soundtrack for the French film La Vallée, written and directed by Barbet Schroeder.
In 1973, the band released its biggest album, The Dark Side of the Moon. It became one of the greatest selling albums of all time selling over 40,000,000 copies worldwide. After Wish You Were Here, in 1975, Roger Waters started to take more control of the band, writing and singing lead on most of Animals (1977) and The Wall (1979). Richard Wright was fired from the band during the making of that album. The relationship between Gilmour and Waters deteriorated during the making of the Wall film and the final Waters era album, The Final Cut (1983).
Waters left the band in 1985 leaving only Gilmour and Mason to carry on with the band. They responded with a press release that they intended to continue without him. Gilmour took control of the group and produced the album A Momentary Lapse of Reason in 1987 with contributions from Mason and ex-member Wright. Gilmour felt that the Floyd albums have become too lyric-driven under Waters' leadership and attempted to "restore the balance" of music and lyrics on Lapse of Reason. Richard Wright legally rejoined Pink Floyd in 1994, just in time for The Division Bell released that year with Wright's first vocal spot since 1973.
After the release of The Division Bell, Pink Floyd reunited in 2005 for Live 8, a string of benefits concerts that coincided with the 20th anniversary of Live Aid, a benefit concert held in July 1985 to raise awareness for the hundreds of thousands of people starving to death in Ethiopia. Live 8 was the first time that Roger Waters joined Gilmour, Wright, and Mason on stage in 24 years. They dedicated "Wish You Were Here" to Syd Barrett who was absent from the band and died in 2006. After Richard Wright passed away in 2008, Gilmour said it would be impossible to have another reunion. On November 7, 2014, Pink Floyd released The Endless River using unreleased compositions from Wright so that way Wright could still contribute to the group's final album. Gilmour said, "I think we have successfully commandeered the best of what there is…It's a shame, but this is the end." There was no supporting tour as Gilmour felt it was impossible to tour without Wright. Mason said in 2018, Gilmour and Waters continued to be "at loggerheads" and argued over reissues: "I think the problem is Roger doesn't really respect David. He feels that writing is everything, and that guitar playing and the singing are something that, I won't say anyone can do, but that everything should be judged on the writing rather than the playing."
With my long intro out of the way, let's get started. There were too many songs to go with a standard Top 10 list, so here is my list of my Top 20 David Gilmour Songs. These songs will only feature songs that Gilmour sang lead vocals, so any song that features Waters or Wright singing a major section of the song or singing in harmony will not be included on this list. Unfortunately, that means "Time", "Another Brick in the Wall", or "Comfortably Numb" will not be present. Let's get started!
#20-Fearless-Meddle
This is a great song from their 1971 album, Meddle. It's a slow tempo and mellow acoustic sound. Roger Waters performed the acoustic guitar parts using an open tuning in G major, taught to Waters by Barrett. Near the beginning and end of the song, a field recording of fans in Liverpool's Kop singing "You'll Never Walk Alone" superimposed over the music. Although it was not released as a single in the UK and never played live, it was released as the B-side to "One of These Days" in 1971. Classic Rock Review described the song as "the best overall song on the album and talks about meeting challenges in the face of adversity." While I don't think it's the best song on the album, it's still a great song that deserves to be on a Top 20 Gilmour list.
#19-Lost For Words-The Division Bell
The first of many songs I'll talk about from The Division Bell. The lyrics are written by Gilmour and Polly Sampson, Gilmour's wife. The song is focused on forgiveness. The lyrics are a sarcastic reflection of Gilmour's strained relationship with Roger Waters. The song was released to US rock radio the week the album was released, succeeding "Keep Talking", the previous promotional release, released the week before. The song reached #53 on the Canadian singles chart. A notable moment in the song is the boxing announcer declaring "Winner…by a knockout". This led to the single to feature a pair of boxing gloves as the image. Some fans believe these are referring to the ongoing commercial success of post-Waters Floyd, as opposed to Waters' own fading into near-obscurity as a solo artist. The other notable moment is the lyric, "So I open my door to my enemies and I ask, could we wipe the slate clean? But they tell me to please go f*** myself. You know, you just can't win."
#18-Yet Another Movie-A Momentary Lapse of Reason
I used to not like this song but the more times I've listened to this album I've grown to like it a lot. It's the sixth track on the band's 1987 album. The song began as an instrumental piece to which words were later added and features soundbites from the films One-Eyed Jacks and Casablanca. In the last 45 seconds of the song, we hear dialogue from a scene near the end of the film when Rick (Humphrey Bogart) puts Ilsa (Ingrid Bergman) on a plane. The title is a reference to his and doesn't appear in the lyric. Gilmour explained to Only Music in 1987, "It's a more surrealistic effort than anything I've attempted before. I don't even know what all of it means myself." The song features some great "cold guitar sounds" I like to call them. The song builds up to a great guitar solo. The song transitions into a short instrumental segment called "Round and Around" making the name of the song appear as "Yet Another Movie/Round and Around" on the record. Though the Delicate Sound of Thunder live album has separated them into two tracks.
#17-Wot's…Uh the Deal?-Obscured By Clouds
This is a great multi-tracked vocal spot by Gilmour on the band's 1972 album. Gilmour co-wrote the lyrics with Waters. Gilmour would later perform this song at several shows on his 2006 On an Island tour and appears on the live DV and Blu-ray Remember That Night in 2007 as well as the vinyl version of his live album Live in Gdansk. While this is a Gilmour-centered list, I don't want to leave this song before talking about the piano solo before the steel guitar solo, performed by Wright.
#16-Take It Back-The Division Bell
This is the seventh track on their 1994 album. It was also released as the first single, released on May 16. The single was backed with a live version of "Astronomy Domine" for a 2-track single version or a 3-track single version that includes both the live "Astronomy Domine" and an edited version of "Take It Back." The music was written by Gilmour and co-producer Bob Ezrin and the lyrics were written by Gilmour, Polly Sampson, and Nick Laird-Clowes, lead singer and songwriter for The Dream Academy. The song is about Mother Earth and how sooner or later, sick of the way humans treat her, she will go into self-protection mode and "take back" the human race.
#15-A Great Day for Freedom-The Division Bell
This is a great song from The Division Bell. It was originally called "In Shades of Grey" which addresses the great hopes following the Berlin Wall and the disappointment that followed. Gilmour said, "There was a wonderful moment of optimism when the Wall came down-the release of Eastern Europe from the non-democratic side of the socialist system. But what they have now doesn't seem to be much better. Again, I'm fairly pessimistic about it all. I sort of wish and live in hope, but I tend to think that history moves at a much slower pace than we think it does. I feel that real change takes a long, long time." Despite Gilmour's statements, many have interpreted the lyrics as a reflection on the bitter and estranged partnership Gilmour had with Waters. They interpret that "The Great Day for Freedom" would be the day Waters left the band, giving the other members freedom to determine the band's future direction. Gilmour commented on that interpretation saying, "I'm quite happy for people to interpret The Division Bell any way they like. But maybe a note of caution should be sounded because you can read too much into it. 'A Great Day for Freedom', for example, has got nothing to do with Roger or his 'wall'. It just doesn't. What else can I say?" The song gives us a great piano intro and a great guitar solo.
#14-Childhood's End-Obscured By Clouds
This song was the last song to feature a song solely written by Gilmour until 1987's A Momentary Lapse of Reason. The song features one of my favorite Floyd intros. It's a very quiet droning sound as a ticking drumbeat gets louder. A couple of chords struck and then Richard Wright hits the Hammond organ leading into the lyrics. It's a great song and one of my favorites from this 1972 soundtrack album.
#13-Poles Apart-The Division Bell
This is the third track from the band's 1994 album. The lyrics speak to Syd Barrett in the first verse and Roger Waters in the second verse according to Polly Sampson, who co-wrote the song. The second verse begins with "Hey You", the title of a Waters song from The Wall. Gilmour talked about the song's tuning DADGAD he said, "the funny thing is that I didn't know it was such an amazing tuning-I thought it was something new that I had invented. One day, I was on holiday in Greece and I had an acoustic guitar with me. I just decided to tune the bottom string down, and continued to experiment until I arrived at that tuning. Then I mucked around a bit and 'Poles Apart' fell out of it a few minutes later." It's a great mellow, melancholy song that needs more recognition.
#12-The Gold It's In the…-Obscured By Clouds
Sadly there isn't any information about this song but it's my favorite from this soundtrack album. While Floyd is known for a lot of mellow-sounding songs, they broke into rock and roll with this one. Great lyrics describing an adventure looking for gold. Gilmour delivers a great guitar solo that continues into the song's fadeout.
#11-Learning to Fly-A Momentary Lapse of Reason
I first heard this song on the live Pulse album. I enjoyed that version that includes a great drum intro played by Gary Wallis. While that drum intro isn't in the original version, it's still a great version of the song. The song was written by Gilmour, Ezrin, Anthony Moore, and Jon Carin. It was released as the first single from the album, backed with the instrumental track "Terminal Frost". It reached #70 on the US Billboard Hot 100 and #1 on the Billboard Album Rock Tracks chart in September 1987. It failed to chart on the UK top 40 singles chart, it peaked at #1 on the Los Principales chart in Spain. The lyrics describe Gilmour's thoughts on flying, for which he has a passion though it has also been interpreted as a metaphor for beginning something new, experiencing a radical change in life, or possibly Gilmour's feelings of Waters' departure from the band. We hear a brief vocal spot by Nick Mason, it's not enough to break the rule of Gilmour's vocals only but he is present in the middle section of the song during the ambient section. A voice is making sure we are ready for takeoff, "Friction lock, set/Mixtures, rich/Propellers, fully forward/Flaps, set, ten degrees/Engine gauges and suction, check".
#10-The Nile Song/Ibiza Bar-More
These are two different songs but they are very similar songs with the same intro so I included them as one spot on the list. "Ibiza Bar" acts as the single's B-side in France in New Zealand. The song is often seen as one of the heaviest songs the band recorded. The song's style has been described as heavy metal, acid, and hard rock. Gilmour's vocals are unrecognizable compared to his soft, soothing voice. He proves that he can shred his vocals just as well as he can guitar.
#9-On the Turning Away-A Momentary Lapse of Reason
This song starts with just synthesizer and Gilmour's vocals before he brings in his acoustic guitar. The song features two guitar solos. The first one is pretty short but still good, the second one is one of my favorite Gilmour solos. The lyrics have been described as a protest song and one of the more political songs released after the departure of Roger Waters. The main concept came from Anthony Moore, but Gilmour has stated he re-wrote the last verse of both "On the Turning Away" and "Learning to Fly" (See #11). Musically it has been called a power ballad. Bassist Guy Pratt has said about its musical structure, "The song only has five chords in it, but they don't necessarily show up where you think they will." It's been noted to be one of Floyd's rhythmically most complex songs, constantly alternating between various time signatures. Some reviewers have described it as Celtic sounding. It was released as the second single from the album, reaching #1 on the Billboard Album Rock Tracks chart in early 1988. In the UK, the song reached #55 on the UK Singles Chart.
#8-Money-The Dark Side of the Moon
This song is recognizable from the first second, "cha-ching". This song came from their best-selling album, The Dark Side of the Moon. The song is interesting where it changes time signatures. It switches from 4/4 time signature to 7/8, and then back to 4/4.  Gilmour suggested the change in time signature was likely introduced to make things easier for him.
#7-Welcome to the Machine-Wish You Were Here
This is a great song from their 1975 album, although the whole album is great. The begins at the end of the previous song "Shine On You Crazy Diamond" when the "machine" turns on. The track begins with a throbbing sound made by an EMS VCS 3 followed by a one-repeat echo which Waters would've played originally on bass, which he overdubs an actual bass part to the song. The song is about the money-grubbing record producers and managers controlling the band, which contributed to Barrett's mental decline. The whole act of performing felt like a machine, they told him what to do and when to do it. This song features a rare music video only played during concerts. It features a visceral depiction featuring corpses, rats, death, and waves of blood. The video was drawn by hand by Gerald Scarfe who created character designs for the stage props for The Wall tour as well as the animated characters in The Wall movie. The song's highlight is the synthesizers playing alongside the guitars. Gilmour said, "The only time we've ever used tape speed to help us with vocals was one line on the Machine song. It was a line I just couldn't reach so we dropped the tape down a half a semitone and then dropped the line in on the track." He sang that part at a slightly lower pitch, and then the tape speed was raised back to normal. 
#6-Breathe-The Dark Side of the Moon
The second track on the band's biggest album, written by Gilmour and Waters. The song asks the listener to pause from their seemingly endless labors and take notice in more meaningful pursuits in life. Gilmour played the pedal steel guitar that he bought from a pawn shop in Seattle in 1968.  Gilmour sings a very comforting song that not only is about pausing from work but might also signify birth. Inspiration for this song was from a song Waters wrote as part of a soundtrack for a film called "The Body". The opening lyrics "Breathe, breathe in the air" are featured in both songs.
#5-Coming Back to Life-The Division Bell
This is the only song on the 1994 album to be written solely by Gilmour. Gilmour said on the David Gilmour in Concert DVD that the song is about Polly Sampson, "This song is dedicated to my lovely wife Polly." In the book "Pink Floyd: Through The Eyes Of…" by Bruno McDonald, Gilmour states, "'This strange but irresistible pastime'? Oh, it's sex, obviously. Sex and procreation." It's a great and uplifting song with a great guitar solo.
#4-Wish You Were Here-Wish You Were Here
This song begins with a radio switching from one station to another. As we are switching through the radio we catch the opening of the finale movement of Tchaikovsky's Fourth Symphony. The guitar at the beginning shows a distance of the music from the listener. There is a small cough and later a sniff. This was used to create the effect of a man listening to the radio and playing along on his guitar. Rumors say the cough and sniff were to symbolize Gilmour quitting smoking. The song continues the theme of the Wish concept album. The song is about the detached feeling most people go through life with. It's a commentary on how people cope with the world by withdrawing physically, mentally, or emotionally. It's a great song on one of the greatest albums of all time.
#3-High Hopes-The Division Bell
This is the closing track to end their 1994 album and it's an amazing closing track. The song begins with the sound of a church bell chiming a 'C' throughout except for a short section in the middle where the song briefly modulates into E minor for a guitar solo. The lyrics refer to the band's early days in Cambridge, specifically before they started making music, and also referencing Sad Barrett. The lyrics speak of the things one may have gained and lost in life, written from Gilmour's perspective. Gilmour has said that the song is more about his early days, and leaving his hometown behind, than about the seeds of division supposedly planted in Pink Floyd's early days.  The song features Gilmour playing bass guitar, classical guitar, and lap steel guitar. Jon Carin plays a beautiful piano segment throughout. Before the slide guitar solo, the lyrics include a couplet "The endless river/Forever and ever" recalls a line from "See Emily Play" from 1967 where the lyrics said, "Float on a river/Forever and ever". These lyrics also inspired the name of their final studio album in 2014, The Endless River. After the slide guitar solo and the song fades out. The bell fades out and we hear a hidden track comprising a brief phone call between band manager, Steve O'Rourke, and Gilmour's stepson, Charlie.
#2-Young Lust-The Wall
It feels weird only including one song from Floyd's double album but most of the great Gilmour moments are also on songs with great Waters moments. The lyrics were originally a very different song according to Waters, "When I wrote 'Young Lust', the words were all quite different. It was about leaving school and wandering town and hanging around outside porno movies and dirty bookshops and being very interested in sex, but never actually being able to get involved because of being too frightened." The song evolved into a song about Pink (the character the album's story revolves around)'s adulthood and has elevated to rockstar status and the cliches that come with that. Roger Waters said Gilmour's performance in this song is similar to how he sang "The Nile Song" (See #10). He said, "It reminds me very much of a song we recorded years and years ago called 'The Nile Song'. Dave sings it in a very similar way, and I think Dave's singing on Young Lust is terrific. I love the vocals, but it's meant to be a pastiche of just any rock 'n' roll band out on the road."
The song ends in Pink calling home to his wife to find a man is answering the phone. The concerned voice is from a real AT&T operator who was asked to call that number, who was confused why a man was answering the phone. Her concern was real, wondering why Mr. Floyd's wife had a man answer the phone. The man who answered was James Guthrie (sound effects engineer)'s neighbor. Guthrie asked his neighbor Chris Fitzmorris to go into his apartment, pick up the phone and immediately hang up. It led to a very effective and comedic end to a great song. Roger Waters said, "I think it's great. I love that operator. I think she's wonderful. She didn't know what was happening. I mean, it's edited a bit, but the way she picks up all that stuff about 'Is there supposed to be anybody else there besides your wife?' I think she's amazing. She really clocked into it straight away."
#1-Sorrow-A Momentary Lapse of Reason
This may sound like an unusual #1 pick but the song is that good! This is the closing track for their 1987 album. The piece was written solely by Gilmour and stated that although the lyrics are not his strong point, the song is one of his strongest lyrical efforts, even though the opening lines were appropriated from John Steinbeck's The Grapes of Wrath. "'Sorrow' was a poem I'd written as a lyric before I wrote music to it, which is rare for me, " Gilmour recalled. Nick Mason has since stated that the song was almost entirely written by Gilmour alone over the space of one weekend on his houseboat Astoria. When he returned from the weekend, only "some spit and polish", according to Mason was needed. The intro is one of the song's strongest points with some deep chords played before the song builds up into the lyrics. The intro was recorded inside Los Angeles Memorial Sports Arena and piped through Floyd's sound system, yielding an extremely deep, cavernous sound. Another strong part of the song is when the song goes "mellow" about halfway through before building up to the final verse and amazing guitar solo. Gilmour noted the solo was done on the boat, his guitar was going through a small Gallien-Krueger amplifier. One last thing to note, the drum machine was programmed by Gilmour. No real drums were used nor did Mason play on the track (he of course did when the song was played live).
This was a fun list to make. It involved a lot of my favorite Pink Floyd songs, and I got to talk about my all-time favorite guitarist. If you enjoyed this list, I did a similar list to honor Richard Wright's birthday, and I encourage you to check that out if you haven't yet. Check out the link below! Also, check out my list I wrote for Roger Waters' Top 10 Floyd Songs. What did you think of my list? Do you agree with it? Would you rearrange it?  What songs would you include on your list?  Share your thoughts in the comments below.  Before you go, don't forget to follow Awesome Albums on Instagram and Twitter, like on Facebook, and Subscribe on both YouTube and BitChute for music-related content.  Also, don't forget to come back next Tuesday, for another list for Top "Ten" Tuesday!