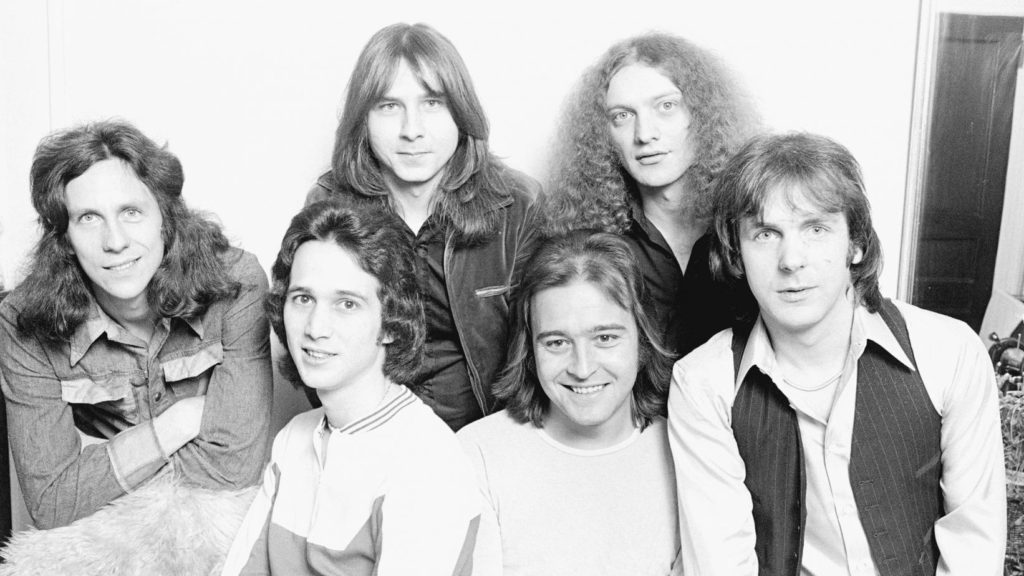 Welcome back to Top "Ten" Tuesday.  Today we are going to look at Foreigner.  This is a band that was formed in New York City AND London in 1976 consisting of Mick Jones, formerly with Spooky Tooth, Ian McDonald, formerly with King Crimson, and American vocalist Lou Gramm.  Dennis Elliot, Ed Gagliardi, and Al Greenwood made up the rest of the band.  The band released their first album in 1977 which also housed four hit singles for the band.  The band continued with this lineup on their second album Double Vision, which gave them three more hit singles.  Gagliardi left the band shortly after in 1978 with Rick Wills taking over on bass.  Their third album Head Games gave the band five more singles and will be the last to feature founding members, Ian McDonald and Al Greenwood.
Their 1981 album, 4, shares a double meaning as it is not only their fourth album but also referring to their now four-piece band. In 1990, Lou Gramm had left the band with Johnny Edwards taking over on lead vocals for their 1991 album Unusual Heat, however, Lou Gramm comes back the following year, in 1992 and records one more album with the band, Mr. Moonlight.  Since then the band has seen several personnel changes with Mick Jones the only constant member of the band.  In 2009, they have recorded their next album Can't Slow Down, which as of this article is their most recent album.  This band with so many hit singles makes it a great band to look at and create a top 10 list, and that is exactly what I plan to do.  Here are my top 10 Foreigner songs.
#10-Only Heaven Knows-Unusual Heat
The only song on my list that doesn't feature Lou Gramm's vocals.  It's hard to pick a song that doesn't feature Lou Gramm's vocals because he's not only a good singer, but for a top 10 list, there are too many songs that he just so happen to sing to easily fill up a top 10 list, but Unusual Heat without the Foreigner name is a great album! There are a lot of good songs on it like "Lowdown and Dirty", "Flesh Wound", and the album's opening track that made it to my list.  I'm conflicted because there are plenty of Lou Gramm songs that I could've put here and I'm not saying I like this song more than the songs in the "Honorable Mentions" list, but this song is something special, a song that deserves more recognition than it normally gets.
#9-Cold As Ice-Foreigner
The keyboard at the beginning of this song is very iconic and got a lot of exposure as one of the band's first singles reaching #6 in the U.S as well as the soundtrack for a skit on the March 25, 1978 broadcast of Saturday Night Live of a man being attacked by a woman in rather violent ways.  The song describes a woman who is materialistic and selfish, with the singer warning that her behavior will come back to haunt her someday.  Now to go back to the single, it was initially the B-side of some versions of "Feels Like the First Time" which is a great transition to our next song on this list.
#8-Feels Like the First Time-Foreigner
This song acts as the opening track on Foreigner's first album, making the first Foreigner song a lot of people heard.  As stated above, this song was backed with "Cold As Ice" and reached #4 on the Billboard Hot 100.  Mick Jones said that this song was written about a bit that changed his life.  He said, "I was coming out of a previous marriage with somebody I'd met in France.  I'd gone back to England and then finally made the journey to America while I was in the band Spooky Tooth.  And to me it was this challenge of really going for a new start in my life.  And that just came naturally out of the blue.  People probably thought, Well, this is a song that he's written specifically for this album.  In hindsight, I guess that's a natural feeling, but to me it was signifying a new start.  I'd met somebody, I got re-married and moved with her to America, and that was the song that described that experience."
#7-Blue Morning, Blue Day-Double Vision
Another great single released by the band, this one from their second album.  It reached #15 on the Hot 100 chart in the U.S. and the band's sixth Top 40 single in two years.  The song was backed with a Mick Jones song, "I Have Waited So Long".  Lou Gramm said, "It talks about a young musician that's burning the candle at both ends.  He has a lot on his mind, and walks the street at night."
#6-Long, Long Way From Home-Foreigner
The band's third single from their first album released in November of 1977 reaching #20 on the Billboard Hot 100 in 1978.  Lou Gramm said the lyrics are autobiographical, reflecting his experience moving from Rochester to New York City.  The song, according to Gramm and Jones, was the first song they worked on together.
#5-The Modern Day-Head Games
This song is our first song in a while that wasn't a single, but it should've been.  I'm going to repeat something I said on "Only Heaven Knows".  I said, "It's hard to pick a song that doesn't feature Lou Gramm's vocals…". Here's another great song that doesn't feature Lou Gramm on lead vocals, with Mick Jones singing instead, although unlike Unusual Heat, Gramm is at least present on the rest of the album.  The song features some great keyboards and guitars with a great chorus that musically reminds me of Bachman-Turner Overdrive's "You Ain't Seen Nothing Yet".
#4-Double Vision-Double Vision
This song is one of Foreigner's best-known songs, acting as the title track to their second album.  It reached #2 on the Billboard Hot 100 for two weeks in 1978, only behind "MacArthur Park" by Donna Summer.  The song has been a staple of the band's setlist ever since, with both Lou Gramm and Kelly Hansen (the current singer of Foreigner) using the song as their show opener.  Lou Gramm has explained the origin of the song saying, "'Double Vision' was a song that was written in about late 1977 just before the Double Vision album came out…A lot of people think it's about being intoxicated or being high.  When we were recording that song before we had the title, the New York Rangers hockey team was playing the Philadelphia Flyers and one of the big Flyers guys bumped into the Rangers' all-star goalie [John Davidson] and knocked him down and they had to take him out of the game because he was experiencing double vision."
#3-Hot Blooded-Double Vision
This song is arguably Foreigner's best-known song, also from their second album. It was released as a single in June 1978 and reached #3 on the Billboard Hot 100 chart that September.  The single was later certified Platinum with selling over 1,000,000 units.
#2-Juke Box Hero-4
The song starts off with an epic bass riff with Gramm singing.  Then when Gramm shouts, "one guitar", the song blows loud with a great guitar riff.  The song was released as the band's third single in 1982 reaching #26 on the Billboard Hot 100 chart.  Despite the physical single selling less than 500,000 copies, it has been certified platinum for over a million digital downloads.  The song focuses on a boy unable to purchase a ticket to a sold-out rock concert.  He listens from outside, and hears "one guitar" and has an epiphany leading him to buy a guitar and learn to play.  The song describes the struggle he has to stay on top of the music charts, which makes him a "Juke Box Hero".  Mick Jones said that the song was inspired by an actual fan who stood waiting outside an arena for about five hours in the rain.  Impressed by his dedication, Jones decided to take him in and give him a glimpse of what happens backstage at a concert.
#1-Rev on the Red Line-Head Games
I can't decide if this is my favorite Foreigner song or not but it's still a great song that deserves more recognition.  This is the final track to their 1979 album, Head Games.  The song is catchy from beginning to end but since it's an often overlooked song, there's not any information that I could find about it.  I'll just say, go listen to it.  It's a great song!
I'm not done yet!  As usual, I have five honorable mentions that I'd like to mention before ending this article.  Is your favorite not in this top 10?  It might be one of these other five, listed in chronological order.
Honorable Mentions
Dirty White Boy-Head Games
This song acts as the opening track to Head Games,  backed with "Rev on the Red Line".  It was the first single taken from the album reaching #12 on the U.S. Billboard Hot 100, and #14 on the Canadian RPM Top Singles chart.  Mick Jones has claimed this song to be about Elvis Presley, adding that "he always was that dirty white boy who changed the shape of music completely.  It was talking about the kind of heritage that he left, and I think that had an effect on all the musicians that came after, like Mick Jagger-he was also a dirty white boy.   Elvis paved the way for all that."  Unfortunately, some listeners misinterpreted the song as a "crypto-racist statement."
Seventeen-Head Games
This is the last song I'll mention from Head Games, but I can't help mentioning this album so many times, it's probably my favorite Foreigner album, although their first four albums are all great.  The song has great drums and guitars throughout with a catchy "seventeen" chorus.
I'm Gonna Win-4
An underrated song from their fourth album.  When people think of Foreigner's fourth album, they think of "Urgent", "Waiting for a Girl Like You", "Break It Up", and "Luanne" which are all great songs but this one is another that I'd put on the same level as some of these.  When it comes to the chorus it's a rocker in the same way "Juke Box Hero" is.
Reaction to Action-Agent Provocateur
This song was the third single taken from their 1985 album, although the single is a remixed version and released in the U.S. only backed with "She's Too Tough".  The song is one of the five major hard rock numbers on the album, it only reached #54 on the Billboard Hot 100.
Inside Information-Inside Information
This was a good album, but the band had certainly moved from the sound they established in the late '70s and early '80s.  The title track along with many others on the album have gone in a more '80s ballad direction.  The album still certified Platinum for selling over one million copies, despite the decrease of album sales since 4.
Do you agree with my list?  Would you rearrange the songs or have a completely different list?  What songs would you include on your list?  Share yours in the comments below.  Don't forget to subscribe to Awesome Albums on YouTube and BitChute and follow on Instagram and Twitter for more music-related videos, pictures, and articles.  Lastly, don't forget to come back next Tuesday for another Top "Ten" Tuesday list.