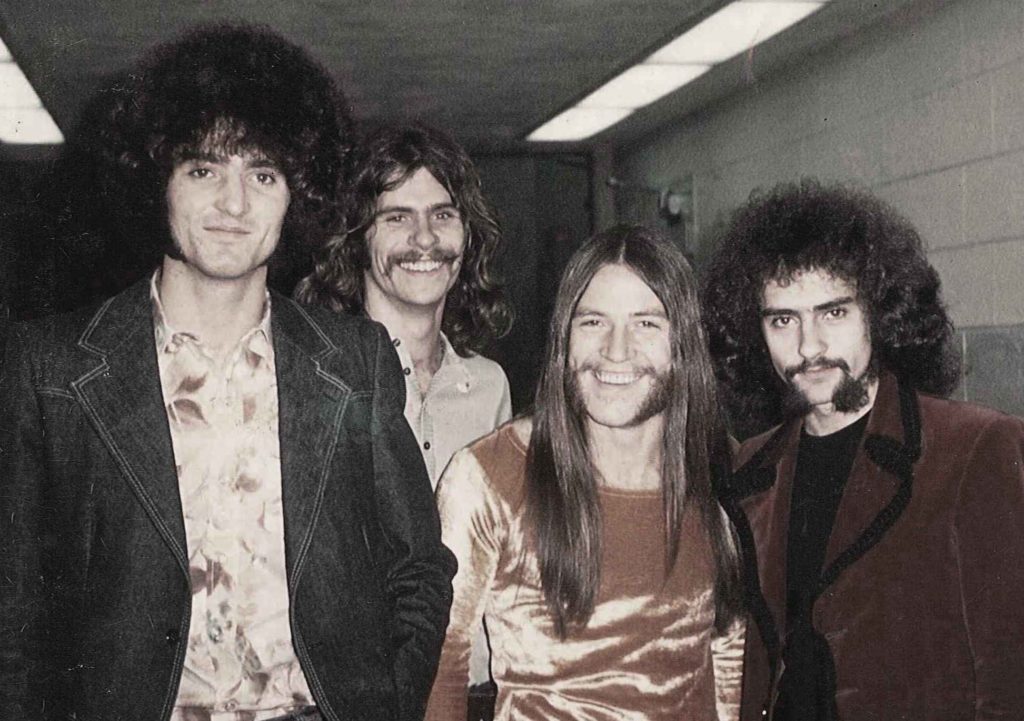 Welcome back to Top "Ten" Tuesday.  Today we are going to look at Grand Funk Railroad.  Grand Funk Railroad or Grand Funk for short is an American band (haha) that started in 1969 by Mark Farner, Don Brewer, and Mel Schacher.  Their name comes from the Grand Trunk Railroad line that runs through their hometown of Flint, Michigan.
They released their first album, On Time, in August 1969 which sold over a million copies.  Since then they continued to get more popular and sell out arenas worldwide, despite the relative lack of critical acclaim.  In 1972, their guest keyboardist, Craig Frost became a full-time fourth member of the band.  This was the band's lineup until 1976 when the band broke up.  Mark Farner and Don Brewer reunited in 1981 along with Lance Ong on keyboard, and Dennis Bellinger on bass to release one more live album, Grand Funk Lives, and one more studio album What's Funk? in 1983.  The band broke up again shortly after that.  Mark Farner has since gone on to play as a contemporary Christian musician and Craig Frost became a member of Bob Seger's Silver Bullet Band. Don and Mel reunited in 2000 and along with Bruce Kulick, Max Carl, and Tim Cashion to continue under the Grand Funk name.
Today's list will be taking a look at Grand Funk's studio albums and picking out my personal Top 10 Grand Funk Railroad songs.
#10-Shinin' On-Shinin' On
This a strong album opener.  There are a couple of false starts before the song takes off.  Don Brewer wrote and sang lead.  Brewer said, "It came from me wanting to express myself as far as we are all winners and losers, bedfellow choosers, but we all have to shine on, keep on moving forward." Those lyrics "we are winners and losers, bed fellow choosers" became the opening lyrics to the song.  The album as a whole is one of my favorite album covers and is one of the major inspirations to creating Awesome Albums in the first place!  The front cover comes with punch-out 3D glasses to view the front cover, back cover, and album sleeve in 3D.
#9-Ups and Downs-On Time
This is the closing track to Grand Funk's first album, which was produced by Terry Knight, Mark and Don's former bandmate in Terry Knight and the Pack.  The guitar style is very reminiscent of late 1960s rock, slightly psychedelic and distorted.  The song is a medley of sorts as about a minute and a half through, the song shifts to a marching drumbeat as they sing "row, row, row your boat".  One voice would start their "row" after the first voice finished the statement plus one "row" giving a delay throughout the segment, "row row row row your boat your boat".  This continues for about 30 seconds before transitioning to another segment bordering on hard rock with distorted guitar and rapid drumming.  About 2:50, the original guitar lick comes back in. About 3:40, another drum march synced with the bass plays while a mellow guitar solo plays.  About 4:10, the tempo picks up getting faster and faster leading to the crescendo that finishes off the piece.  It's a great piece and my favorite from that first album.
#8-The Loco-Motion-Shinin' On
Another great song from Shinin' On, a cover written by Gerry Goffin and Carole King written by Dee Dee Sharp.  The decision to play the song came about after Mark Farner was heard whistling the song in the studio.  The song features guitar, several layers of harmony, and heavy drums.  The song is immediately catchy gets you in the spirit of the song.  The guitar solo in the middle was taken out of the radio version, replaced with a repeat of the bridge "you got to sway your hips now" because the disc jockeys believed the static guitar solo was too experimental of hard rock for airplay on commercial radio stations.
#7-We're an American Band-We're An American Band
The song begins with great drums before the guitar jumps in.  This is another great song written and sang by Don Brewer.  Remember the "haha" when I mentioned an American band in the opening paragraph?  Well, it was an intentional pun for this song.  This is the first Grand Funk song I heard and is special to me in that way.  The lyrics in the song are somewhat autobiographical, detailing the band's recent tour and their energetic live performances. They needed a big hit because they were going through numerous lawsuits at that time and their manager suggested to just write a song about what you do.  That is exactly what this song is about, who they are, and what they do.  They are an American band, they tour, and they party.  The fight between Don Brewer and Humble Pie is completely made up, however.  The idea worked and this became their first #1 single by the band, followed by "The Loco-Motion" (see #8) a year later.
#6-Sin's a Good Man's Brother-Closer to Home
An almost ominous acoustic guitar starts off this song and album before the heavy, distorted bass comes in and the song takes off.  Unfortunately, there isn't any information about this one, but it's a great hard rock song and easily an early contender to the developing heavy metal genre that was beginning to form during this era. 
#5-People, Let's Stop the War-E Pluribus Funk
The first single released from this album, released in December 1971. The song starts off with mellow instrumentation with "ooh, ooh, ooh" vocalized before hard rock comes in.  The lyrics and song name are pretty obvious, it's an early '70s protest song.  The chorus sings the name of the song over and over.  The second verse sings "If we had a president, that did just what he said, the country would be just alright, and no one would be dead. From fighting in a war, that causes big men to get rich…" definitely tells any listener their stance in the seemingly never-ending war in Vietnam, that continued until 1975 (1973 for US involvement).  It's one of my favorite war protest songs and is a great example of a song that captures a moment in time.
#4-I'm Your Captain-Closer to Home
This is the band's longest recording at right about 10 minutes.  The title has been written in many different ways through different Grand Funk albums (compilations, live, etc.).  It's sometimes written as "I'm Your Captain", "I'm Your Captain/Closer to Home", "Closer to Home/I'm Your Captain", "Closer to Home (I'm Your Captain)", and "Closer to Home".  The song is broken into two sections.  The first section is the "I'm Your Captain" half which conveys the please of a captain on a troubled sea voyage and facing a mutiny from his crew.  About 4:20, the song shifts into the second section.  Lyrically there isn't much here.  When I first heard this I wasn't impressed.  He's just saying "I'm getting closer to my home" for 5 minutes.  I didn't realize this song was a continuation of the first half.  As I heard the song more though, I began to realize how amazing this part was.  The lyrics are broken up by a great bass solo as well as a flute accompanying each line.  The tempo slowly increases as the pitch of the flute increases, now backed by an orchestra featuring violins, violas, cellos, and basses.  The piece is amazing to hear in its entirety.  You must hear the 10-minute version, not the 5:31 version.  Too much gets cut from that, including the solo and the intro.
#3-Walk Like a Man-We're An American Band
This is to not be mistaken with the Four Seasons song, this was a Grand Funk original. Because of the similar title, there was a lawsuit against Grand Funk.  As a result, the title was changed to "Walk Like a Man (You Can Call Me Your Man)" The song starts strong with heavy bass and rapid guitar.  There is some subtle keyboard underneath too.  The song reached #16 in Canada and #19 on the Billboard Hot 100 in 1974. The single was backed with "The Railroad" and was released on October 29, 1973. Don Brewer said, "It was just another song we were jamming on in the rehearsal studio, and those lyrics came to mind.  I started signing, 'Walk like a man, call me your man.' It came out of jamming along and coming up with chord changes that seemed to sound right with it."
#2-Born to Die-Born to Die
This song and album are considered to be one of the group's more somber pieces, straying away from the upbeat songs that were all over their previous album, All the Girls in the World Beware.  First, let's talk about the album cover, all four band members are dressed in suits laying in open caskets next to each other. 
The album's title track was written by Farner in memory of his cousin who died in a motorcycle accident, as the lyrics describe. The song starts with deep keyboard notes before kicking off with the rest of the music.  In between verses, the chorus kicks in with Craig and Don singing backing vocals behind Mark giving a very haunting sound.  Then comes in the somber "ooh ooh ooh".  Halfway through, Farner gives a great guitar solo before coming back to the lyrics. The song ends with more "Oohs" backed by some haunting, somber haunting keyboard that slows down and fades out as the song ends. For years, this was easily my favorite Grand Funk track but I discovered one more that just barely beats it.
#1-The End-We're An American Band
We're revisiting American Band for our #1 pick but this is a song that we won't hear until the 2002 rerelease of the album.  This bonus track starts with heavy bass with the drums teasing us with a few false starts before the song goes.  The song is loud and awesome.  Halfway through we are greeted with a great keyboard solo.  It starts off just as an underlying sound, but then it gets the spotlight shown halfway and becomes an immediate highlight to the song.  Then we are greeted with a great guitar solo before the lyrics briefly come back giving us an abrupt ending.  When they say "it's the end" it really does end the song.
Before ending my list, I have some honorable mentions I want to go over. There are a lot of great songs I wanted to talk about, so as always (or as usual I guess) here are five more songs I want to talk about that almost made the final list.  As always these are in chronological order.
Honorable Mentions
Foot Stompin' Music-E Pluribus Funk
Unlike the dark war protest that follows this, the album's opening track is upbeat and catchy complete with "Whoo-ooh-ooh".  It's just a great, upbeat catchy song backed with rhythmic drums and bass with some great distorted guitar on top.  And let's not forget about the organ building in intensity multiple times in the song, played by Farner.  A great song for someone searching out some oldies, this one won't disappoint.
Loneliest Rider-We're An American Band
Some dark electric piano/keyboards kick off this song of a lonely Native American boy.  The song is rather somber compared to some of the other songs on the album "What he didn't know, is that some day his tribe would be dying. What he didn't know, is that some day his father'd be gone.  What he didn't know, is that some day he'd be all alone."  The story in the song continues how history moves on and the truth of what happened is gone.  The white man is trying to hide it.  There is some great instrumentation throughout the song.  When there is about a minute left of the song,  The music starts to fade out leaving just the drums giving us a tribal-like beat to finish off the song.
Responsibility-All the Girls in the World Beware
Some great piano starts off this song and album.  The song finds Mark Farner singing about the duty of care a man has to a woman in a relationship.  He said, "It's about responsibility a dude takes on when he's with a chick.  It's a bit of foot-stompin' rock 'n' roll."  The song is known for the repeated "Ooo-ooo-ooo-ooo-ooo-eee".
Bad Time-All the Girls in the World Beware
Going a few songs down on the same album, we have "Bad Time".  The song starts with mostly just Farner singing and then the rest of the music kicks in with some great piano playing in the background, adding a lot to the song.  The song is about a man who meets the girl of his dreams, but does so at an awkward time in his life, meaning he may have to let her go.  Farner wrote this while going through a rough patch with his first wife, Cheryl.  He said, "I was getting a divorce.  My wife was in the kitchen throwing pans around while I was writing 'Bad Time' It was quite emotional."  The song reached #4 on the Billboard Hot 100 on June 7-14, 1975.  The song also marked the end of a two-year run as Grand Funk during which time they scored all their major hits. After this, they went back to Grand Funk Railroad.  What I mean by this is if you look back to their previous few albums, they were simply labeled as "Grand Funk" rather than "Grand Funk Railroad".
I almost put "Some Kind of Wonderful" in my honorable mentions, which was a huge hit for the band also from this album but I didn't want three of my five honorable mentions to be from one album, but that is another great song, reaching #3 on the Billboard Hot 100.
Dues-Born to Die
A great underrated song from an underrated album.  The vocals are somber as expected from the album, and the following song after the title track.  The lyrics mention religion and it just blew back in his face, "I tried religion and some holy roller steals my tenth."  I'm guessing the character is in debt and everywhere he goes he just constantly has to pay greedy people?  There is no information about this one so I can only speculate based on the lyrics.
There were more songs I wanted to cover but there are some great picks here and I encourage you to check them out if you haven't yet.  What did you think of the list though?  Do you agree with this list?  Would you rearrange the order?  What songs would you put on your list?  Post those in the comments below.  
Don't forget to subscribe to Awesome Albums on YouTube and BitChute, follow me on Twitter and Instagram, and most importantly, don't forget to come back next Tuesday for another list for Top "Ten" Tuesday.